Having lived in the Mother City for a few years, I can confidently say that when it comes to satisfying my curious palette, it's probably the best foodie destination in South Africa. Cape Town is known for being a multicultural metropolis with people from all corners of the globe calling it home, each bringing a unique flavour and vibrancy to the city. The vast array of tapas bars, cafés and eateries in Cape Town means that I haven't been able to sample nearly as many as I would like – but if I tried to keep up, there would be a hole in my wallet and a tyre around my waist!
There's a definite 'sharing' culture – and not just on social media – with patrons encouraged to order a variety of dishes and share them around. Why would you taste only one delicious dish when you could sample four on the menu?
Here are 8 eateries in Cape Town that are worth trying…
Taqueria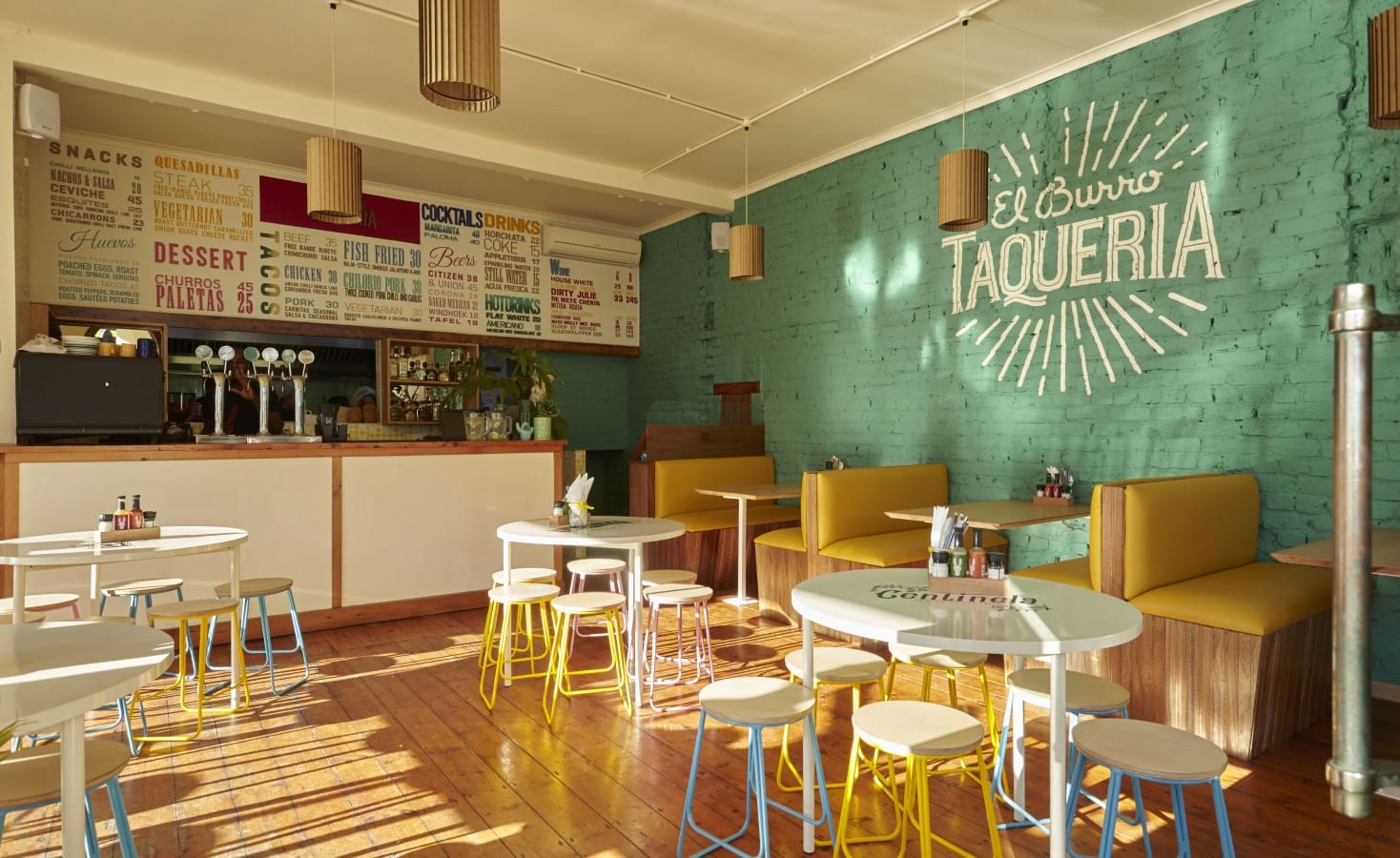 El Burro Taqueria is a smaller, more intimate version of the popular Mexican restaurant El Burro – situated on vibey Kloof Nek Road opposite the hipster hang-out Power and the Glory. The menu includes individually plated homemade tacos (made to perfection!) with a choice of beef, chicken, pork, fish fried, chilorio pork as well as a vegetarian option. Steak and vegetarian quesadillas are also on offer, and starters include chilli relenos (chilli poppers) and fresh, juicy ceviche. Order a number of plates to share so you don't miss out!
I absolutely love the bright green wall, cosy tables and chairs and hanging plants that create a casual and welcoming atmosphere in this gem of a restaurant. The seating works on a first-come-first-serve basis, so make sure you get there by 6:30pm to grab a good spot – it will be well worth it!
Where: Shop 1, 12 – 16 Kloof Nek Road, corner of Kloof Nek and New Church Street, Tamboerskloof, Cape Town
Contact: 021 422 3554
Email: taqueria@elburro.co.za
When can I go? Monday to Friday 12 noon to 11.30pm; Saturday 10am to 11.30pm ; Sunday closed
The Village Idiot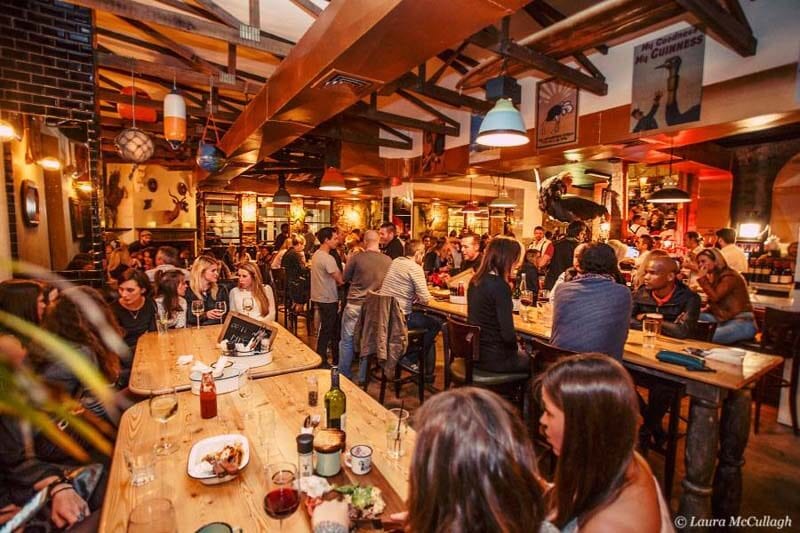 If you want to experience Cape Town nightlife whilst sampling some local flavours, then look no further than The Village Idiot. From the creators of Aces & Spades, this restaurant and bar is the latest cool place to be, and rightly so, as it offers everything from live music, delicious food and great beer, to 30 Seconds and other board games, a pool table and a laid-back English pub-style vibe. The menu is a one-pager, with Proudly South African cuisine served across starters, braai boards and Tata Ma sides. Dishes include Taxi Wings, West Coast Mussel Potjie, Mrs Balls Boerewors Burgers, Seafood Sosaties and Grilled Mielies and Chakalaka to name a few. Local is definitely lekker! All this activity happens under the beady eye of a rather large ostrich named Oskar – the eatery's mascot – along with all sorts of other animals and quirky décor. Let's just say that this place is bold!
Where: 32 Loop Street Cape Town, City Bowl
Contact: 021 418 1548
Email: info@thevillageidiot.co.za
Web: https://www.facebook.com/thevillageidiotct/?fref=ts
When can I go? Tuesday to Thursday 3pm to 12midnight; Friday and Saturday 12noon to 2am; Sunday 12noon to 12midnight (Kitchen closes at 10pm)
Charango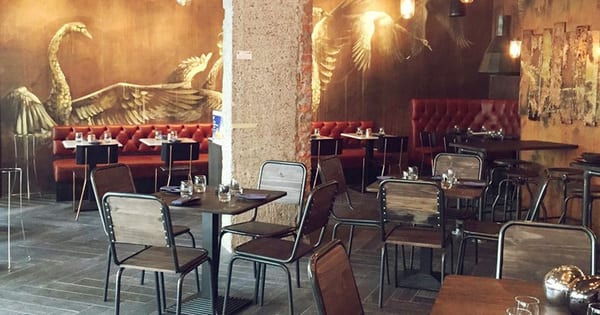 Charango is one of the newest spots on the Cape Town dining scene, and it is causing a well-deserved stir amongst the foodie crowd. The Peruvian inspired menu takes you on a culinary journey, and encourages patrons to order a variety of plates to share so that you can sample a bit of everything. The starters are mainly fresh, raw fish options, including a number of bar snacks and antichucho (kebabs), while the main dishes have barbeque grill-style options to choose from. It's not only the food that impresses. The décor is also a feast for the eyes: a rose copper bar, beautiful ceramic tableware, and an exquisite Swan mural (by Faith47) will do the trick. Charango also has a number of craft beers on tap and an array of interesting (and delicious) cocktails that will get your night off to the best start possible. Booking a seat is recommended.
Where: 114 Bree Street, Cape Town
Contact: 021 422 0757
Email: restaurant@charango.co.za
Web: https://www.facebook.com/pages/Charango-Grill-Bar/1629234990686321?sk=timeline
When can I go? Lunch: Tuesday to Saturday 12noon to 3pm.
Dinner: Tuesday to Saturday 6pm to late
Black Sheep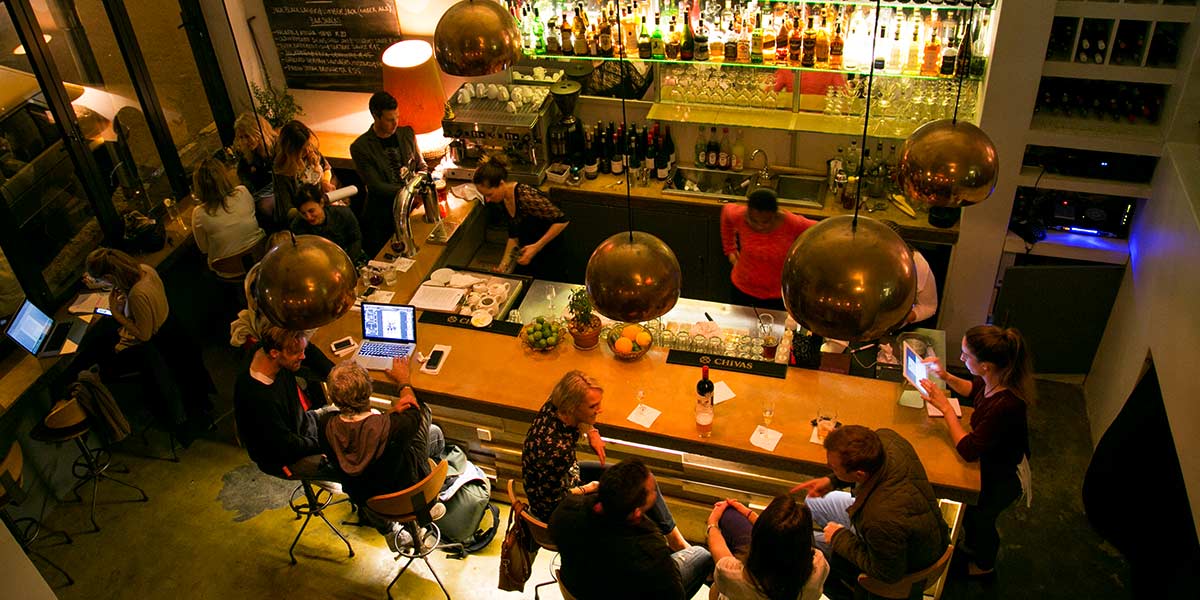 Although not the 'newest kid on the block', Black Sheep has continued to transform itself into one of those places that I always recommend to friends who are looking for an unforgettable meal with a great vibe. The Japha and Silva families are behind this cool little spot – I say 'little' but the three-tiered design makes it feel bigger than it is. Head Chef Jonathan Japha ensures that everything on the menu is fresh and flavorsome, with the menu changing on a daily basis. From slow cooked pork belly, roast hake and grilled rabbit, to Mustard & tarragon roast chicken breast and Seared tuna with fennel – you are bound to find something that gets your taste buds tingling. If you are unable to get a booking and are still desperate to go, pop in for a drink at the bar downstairs and put your name on the waiting list – the atmosphere is so relaxed that before you know it, you'll be seated at a table.
Where: 104 Kloof Street, Cape Town, Western Cape
Contact: 021 426 2661 or 021 426 2753
Email: info@blacksheeprestaurant.co.za
Web: http://blacksheeprestaurant.co.za
When can I go? Lunch: Tuesday to Saturday 12 noon to 3pm.
Dinner: Monday to Saturday 6.30pm to 10.30pm
Bacon on Bree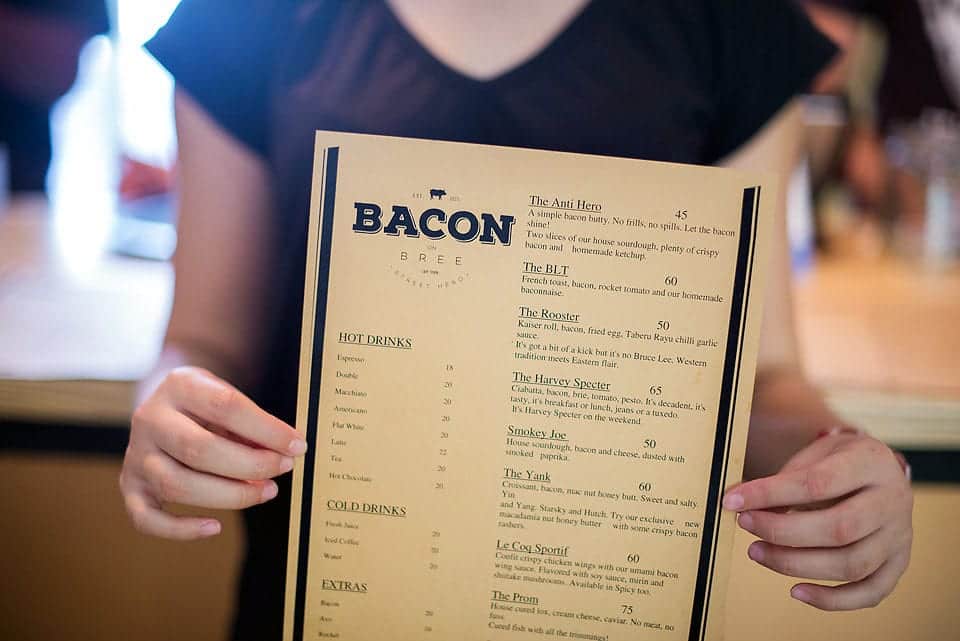 Bacon, glorious bacon! This is bacon like you've never tasted it before. Trust me, I am a true lover of all things pork, and Bacon on Bree – Cape Town's very first 'baconporium' on Bree Street – has instantly made me a happier person. This is the brainchild of the Boss of Bacon, Richard Bosman and his wife, Justine Seymour. All bacon is naturally and ethically farmed, producing exceptional, guilt-free goodness. Whether you are there for breakfast or lunch, the eatery offers a variety of scrumptious meals including The Yank (a croissant with macadamia-nut honey butter and bacon), The Harvey Specter (ciabatta, bacon, brie, tomato, and pesto) and the Hall-Elujah (Fried Halloumi, avo, tomato, rocket and of course bacon, topped with Taberu Rayu chilli oil).
A number of drinks are on offer such as fresh juices, Kamili coffee, a bacon-infused old-fashioned cocktail and craft beers. You will probably want to walk away with a token of sorts, so why not grab some of Richard's homemade ketchup, a jar of 'nuts about bacon', or some of Bosman's charcuterie and bacon on your way out?
Where: 217 Bree Street | City Centre | Cape Town
Contact: (+27) 021 422 2798
Web: http://bacononbree.com
When can I go? Monday – Friday: 7:30am – 5pm; Saturday: 7:30am – 2pm
Con Brio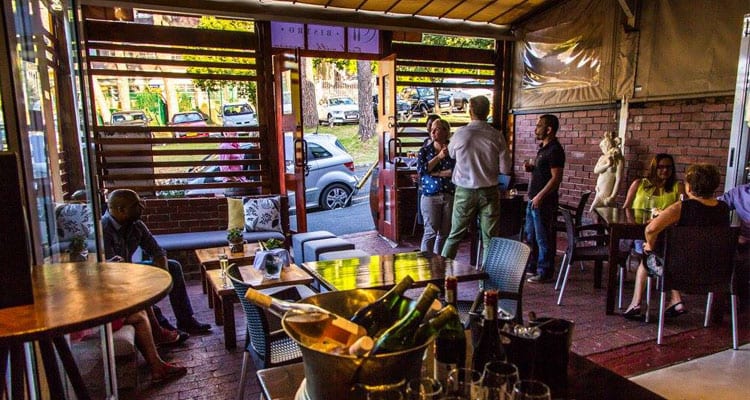 Although not as 'bustling' and 'trendy' as some of the other Cape Town hotspots, Con Brio Bistro, a tapas-style eatery in the picturesque setting of Vredehoek, deserves some attention. The food, the friendly service and affordable prices make a consistently good impression with the owner Vanessa Rose leading from the front. The small plates section on the menu is designed to be shared – you can have a taste of the deep-fried gnocchi served on a bed of sautéed spinach and blue cheese cream, smoked salmon and pancetta salad or a mussel pot cooked with bacon, red onion, basil, spring onion and cream.
If you're not up for sharing, try the house-made beef burger with cheddar cheese. Either way, whatever Head Chef Edward Serfontein serves you, I am quite sure you will be going back for more. There is an array of cocktails and beers on offer, as well as an extensive wine list that includes a few Organic and Fairtrade wines.
Where: 2 Deer Park Drive, Highlands Estate, Vredehoek
Contact: 021 461 9957
Email: hello@conbriobistro.co.za
Web: http://www.conbriobistro.co.za/
When can I go? Tuesday – Saturday, 12pm – late
Sunday, 10am – 4pm
Tiger's Milk
After the successful launch of Tiger's Milk in Muizenberg, a branch has opened up on the very lively Long Street. Think loud music, high energy, mounted motorbikes on the wall, glass-bottle light fittings, amazing art and streams of people in and out – all this adds to a vibrant and 'oh-so-cool' place to have a drink and a bite to eat. The slogan "Dude food made real" is most appropriate for this particular spot with chicken wings, grilled pork ribs, pure beef burgers and pizzas on the menu. If you are watching your waistline, fear not… Tiger's Milk also offers a variety of salads such as the Caesar (with a deep-fried soft egg) and the Parma ham and goat's cheese salad. As is customary for such a 'trendy' hang out in the heart of the city, you will find plenty of craft beer on tap to quench your thirst.
Where: 44 Long Street, City Bowl, Cape Town
Contact: 021 422 0700
Email: johan@tigersmilk.co.za
Web: http://tigersmilk.co.za
When can I go? Wednesday – Saturday, 4pm – late
Bocca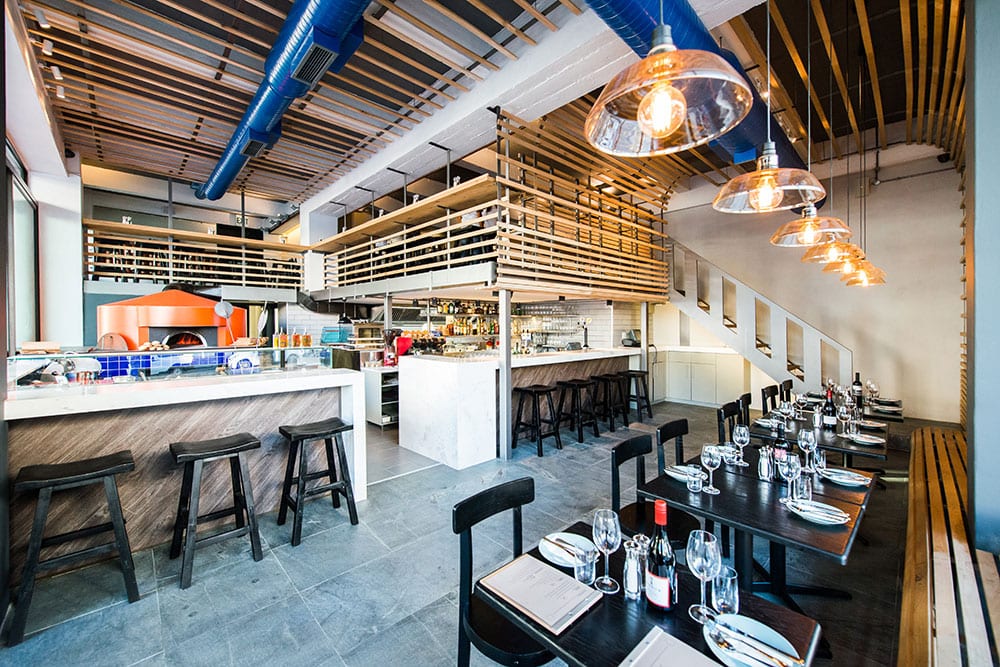 The genius behind the Old Biscuit Mill's Burrato, Neil Grant, opened up this delightful contempary Italian restaurant situated on the corner of Whale and Bree Street. As they say, location, location, location! I must admit, seated at one of the outside tables whilst sipping a glass of wine with the city passing by, I certainly did feel like a more stylish version of myself. Bocca (meaning 'mouth' in Italian) is well known for its Neopolitan pizzas like the Bianco (no tomato on the base) or Rosso (with both classic and other exciting options).
But don't overlook the rest of the menu. The small plates include fried gnocchi with ricotta, baby spinach and salsa verde; and roasted aubergine with goats pecorino, smoked chilli oil and basil. Whilst the 'Fingers' section serves crispy pork belly ribs with chilli and basil; duck pops with pickled beetroot, sultana and caper puree; and zucchini fries with herb mayonnaise. Again, this type of menu promotes sampling a bit of this and a bit of that. There is also a lovely selection of boutique and overseas wines available. Bocca does not take bookings, so if you are going for lunch it is advisable to be there by 12 pm. And for dinner make sure you are there by 6:30 pm to secure a spot.
Where: Corner of Bree and Wale Street, Cape Town
Contact: 021 422 0188
Email: info@bocca.co.za
Web: www.bocca.co.za
When can I go? Monday to Saturday 12 noon to 10pm