Back in May, I had the good fortune of going on another Tanzania photographic safari in the northern regions. This time I was visiting outside of the peak season so I was keen to see how the safari experience differed. I was also going to Lake Natron, an area I had not seen before.
This is not a trip report where I discuss the relative merits of one safari camp over the other. Rather, it is a celebration of the wildlife of northern Tanzania. As I am not a very good photographer, I think it shows you just how good the sightings are – that even I was able to get some decent shots. (Note to self – don't take so many portrait shots which cannot be displayed in a blog post!)
I will mention lodges and camps that I really enjoyed in passing. But I will also link you to our longer profile and my 1st-hand review – if you want more info.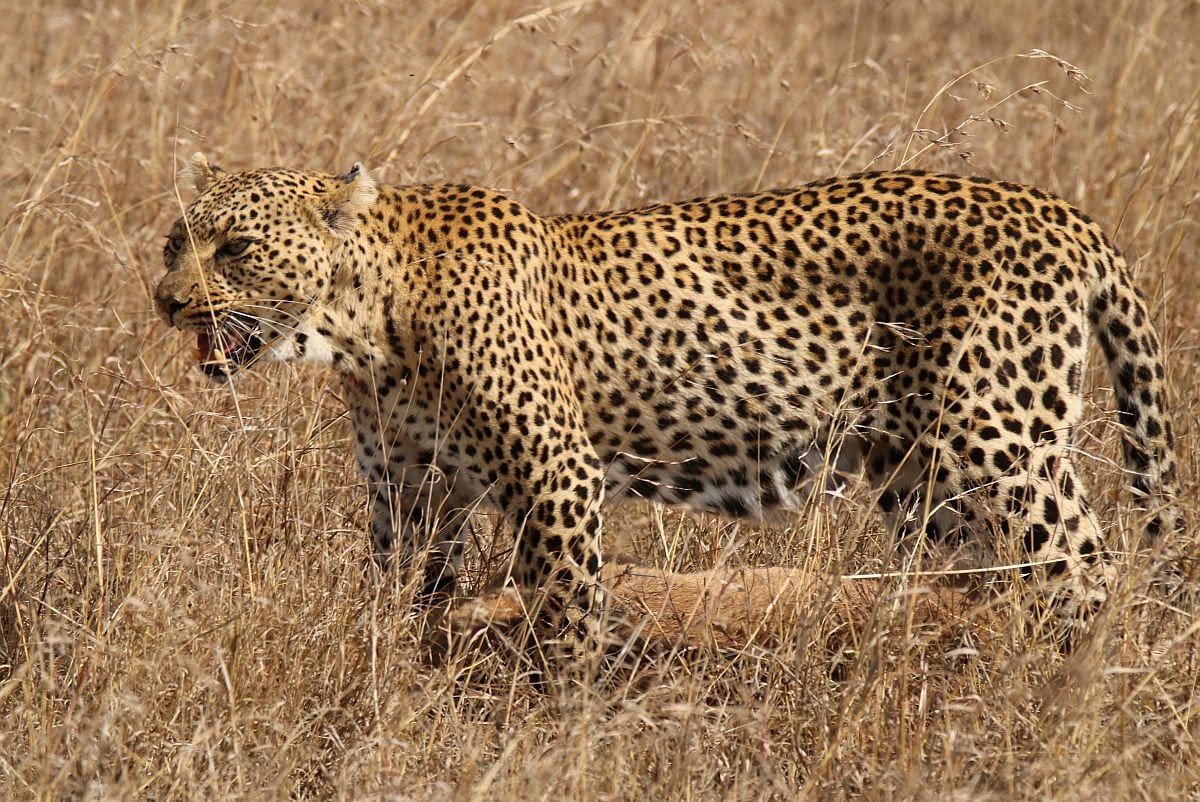 Style of Safari
Our trip was primarily a road trip – but of the ideal tupe. We drove in, but flew out – a great way to do a Tanzania photographic safari.
This is my preferred style of safari – over a fly-in safari – as you get to see how the various regions relate to each other. You see the general countryside and not just the game reserves. It also has the added advantage of being a little less expensive, even for 2 people. And you have a private guide who gets to know you and what you are interested in. If you are four people or a family party, the differential is even greater.
Plus the airstrips are not necessarily close to all the camps. So even on a fly-in safari, there is a fair amount of driving. And of course the flying days are naturally somewhat disjointed. So we recommend a fly-in safari when you are very tight on time and only want to see the top highlights. But if you have more time to spend, we recommend a drive-in safari.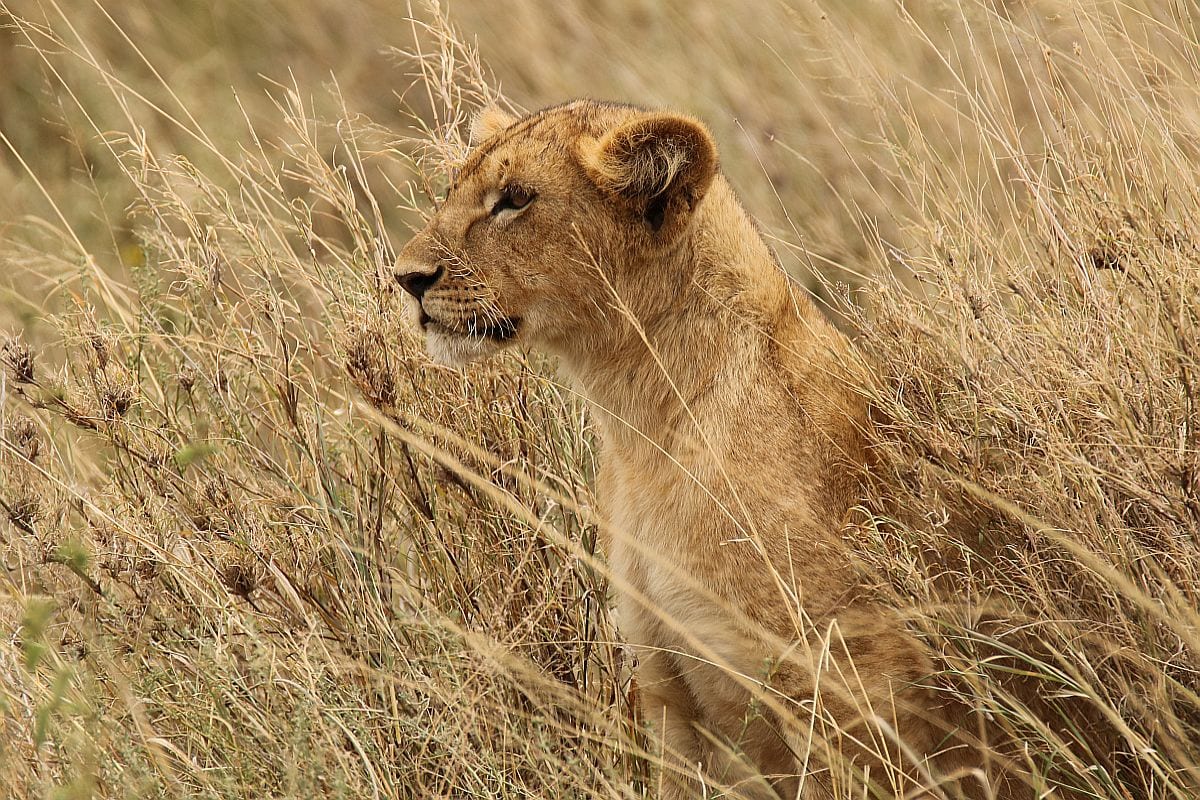 Our vehicle was a classic East African safari vehicle – a modified land cruiser with 6 "window" seats, a pop-up roof for taking photos and a refrigerated cooler box in between the back seats for cold water on tap.
Being used to the more open style of Southern African safari vehicles, the enclosed vehicle took some getting used to. The pop-up roof sides provide a natural base for your camera which is great. But slightly limited space up there does tend to get monopolised by the keener photographers.
Useful Blog Post: Differences between an East African and Southern Africa Safari
Overnight near Arusha
Many times, you will need to overnight in or near Arusha at either the start or the end of your safari. This is no bad thing as you can recover from the overnight flight and get a good nights' sleep prior to your early mornings on safari.
There's a range of places to stay to suit every budget. Indeed as it is not an important night, this is where you can economize if your need to. We did not! We stayed at the smartest place, Arusha Coffee Lodge.
See our website profile of Arusha Coffee Lodge
I enjoyed Arusha Coffee Lodge with the spacious and comfortable rooms, the coffee plantation all around, the good food and the coffee tour with their engaging and very enthusiastic guide. They had set up a series of workshops in the grounds where artisans with disabilities could ply their trade. They worked with designers so that the hand-crafted goods, for sale in the upmarket shop there, were definitely a cut above the average safari craft. Win-win all round! So a great soft landing to our Tanzania photographic safari!
Tarangire National Park
Our first safari stop was Tarangire National Park, 2 hours' drive from Arusha. I was very pleasantly surprised by Tarangire. I consider this park worth a visit at any time of year, even in the green season. In mid-May I had not expected to see so much. But we saw a lot, all within a short distance of the park gates. Plus because it was the green season, there were very few vehicles and so it felt natural and unhurried. We could stay as long as we liked at a sighting.
Of course we saw lots of elephants. However we were probably only seeing 10-20% of normal elephant sightings as they head to upland areas of Tarangire eco-system at this time of year! So goodness only knows what it is like in July and August!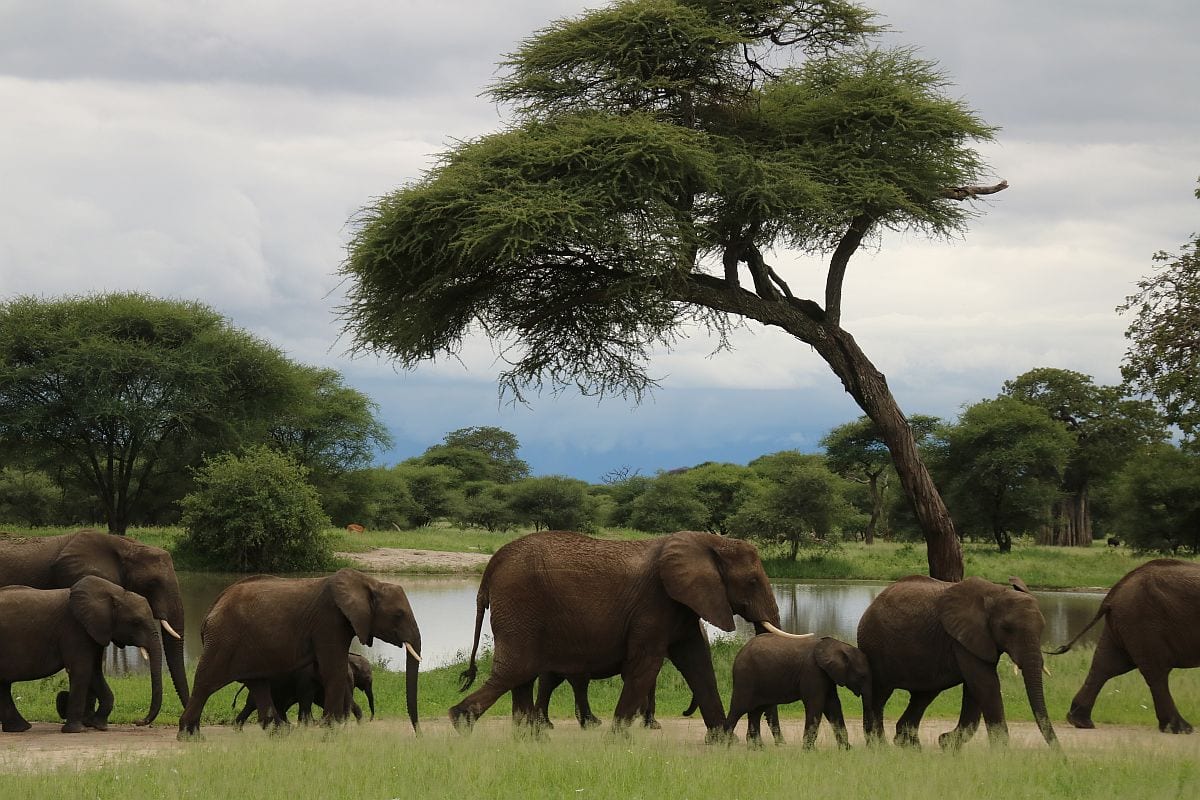 We didn't see many zebra and wildebeest as they leave in the wet season as the grass is too tall for them. (That's when they start their migration northwards to the Ngorongoro highlands and the southern Serengeti.) But we saw loads of them later in our trip. However in Tarangire there was still plenty of other game and excellent birding.
We always try to include at least one night here, ideally 2 nights. Then you can stay in the camps within the park itself (Olivers Camp, Little Olivers or Swala) and you can head further south in the park.
If staying one night, there are many camps on the northern border such as Tarangire River Camp. Others lie between Tarangire and Lake Manyara (e.g. Chem Chem) so that you can visit both from one base.
See our website profile of Tarangire River Camp
Tarangire River Camp is a mid-range tented camp with a stunning cliff-top setting with vistas over the river to the park. I wasn't crazy about this camp but the setting is a winner, especially if you take one of the river-side tents. The honeymoon suite, with spa bath and outdoor shower, is a little extra, if you feel like treating yourself.
Lake Natron
From here we headed north to Lake Natron. What a find for a Tanzania photographic safari! Lake Natron is an interesting combination of both awe-inspiring serenity and wilderness, and adventure. I know that many people are under time pressure and so it may not always be possible to include this area. But if you have time, especially if you like to be active, it is well worth a visit.
There is also a road which takes you from Lake Natron up the Rift valley escarpment and into the northern Serengeti National Park. This is perfect later in the season when the wildebeest migration is in the north of the Serengeti, as you avoid having to drive through the whole park to the north.
I loved this camp and its activities – but it is not for everyone as it is quite rustic. But I felt that they did a great job of getting the mix right between rusticity and traveller comfort.
See our website profile of Lake Natron Camp
At first glance, it looks extraordinary – a little like a series of army mess tents with the camouflage outer Bedouin tents. But this extra shade cover made a noticeable difference to the inner tent temperature, compared to other tents I have experienced in hot African months.
It was hot, but not unbearably so, and there are fans in the tents, right above the bed. (Apparently it is slightly cooler during the safari season (June to October).
I loved the natural swimming pool (even if I never did get used to the cichlid fish nibbling my feet). That was an inspired decision to create it and makes for a very pleasant afternoon of relaxation after a morning of walking.
Activities – great range of activities to suit most people, assuming that you are reasonably fit. This includes walks to the lakeshore to see the flamingos, walks to the hominin footprints and a range of scenic and adventurous walking excursions.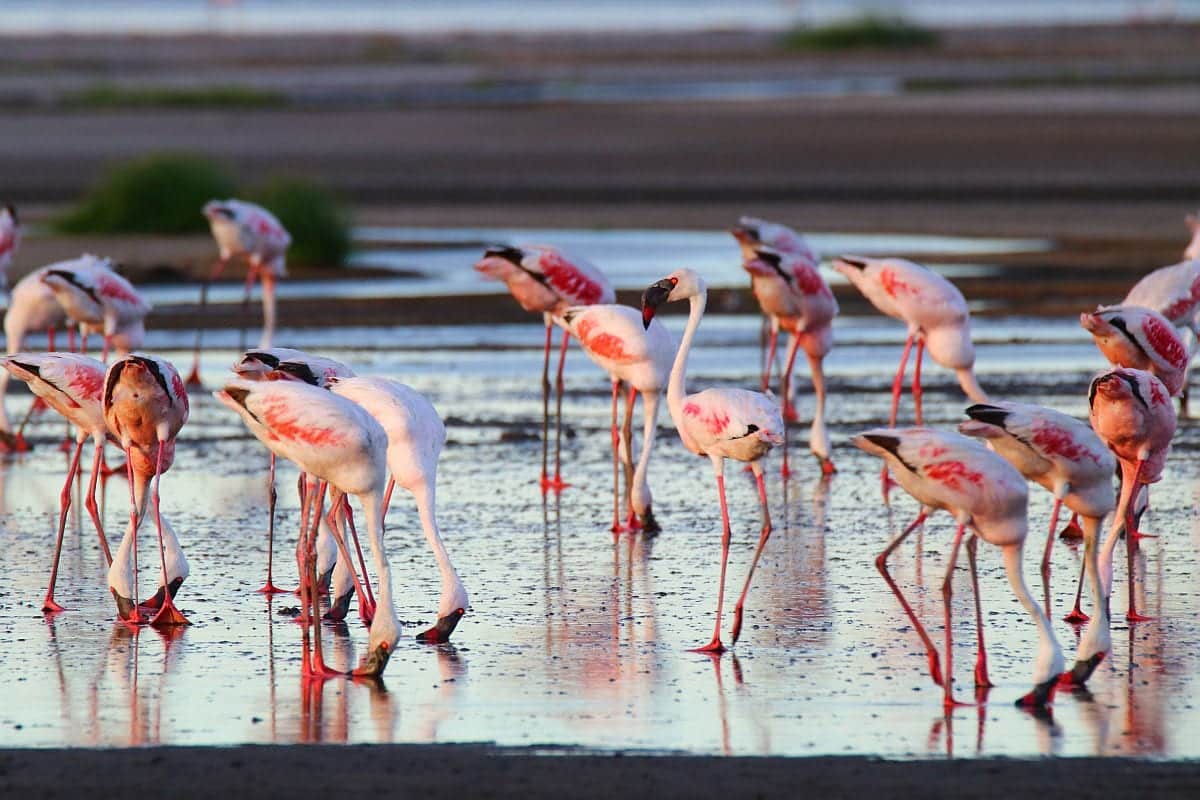 Chat to us
Tell us what you have in mind and we'll craft an itinerary for you, at no obligation
Contact Us Now
Lake Manyara National Park
We didn't stay overnight but enjoyed a game drive in the park. The park is not perhaps as good as it was (as the lake has largely silted up). Plus it is sufficiently close to the Ngorongoro area that you can stay there and yet easily enjoy a game drive in Lake Manyara.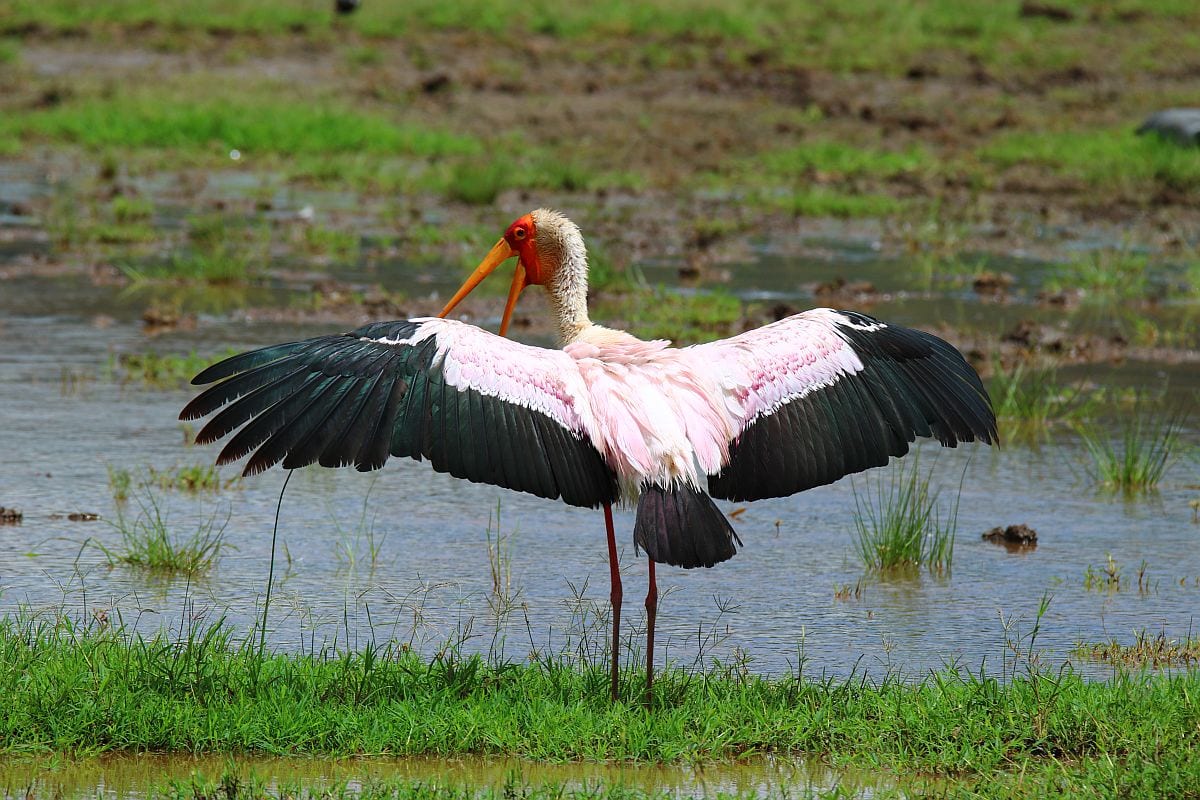 But Lake Manyara is a must for keen bird-watchers. For keen birders, we do recommend staying a night IN the park so that you can explore further south into the park and thus into the less busy areas.
Ngorongoro Crater
We then headed to the Ngorongoro Crater area. A reserve which receives a mixed reception from some critics. On the one hand, you are likely to see a lot of wildlife. On the other hand, many people don't like the crowds of vehicles which are typical of this ultra-popular reserve.
For me, I think it's all about expectations. Expect to see plenty of other vehicles. Be amused at the human race lined up in a series of vehicles all trying to take the definitive picture of a distant black rhino. Enjoy the majesty of the natural phenomenon of this extinct volcanic crater which is now a wildlife refuge of note.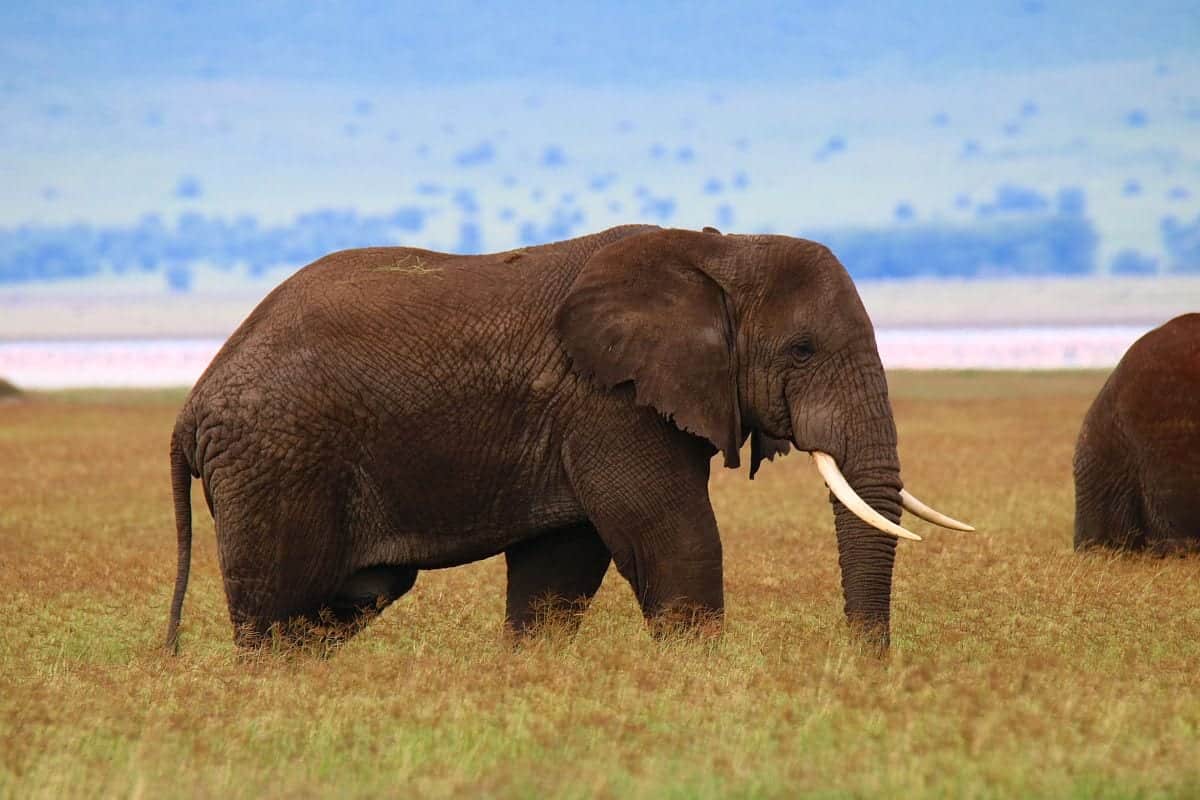 And – above all – don't see your Ngorongoro Crater visit as only about the crater. The Ngorongoro highlands are very scenic with an interesting mix of coffee plantations and rural Maasai villages.
Because of its central location, you can easily spend several days here and enjoy both the Ngorongoro Crater, Lake Manyara and also have time to relax at your lodge and do activities there. Depending on the lodge, this could range from coffee plantation tours to horse-riding. Or from scenic hikes to the Olmoti or Empakai craters, to spending time in a Maasai village. You could even visit the Hadza (Bushmen) and Dakota people from here. So a stay of 3 even 4 nights would not go amiss.
Climate – The Ngorongoro Crater was noticeably the coolest place on our whole trip. It gets even cooler in July to October. So you will need to have warm gear for here if you feel the cold. There is much emphasis on fireplaces in the rooms and very little emphasis on swimming pools!
Which Lodge to Choose in the Ngorongoro crater area?
Broadly speaking there are three main options:
If your focus is solely on the Ngorongoro Crater (and you are staying only 1 or 2 nights), then ideally you want to be as close as possible to the Crater. Your choices are somewhat limited to either the more modest options such as Serena or Sopa hotels, the decadent and over the top Ngorongoro Crater Lodge or the Neptune (strange name I know) lodge, which isn't on the rim, but at the park gates.
See our website profile of Ngorongoro Crater Lodge and Neptune Ngorongoro Luxury Lodge
If you are using the Ngorongoro highlands as a base for a few days, then I would recommend using one of the country lodges which are 30 to 40 minutes' drive away.
I liked many of these lodges – with the rather colonial Gibbs Farm being my favourite. However your choice probably will be down to a mix of personal taste, how much you want to spend and also, perhaps, the activities available at that lodge.
See our website profile of Gibbs Farm, The Manor at Ngorongoro, and Plantation Lodge
If you are into wilderness, hiking and cultural experiences with the Maasai, there is a third choice which is to stay well into the Ngorongoro Highlands Conservation area, north-east of the Crater. Given the distance to get there I would recommend it for at least 2, if not 3 nights. I didn't visit this time. But my colleague has so have a look at our website profile of The Highlands
Olduvai Gorge
After our rewarding morning game drive in the Crater, we headed north to the southern Serengeti. En route we broke our journey at the new museum at Olduvai Gorge. This re-imagined museum has been a long time coming. But finally the amazing treasures discovered by Richard Leakey and his team are being displayed to good effect. It is well worth a stop for at least an hour if you have time.
Download our Guide to Tanzania Safaris
Major Game Reserves, Sample Tours & Camps, plus the low-down on Best Time to Visit!
Get our Free guide here
Mari Jacobs
Africa Travel Specialist
Hi I'm Mari, I'm here to help you plan your ideal holiday experience
The Serengeti National Park
Now we come to the Serengeti which was for me, as for so many, the crowning glory of the trip. And a must for a Tanzania photographic safari! We arrived late at the gates but were immediately treated to some fantastic sightings of a cheetah mother, on an attempted kill. And her cubs. And then a pride of lions on a high koppie a la Lion King. Then more lions on the move in search of supper. The light was fading too much for perfect photography. But it couldn't have been a better start.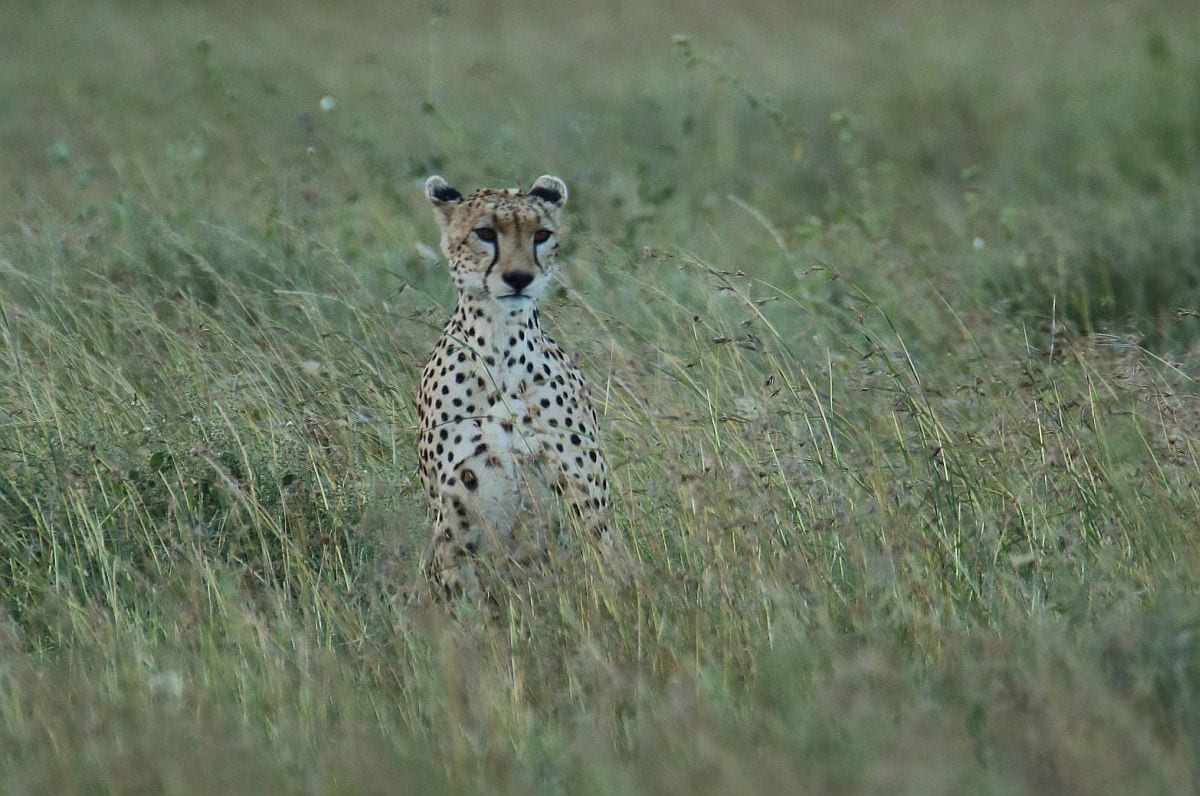 Free Insiders Guide to Migration Safaris in Tanzania
Download our in-depth guide to the wildebeest migration in the Serengeti & Masai Mara - where to go and when...
Get the guide
We also saw massed packs of wildebeest on their gradual migration north. By late May they were firmly in the Seronera area of the central Serengeti and heading towards the western corridor. Later on in June and early July they would start heading up to northern Serengeti.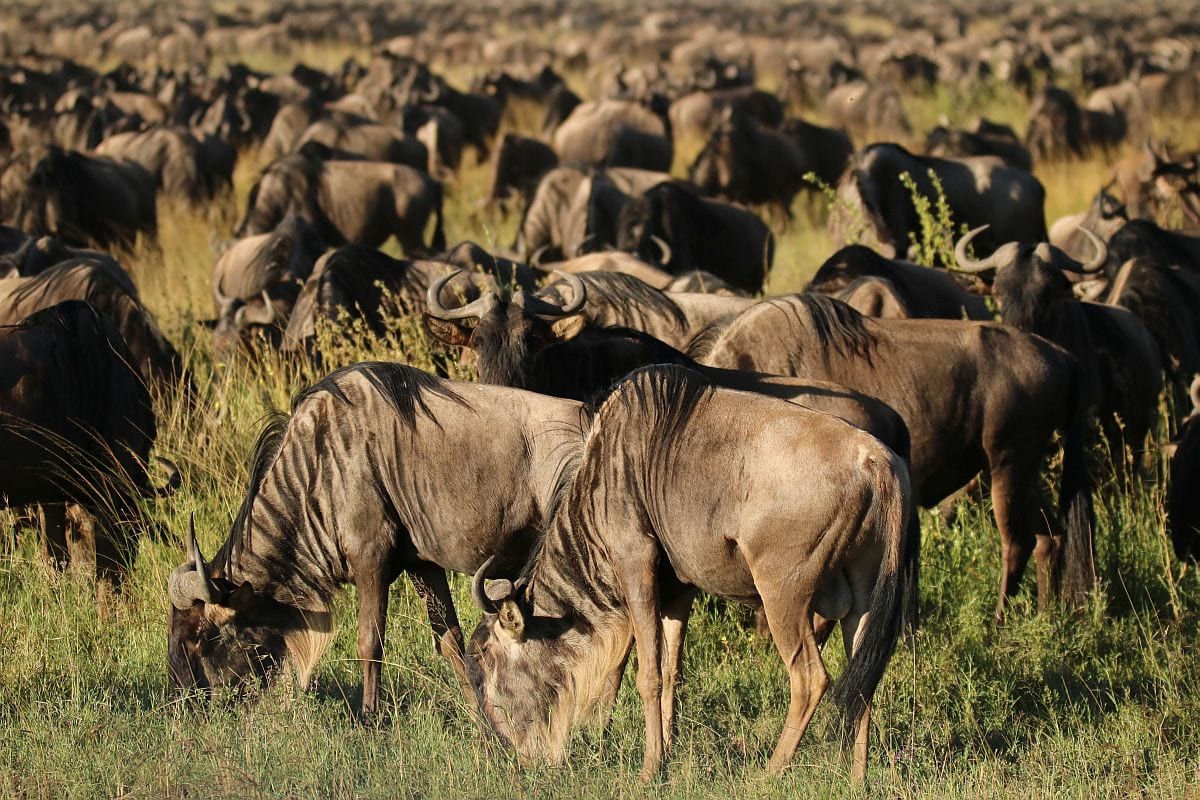 Hot Air Ballooning
We had the amazing good fortune to experience a hot air balloon safari. It was awe-inspiring to be floating just above the Serengeti looking at the wildlife. In particular I was captivated by a pride of lions who looked up at these giant floating baskets with a quizzical air.
There was much angst that we didn't manage to get the 'perfect shot' but it was surprisingly hard to get a clear shot as the balloon was moving much faster than we felt.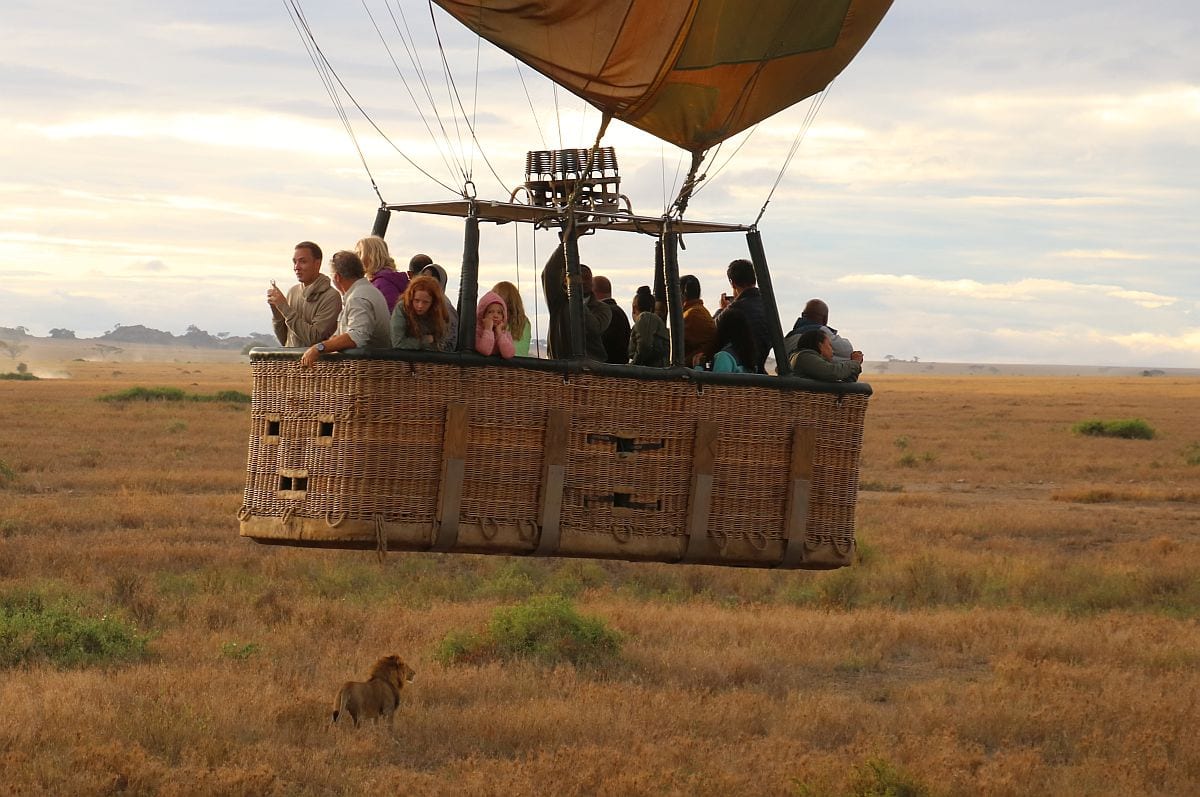 This was THE highlight for many and its novel viewpoint is well worth the rather extravagant price tag. If you can afford it, do so. Just don't ask your Tour Operator to itemise the cost!
Note on Getting Stuck
The height of the safari season is from July to October. That's when the prices are highest and the crowds of people are the most.
We went in mid to late May which meant that though we saw other vehicles, I didn't get the sense of overwhelming visitor numbers. But it is not long after the rains of March to early May and the ground is still wet. And so it is easy to get stuck.
We got stuck for several hours in the Moru Kopjes. We all tried valiantly with our guide to get us out. With much cautious gathering – as this is lion country – or stones and large branches to give some grip. But in the end, it took another vehicle from a nearby camp to pull us out. I have no pictures because when getting out of the vehicle at the start, I foolishly didn't take the camera.
So probably mid-May may be a tad too early to visit that area (Moru Kopjes). I would say June would be a safer bet.
Big Cats Everywhere
The sheer quantity of big cat sightings in our short visit was remarkable. Including the interaction of predators with their prey. We witnessed a lioness taking down a wildebeest. Then immediately – within 15 minutes she was on the hunt again. It was fascinating to see how – once she crouched down – the long grass completely covered her. However this second time, they got wind of her and took off. Talk about a bonus shot on our Tanzania photographic safari!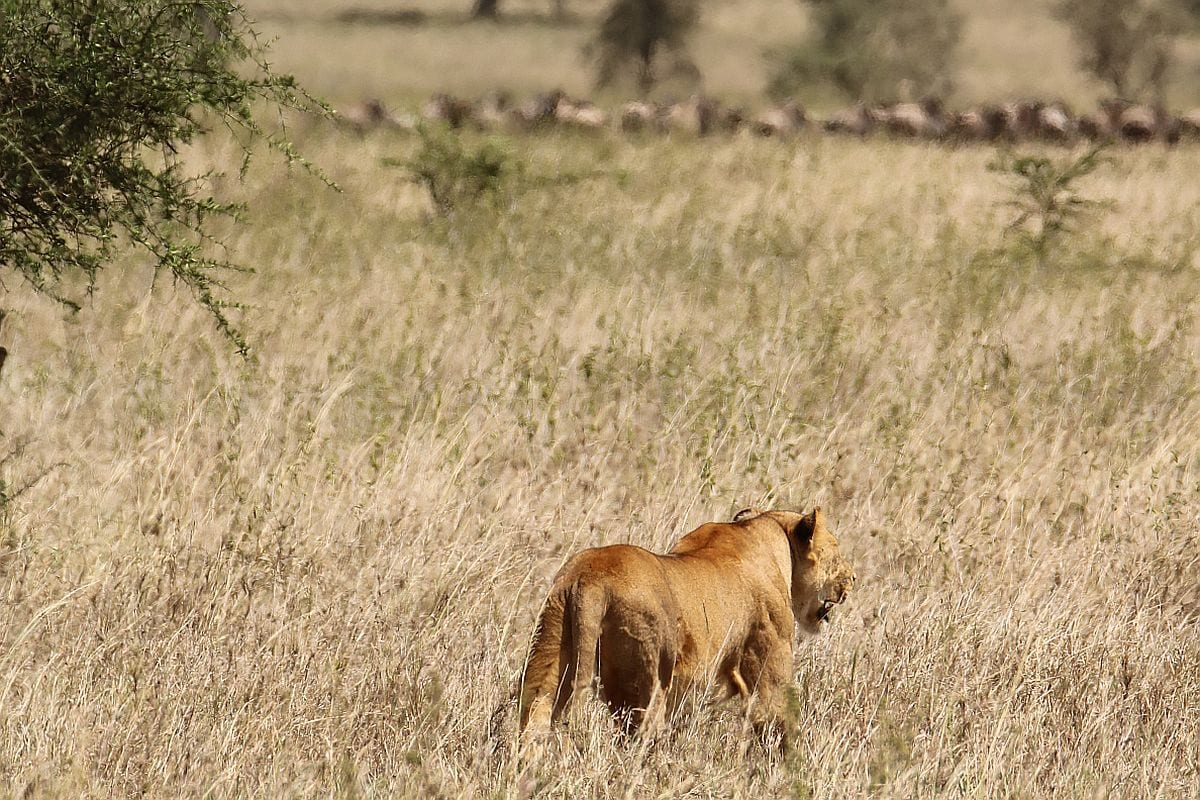 We witnessed a truly epic journey of a leopard with a large puku making its way across the grasslands to the safety of a kopje (small hillock) where she would be able to hide the prey from the lions and hyena. She had to carry her heavy prey across approx 300 metres, pausing every few metres to catch her breath. It was truly a heroic task and we decided to stay to see if she made it. She did!
Note: We were the second vehicle at the sighting but because of the length of time it took her to reach the kopje, by the end there must have been 20 or so vehicles. It was an example of just how busy it can get later in the season.
Serengeti Lodges
We visited a number of lodges but my focus here is to show you how good the game-viewing was, even though it was no-where near peak season. But I particularly liked the following:
Asanje Mara and Serengeti Pioneer Camp
My colleague Mari visited:
Dunia Camp, Olakira Camp and Sayari Camp
Note: Just another example of how beautifully camouflaged the big cats are in the long Serengeti grasslands…
Stone Town
Finally we had to leave the Serengeti. It was hard to go but we did at least have a few days of relaxation in Zanzibar at Baraza. En route we visited Stone Town for the afternoon.
Stone Town received a mixed review from my fellow travellers so it is worth a brief note. It has some of the style and ambience of Marrakech. But it is poorer and it shows. The street markets are a mix of tourist trinkets but also everyday household items such as washing powder or shoes. Yes the wooden doors are elaborately carved and beautiful, but the paint will be peeling on the walls and someone may be sitting on the doorstep selling wooden carvings.
Some people wanted it to be clean and pretty but it isn't. It's real and authentic. But I enjoyed it. I liked walking through the streets and seeing this juxtaposition of the beautiful and the ugly. I was interested to learn about the history of Zanzibar and in particular the importance of the slave trade.
In my opinion it is well worth a visit, at least for a few hours. Perhaps even an overnight stay depending on your arriving or departing flight schedules. But others may choose not to.
See our website profile of Park Hyatt Zanzibar
Free Guide to Tanzania Safaris
Check out our photo-rich Insiders Guide to Tanzania & share with family & family!
Download Here
Zanzibar Resorts
After a stunning but tiring time travelling and visiting camps on the safari circuit, we arrived at the luxurious Baraza on the south-east coast of Zanzibar.
I didn't take many photos at Baraza as I think it is utterly fair to say that it looks every bit as good as it seems in the photos. The swimming pool is THAT beautiful and the beach is THAT white. So if you want to know about it, read our profile and my reviews here:
Baraza Resort & Spa and Breezes Hotel & Spa
"My Tanzania photographic safari blog" – was written by Kate Bergh of Cedarberg Africa
Cedarberg Africa is a specialist tour operator for Southern and East Africa. We focus on upmarket tailormade safaris for discerning and inquiring people. Several of us have visited Tanzania a few times and so we can chat to you about a possible trip from personal experience, weighing up the different options, to plan a trip that is just right for you.