Overview
What on earth do we mean by "Affordable African Safaris"? Elsewhere we've talked about how a safari is often more than you want to spend. And that's true. So on this page, we focus on lodges and areas which are on the affordable side of this spectrum.
PRO TIP: Make sure you budget considerably more for your nights on safari within a trip. You may want to economize in other ways - See Safari Pricing for ideas - in order to stay at good private game reserves.
Below are some of our more affordable African safaris and less expensive game lodges and camps.
These tend to be - though not exclusively - in South Africa or Namibia, Here the Rand ( & Namibian Dollar) is relatively weak versus the world currencies giving you better value for your money. Also our sample South Africa safaris usually include non-safari areas such as Cape Town or the Garden Route. This brings down the overall cost.
Plus you can easily opt to self-drive for part of the trip which brings down the cost still more.
What do you get at OUR affordable game lodges?
In this world of online travel sites, it's easy to get confused as to why a game lodge is comparatively inexpensive. All game reserves are NOT created equal. So if a game lodge seems very reasonable, you need to ask why? When choosing an affordable African safari, we steer clear of the lesser game reserves. (They may say they are Big Five reserves but how many of each species do they really have? And are they free-roaming?)
You are looking for a proper safari and not a zoo experience.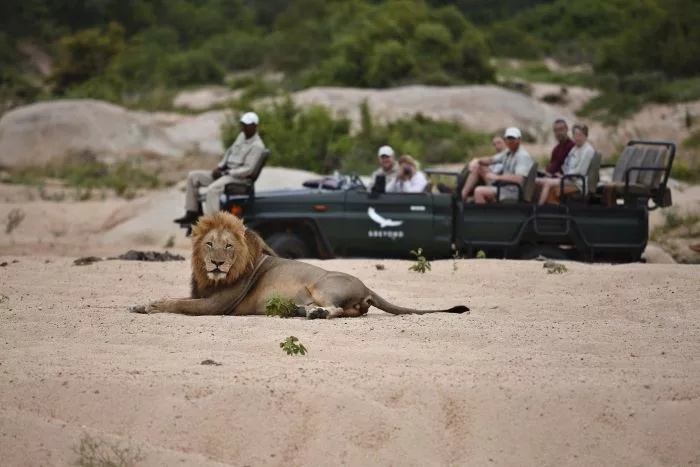 Instead we focus on the affordable game lodges which are in good game-viewing areas. The accommodation will be simpler, the food not so elegant. Yes, the guiding may be a little less refined. But you will be on safari in the same terrain as much more expensive lodges, tracking the same wildlife.
Similarly some of the lesser known game reserves in remote areas offer a fantastic safari experience. That's why you need to talk to the safari experts! (End of small rant.)
As long as you have the correct expectations, these affordable lodges can be every bit as good as their pricier cousins.
Note: Below we highlight affordable game lodges for their area.
Back to Wildlife Safaris
We will certainly use Cedarberg again
"All the arrangements worked perfectly – no hiccups at all. We will certainly use Cedarberg again and will recommend the company to others. We were particularly impressed by the fact that the ground agents met us from every flight and saw us on to the next flight so if anything had gone awry there was someone on hand to help us sort it out. As one gets older that is enormously comforting. "
Ms Sandra Clark, UK
Seamless and amazing
"Thank you so much, we have returned and we had the best, best, best time! Thank you so much it was seamless and amazing, I would use Cedarberg again. Thank you Maddy! "
Mr Ben Cunningham, USA
Great Recommendations
"I am into the details and ask lots of questions and I got all the info that I needed (and more) very quickly, which enabled my review all of Cedarberg's recommendations and check for alternatives. I am very pleased to say that I changed none and all of the recommendations were 1st class. "
Mr Ian Crispin, UK
Tasha Eygelaar
Africa Travel Specialist
Hi I'm Tasha, I'm here to help you plan your ideal holiday experience
We arrange trips to more than 100+ destinations throughout the African continent.
Did you know
Best Bang for Buck?

Generally South Africa and Namibia

Low Season Prices

South Africa - May to July (sometimes), Southern Africa safari destinations - December to March, East Africa - April to May (but April not recommended)
Ginny made excellent suggestions
"Ginny made excellent suggestions for our holiday ensuring we had a good variety of things to do which suited the whole family. "
Mrs Mary Creayen, UK
Cedarberg always create amazing holidays
"Cedarberg do not fail to deliver they always create amazing holidays and we can not fault. We've used Cedarberg 5 times and keep going back for more African experiences Excellent. Amazing as always, as we always seem to test you guys with snow, weddings & having to change destination. You never fail to give us the best. "
Mrs Alexei Howell, UK
Namibia was as wonderful as ever and didn't fail to impress third time around !
"Namibia was as wonderful as ever and didn't fail to impress third time around ! Thank you for arranging it and for your patience and understanding. It can't have been easy to keep going and retain the confidence of the suppliers involved in the chain and the customers. We really appreciated it that we were able to have the itinerary we wanted more than 2 years after we planned it with you. Regards Mr Andy "
Mr Andy