If you've read our article about 'cultural tourism' you know that I have some mixed feelings about 'cultural tours'. At best such tours can give you a tiny insight into historical, cultural traditions. At worst, they can reinforce pre-conceived notions of how people live in Africa. Some seem to have an 'us and them' voyeuristic component. But community tourism is a completely different 'kettle of fish'.
So what is it and why do I say that?
A working definition is when local residents (perhaps rural, poor or economically marginalised) invite you to visit their communities. You may stay overnight or participate in activities run by the community. The communities earn revenue in various forms from accommodation, provision of services or rent. Individuals often learn to become entrepreneurs and business managers in the process. In return you get to see a way of life, vastly different from your own, in an authentic, non-voyeuristic way. You gain a much deeper understanding of the issues facing that community or region. Certainly more than you would during a one hour 'tour'. Plus the money is going straight to the communities.
But there are many forms of community tourism, some of which are not immediately obvious. Yes sometimes you may choose to stay in the community. You can trade off some comfort in return for an experience. One example is that of the Cederberg Heritage Route walking trails where modest accommodation in local communities is rewarded with access to pristine parts of the Cederberg Wilderness Reserve which you couldn't get to otherwise. (See our Cedarberg Heritage article here)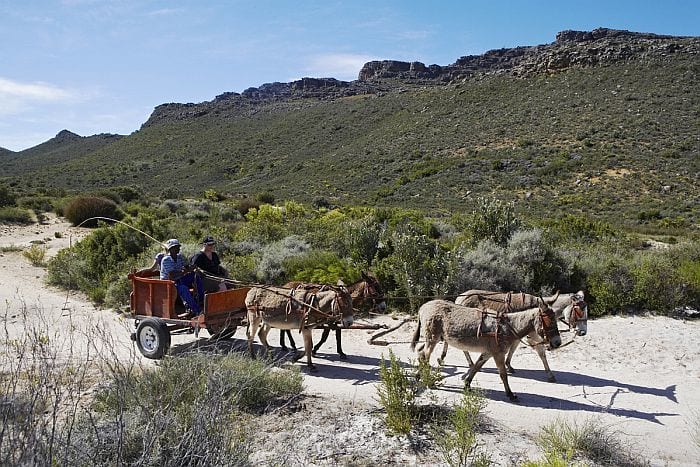 But other times you don't need to trade off any luxury, as some safari camps and lodges operate on community land. They pay a rent or concession fee to the community and run a commercial lodge. Sometimes it is just money changing hands. But for more enlightened enterprises it has blossomed into a much deeper exchange, which benefits all sides. Lodge visitors can visit the community and see the changes that tourism brings. The community gets not only investment, but exposure to outside influences and job opportunities at the lodge.
1st-hand example from Imvelo Safaris
I saw this first hand when staying at Camelthorn Lodge in Hwange National Park, which has been built on communal land just outside the park gates. Imvelo Safaris pays a concession fee (rent) to the community but it goes much deeper than that. They work with the community to identify specific projects which are most critical. In one case it was to upgrade the school and local education. They did this by investing the money in the school buildings and facilities but also in building school teachers' houses. (So that the school can attract good teachers to this remote area). The results were obvious with a dramatic year on year improvement in the pass rate (albeit from a very low base.)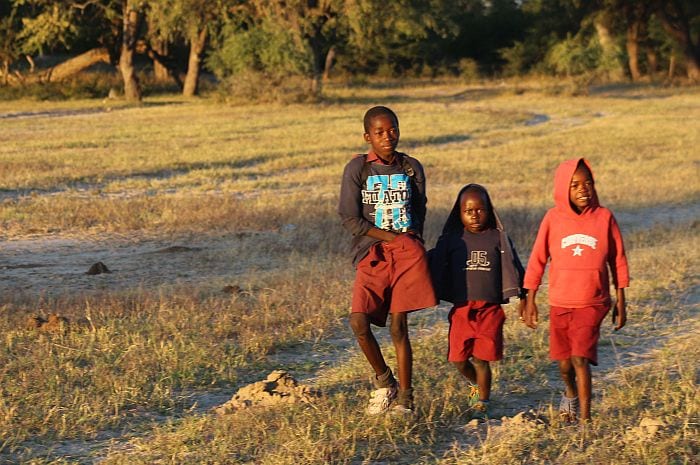 Imvelo Safaris also encourage lodge visitors to visit the community, the school especially. We had a meeting with the headman of the village and chatted to the headmaster and teachers. I felt that we gained insight into the issues facing them – in a country which is beset with problems. They also encouraged us to get involved during the tour.
In the classroom, I chatted about my home country and did a Q&A session with a group of 8 kids. In turn they got to laugh at my pathetic attempts to pronounce various Ndebele words. Later I participated in the school feeding programme – also part of the project – which was a humbling experience. In turn the young students in the area are aspiring to potential job and career opportunities in tourism, such as coming to work at the camp as waiting staff or barman. Some then deciding to study further to become rangers – the best job at a safari camp. (This is an area of mass unemployment following the demise of commercial agriculture under Robert Mugabe. So tourism is the only lifeblood in terms of jobs. But that's another story…)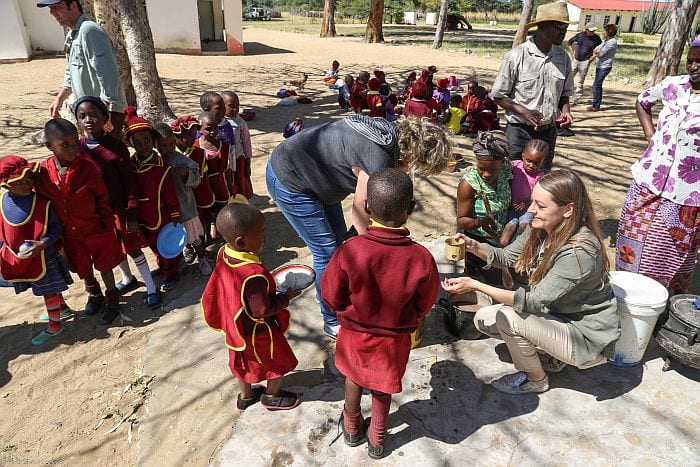 Other opportunities emerge…
Finally by introducing their visitors to the village, further opportunities emerge. A Spanish dentist realized the massive need for dental care in these remote villages. He arranged for a group of dentists to return the following year for 3 days of emergency dental care. This has been repeated on a regular basis with a marked improvement in the level of dental care needed. This is fantastic for the local community. But as importantly, it was probably a very fulfilling experience for the doctors.
Another visitor from Cape Town realized the need for books. So he set about sending up books to the school: publishers' over-runs and second-hand books. Rovos Rail helped out, the luxury train which travels from Cape Town all the way to Victoria Falls. As it conveniently passes within a couple of kilometres of the school!
Get the Ball Rolling
Love the sound of a safari which is based on sound community involvement. But not sure where to start? Chat to us!
Contact Us
Other Community Tourism Initiatives
I have also seen heartening initiatives at community-based lodges in South Africa such as Thonga Beach Lodge. Here all the staff come from the local community, and they are happy to take you to their village. Here I have seen them gaining experience and real confidence over the years, to the point where they have marketable skills and can head to different areas if they wish.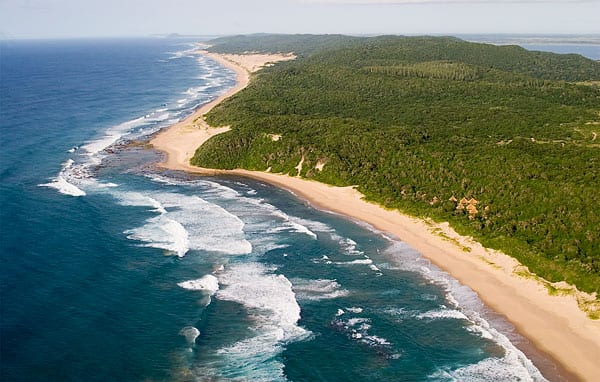 Other lodges have developed satellite businesses with their employees or community members. You can do a walking tour of a local village, or enjoy a birding tour or a guided cycle ride with a budding entrepreneur for example.
Although many lodges are invested in community tourism, here are some others that we know well. All worth considering for your next safari …
Mvuu Wilderness Lodge and Mvuu Camp in Liwonde National Park, Malawi, financially support about 500 people living outside the park. In addition, there are school projects in the area that have been boosted through the a combination of financial assistance from Mvuu's guests and Wilderness Safaris.
In South Africa….
Amakhala Game Reserve in the Eastern Cape has the wellbeing and upliftment of the local community in focus since founding The Amakhala Foundation in 2009. The foundation runs various social and educational projects focused education and skills development. At the Amkhala Craft Centre, members of the community can generate income through the sale of locally made crafts such as beadwork and textiles.
Grootbos Nature Reserve established the Grootbos Foundation in 2003 with a vision of transforming communities and conserving the environment through the creation of sustainable livelihoods and active citizenship. Whether you realise it or not, your stay at Grootbos has a direct positive impact on the environment and the people.
Singita Kruger National Park is involved in a number of community programmes to support local schools and the wider community. They also offer community visits to guests. In addition, they began The Singita School of Cooking (SSC) in 2007. This offers nine students from local communities a chance to participate in a 12-month course.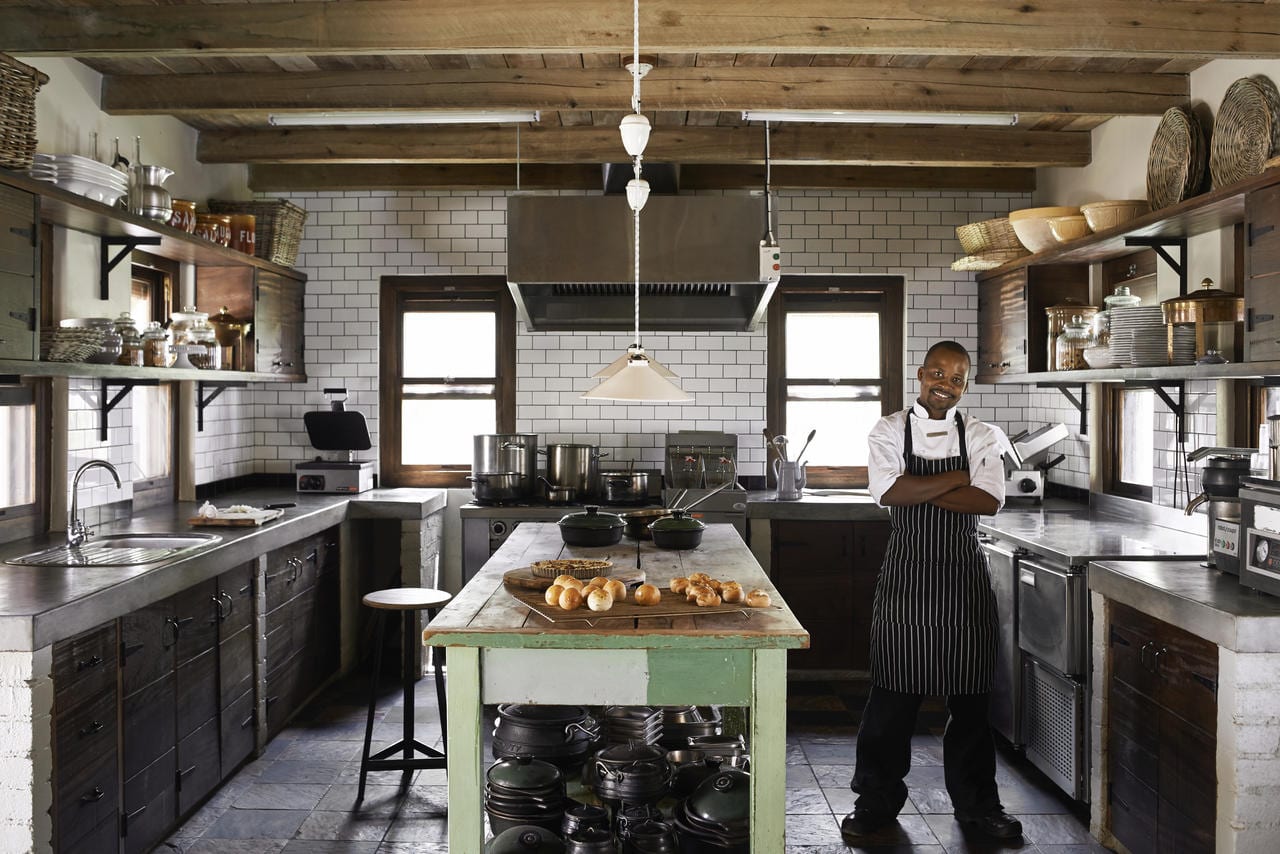 At its best, community tourism is a win-win story. You get to do or see something that you wouldn't have even known about. You get the warm fuzzy feeling that your money is making a real difference. They get much needed funds, business skills, and a chance to control their own futures.
If you are interested, check out our Zimbabwe Safari Offer with Imvelo Safaris. This not only offers 9 nights on safari at an excellent price, but also gives you plenty of opportunity to see community tourism in action.
_______________________________________________________________________________________
This blog on Community Tourism is written by Cedarberg Africa
Cedarberg Africa is a travel and safari company specializing in Southern and East African tailor-made itineraries. As we have special rates with all the hotels and game lodges, booking through us will cost no more than booking direct, and sometimes less. So our expertise and knowledge comes at no extra cost to you!
Feel free to contact us if you want us to plan the perfect getaway for you.