Everyone's idea of a romantic weekend away is different. Some would love nothing more than to escape the big city lights and head as far into the mountains as possible. Whilst others are thrilled by the idea of luxurious spoils close to the goings-on of urban life. Whatever your preference, here's our take on some of the most romantic hotels in Cape Town and the nearby Winelands.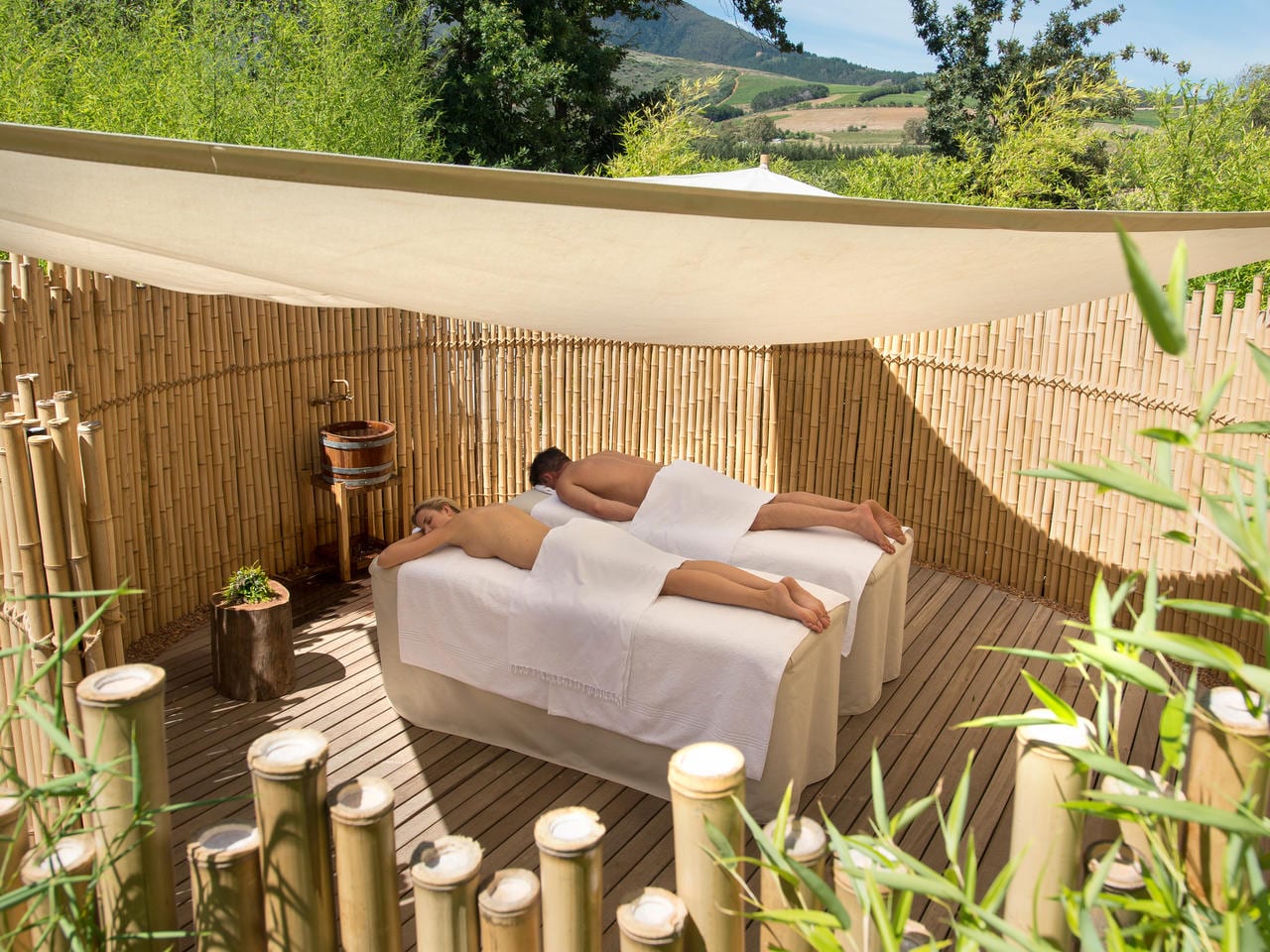 Tintswalo Atlantic
If you are looking for a secluded spot that offers tranquility and the crisp smell of the sea breeze, but like the idea of being close to city wanderings and festive markets, then Tintswalo Atlantic is the perfect place.
Situated on the lip of the Atlantic, Tintswalo has an exquisite ocean setting, with the scenic Chapmans Peak Drive above and views over Hout Bay towards the towering peak of The Sentinel.
If you aren't completely blown away by the setting (hardly possible!), then the luxurious suites should do it. They are individually decorated to mimic the aesthetics of various well-known islands around the world. Who needs to travel to the island of Madeira when you can sleep in a perfectly replicated room whilst whale-watching from your private deck?
If you're a bit of a foodie you'll also love their cuisine and the interactive kitchen. It allows you to join the chef in the kitchen, trying your hand at creating a new dish. Quite a romantic activity, don't you think? For more info see our detailed write up here.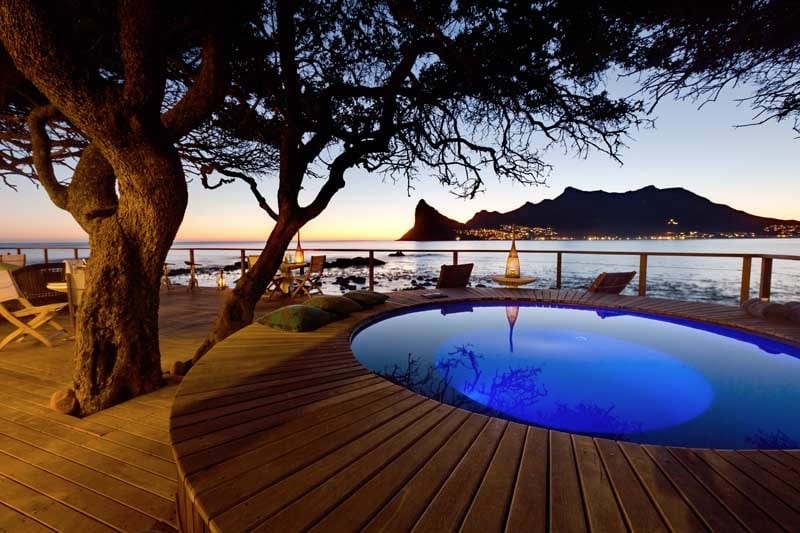 Romantic hotels in Cape Town – Clarendon Bantry Bay
Untainted class and beach-side charm. That is what you'll get if you choose to stay at this luxurious boutique hotel loftily perched above the sparkling waters of the Atlantic Ocean in Bantry Bay. If you are searching for a place to spoil your partner, look no further!
Although the cityscape is in view, you just need to take one glance at the turquoise bay and you'll be at peace. A moment in your beautifully decorated room, with its contemporary mix of classic design and local flavour, will also do the trick.
If you've been told of the relentless wind in Cape Town, you'll be pleased to know that the Clarendon Bantry Bay is both shielded from the winds and also within minutes of the V&A Waterfront, Table Mountain, Camps Bay and Clifton beaches, and the cosmopolitan city centre with its shops and restaurants.
Want to know more? See our page on this gem here.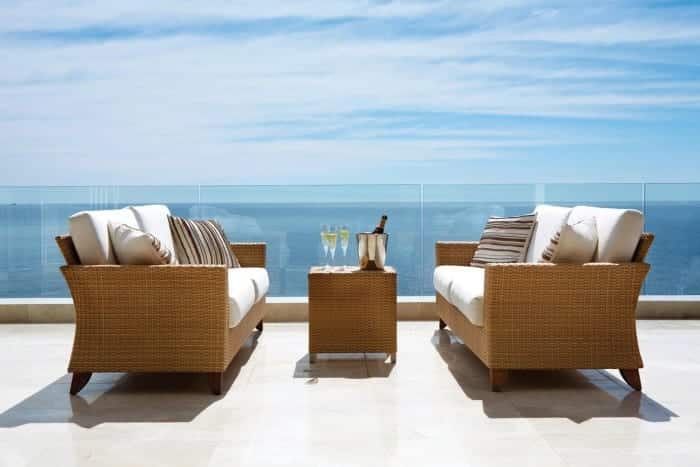 Twelve Apostles Hotel and Spa
Do you love complete luxury? Spectacular ocean views, word-class spa treatments, deliciously prepared cuisine, relaxation like none other, and watching movies on a big screen? Believe it or not, such a place does exist! It is none other than the Twelve Apostles Hotel and Spa. There are so many unique features at this intimate and lavish spot that it is difficult to fault.
The Twelve Apostles Hotel and Spa backs onto the Table Mountain range, making you feel like you're on the edge of the world. You can walk the wilderness trails in their mountain nature reserve. Relax in the indigenous fynbos garden perched above the ocean or enjoy the secluded jacuzzi and heated pools.
The Sanctuary Spa offers the full range of treatments. It includes hydrotherapy options with loads of extras like a brine pool, sauna, various jacuzzis, rasoul chamber, and steam rooms. A fitness room with a range of cardio and weight machines completes the picture.
Unwind in the Leopard bar before dinner at the Azure Restaurant, which offers an innovative Fynbos-inspired tasting menu. Or check out their 16-seater private movie theatre, complete with milkshakes and a popcorn machine on hand.
Who needs to be sophisticated all the time? All you need to say to your partner is, "Honey, do you really love me?" If they do, they'll know where to make a booking! You can find all the juicy details here.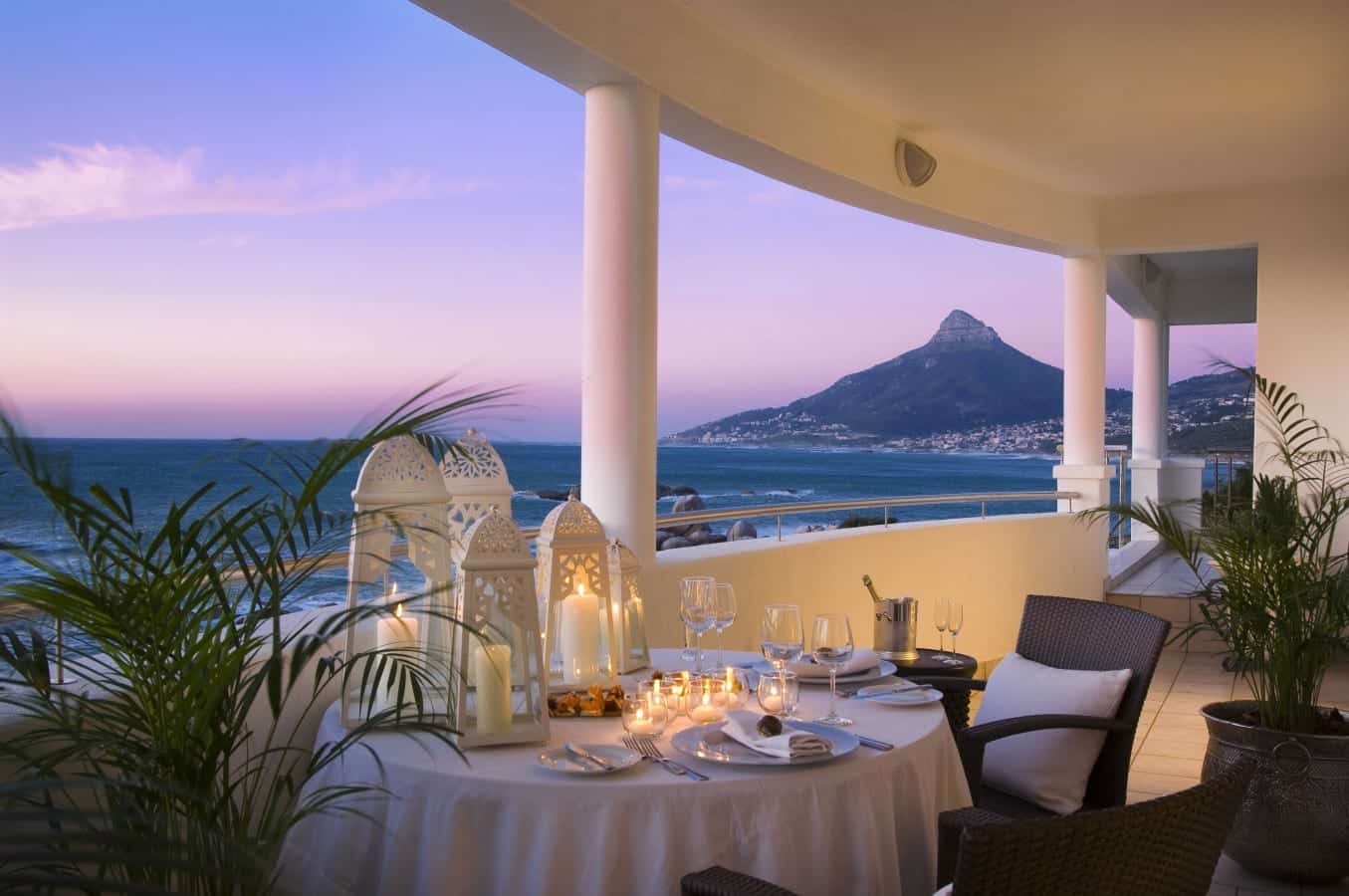 Romantic hotels in Cape Town – Last Word Long Beach
Imagine waking up in a gloriously comfortable bed, walking out onto your private patio, and looking out at 8 kilometers of unspoilt powderey white sand. Sound like the ideal romantic hideaway to you? Although it might sound like a secluded tropical island hideaway, it lies somewhere between private haven and bustling city. The Last Word Long Beach is right on the beach in the picturesque lobster-fishing village of Kommetjie on the Cape Peninsula. Yet it lies only a short 40 minute drive from the centre of Cape Town.
Choose one of their six beautifully decorated and ultra-luxurious rooms which all face the sea. The view is so captivating that they have made sure you can still see it from the bathroom! If you can tear yourself away from this haven, you can laze in the sun on the beach, go for a surf, ride a horse, or do some bird or whale watching. You also have the rare opportunity to catch your own lobster and request it for dinner!
Those who consider breakfast one of the best meals of the day will certainly salivate over this breakfast menu with its wide variety of interesting dishes on offer. There are very few hotels in Cape Town that lead straight onto the beach. So, if this appeals to you, The Last Word Long Beach is for you. It is also perfect for newly weds or couples wanting a romantic time away.
If this has awakened your appetite, read more on our page here.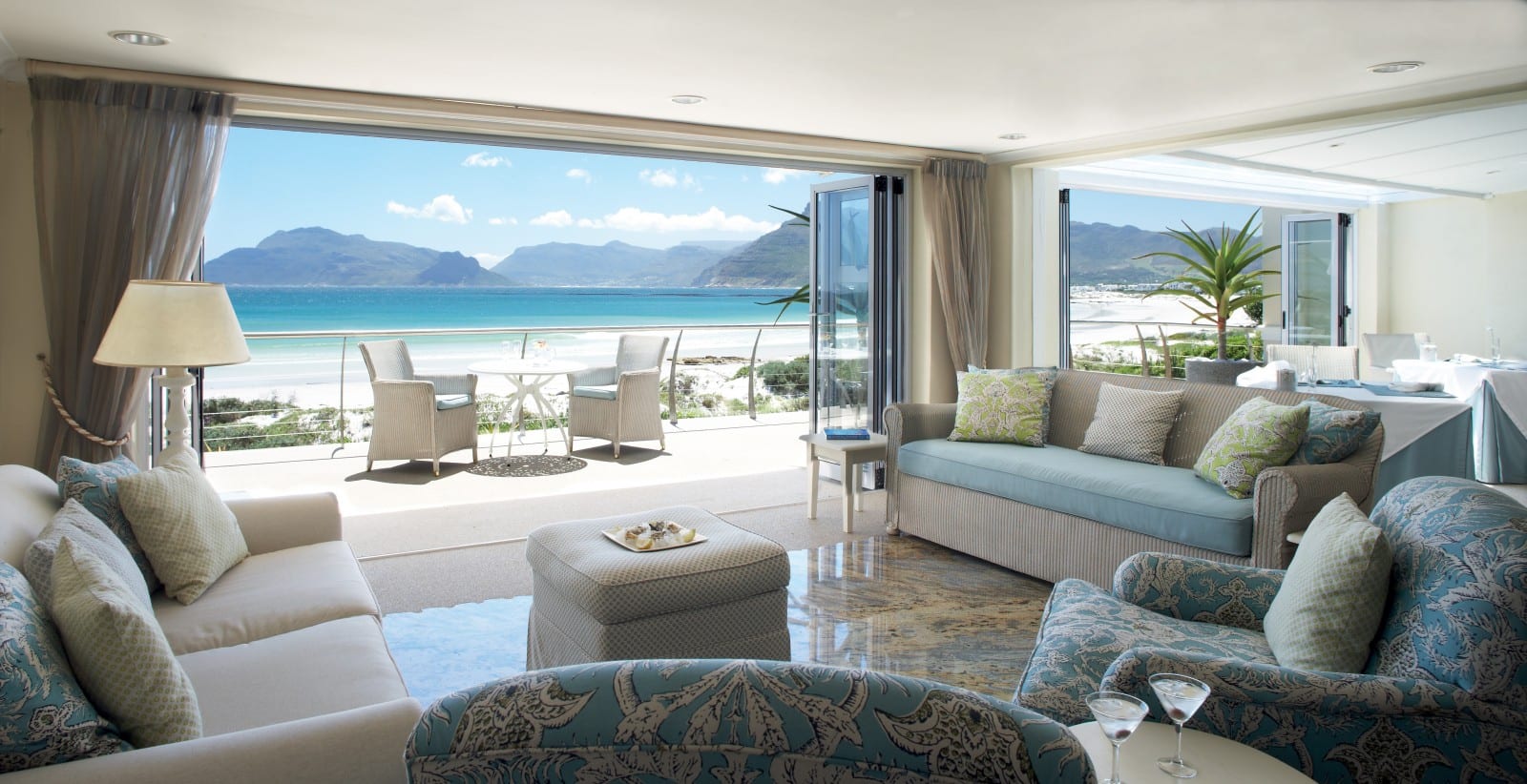 Chat to us
Tell us what you have in mind and we'll craft a romantic itinerary for you, at no obligation.
Contact Us Now
Camps Bay Retreat
There are still some hidden gems in Cape Town that ooze grandeur and class. And that offer couples a romantic and luxurious stay. One such place is Camps Bay Retreat, A luxury boutique hotel set on four acres of lush green nature reserve. It cascades down to the ocean with its own private gate bringing you right to the secluded Glen Beach.
The word 'retreat' sparks an holistic, peaceful picture in my mind, where I can fully relax and unwind. And this is just the place to do so. It even has a mountain meditation pool amongst thick trees, waterfalls and streams. And a spa to spoil yourself with all kinds of treatments – there isn't a better place to retreat to!
If you'd like a change from this meditative state, it's an easy walk to the restaurants, cafés and Camps Bay beach. There are many acclaimed restaurants to choose from. Camps Bay Retreat also offers a unique dining experience in the old world splendour of the orginal Manor house if you'd prefer to stay in. This is a very popular choice as most enjoy the delicious dishes that are made using fresh ingredients grown on the estate, or bought from the local markets.
You will be spoilt for choice when it comes to suites. Camps Bay Retreat offers two different styles. You can choose colonial elegance or contemporary style. All share the glorious indigenous gardens, two swimming pools (one heated), a floodlit tennis court, gym and a Wellness Centre.
Itching to know more? Visit our Camps Bay Retreat page here.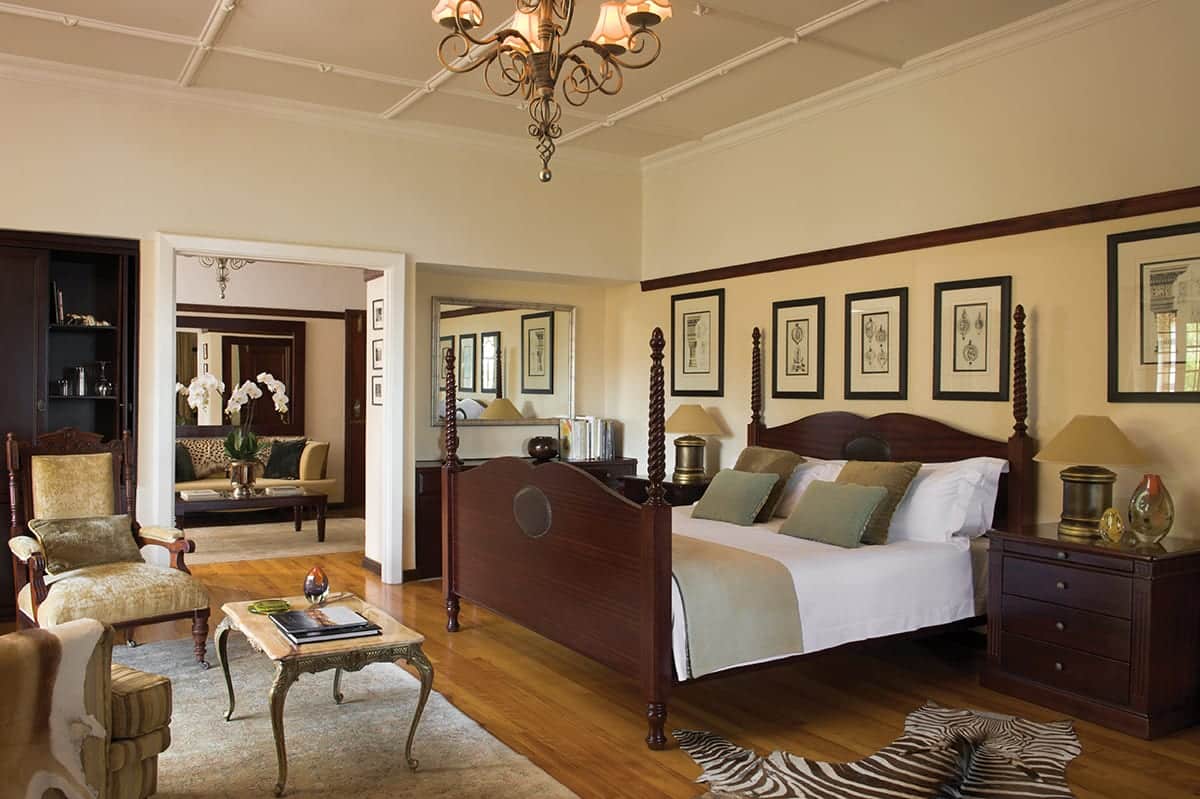 Romantic hotels in Cape Town – Kensington Place
"I can order breakfast, all day?" That most certainly appeals to me! Of course, Kensington Place has a lot more to offer. This urban retreat is a real spoil for couples in search of a touch of luxury and peace just minutes away from the buzz of the city.
Kensington Place is situated on the slopes of Table Mountain, overlooking the Mother City. For the perfect city-romance, book into one of their eight suites. Each room is an extraordinary blend of contemporary European décor and African art and textiles.
Enjoy exploring Kloof Street and other cultural and culinary wonders of the city. It's a mere stroll from the action in Cape Town's city bowl. The charming Provencal-style garden, with a secluded pool and deck, offers peace and tranquility whenever you feel like escaping the humming city below.
To find out more about this inner-city treasure, read our page here.

Romantic hotels in Cape Town – Sea Five Boutique Hotel
This one is a real treat! If you want a romantic getaway in the city and you're looking for a beach house with a difference, there's no better place to stay than the Sea Five Boutique Hotel.
It is in close proximity to the glamorous Camps Bay beach, only 300 meters away. It is slightly hidden away from the lively bars and restaurants (so, good sleep quality guaranteed). There are 7 en-suite rooms, individually decorated in a modern, beach-chic style, with sweeping mountain and ocean views.
The sites and smells coming from the Camps Bay strip may entice you away. But there's no need to leave this cool and calm luxury beach house! It features a large swimming pool, relaxing sitting room and a gorgeous bar.
If you are really trying to make a good impression on your loved one, you can stay in the penthouse apartment on the top floor. This suite boasts 360 degree views of the surrounding mountains and ocean and has four different terraces. You may fall in love all over again!
Have a closer look on our page here.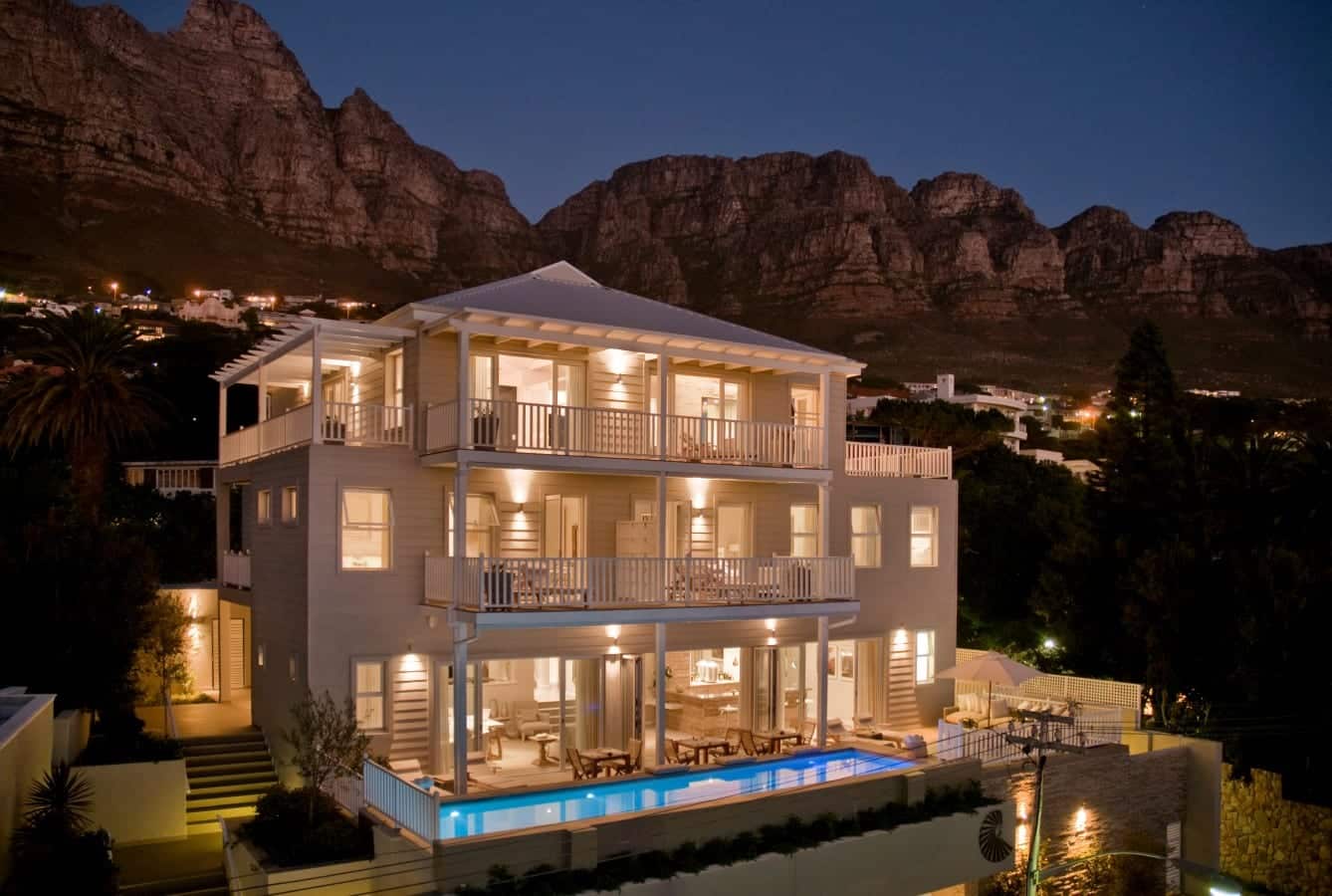 Now for a few romantic lodges that stand out in the Cape Winelands …
Hawksmoor House
Some couples would happily trade the traffic lights and noisy restaurants for a peaceful, romantic weekend away. Situated in one of the most beautiful parts of the country, Hawksmoor House offers you just that! Set amidst rolling vineyards with spectacular views of Table Mountain, this original Cape Dutch wine farm is picturesque and serene in every way.
The 16 rooms all have contemporary touches with silver-painted bedposts and old chairs covered with beautiful fabrics. This is a working farm. The grounds are laid out to gardens complete with a pond, lavender beds, and vegetable, rose and herb gardens to wander through.
If a gorgeous wine cellar, wine tasting and a cosy fireplace make you weak at the knees, then you'll love what they have on offer here.
Hawksmoor is just 15 minutes from Stellenbosch and 25 minutes from Cape Town and Franschhoek. So it is a great base from which to explore the winelands and the buzzing city. For a sophisticated and romantic, yet ultra-relaxed country home feel, you cannot go wrong!
Have a look at the details on our page on Hawksmoor House here.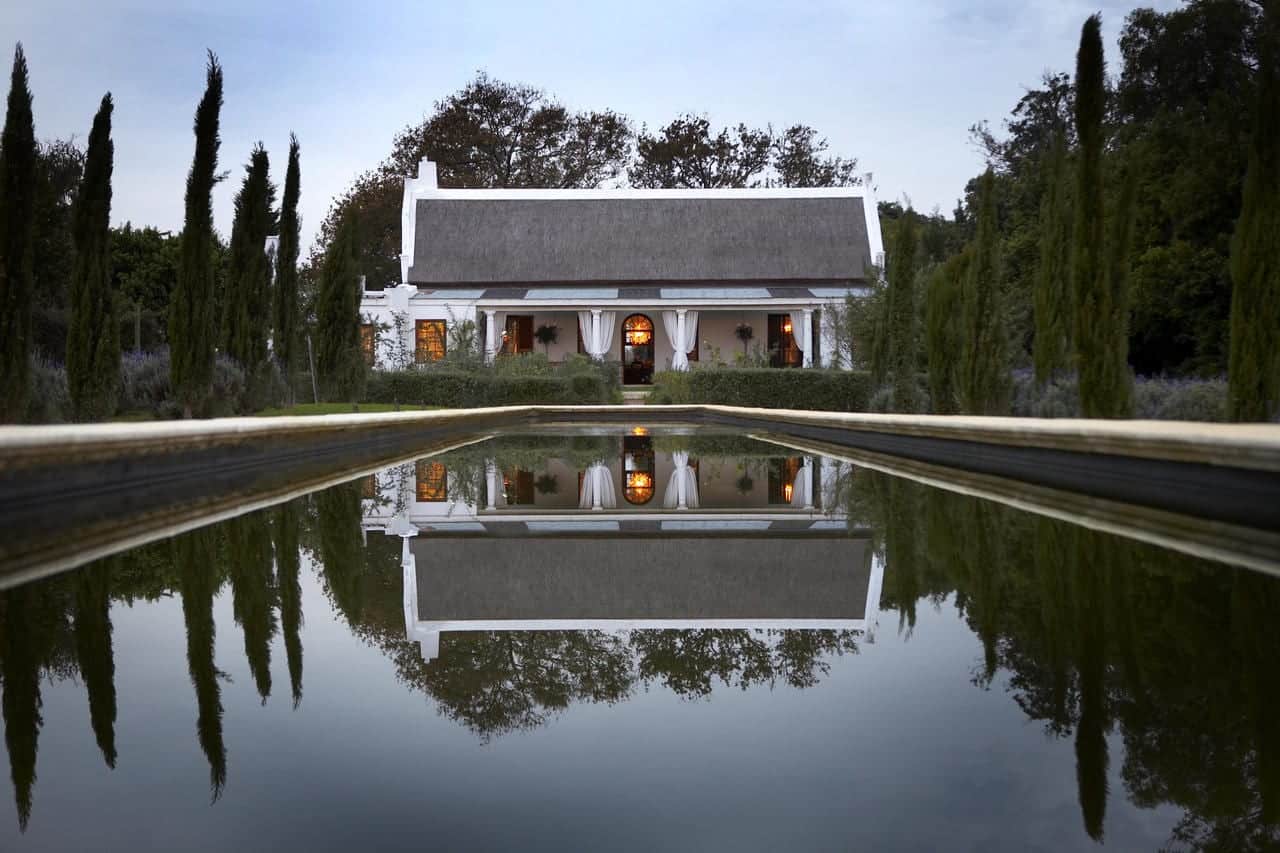 Babylonstoren
Babylonstoren Hotel and Wine Estate is something quite special. Set in the heart of the Cape Winelands, this beautiful winelands farm is perfect for a romantic or restorative break.
Some of the existing farm buildings have been transformed into sophisticated guest suites. These cottages blend history and contemporary design perfectly. It's definitely worth mentioning that all suites have access to a massive outdoor swimming pool, made from the original farm dam. There's also a hot spa area that includes a salt room, sauna and hot pool.
A lovely feature of being on a working farm is that there is so much fresh produce around. A formal-French 8-hectare garden, with giant orange pumpkins, yellow citrus orchards, scented herb beds, a block of mulberries, and bright vegetables, lies in front of you.
If you prefer to sit back and forget about food preparations, then their acclaimed restaurant, Babel, is your go-to. There, you can treat yourself to all of their fantastic foods. It is open on selected days and a supper platter or gourmet pizzas are on offer on other evenings.
If this has wet your appetite, see all the details on our page here.
The Oude Werf Hotel
Fancy staying in South Africa's oldest and most historic hotel in the heart of Stellenbosch, just a stone's throw away from the wonders of the Winelands? The Oude Werf Hotel blends contemporary comfort and Georgian ambiance to make this a truly exclusive experience.
The elegant facade belies the new contemporary rooms so that you can have the best of both worlds. If you can tear yourself away from your room, take a dip in the pool in the courtyard garden. Indulge in homemade cakes in the garden, have a drink in the Kromme Elleboog bar, or enjoy a meal in the celebrated 1802 Restaurant.
The added advantage of Oude Werf's location is that there is a lot you can do within walking distance. Go for a foodie walking tour, Bramton wine-estate tasting at their in-town tasting room, or check out the Village Museum, art galleries, eclectic boutiques and several good restaurants.
Read more on our page here.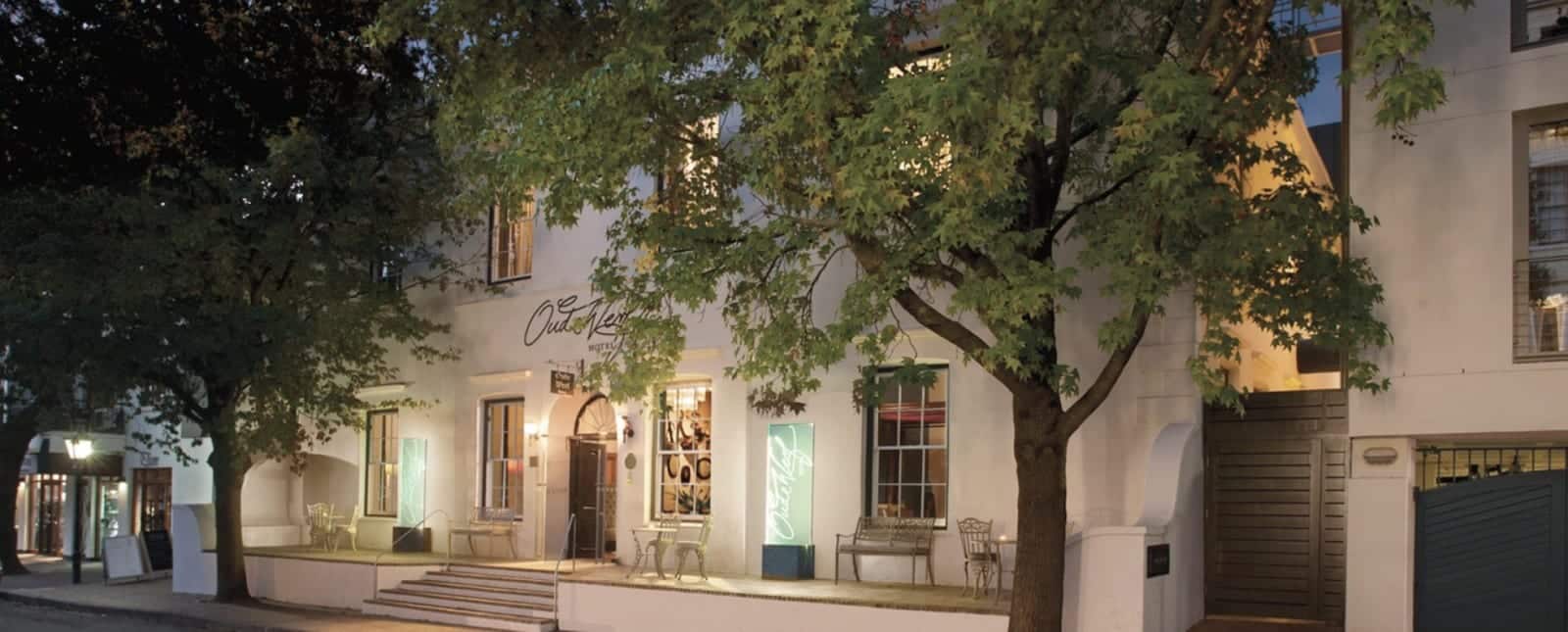 Related articles
Adventure Honeymoon ideas that'll get your heart racing
Affordable & Romantic Honeymoon Lodges in South Africa – check out 7 lodges for love
8 Cool Places to Pop THE Question
10 Romantic Excursions in Cape Town
Best Honeymoon Destinations in South Africa
"10 Romantic Hotels in Cape Town and the Winelands you ought to visit" was written by Cedarberg Africa
Cedarberg Africa is a travel and safari company specializing in Southern and East African tailor-made itineraries. As we have special rates with all the hotels and game lodges, booking through us will cost no more than booking direct, and sometimes less. So our expertise and knowledge comes at no extra cost to you!
Feel free to contact us if you want us to plan a special romantic getaway.