Overview
South Africa is a wonderful country for walking.  With plenty of wide open spaces, scenic beauty and varied terrain. Whether it's the solitude of the mountains or the silence of a forest path. Or perhaps the joy of heading down to an inviting golden beach from a coastal trail? There are few better ways to enjoy its beauty than on a walking holiday in South Africa.
But how exactly you want to enjoy walking in South Africa is up to you. You can choose one of our privately guided walking tours in South Africa - see below. You can simply add in a couple of guided day walks. Or you can just walk independently on one of hundreds of walking trails.
We also often put together self-guided walking holidays in South Africa where you stay at country lodges which have their own walking trails on site or close by. Lots of our favourite hotels have walking trails on their property. Some even have mapped GPS co-ordinates to help self-guided walkers!  The best ones are mentioned below under Where to Stay.
Best Destinations for Walking in South Africa?
The Cape province offers some superb hiking trails. Admire mystical mountain ranges including the renowned Table Mountain and the Cederberg. Enjoy the indigenous fauna and flora, verdant wine farms and vineyards, lush forests, waterfalls and golden sandy beaches.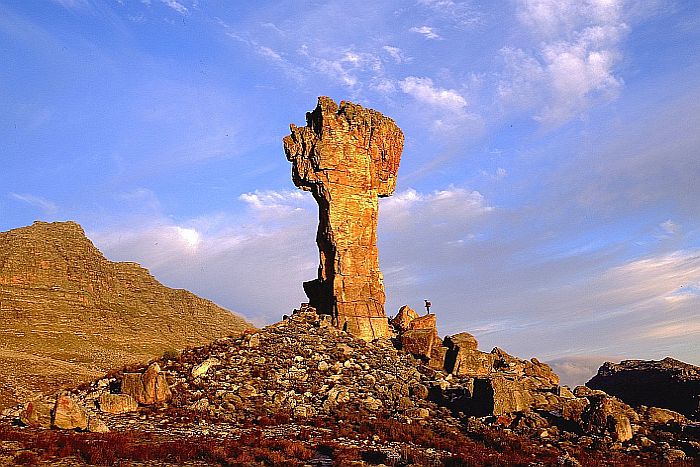 Hermanus, on the southern Cape Whale Coast, and the Garden Route offer fantastic coastal trails in the natural fynbos.  The possibility of seeing a whale is an added bonus in the 'whale season' (July to November). The Tsitsikamma coast on the Garden Route offers some popular hiking trails through lush indigenous forests, sandy beaches and magnificent mountains with breath-taking views.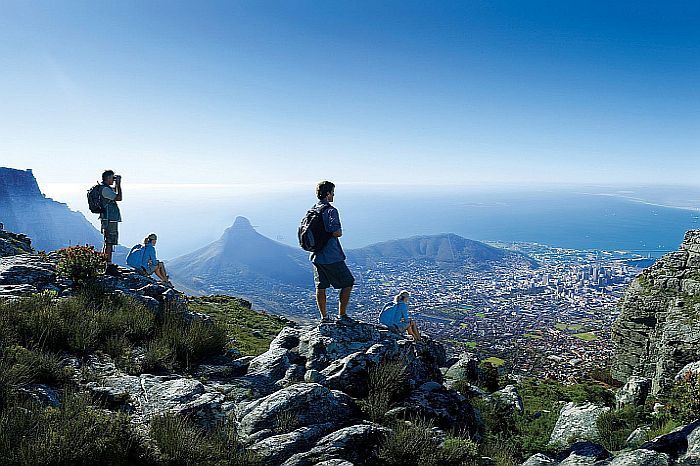 The magnificent Drakensberg Mountains in KwaZulu Natal offer both high mountain challenge and more gentle valley trails. In addition to the panoramic views there are also stunning waterfalls, forests and magnificent escarpments. Indeed, many hotels are particularly well equipped for self-guided walkers with detailed trail maps. Some even have daily guided walks with their in-house guides.
See HERE for more on walking safaris in Africa.
Highlights
It's a land of staggering natural beauty yet also varied in terrain. Choose between classic mountain hikes, coastal trails or even desert walks.
Lots of country lodges have laid-out walking trails on their property
Many well-maintained and well-used walking trails in National Parks and Reserves
We enjoyed it all
"Ginny created a holiday that was well-suited to our requirements. The arrangements, timings and itinerary were sensible and all stages of the holiday were faultlessly executed by the chosen representatives. "
Mr John Hartley, UK
Very good value
"Peter was very helpful and clearly paid attention to our thoughts and ideas – we really valued his recommendations "
Ms Winter, UK
Exceeded all expectations
"Cedarberg was professional, responsive, and personable. All flights, all transfers, all accommodation, all activities, and the safari itself went exactly to plan. The experience, end-to-end, exceeded all expectations. "
Mr Michael Barnard
Ginny Russell
Co-founder & Director
Hi I'm Ginny, I'm here to help you plan your ideal holiday experience
Cedarberg recommendations matched perfectly!
"Cedarberg have a detailed knowledge of the country and took time to understand our budget, desires and preferences to create a wonderful multi-centred holiday for us. They were helpful fine-tuning the itinerary and put together a comprehensive package covering all our needs. We have used Cedarberg previously and each holiday has been fabulous. We will have no hesitation using them for our next trip. "
Mr Brian Collins UK
Cedarberg always create amazing holidays
"Cedarberg do not fail to deliver they always create amazing holidays and we can not fault. We've used Cedarberg 5 times and keep going back for more African experiences Excellent. Amazing as always, as we always seem to test you guys with snow, weddings & having to change destination. You never fail to give us the best. "
Mrs Alexei Howell, UK
WHAT AN AMAZING SAFARI! An outstanding job!
"WHAT AN AMAZING SAFARI! What an outstanding job you did! From the arrival of the guests to the end of the safari. I'll speak on my behalf and let the other guests speak for themselves and give their own opinions. Let me just say the Safari amazing…., The team did an outstanding job, from the day of arrival at the airport with ground handlers to the drivers, to the departure day. Everything went smoothly and without this team, I do believe the experience would have been different. Africa is known for being slow, especially being punctual (as we call it, African time). The team changed all that. Everything ran according to the schedule and on time. They made us feel at ease, stress-free, and truly on vacation. It indeed made me feel proud of my country, proud to be a Kenyan, and proud of the people. There was UBUNTU all around, everywhere we went people were respectful, polite, and kind (apart from the one or two individuals who would hassle us to buy something and especially when they see Mzungu) and for that, I thank you, THOMAS, and the team. Excellent work. A hand of applause to Mari; Thank you to Mari, it all started with you. Thank you for planning and organizing the Safari it will forever be in our memories. The accommodation and the food were fantastic. Amboseli was stunning, although it would have been great to see Mt Kilimanjaro it was cloudy. Eka Hotel was great, and the breakfast was delicious. At the Keekorok, zebras visited us behind our cabins and could hear the call of the hippos. And finally, the Voyager hotel in Mombasa was fun and relaxing and the food was fantastic. Overall, the hospitality everywhere was fantastic. Couldn't have asked for more. Lastly, a big thank you to my safari team (Resa, Anette, Pete, Jim, Pat, Sarah and Mike) for being seasoned travelers, easy going and went with the flow. The Safari wouldn't have been the same without great travelers like you. I enjoyed spending time with you all. THANK YOU, GUYS. Sincerely, I thank you ALL. "
Mrs Carol Ndungu