Walking Tours in South Africa
Whether it's the solitude of the mountains, the silence of a forest path or the joy of heading down to an inviting golden beach from a coastal trail, there are few better ways to enjoy the beauty of South Africa.
Overview
South Africa is a wonderful country for walking.  With plenty of wide open spaces, scenic beauty and varied terrain.
Whether it's the solitude of the mountains, the silence of a forest path or the joy of heading down to an inviting golden beach from a coastal trail, there are few better ways to enjoy the beauty of South Africa.
How exactly you want to enjoy walking in South Africa is up to you. You can choose one of our private walking tours in South Africa - see below. You can add in one or two guided day walks . Or you can just walk independently on one of hundreds of walking trails.
We've put together self-guided walking tours where you stay at country lodges which have their own walking trails on site or close by. Lots of our favourite hotels have walking trails on their property. Some even have mapped GPS co-ordinates to help self-guided walkers!  The best ones are mentioned below under Where to Stay.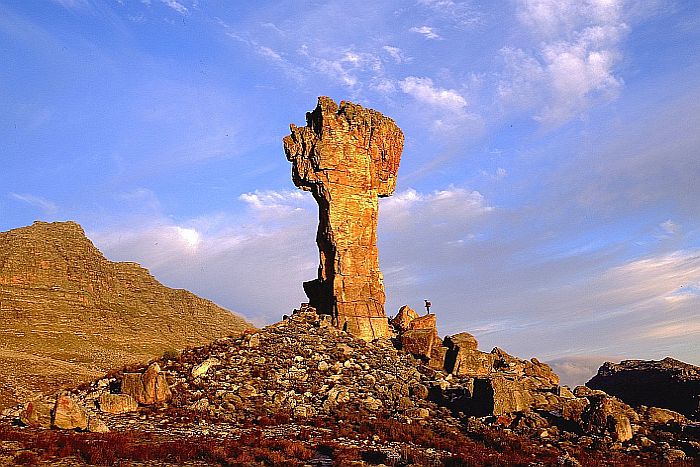 Best Destinations for Walking in South Africa?
The Cape province offers some superb hiking trails. Admire mystical mountain ranges including the renowned Table Mountain and the Cederberg. Enjoy the indigenous fauna and flora, verdant wine farms and vineyards, lush forests, waterfalls and golden sandy beaches.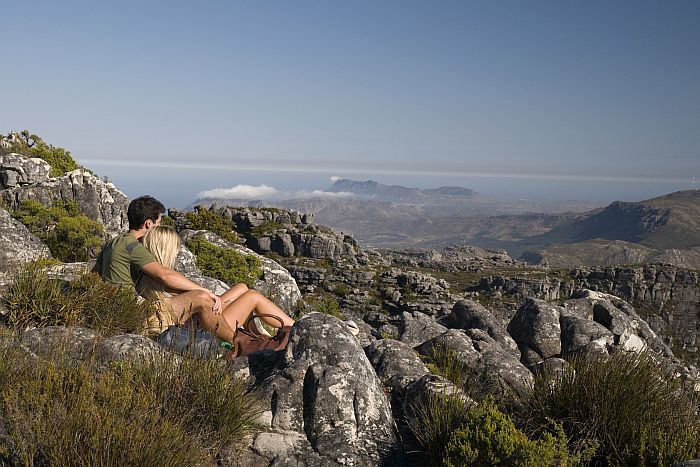 Hermanus, on the southern Cape Whale Coast, and the Garden Route offer fantastic coastal trails in the natural fynbos.  The possibility of seeing a whale is an added bonus in the 'whale season' (July to November). The Tsitsikamma coast on the Garden Route offers some popular hiking trails through lush indigenous forests, sandy beaches and magnificent mountains with breath-taking views.
The magnificent Drakensberg Mountains in KwaZulu Natal offer both high mountain challenge and more gentle valley trails. In addition to the panoramic views there are also stunning waterfalls, forests and magnificent escarpments. Indeed, many hotels are particularly well equipped for self-guided walkers with detailed trail maps. Some even have daily guided walks with their in-house guides.
Highlights
It's a land of staggering natural beauty yet also varied in terrain. Choose between classic mountain hikes, coastal trails or even desert walks.
Lots of country lodges have laid-out walking trails on their property
Many well-maintained and well-used walking trails in National Parks and Reserves
Dream holiday
"Milandi (et all at C. A. T.) …"Like talking to a good friend/family member who genuinely, listens… then sets skill and extensive knowledge to work to fulfill (AND OFTEN BEYOND!!) all expectations!!" This Africa holiday was simply "ANOTHER" dream animal photo safari and experience Milandi (Cedarberg) put together… we have experienced TWO previous "dream holiday" from Milandi and Crew. How could a 3rd be better?… It simply was. "I may have left Africa" … "Africa will NEVER leave Me"… I (WE) will be going back, with Milandi's guidance B4 this decade is over It has been 3 weeks since return, still dreaming/thinking/processing this tremendous experience. Milandi and Cedarberg are My "Tools" towards many rewards!!! Thank-You, ALL"
Mr Wally Rohrer
A varied and fantastic holiday that we will never forget
"Milandi interpreted all our needs perfectly and the tailor-made holiday was way beyond our expectations. As a first time visitor to South Africa, we were quite apprehensive about safety, but all the places chosen for us to stay in were comfortable and hospitable."
Mr Andrew Thompson
We will certainly use Cedarberg again
"All the arrangements worked perfectly – no hiccups at all. We will certainly use Cedarberg again and will recommend the company to others. We were particularly impressed by the fact that the ground agents met us from every flight and saw us on to the next flight so if anything had gone awry there was someone on hand to help us sort it out. As one gets older that is enormously comforting."
Ms Sandra Clark, UK
Hi I'm Sonja, I'm here to help you plan your ideal holiday experience
Ginny made excellent suggestions
"Ginny made excellent suggestions for our holiday ensuring we had a good variety of things to do which suited the whole family."
Mrs Mary Creayen, UK
Delivered the goods
"Cedarberg took on board what we wanted and delivered the goods!! Accommodation everywhere was fantastic we couldn't have asked for any more! Preferred safari at madikwe as saw loads more because the rangers could go off road, would definitely look at this type of safari next time."
Mr Eastwood, UK
10 out of 10 for everything
"The holiday was exceptionally good and we all enjoyed every moment, especially my son Stephen (10 years old). The fact that Stephen enjoyed it says a lot since he is a seasoned traveller (as are most expat kids) having been to almost 20 countries already in his lifetime. We returned with more than a thousand photos and wonderful memories of what Africa can offer at its best"
Family De Waal,