Overview
South Africa is a wonderful country for walking.  With plenty of wide open spaces, scenic beauty and varied terrain. Whether it's the solitude of the mountains or the silence of a forest path. Or perhaps the joy of heading down to an inviting golden beach from a coastal trail? There are few better ways to enjoy its beauty than on a walking holiday in South Africa.
But how exactly you want to enjoy walking in South Africa is up to you. You can choose one of our privately guided walking tours in South Africa - see below. Or you can simply add in a couple of guided day walks. Or you can just walk independently on one of hundreds of walking trails.
We also often put together self-guided walking holidays in South Africa where you stay at country lodges which have their own walking trails on site or close by. Lots of our favourite hotels have walking trails on their property. Some even have mapped GPS co-ordinates to help self-guided walkers!  The best ones are mentioned below under Where to Stay. But there are plenty of others.
Best Destinations for Walking in South Africa?
The Cape province offers some superb hiking trails. Admire mystical mountain ranges including the renowned Table Mountain and the
Cederberg. Enjoy the indigenous fauna and flora, verdant wine farms and vineyards, lush forests, waterfalls and golden sandy beaches.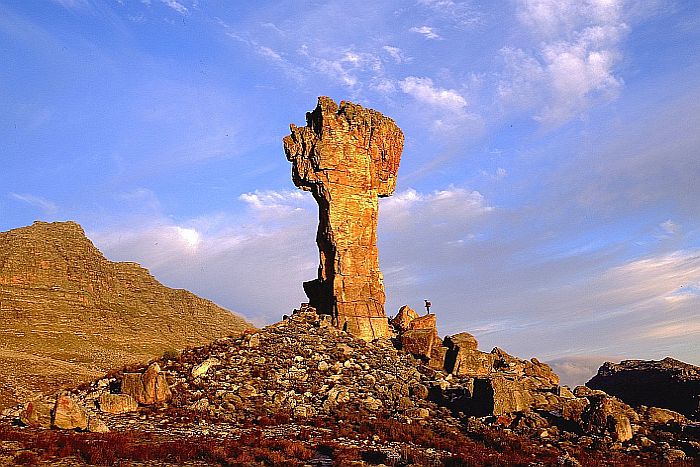 Hermanus, on the southern Cape Whale Coast, and the Garden Route offer fantastic coastal trails in the natural fynbos.  The possibility of seeing a whale is an added bonus in the 'whale season' (July to November).
The Tsitsikamma coast on the Garden Route offers some popular hiking trails through lush indigenous forests, sandy beaches and magnificent mountains with breath-taking views.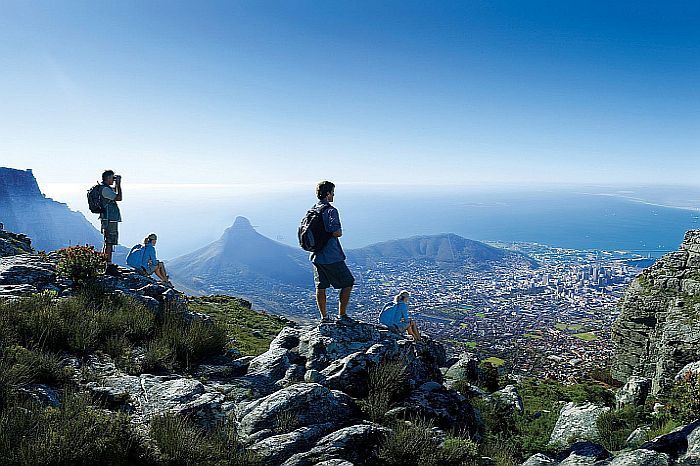 Finally the magnificent Drakensberg Mountains in KwaZulu Natal offer both high mountain challenge and more gentle valley trails. In addition to the panoramic views there are also stunning waterfalls, forests and magnificent escarpments. Indeed, many hotels are particularly well equipped for self-guided walkers with detailed trail maps. Some even have daily guided walks with their in-house guides.
See HERE for more on walking safaris in Africa.
Highlights
It's a land of staggering natural beauty yet also varied in terrain. Choose between classic mountain hikes, coastal trails or even desert walks.
Lots of country lodges have laid-out walking trails on their property
Many well-maintained and well-used walking trails in National Parks and Reserves
Seamless arrangements
"We were often posting on Facebook during our travels and many of our friends were asking who arranged our trip, so don't be surprised to get a few referrals. Again, thank you so much for your time and effort with our trip! "
Ms Tammy
We had a great time, a very memorable holiday
"Thank you for your patience with us through the planning stage. Standard of room we realise is important to us maybe we should have discussed this more at the planning stage. It was a very memorable holiday "
Mrs Sara Brill, USA
Couldn't have been happier…
"Cedarberg and specifically our specialist Peter, have been excellent. Really communicative and just very on the ball. From the planning and payment, all the way through to arriving back home. The transfers, hotels, everything was spot on. Couldn't have been happier with how our honeymoon went. "
Mr Clark Hoy, UK
Gloria Darvall
Africa Travel Specialist
Hi I'm Gloria, I'm here to help you plan your ideal holiday experience
We arrange trips to more than 100+ destinations throughout the African continent.
"We had a fantastic trip and were so pleased with your suggestions. I'm sure we will return to SA at some point in the future and would love to do more Safari trips elsewhere in Africa once the pound/dollar exchange rate improves. We were delighted with Cedarburg and will recommend you to anyone thinking of travelling to Africa. "
Milandi
Exceeded our expectations
"From our first phone call, our requirements for the holiday were quickly and efficiently met and the overall standard of accommodation booked for us met and, in some cases, exceeded our expectations. All the transfers worked well and directions to our hotels were accurate and simple to follow. The information booklet supplied was very helpful. "
Mr B Smith
Competitively Priced
"Cedarberg were helpful, easy to deal with, competitively priced. "
Mrs Jane Perrins, UK