Overview
South Africa is a wonderful country for walking.  With plenty of wide open spaces, scenic beauty and varied terrain. Whether it's the solitude of the mountains or the silence of a forest path. Or perhaps the joy of heading down to an inviting golden beach from a coastal trail? There are few better ways to enjoy its beauty than on a walking holiday in South Africa.
But how exactly you want to enjoy walking in South Africa is up to you. You can choose one of our privately guided walking tours in South Africa - see below. You can simply add in a couple of guided day walks. Or you can just walk independently on one of hundreds of walking trails.
We also often put together self-guided walking holidays in South Africa where you stay at country lodges which have their own walking trails on site or close by. Lots of our favourite hotels have walking trails on their property. Some even have mapped GPS co-ordinates to help self-guided walkers!  The best ones are mentioned below under Where to Stay.
Best Destinations for Walking in South Africa?
The Cape province offers some superb hiking trails. Admire mystical mountain ranges including the renowned Table Mountain and the Cederberg. Enjoy the indigenous fauna and flora, verdant wine farms and vineyards, lush forests, waterfalls and golden sandy beaches.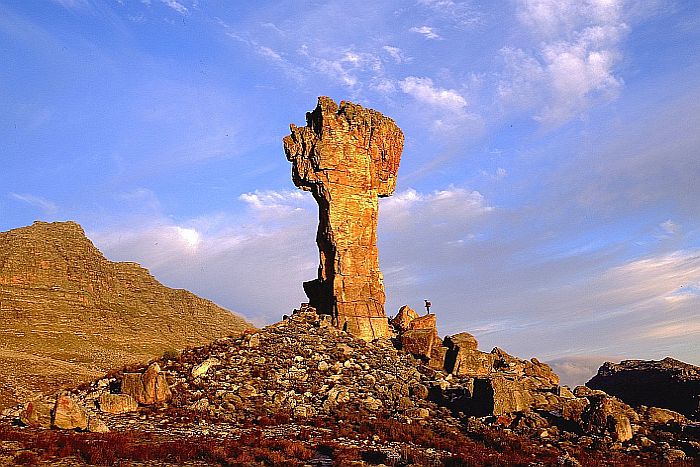 Hermanus, on the southern Cape Whale Coast, and the Garden Route offer fantastic coastal trails in the natural fynbos.  The possibility of seeing a whale is an added bonus in the 'whale season' (July to November). The Tsitsikamma coast on the Garden Route offers some popular hiking trails through lush indigenous forests, sandy beaches and magnificent mountains with breath-taking views.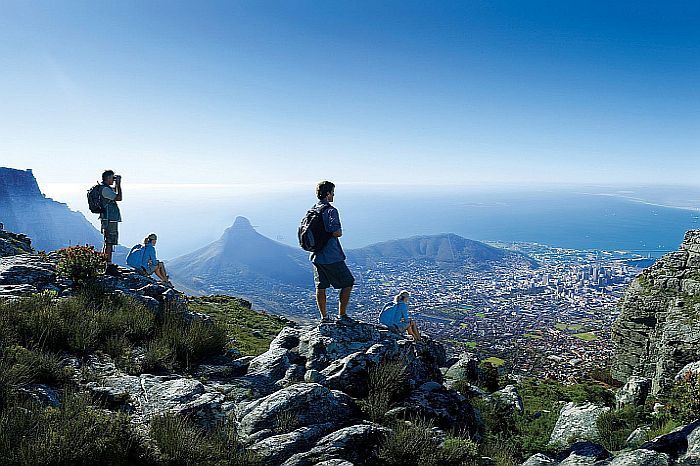 The magnificent Drakensberg Mountains in KwaZulu Natal offer both high mountain challenge and more gentle valley trails. In addition to the panoramic views there are also stunning waterfalls, forests and magnificent escarpments. Indeed, many hotels are particularly well equipped for self-guided walkers with detailed trail maps. Some even have daily guided walks with their in-house guides.
See HERE for more on walking safaris in Africa.
Highlights
It's a land of staggering natural beauty yet also varied in terrain. Choose between classic mountain hikes, coastal trails or even desert walks.
Lots of country lodges have laid-out walking trails on their property
Many well-maintained and well-used walking trails in National Parks and Reserves
Outstanding holiday
"The arrangements worked well. Many thanks for all the hard work. "
Mr Bund, UK
Excellent attention to detail
"This is the second holiday that Ginny and her team have arranged for us, and once again the service and attention to detail were excellent. Ginny put together a wonderful tailor made itinerary for our trip, and her recommendations were absolutely perfect in enhancing the trip. In today's world of being able to arrange most things yourself, I have no doubt that there is no way we could have put together a trip like this, you need the depth of local knowledge that Cedarberg have. I thoroughly recommend Cedarberg Travel "
Mrs Janet Mudge, UK
Delivered the goods
"Cedarberg took on board what we wanted and delivered the goods!! Accommodation everywhere was fantastic we couldn't have asked for any more! Preferred safari at madikwe as saw loads more because the rangers could go off road, would definitely look at this type of safari next time. "
Mr Eastwood, UK
Milandi Joubert
Africa Travel Specialist
Hi I'm Milandi, I'm here to help you plan your ideal holiday experience
We arrange trips to more than 100+ destinations throughout the African continent.
Enjoyed the charm of the accommodation
"I want thank Mari for helping us create a vacation tour that worked for my husband son and myself. We got to see everything we would like to see that worked within our budget. "
Mrs Janouska, USA
Your prices better than the bigger companies
"Brian came home with your attractive brochure and we started looking at possibilities. We both thought Cedarberg would be too expensive for us but were pleasantly surprised to find your prices better than the bigger companies. The itinerary you gave us went totally to plan. All our airport pickups and transfers went smoothly and local drivers were friendly and informative. We also appreciated all the phone conversations and help you gave at Cedarberg before we went and were delighted with the program you put together for us. "
Dale Family, UK
Very helpful discussions
"Very helpful discussions beforehand to give us lots of options. The personalised website was really good. The pre-holiday booklet was really useful as well. "
Mrs Rachel O'Connell, UK