Overview
South Africa is a wonderful country for walking.  With plenty of wide open spaces, scenic beauty and varied terrain. Whether it's the solitude of the mountains or the silence of a forest path. Or perhaps the joy of heading down to an inviting golden beach from a coastal trail? There are few better ways to enjoy its beauty than on a walking holiday in South Africa.
But how exactly you want to enjoy walking in South Africa is up to you. You can choose one of our privately guided walking tours in South Africa - see below. You can simply add in a couple of guided day walks. Or you can just walk independently on one of hundreds of walking trails.
We also often put together self-guided walking holidays in South Africa where you stay at country lodges which have their own walking trails on site or close by. Lots of our favourite hotels have walking trails on their property. Some even have mapped GPS co-ordinates to help self-guided walkers!  The best ones are mentioned below under Where to Stay.
Best Destinations for Walking in South Africa?
The Cape province offers some superb hiking trails. Admire mystical mountain ranges including the renowned Table Mountain and the Cederberg. Enjoy the indigenous fauna and flora, verdant wine farms and vineyards, lush forests, waterfalls and golden sandy beaches.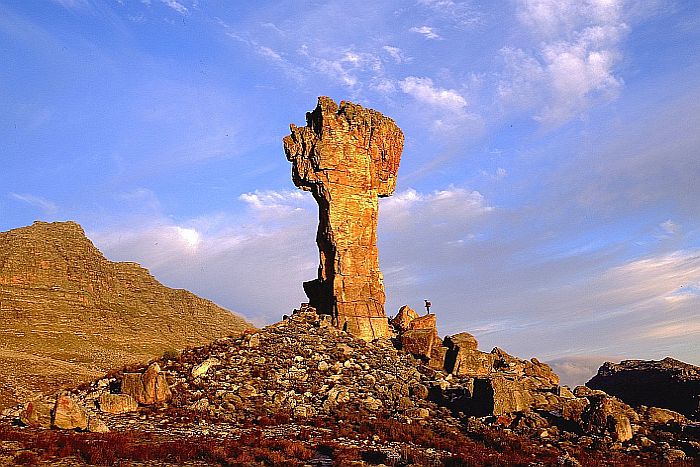 Hermanus, on the southern Cape Whale Coast, and the Garden Route offer fantastic coastal trails in the natural fynbos.  The possibility of seeing a whale is an added bonus in the 'whale season' (July to November). The Tsitsikamma coast on the Garden Route offers some popular hiking trails through lush indigenous forests, sandy beaches and magnificent mountains with breath-taking views.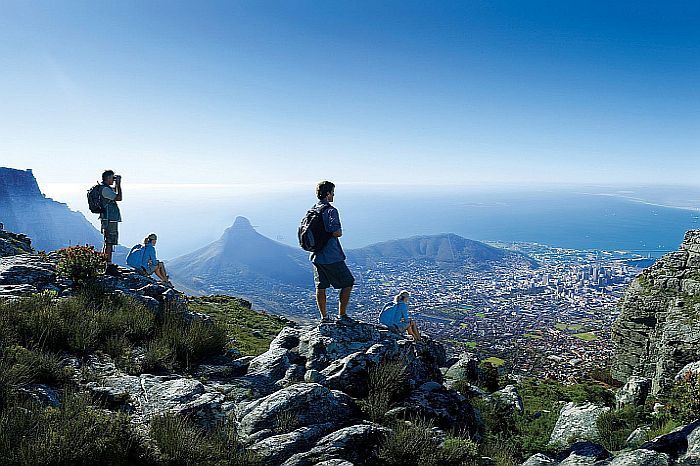 The magnificent Drakensberg Mountains in KwaZulu Natal offer both high mountain challenge and more gentle valley trails. In addition to the panoramic views there are also stunning waterfalls, forests and magnificent escarpments. Indeed, many hotels are particularly well equipped for self-guided walkers with detailed trail maps. Some even have daily guided walks with their in-house guides.
See HERE for more on walking safaris in Africa.
Highlights
It's a land of staggering natural beauty yet also varied in terrain. Choose between classic mountain hikes, coastal trails or even desert walks.
Lots of country lodges have laid-out walking trails on their property
Many well-maintained and well-used walking trails in National Parks and Reserves
Tailor make it all to suit
"Peter got it from the start of my gabbled explanation of reason for trip and abnormal itinerary. He pieced it all together and I always felt confident, even before the trip. "
Mr & Mrs Leake, UK
Winning itinerary!!
"Without ever meeting us, Kate and Tash from Cedarberg Travel & African Safaris created a winning itinerary for my friend and I! The itinerary was well-balanced in its schedule, activity levels and locations. We started in Cape Town with several tours and an excellent tour guide named Tobi. Tobi quickly clicked with us, laughed with us, and answered all of our questions about aspects of the city including a recommendation for the Gold restaurant ( a blast). After a long bit of air travel getting to South Africa and 3 full days in Cape Town, Kate scheduled a stay in the Cederberg mountains at luxury lodging and it was exactly what was needed. We had a few days to rest and pamper ourselves, and as hobby photographers, we did our own African sunset photoshoot with the mountains as our backdrop. Our trip included 5 days of safaris. Once again, we had a stellar guide and tracker (Solomon and Jeff) who taught us the soul of a South African who loves the animals and lands of his home. Every time Solomon stopped to educate us, we were like elementary kids, gathered around him with elbows on knees, eyes focused, and fully attentive. He gave us story after story of information about the circle of life at Kruger NP. We ended the time at Victoria Falls. All the details for the trip were provided and we had no glitches! Both myself and my friend want to return to South Africa and the first thing I did on my return was email Kate and ask if she could keep me in her files because I really hope to go back and I'll do that trip through Cedarberg Travel & African Safaris! "
Mrs Myers
Incredibly well organised
"Everything was incredibly well organised and left nothing wanting. We did not see all of the animals that we had hoped for but the experience we had was so much more than that. Hopefully we will return to Africa one day – maybe Namibia / Botswana next time. Thank you so much for organising everything for us it is very much appreciated. "
Mr James Coleman
Hi I'm Ginny, I'm here to help you plan your ideal holiday experience
We will certainly use Cedarberg again
"All the arrangements worked perfectly – no hiccups at all. We will certainly use Cedarberg again and will recommend the company to others. We were particularly impressed by the fact that the ground agents met us from every flight and saw us on to the next flight so if anything had gone awry there was someone on hand to help us sort it out. As one gets older that is enormously comforting. "
Ms Sandra Clark, UK
Seamless arrangements
"We were often posting on Facebook during our travels and many of our friends were asking who arranged our trip, so don't be surprised to get a few referrals. Again, thank you so much for your time and effort with our trip! "
Ms Tammy
Everything was perfect
"Your service and the holiday you put together for us was faultless. Everything was perfect from the choice of accommodation to the transfers, flights…… everything! It was seamless. "
Mrs Ruth Koper