Overview
Self-drive in Namibia is one of the most rewarding ways to explore Namibia's contrasting landscapes. If you are happy to drive on the left hand side of the road, without much traffic around, and on gravel (as opposed to tar) roads, then self-drive in Namibia is very do-able for many international visitors.
It helps if you can change a tire, too. Punctures are not uncommon on gravel!
It is also one of the more economical ways to enjoy a Namibia safari trip. Private escorted tours are pretty expensive because of the vast distances involved and guides in Namibia are well-educated, skilled workers.
On the other hand, many scheduled departure group tours travel at a pretty brisk pace, to see the country's highlights in a very short period of time. Also, they often stay at larger, less interesting, hotels and lodges.
Tips for Self Drive Namibia
Ideally you need to enjoy driving, and view the road trip as part of the whole adventure. Namibia is a vast country and its marvels are spread throughout the country rather than conveniently located close to each other!
Preferably two people would share the driving.
Similarly, make sure that you have set aside enough time. We reckon on 3 weeks to see the highlights in both the north and the south. If you only have 2 weeks, you'll need to leave some places out. Or risk needing another holiday to recover from this one!
Why not mix some self-drive in Namibia with other modes of transport? For example, you could fly in and out of Sossusvlei by scenic charter flight. Then pick up a car in Swakopmund to continue on. We recommend this if you're short on time.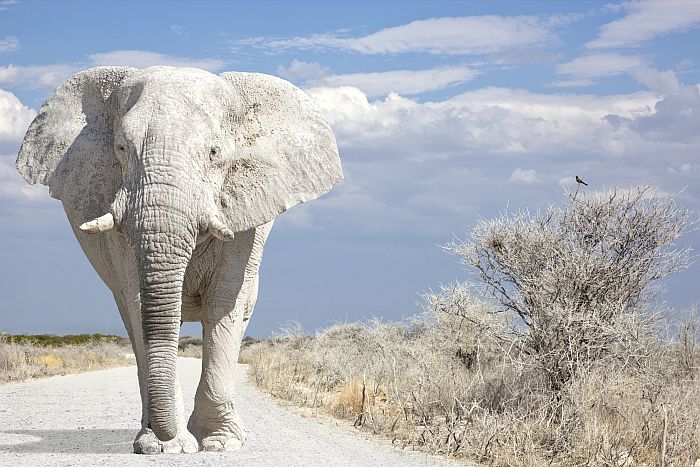 Do you need a 4 x 4 for a self-drive in Namibia?
What little rain the desert country of Namibia does get falls during the southern hemisphere summer months from November to March. (And mainly January to mid March.) So during this latter time we do recommend a 4x4 vehicle. But, at other times of the year, an SUV with high clearance will do just fine.
It's important to work with an expert when planning a self drive tour to Namibia. Driving in Namibia takes longer than you might expect. So it's vital to know how far you can happily travel in enjoyment, rather than in exasperation. We provide detailed directions and a comprehensive itinerary for you.

Highlights
Self-drive gives you the freedom to explore, to immerse yourself in the landscape and to to set the pace so that you enjoy the landscapes as you travel through.
It's most affordable way to see the country.
Driving is on the left in Namibia. And the excellent road network carries little traffic in this sparsely-populated country.
Seamless arrangements
"We were often posting on Facebook during our travels and many of our friends were asking who arranged our trip, so don't be surprised to get a few referrals. Again, thank you so much for your time and effort with our trip! "
Ms Tammy
It was a fabulous holiday
"I have booked through Cedarberg before and this is why I came back, as I was highly satisfied. This time it was a bit more complicated as Peter had less experience with Uganda himself and he had to communicate with Wildlife Frontiers a lot, which took time and some backwards and forwards. In the end it was so worth it, as it was a fabulous holiday. Peter also recommended the group experience and that was the right thing for a single traveller, we had a fantastic group of five and had all meals together. Otherwise I would have been on my own for the whole trip. "
Mrs Monika Maintz
"Overall, the trip was wonderful! You and Cedarberg continue to excel in local knowledge, attentiveness in creating wonderful customized itineraries. Every camp was a perfect blend of game, local hospitality and the kind of unique experiences we were looking for. I also had the distinct pleasure thanks to you and the boys – of celebrating my birthday in all three camps! What a memorable and lovely treat. Elewana Pepper Camp was the best in the combination, with Kaz Kaz a close second. The boys loved our driver here—sorry I forgot his name. But he had a great sense of humor, was rather adventurous and aggressive with the driving when there was a crossing and as such, we had fabulous visibility and photos. Kaz Kaz and the entire location was ideal. Remote and relaxed. My only challenge was the very limited wifi – this should have been a weekend spot for me so I would have been less concerned about getting messages. But it worked out. The team at Kaz kaz were less polished (and less fluent in English) but they more than made up for it in their warmth and hospitality. The reduced English fluency meant our guide was unable to share as much about the local people and culture – (which we got lots from in Elewana thanks to Leperes). The last night sunset celebration – which seemed to be just for us, was truly special. I think I sent you some photos. We could not have asked for a better send off. We also had the wonderful delight of seeing all of the big 5 in Kaz Kaz – including a rhino, rather unexpectedly and rather close! Needless to say Kaz Kaz was a huge hit in the family. The tents were also quite spacious and comfortable. I could stay here a week. "
Mari
Tasha Eygelaar
Africa Travel Specialist
Hi I'm Tasha, I'm here to help you plan your ideal holiday experience
Did you know
Roads

Vast majority of Namibia roads are gravel

Speeds

Assume 100km/hr for tar roads but only 60km/hr for gravel
Peter did a brilliant job
"Everything went as planned Peter did a brilliant job helping us to plan the holiday "
Mrs Sandra Cutmore
The trip was a great success, Thanks Cedarberg
"Thanks again to Cedarberg Africa and you Tash for arranging the bookings and being able to respond when delays in transportation became apparent. Again I have appreciated the significant effort that Cederberg Travel has put into your web information and the extra material on attractions provided with the itinerary. "
Mr R Brandon, USA
Incredibly well organised
"Everything was incredibly well organised and left nothing wanting. We did not see all of the animals that we had hoped for but the experience we had was so much more than that. Hopefully we will return to Africa one day – maybe Namibia / Botswana next time. Thank you so much for organising everything for us it is very much appreciated. "
Mr James Coleman