Overview
Self-drive in Namibia is one of the most rewarding ways to explore Namibia's contrasting landscapes. If you are happy to drive on the left hand side of the road, for long distances without encountering oncoming traffic, and on gravel (as opposed to tar) roads, then self-drive in Namibia is very do-able for many international visitors. It helps if you can change a tire, too. Punctures are not uncommon on gravel!
It is also one of the more economical ways to enjoy a Namibia trip. Private escorted tours are relatively expensive because of the vast distances involved and guides in Namibia are well-educated, skilled workers. On the other hand, many scheduled departure group tours travel at a pretty brisk pace and travel too quickly to see the country's highlights in a very short period of time. Also, they often stay at larger, less interesting hotels and lodges, as well.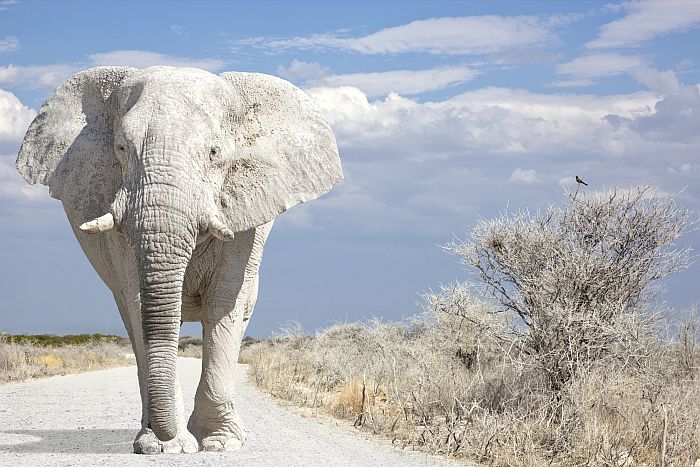 Tips for Self Drive Namibia
Ideally you need to enjoy driving, and view the road trip as part of the whole experience. Namibia is a vast country and its marvels are spread throughout the country rather than conveniently located close to each other!
Preferably two people would share the driving.
Similarly, make sure that you have set aside enough time. We reckon on 3 weeks to see the highlights in both the north and the south. If you only have 2 weeks, you'll need to leave some places out. Or risk needing another holiday to recover from this one!
Why not mix some self-drive in Namibia with other modes of transport. For example, you could fly in and out of Sossusvlei by scenic charter flight and then pick up a car in Swakopmund to continue on. We recommend this if you're short on time.

Do you need a 4 x 4 for a self-drive in Namibia?
What little rain the desert country of Namibia does get falls during the southern hemisphere summer months from November to March. At this time we do recommend a 4x4 vehicle. But, at other times of the year, an SUV with high clearance will do fine.
It's important to work with an expert when planning a self drive tour to Namibia. Driving in Namibia takes longer than you might expect. It's vital to know how far you can happily travel in enjoyment, rather than in exasperation. We provide detailed directions and a comprehensive itinerary for you.
Highlights
Self-drive gives you the freedom to explore, to immerse yourself in the landscape and to to set the pace so that you enjoy the landscapes as you travel through.
It's most affordable way to see the country.
Driving is on the left in Namibia. And the excellent road network carries little traffic in this sparsely-populated country.
Everything worked out perfectly
"Just a quick note to let you know everything worked out perfectly! We had a great time and the accommodations were excellent. We even had two elephants visiting our tent at Simbavati one evening. You can imagine the excitement! Thank you for your hard work to make this a fantastic safari. "
Mrs Brigitte, USA
Your prices better than the bigger companies
"Brian came home with your attractive brochure and we started looking at possibilities. We both thought Cedarberg would be too expensive for us but were pleasantly surprised to find your prices better than the bigger companies. The itinerary you gave us went totally to plan. All our airport pickups and transfers went smoothly and local drivers were friendly and informative. We also appreciated all the phone conversations and help you gave at Cedarberg before we went and were delighted with the program you put together for us. "
Dale Family, UK
Ginny made excellent suggestions
"Ginny made excellent suggestions for our holiday ensuring we had a good variety of things to do which suited the whole family. "
Mrs Mary Creayen, UK
Hi I'm Sonja, I'm here to help you plan your ideal holiday experience
Did you know
Roads

Vast majority of Namibia roads are gravel

Speeds

Assume 100km/hr for tar roads but only 60km/hr for gravel
We enjoyed it all
"Ginny created a holiday that was well-suited to our requirements. The arrangements, timings and itinerary were sensible and all stages of the holiday were faultlessly executed by the chosen representatives. "
Mr John Hartley, UK
Mr Chris Day, UK - Peter
"Peter couldn't have been more helpful, and his suggestions were all relevant and useful to us. "
Mr Chris Day, UK
Exceeded all expectations
"Cedarberg was professional, responsive, and personable. All flights, all transfers, all accommodation, all activities, and the safari itself went exactly to plan. The experience, end-to-end, exceeded all expectations. "
Mr Michael Barnard