Zanzibar Honeymoons
Intoxicating mix of beautiful beaches, spice farms, coral reefs and palm trees. Plus so easy to combine with a safari...
Overview
Zanzibar is a bewitching place! White sandy beaches and palm trees on the coast whilst inland rich green valleys are filled with the aroma of spices. Evocative and historic Stone Town, once the capital of a vast Arabic empire, is an atmospheric maze of narrow streets, colourful markets and winding stone steps.
Here you can rejuvenate and relax after your hectic wedding preparations at your own pace.
Zanzibar is the best-known island but there are some smaller tropical islands with a more laid-back beach vibe. Mafia Island is a meccas for divers whilst Pemba Island appeals to both divers and romantics. Don't forget the very exclusive private island of Mnemba. This offers chic 'rustic beach luxury' with the chance to get away from the world. It's the ultimate Zanzibar honeymoon, with a price tag to match.
We tailor-make each honeymoon on Zanzibar. We can combine a beach lodge with Stone Town, diving, snorkelling and any excursions you want.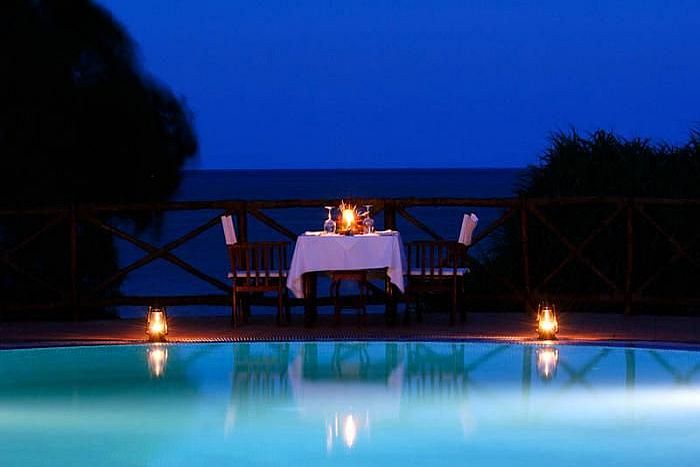 Try these intimate Zanzibar honeymoon retreats for laid-back ambience:
Fundu Lagoon, Zanzibar, Tanzania
Mnemba Island, off Zanzibar, Tanzania
Matemwe Retreat, off Mafia, Tanzania

Add on a safari in Tanzania
With its combination of glorious landscapes and exclusive, personal safari lodges,  Tanzania is the perfect place for a safari & beach honeymoon. There is nothing more poignant and exciting than being alone under the African stars with someone special to you. Chat to us!
Highlights
Intoxicating mix of beautiful beaches, spice farms, coral reefs and palm trees
Very easy to combine with a Tanzania safari with direct flights to Selous and to Northern Tanzania
Range of stunning resorts to suit a range of tastes and budgets
Good flight connections with Kenya, Ethiopia and the Middle Eastern hubs to and from Europe.
Very good value
"Peter was very helpful and clearly paid attention to our thoughts and ideas – we really valued his recommendations"
Ms Winter, UK
Seamless and amazing
"Thank you so much, we have returned and we had the best, best, best time! Thank you so much it was seamless and amazing, I would use Cedarberg again. Thank you Maddy!"
Mr Ben Cunningham, USA
Cedarberg & company have been amazing!
"Cedarberg & Co have been amazing! Professional, knowledgeable and very helpful. We had put everything together in about a week. Communications are of high standards. All plans worked."
Mr Roland, UK
Hi I'm Tasha, I'm here to help you plan your ideal holiday experience
Did you know
Geography

Actually an archipelago of islands: Unjuga (main island), Pemba, Mnemba

Wildlife

Home to the endangered red colobus monkey
Everything was brilliant
"Ginny Russell and the Cedarberg team have arranged many trips to Africa for us over the last 25 years. Each holiday has been wonderful and we love planning them with Ginny. When we think Africa & safari we always think Cedarberg. Thanks again Ginny, we are already looking forward to our next safari. Val & Frank"
Mrs Val Cummins
Great itenerary
"The service that Cedarberg provided for us was outstanding. The itinerary that they put together worked seamlessly, all the pick ups were as they had stated and whenever we had a query about any aspect of the trip they came back to us quickly and provided all the information that we needed. I cannot recommend them highly enough ."
Mr Kevin Wilson
Dream holiday
"Milandi (et all at C. A. T.) …"Like talking to a good friend/family member who genuinely, listens… then sets skill and extensive knowledge to work to fulfill (AND OFTEN BEYOND!!) all expectations!!" This Africa holiday was simply "ANOTHER" dream animal photo safari and experience Milandi (Cedarberg) put together… we have experienced TWO previous "dream holiday" from Milandi and Crew. How could a 3rd be better?… It simply was. "I may have left Africa" … "Africa will NEVER leave Me"… I (WE) will be going back, with Milandi's guidance B4 this decade is over It has been 3 weeks since return, still dreaming/thinking/processing this tremendous experience. Milandi and Cedarberg are My "Tools" towards many rewards!!! Thank-You, ALL"
Mr Wally Rohrer