A visit to the 'City of Gold' and its surrounds isn't often an absolute must when travelling to South Africa. But perhaps it should be as there are many enjoyable and interesting things to do in Joburg. And there are some amazing places to stay as well!
Joburg is one of the great urban destinations of the world, and the vibrant heart of a country that has experienced a trying past, but has progressed and flourished in recent times.
Travellers frequently need to stay in Joburg for a night en-route to their next destination. Instead of mulling around in your hotel room, why not consider some of the suggestions we've made to really capitalise on your stay… and to enrich your cultural experience of the country and have fun of course!
8 Things to do in Joburg & surrounds:
Soweto Bicycle Tour
The Soweto bicycle tour allows you to experience the exciting and eco-friendly streets of Soweto. It is South Africa's largest black residential area. Spend half a day soaking up the history, culture and many different faces of Soweto; from the Soweto uprising and the resistance against Apartheid, to the developing communities and what they look like today.
Do you prefer breathing in fresh air to that of the inside of a bus? Or quite enjoy cruising through vibrant streets and seeing things from a different perspective? Then add it to your list of things to do in Joburg.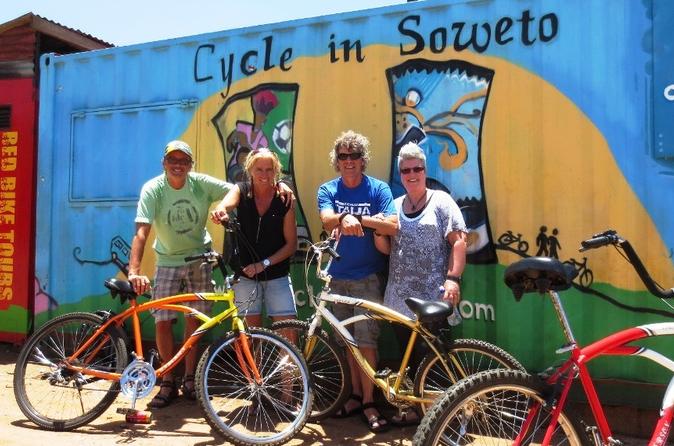 Apartheid Museum Tour
There is no better way to truly understand what South Africa was like during the 20th century than to visit the Apartheid Museum. Through the use of film footage, photographs, texts and artefacts, the museum tells the story of the triumph of the human spirit over adversity in a very poignant way.
There are two entrances labelled 'White' and 'Non-white'. Depending on which ticket is issued, visitors will be ushered through one of the two. This gives visitors a glimpse into the reality of what it was like to live in a racially segregated society.
The museum itself is a superb example of design, space and landscape offering the international community a unique South African experience. This is high on most visitors lists of things to do in Joburg… it should be on yours too!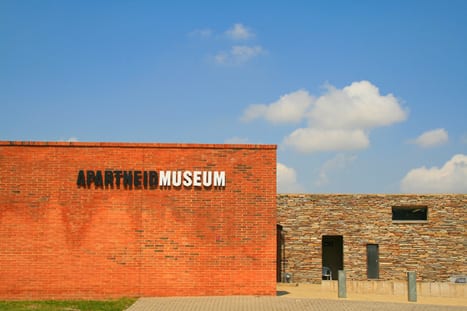 Cradle of Humankind World Heritage Site – Sterkfontein & Maropeng
Just an hours drive from Joburg, the Cradle of Humankind is highly recommended during a visit to Joburg. It is a World Heritage Site and spans on 47 000 hectares of land.
The Cradle of Humankind includes several different fossil sites which collectively add up to possibly the greatest wealth of pre-historic finds in the world. An archeaology lovers dream!
We recommend a guided visit to Sterkfontein caves, the Maropeng inter-active visitor exhibition and the beautiful Wonder Caves.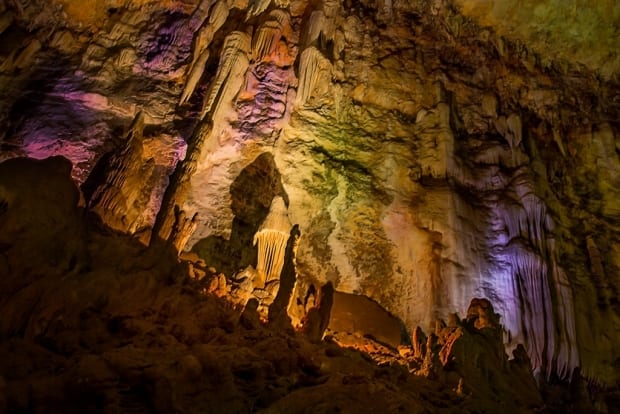 Magalies Meander
Oh look! Another World Heritage site just outside the City of Gold. The Magaliesberg (said World Heritage Site) is known for its natural beauty and rich tradition.
Under an hour's drive from Joburg or Pretoria, the Magalies Meander is in the heart of the beautiful Magaliesberg Mountains. These mountains are also home to an amazing variety of indigenous woodland, plants, birds and wildlife – a nature lover's paradise!
There is something for everyone on a full day tour to the Magalies Meander. Visit art galleries, arts and craft centres and interesting boutiques the area is famed for.
Highlights of a full day tour include Hartbeesport Aerial Cableway, the Snake & Animal Park, a boat excursion on Hartbeesport Dam, the Elephant Sanctuary and a visit to Welwitschia Country Market.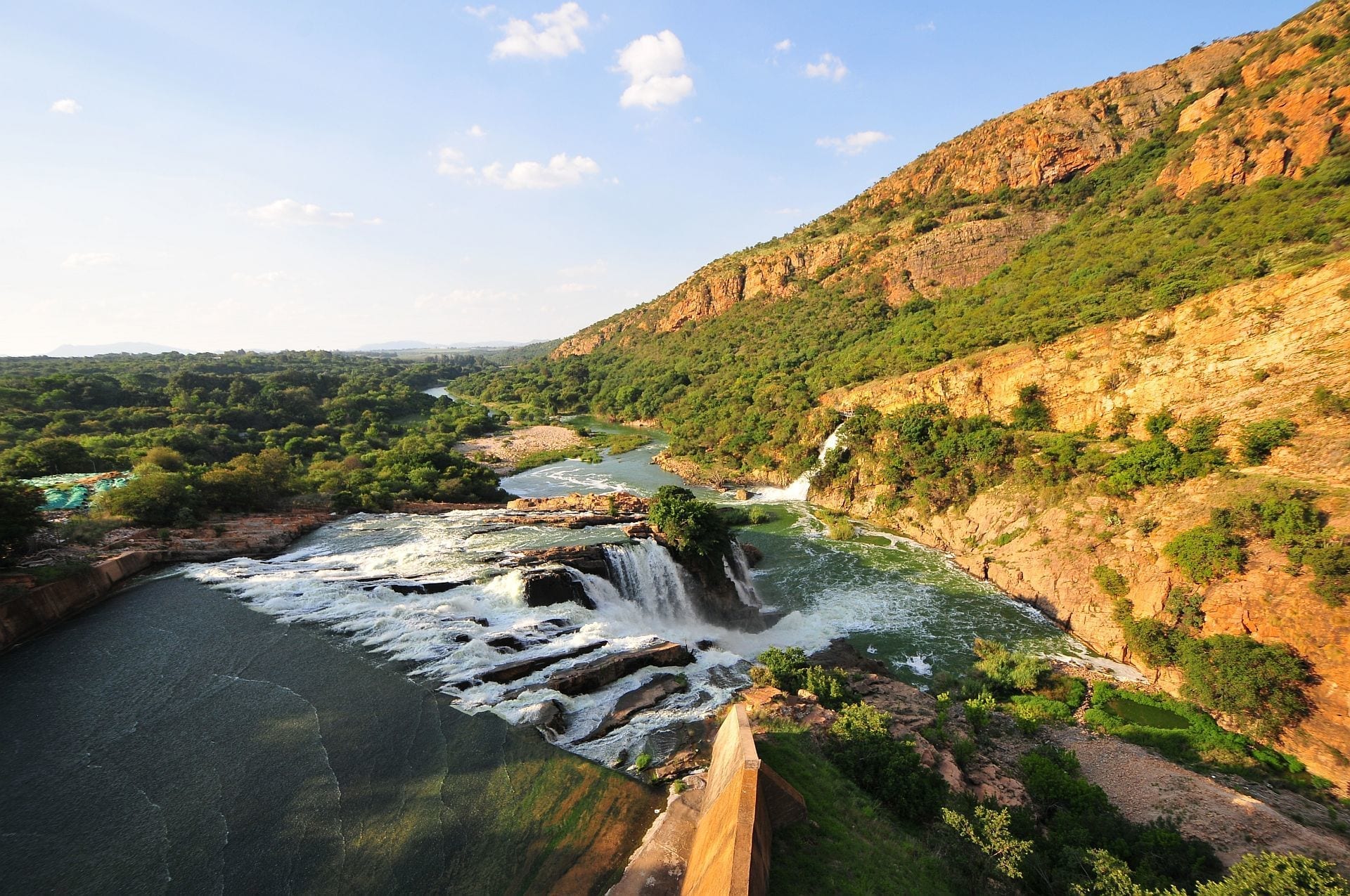 Public Art and Newtown
A compelling reason to visit the heart of Joburg is to experience its unique culture, diverse communities and rich history. Explore the heritage trail of public art in inner city Johannesburg which celebrates the colourful culture, history, and heritage of the city. Part of the tour includes street art which creates a meaningful appreciation of Johannesburg's culture and artistic expression.
Visit the Ghandhi Memorial, the Johnny Walker Pioneering Spirit & Jazz monument, the SA Mine Workers' Union sculpture, the Brenda Fassie Memorial and have lunch at Gramadoelas Restaurant (or somewhere similar).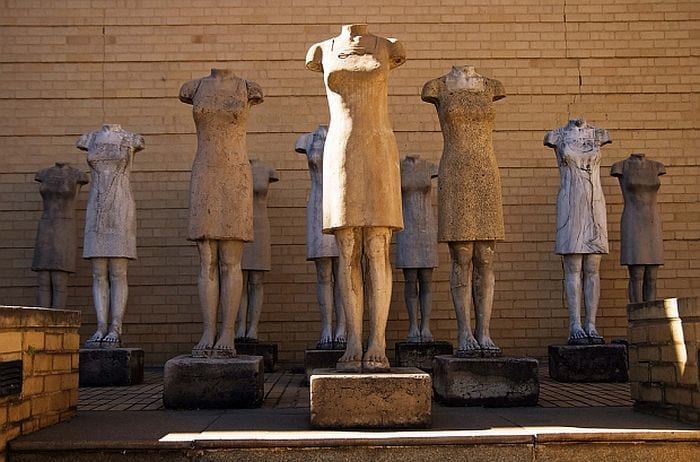 Tour of Soweto
For those who prefer to tour on foot as oppose to riding a bicycle, the Soweto Tour will suit you well.
This sprawling 'city within a city' is home to approximately 2 million people. Enjoy a guided Soweto tour during which you see the contrast with the richer suburbs of Rosebank and Sandton in the north.
A private Soweto tour will typically include the following major points of interest: the Chris Hani Baragwanath Hospital, Baragwanath taxi rank, Freedom Square, Hector Pieterson Memorial and Nelson Mandela's former home.
Note: You can – at a squeeze – combine a drive-by tour of Soweto with a visit to the Apartheid Museum (see above) but it is exactly as described. There would be time to see some of the above highlights but not to stop and visit. If you want to do both, we strongly recommend taking a full day tour instead.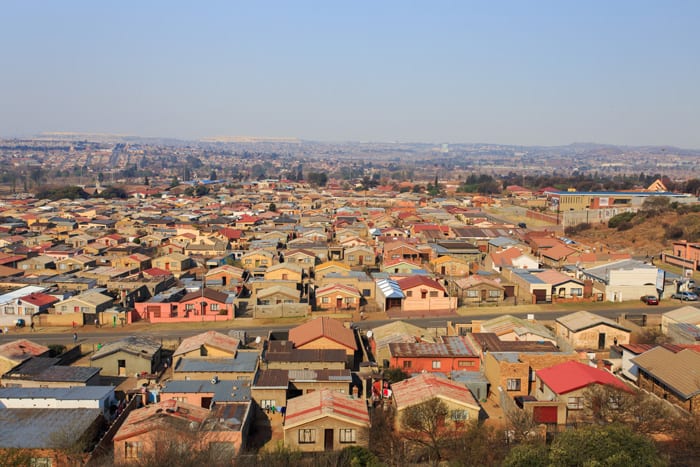 Gardens in the City
For a great escape from the bustle of the city without having to venture too far, a Gardens in the City tour is an ideal option. Visit three of the most prominent gardens in and around Johannesburg. The tour includes the Montecasino Bird Garden, a balloon ride, the Walter Sisulu Botanical Garden and the Brenthurst Garden.
Explore the natural beauty of areas dedicated to conserving the botanical heritage of South Africa, as well as the fauna and bird species who call these gardens home. If it isn't on your list of things to do in Joburg, it should be!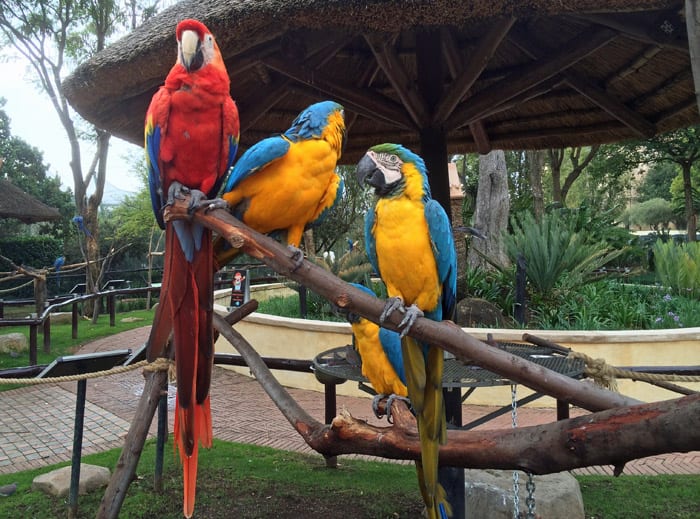 Pretoria City Tour
Pretoria is South Africa's administrative capital and is a complete contrast to the City if Gold. It is often referred to as 'Jacaranda City' as thousands of trees line the streets. Beautiful purple blossoms herald the approach of summer each October.
Pretoria is home to the Union Buildings – residence of the Presidency and his government and home to Parliament during the winter months. It is also a place of culture with a series of theatres ,museums, and monuments. It is definitely worth adding it to your list of things to do in Joburg.
A half day tour to Pretoria takes you to the Union Buildings, the Paul Kruger House Museum, the Voortrekker Monument and Church Square. If you wish, you could combine this with a visit to the Cullinan Diamond Mine.
Going on Rovos Rail?
We often arrange a 2-3 hour tour/transfer either from your Hotel to the Railway Station which includes some of the highlights of Pretoria. Or vice versa at the end of your train trip when you arrive in Pretoria.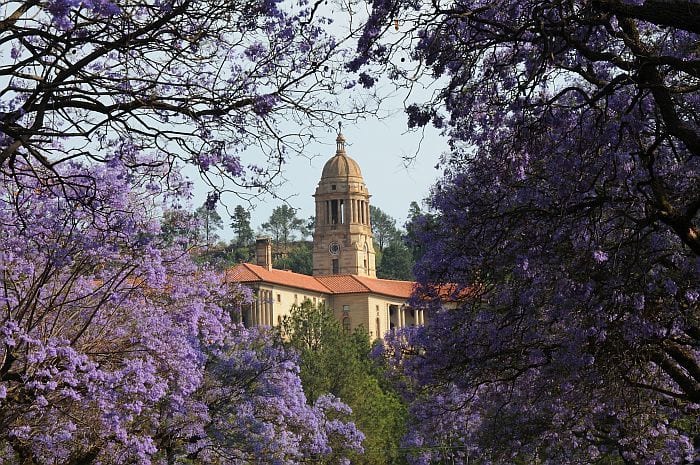 Accommodation options in Johannesburg
Joburg is a busy, lively city that can sometimes overwhelm the senses if you have been out exploring all day. That's why we're recommending two smaller hotels that are away from the bustle of the city.
The Residence Boutique Hotel
This is the ultimate charming and sophisticated spot in the historic suburb of Houghton. Here you'll be treated with friendly service and invited to make yourself at home. You can take a stroll through the lush, terraced gardens, enjoy a game of tennis, or swim a few lengths in the pool.
Other facilities at The Residence include a Spa, sauna and steam rooms. And The Sky Bar on the top floor offers spectacular views over Johannesburg 's renowned urban forest towards the city skyline beyond.
It's the perfect place to escape the maddening crowd and regroup for another day of sightseeing!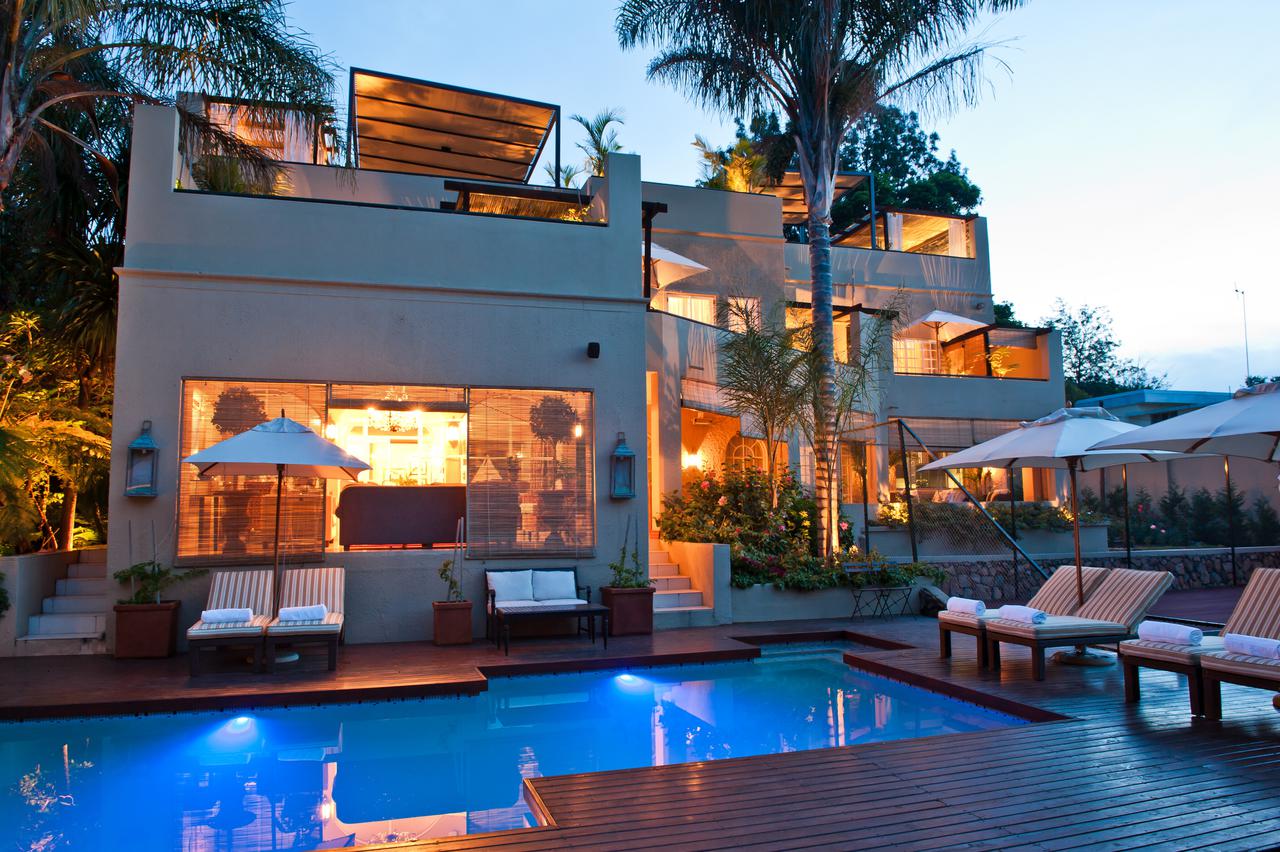 The Peech Boutique Hotel
For an eco-chic boutique experience, The Peech is a great option. It is centrally located in the lush suburb of Melrose. And it was interestingly a private residence built in the 1950's (and was a family home for over 40 years!).
The hotel has sixteen bedrooms spread over a lush one-acre garden, a sophisticated bistro restaurant and a boardroom. Guests can also enjoy the swimming pool, loungers and hanging chairs for relaxation.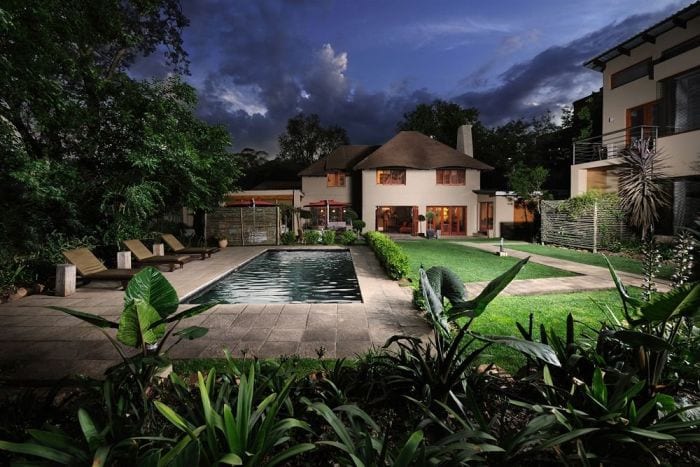 "What to do in Johannesburg" was written by Cedarberg Africa
Cedarberg Africa is a travel and safari company specializing in Southern and East African tailor-made itineraries. We have special rates with all the hotels and game lodges. Therefore, booking through us will cost no more than booking direct, and sometimes less. So our expertise and knowledge comes at no extra cost to you!
Check out our South Africa and Johannesburg pages, and feel free to contact us if you want us to plan the perfect holiday for you.