Best Restaurants in Stellenbosch
Gåte at Quoin Rock
For your next culinary adventure, why not head to the Gåte at Quoin Rock Wine Estate. Here you can take in the breath-taking Simonsberg Mountain, and immerse yourself in an interesting dialogue between art, tradition and craft. As you discover each ingredient, you'll find yourself connecting with the surrounding landsape. And each new dish promises an unforgettable experience. Gåte is a small restaurant with an intimate atmosphere, seating only 40 diners. As one of Stellenbosch's top restaurants and wineries, the Gåte experience is unforgettable.
Where to find them: Knorhoek Rd, Stellenbosch, 7600, South Africa
Contact: 0218884750 | gate@quoinrock.co.za
Opening hours: Lunch Wednesday to Sunday, 12:00 – 14:00 | Dinner Thursday to Sunday, 18:00 – late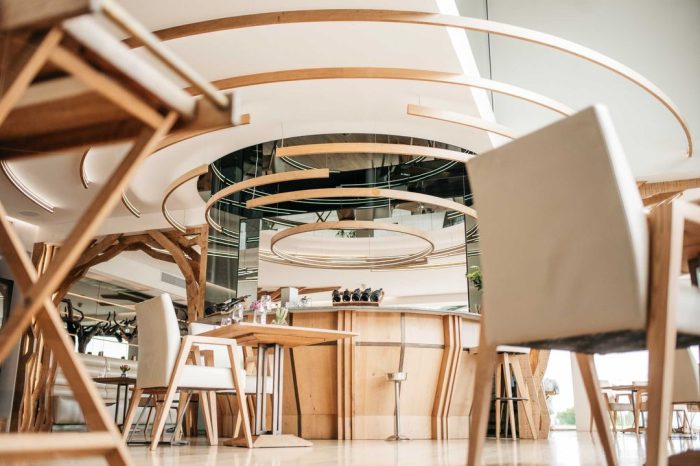 Rykaart's
Rykaart's is a family-owned restaurant in Stellenbosch run by Alex and Ella Rykaart. Providing quintessential views of old buildings and oak trees, it's situated in the heart of Stellenbosch. The family offer simple, contemporary dishes made using locally sourced, seasonal ingredients. The menu offers various size dishes to suit any diner's needs, allowing them to enjoy the meal to their satisfaction.
Where to find them: Corner of Dorp and Bird Street, Stellenbosch
Contact: 061 545 1465 | eat@rykaarts.co.za
Opening hours: Lunch Wednesday to Saturday, 12:00 – 15:00 | Dinner Tuesday to Saturday, 18:00 – 21:00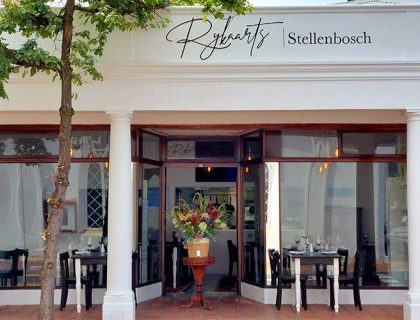 The Jordan Restaurant with Marthinus Ferreira
Jordan Restaurant is a renowned Cape Winelands restaurant that offers sophisticated and delicious food. The restaurant brings Chef George Jardine's brand of creative, international cuisine to the countryside.
However recently, Marthinus Ferreira, from DW Eleven in Johannesburg, will be taking over the management of the Jordan Restaurant. The new name for the restaurant is now The Jordan Restaurant with chef Marthinus Ferreira.
Marthinus Ferreira, has helped shape the South African food scene with her flair for food gastronomy inspired by childhood favourites and influences from abroad. This restaurant has been mentored by some of the world's best chefs, such as Gordon Ramsey and Heston Blumenthal.
Where to find them: Stellenbosch Kloof Rd, Vlottenburg, Stellenbosch, 7604, South Africa
Contact: 021 881 3441| reservations@jordanwines.com
Opening hours: Lunch Wednesday to Saturday, 12:00 – 15:00
Dinner Tuesday to Saturday, 18:00 – 23:00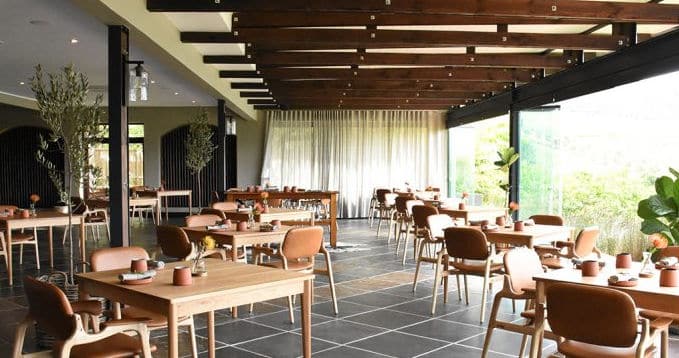 ---
Best Restaurants in Franschhoek
Epice
Epice (eh-peace) is a beautiful restaurant located next to Leeu House in Franschhoek.
Charné Sampson, former sous-chef at La Colombe and protégé of Scot Kirton, is the expert chef that drives the culinary excellence at Epice and she's no stranger to refined, cutting-edge cuisine. A graduate of Silwood College in South Africa, Charné has always loved cooking. Working at The Restaurant at Waterkloof and The Test Kitchen has helped her hone her skills even further.
Enjoy a culinary journey, cleverly crafted by chef Charné, and lock into the 12-course medley.
Where to find them: 9A Huguenot St, Franschhoek, 7690, South Africa
Contact: 0214924044 | reservations@epice.co.za
Opening hours: Lunch Wednesday to Saturday, 12:00 – 15:00
Dinner Tuesday to Saturday, 18:30 – 22:00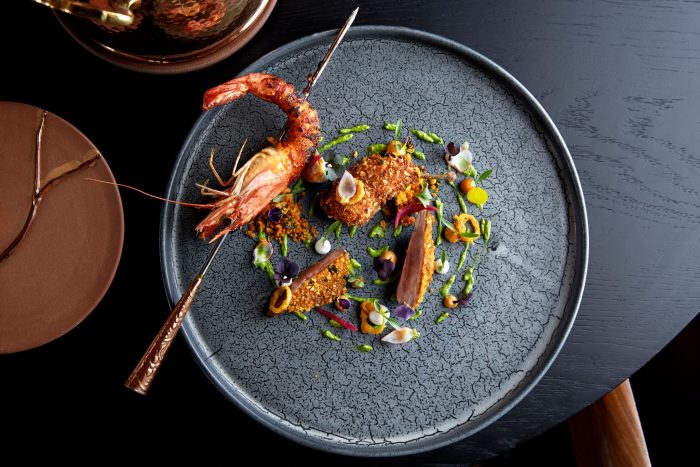 Babel at Babylonstoren
Housed in an old cowshed, Babel is a wonderful mix of Cape Dutch architecture with contemporary glass walls that makes for a simple yet edgy environment. Their food combinations are unconventional, but oh-so-tasty. Babel has a farm-to-fork philosophy, which means they like to serve food that is seasonal and that reflects a "pick, clean and serve" approach. Because the menu is guided by what is available in the garden, the food always reflects the season
Address: Babylonstoren, Klapmuts- Simondium Road R45, Franschhoek
Contact details: 021 863 3852 | enquiries@babylonstoren.com
Opening times: Breakfast: Monday to Sunday, 8:00am – 10:00am
Lunch: Wednesday to Sunday, 12:30noon – 3:30pm
Dinner: Monday to Sunday, 6:00pm – 9:00pm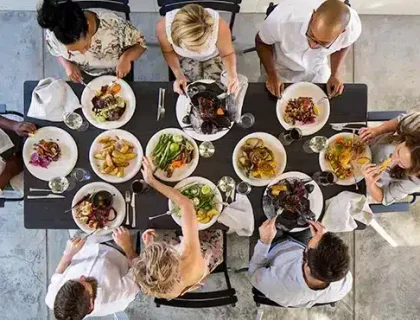 Monneaux Restaurant
In the heart of Franschhoek, the acclaimed Monneaux Restaurant offers freshness, creativity, and generosity on every plate, without compromising on technique or elegance.
The Cape Winelands' dining scene has reconceptualised its dining offering from pass to plate. The focus is on showcasing Monneaux's true identity through seasonality, responsibly sourced local produce and self-sustainability.
The lunch and dinner menu are designed to invite diners to customise their Monneaux Restaurant experience with a wide selection of starters and mains, as well as lighter "snack style" dishes. Guests can opt to share a few snacks and starters over casual drinks, select just a starter or main course for a quick meal, or choose a more traditional flow of starters and mains for an unhasty, exceptional lunch or dinner.
Address: 191 Main Rd, Franschhoek, 7690, South Africa
Contact details: 021 876 3386 | reception@fch.co.za
Opening times: Breakfast: Monday to Sunday, 8:00am – 10:00am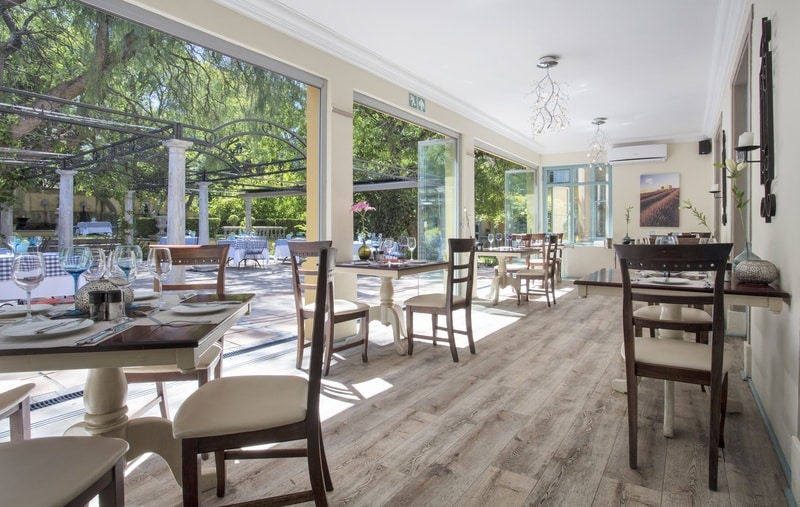 Interested in booking a Safari or Holiday?
Chat to one of our experienced consultants that's here to help and guide you. We use our expertise to narrow down the choices and present feasible ideas, so you can relax and ENJOY the planning process!
Contact us!
Mari Jacobs
Africa Travel Specialist
Hi I'm Mari, I'm here to help you plan your ideal holiday experience