If you had to decide to visit north or south Korea, you would probably arrive at the answer pretty swiftly. Not that finely balanced a choice.North or south pole? That's a bit harder (depends on whether you like standing on your feet or on your head). North or south Tanzania? Well, that's quite tricky. You see, it's easy to make a case for both.
North or South for your Tanzania wildlife safari? Here are some highlights…
A country that devotes more that 25% of its land mass to conservation. And protects something like 20% of Africa's large mammals has got to have something going for it. In fact, Tanzania has lots of things going for it. A fairly stable democracy, a long history of photographic safaris, friendly people, & big-hitting attractions. Just think of the Ngorongoro Crater (recognized as a World Heritage Site by UNESCO since 1959), Selous Game Reserve, the Serengeti plains, Mount Kilimanjaro & Ruaha National Park. I could go on…
Then we shouldn't forget about western Tanzania. Here the jewel in the crown is probably chimp trekking in the Mahale Mountains National Park. But that's something of a free-standing gem. And it doesn't normally figure in the big debate we often have with our clients: should we visit north or south Tanzania?
If you were expecting a nice easy answer then I'm going to have to disappoint you! Like so much in life it all depends…on what you have experienced before on safari and how you like to travel. (Do you love/hate light aircraft flights? How do you feel about bumpy roads in 4x4s?) What wildlife are you interested in, how fit & active are you? And if you must see the Migration, whether your idea of luxury is getting away from everyone else…
Now, you mustn't get the idea that north and south are mutually exclusive. We can and quite often do tailor itineraries for people that encompass both. But more often than not budget and /or time constraints dictate a binary choice. Let's define our terms here a little. By north we usually mean the "Northern Circuit" of Arusha, Tarangire, Lake Manyara, Ngorongoro Crater and the Serengeti. By south we mean Selous and Ruaha.
Let's cut the cake…How do you want to travel
OK, here's one way to decide:
If you want to travel by road, either as part of a small group scheduled tour or with a private guide & vehicle, then choose the north. The distances in the South from Dar es Salaam to Selous & Ruaha preclude safaris by road except for quite extreme, full-on trips that are outside our scope of consideration. Practically speaking, if you want to visit the south then you will need to use the regular light aircraft flights that operate from Dar and Arusha.
So if you want a road safari, or part road and part air then choose the north. To drive from Arusha to the north of the Serengeti is a full day's journey. But the beauty of the Northern Circuit is that there are quite a few stepping stones on the way: Tarangire, Lake Manyara and Ngorongoro Crater. Sometimes we schedule Serengeti in the middle of the itinerary; that certainly works best when you do the whole northern circuit by road. If you take a light aircraft flight back to Arusha at the end of your safari, then it makes more sense to visit Serengeti at the end of the safari. (Or at the beginning, and work your way back).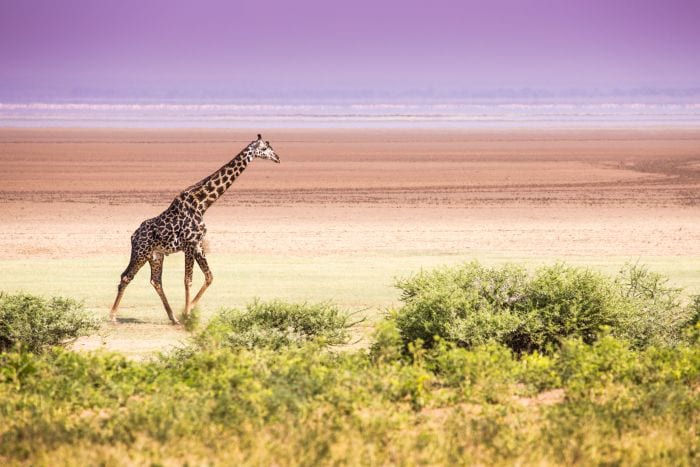 Wide open spaces
So, you don't like sharing your safari with too many other humans? Well then, go south young man. Women may do the same. Whilst northern Tanzania has massive allure it does have one big drawback. Actually the allure is the drawback. Understandably you won't be the only person who wants to sample the unique splendour of Ngorongoro Crater or witness the Wildebeest Migration. The Crater can get very busy, especially in high season (January and February and July to October).
The rumours you may have heard of numerous safari vehicles jostling for position at a choice sighting are all true. But pick your time and the crowds are less pronounced, and my goodness it is spectacular! And while parts of the Serengeti, typically the central areas near Seronera, can get busy, other sectors can be a lot quieter. Plus the number of lodges and hotel beds on the Tanzanian side in the Serengeti is a tiny fraction of the number over the border in the Masai Mara of Kenya.
Download our Guide to Tanzania Safaris
Major Game Reserves, Sample Tours & Camps, plus the low-down on Best Time to Visit!
Get our Free guide here
Ginny Russell
Co-founder & Director
Hi I'm Ginny, I'm here to help you plan your ideal holiday experience
Quieter South
However, there is no doubt that the south is quieter. The "Southern Circuit" of Selous and Ruaha receives far fewer visitors than the north. Partly because you have to get to there, between the locations and back by light aircraft. . . Visitor numbers near Mtemere Gate in the east of Selous are growing, thanks to a concentration of three or four high quality lodges in that part the Game Reserve plus several just outside the Reserve boundary. However, it is a far cry from the crowding you might experience in the north. Plus there are some great lodges further west in Selous, where you have a very good chance of not seeing any tourists except those sharing your lodge.
Ruaha National Park also benefits from low density tourism. Only the portion of the Park below the escarpment is populated with safari lodges. There are so few of them that the total number of guests traversing substantial areas of the bush are very small. It is quite possible to enjoy a whole game drive and not encounter another vehicle. As it's a National Park off–road driving is banned, and not all lodges offer walking safaris. It's a great idea to combine Ruaha with Selous as the latter, being a Game Reserve, does not have the same restrictions on off-road driving (sometimes a great bonus when following an interesting sighting), walking and driving after dark. Plus Selous offers the wonderful contrast of boat safaris on the rivers and lakes within its borders.

Great Wildebeest Migration?
You want to see the wildebeest migration? Well, it sounds like It's going to be the north for you. The Great Migration is the world's last remaining great overland wildlife migration. In which close to 2 million blue wildebeest and hundreds of thousands of Thompson's gazelle move between the Serengeti National Park & the Masai Mara National Reserve.
Chat to us
Tell us what you have in mind and we'll craft an itinerary for you, at no obligation
Contact Us Now