Overview
Walking safaris in Zambia were pioneered in South Luangwa National Park and it still sets the pace. However, you can also enjoy safaris on foot in the Lower Zambezi, North Luangwa and Kafue.
But what do we mean by a walking safari, and is it always 'hard core'?
The great things about Zambia is that you can decide how much walking you wish to do. At many safari camps, a guided walk is always on the menu. So you can opt to do a morning bush walk instead of a game drive. Or you can book a more dedicated walking safari staying at simple fly-camps over a few nights. These have set departures and are very popular. Finally we can tailor-make the perfect experience that's right for you which may lie somewhere between these two options. The choice is yours…
Walking Safaris at a Bush Camp
We often recommend staying at a bush camp in the South Luangwa which specializes in walking safaris, such as Bilimungwe Camp or Nsefu Camp.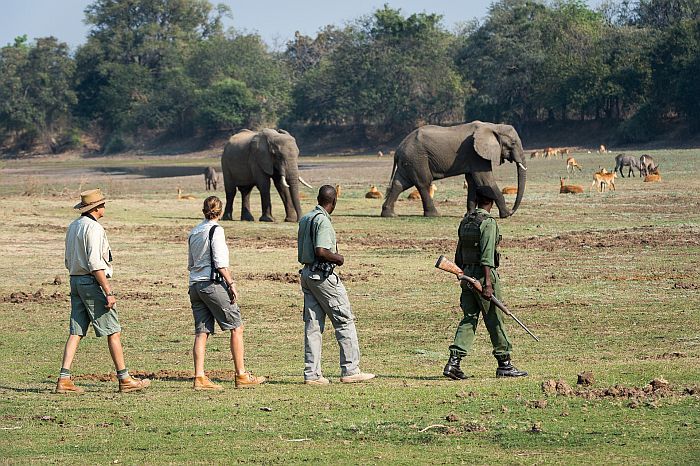 Ideally, you split your time between two or three of these bush camps to enjoy the different terrain. This in turn attracts diverse wildlife. Sometimes you can even walk between bush camps. For example from Luwi to Nsolo Camp, or Chindeni to Chamilandu Camp. We recommend adding a couple of nights at a 3rd lodge focused on game drives. This'll give you a well-rounded safari experience.
In the Lower Zambezi, Old Mondoro and Chiawa Camp also do plenty of walking safaris.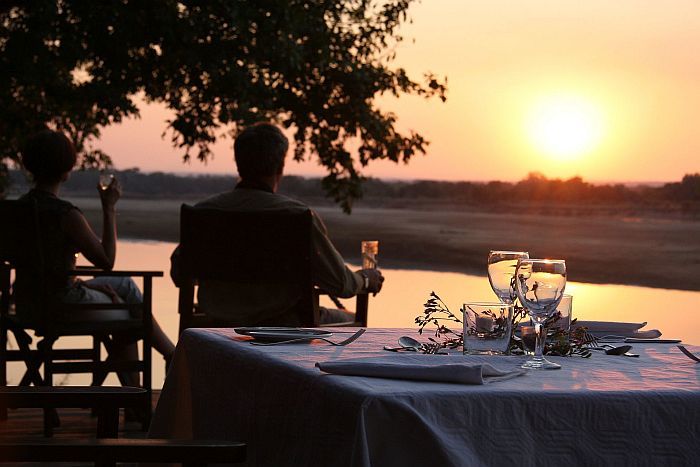 What's the best time for a walking safari in Zambia?
The ideal time for a walking safari in Zambia is probably June to mid September. In June and July it will be cool in the mornings but you'll be able to walk in comfort for hours. By mid September, it's warming up fast.
READ MORE
READ LESS
Highlights
Many options for walking in Zambia: enjoy a bush walk at a traditional lodge, stay at remote bush camps focused solely on walking or join a specialist walking safari.
Many remote bush camps are centred on walking, sometimes from one camp to another.
We have some set departure walking safaris staying in fly camps and walking each day.
You are accompanied by some of the finest guides in Africa.
Excellent attention to detail
"This is the second holiday that Ginny and her team have arranged for us, and once again the service and attention to detail were excellent. Ginny put together a wonderful tailor made itinerary for our trip, and her recommendations were absolutely perfect in enhancing the trip. In today's world of being able to arrange most things yourself, I have no doubt that there is no way we could have put together a trip like this, you need the depth of local knowledge that Cedarberg have. I thoroughly recommend Cedarberg Travel "
Mrs Janet Mudge, UK
The trip was amazing
"I will write in detail about all the places. In the meantime, I just wanted to write you a quick note to say THANK YOU so much for putting a wonderful trip together for our family. From the beginning to the end the trip was amazing. I will highly recommend you to anyone in the future for South Africa. "
Mr Gord Dubey, USA
It was amazing
"Thanks Conrad for your help organizing all of this trip for us, it was amazing – and I'll be sure to refer you to any future friends of mine wishing to come to Africa. "
Mr Ross, Melbourne
Hi I'm Kate, I'm here to help you plan your ideal holiday experience
A quite outstanding holiday
"We have just returned from a quite outstanding holiday. Milandi listened to what we wanted and organised it perfectly. The standard of the whole trip was even better than we expected and the itinerary was interesting, enjoyable, relaxing and fun in exactly the right proportions. "
Mr Allan Cole
Peter did a brilliant job
"Everything went as planned Peter did a brilliant job helping us to plan the holiday "
Mrs Sandra Cutmore
A varied and fantastic holiday that we will never forget
"Milandi interpreted all our needs perfectly and the tailor-made holiday was way beyond our expectations. As a first time visitor to South Africa, we were quite apprehensive about safety, but all the places chosen for us to stay in were comfortable and hospitable. "
Mr Andrew Thompson