Overview
Walking safaris in Zambia were pioneered in South Luangwa National Park and it still sets the pace. However, you can also enjoy safaris on foot in the Lower Zambezi, North Luangwa and Kafue.
But what do we mean by a walking safari, and is it always 'hard core'?
The great things about Zambia is that you can decide how much walking you wish to do. At many safari camps, a guided walk is always on the menu. So you can opt to do a morning bush walk instead of a game drive. Or you can book a more dedicated walking safari staying at simple fly-camps over a few nights. These have set departures and are very popular. Finally we can tailor-make the perfect experience that's right for you which may lie somewhere between these two options. The choice is yours…
Walking Safaris at a Bush Camp
We often recommend staying at a bush camp in the South Luangwa which specializes in walking safaris, such as Bilimungwe Camp or Nsefu Camp.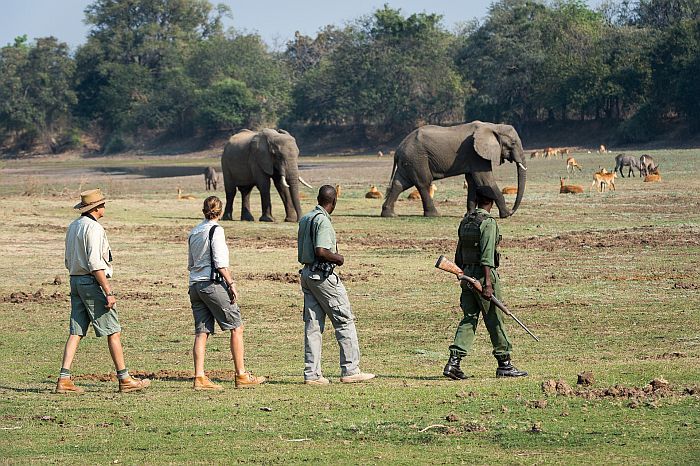 Ideally, you split your time between two or three of these bush camps to enjoy the different terrain. This in turn attracts diverse wildlife. Sometimes you can even walk between bush camps. For example from Luwi to Nsolo Camp, or Chindeni to Chamilandu Camp. We recommend adding a couple of nights at a 3rd lodge focused on game drives. This'll give you a well-rounded safari experience.
In the Lower Zambezi, Old Mondoro and Chiawa Camp also do plenty of walking safaris.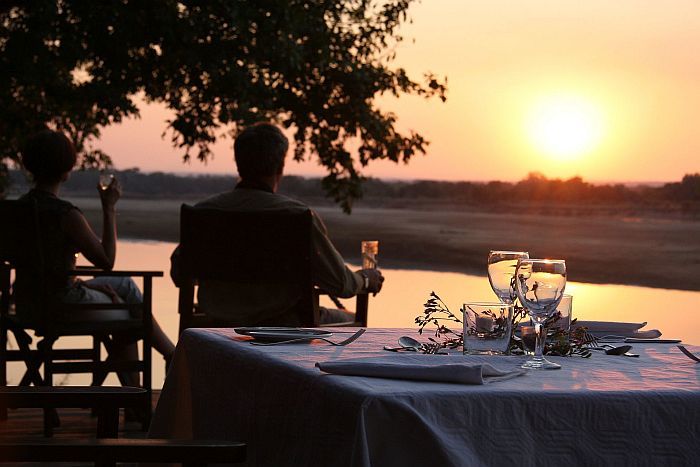 What's the best time for a walking safari in Zambia?
The ideal time for a walking safari in Zambia is probably June to mid September. In June and July it will be cool in the mornings but you'll be able to walk in comfort for hours. By mid September, it's warming up fast.
READ MORE
READ LESS
Highlights
Many options for walking in Zambia: enjoy a bush walk at a traditional lodge, stay at remote bush camps focused solely on walking or join a specialist walking safari.
Many remote bush camps are centred on walking, sometimes from one camp to another.
We have some set departure walking safaris staying in fly camps and walking each day.
You are accompanied by some of the finest guides in Africa.
Dream holiday
"Milandi (et all at C. A. T.) …"Like talking to a good friend/family member who genuinely, listens… then sets skill and extensive knowledge to work to fulfill (AND OFTEN BEYOND!!) all expectations!!" This Africa holiday was simply "ANOTHER" dream animal photo safari and experience Milandi (Cedarberg) put together… we have experienced TWO previous "dream holiday" from Milandi and Crew. How could a 3rd be better?… It simply was. "I may have left Africa" … "Africa will NEVER leave Me"… I (WE) will be going back, with Milandi's guidance B4 this decade is over It has been 3 weeks since return, still dreaming/thinking/processing this tremendous experience. Milandi and Cedarberg are My "Tools" towards many rewards!!! Thank-You, ALL "
Mr Wally Rohrer
I loved the trip!
"I loved the trip. The accommodation was all lovely, i.e. comfortable, nicely located, some nice touches (e.g. treats at bed turn down), the managers were all helpful. The locations of each were also beautiful and convenient for what we wanted to do "
Mrs Deb, USA
10 out of 10 for everything
"The holiday was exceptionally good and we all enjoyed every moment, especially my son Stephen (10 years old). The fact that Stephen enjoyed it says a lot since he is a seasoned traveller (as are most expat kids) having been to almost 20 countries already in his lifetime. We returned with more than a thousand photos and wonderful memories of what Africa can offer at its best "
Family De Waal,
Kate Bergh
Co-founder & Director
Hi I'm Kate, I'm here to help you plan your ideal holiday experience
We arrange trips to more than 100+ destinations throughout the African continent.
Very good value
"Peter was very helpful and clearly paid attention to our thoughts and ideas – we really valued his recommendations "
Ms Winter, UK
Everything worked out perfectly
"Just a quick note to let you know everything worked out perfectly! We had a great time and the accommodations were excellent. We even had two elephants visiting our tent at Simbavati one evening. You can imagine the excitement! Thank you for your hard work to make this a fantastic safari. "
Mrs Brigitte, USA
The trip was amazing
"I will write in detail about all the places. In the meantime, I just wanted to write you a quick note to say THANK YOU so much for putting a wonderful trip together for our family. From the beginning to the end the trip was amazing. I will highly recommend you to anyone in the future for South Africa. "
Mr Gord Dubey, USA