Overview
Scenic, game-rich area within the South Luangwa
Traditions of the African bushcamp meet elegance & style
Focus on walking safaris, but offers 4x4 game drives as well
Bilimungwe Bush Camp overlooks a series of productive waterholes
We have a soft spot for Bilimungwe Bush Camp, an immensely comfortable bush camp in the southern part of the South Luangwa National park in Zambia, home to award-winning guide, Manda Chisanga.
The camp set beneath magnificent Mahogany trees with a small plain on one side and a series of three productive waterholes on the other. It is run by the Bushcamp Company which operates six such bush camps, all varying in character and location.
It's hard not to be seduced by the particular charms of Bilimungwe Bush Camp. It has a lovely ambiance: the heart of Bilimungwe is the cool shady lounge, bar and dining area set beneath a huge winterthorn tree on a raised deck. Spend a relaxing hour or two here overlooking the Bilimungwe's main waterhole favoured by local warthogs, elephant and other thirsty game. With the open waters of the Luangwa River also on your doorstep and the plains where leopard like to prowl, this is a nature-lover's paradise. The camp staff have added 'Joe's bistro' which is an informal dining area decked with lights by the camp's kitchen.
Accommodation at Bilimungwe Bush Camp
Bilimungwe Bush Camp has just four spacious thatched chalets on raised viewing decks. Supremely comfortable yet still retaining an authentic bush camp feel. All are integrated into the shady landscape with the dark wood of the mahogany trees echoed in the beautiful wooden furniture, handmade by local artisans. Bright African textiles bring splashes of colour to these elegant rooms. There's an en suite bathroom with shower, toilet and double basins and outside you can enjoy a refreshing open air shower. Solar power provides lighting, battery charging facilities and hot water.
Manda Chisanga – Bilimungwe's award-winning resident guide – offers a superb guiding experience with his exceptional knowledge and quiet charm. Head out with him on a combination of walking safaris, day and night game drives, and sundowners on the river's edge. The nearest waterhole offers the luxury of bird-watching and wildlife viewing from the comfort of the main lodge. The camp is also particularly known for its leopard sightings.
Many of the Bushcamp Company's camps are within walking distance of each other. This gives you the option of walking from one camp to the next, with your luggage being portered separately so that it is waiting for you on arrival.
Access
The transfer time to Bilimungwe Bush Camp is 3 hours from Mfuwe Lodge (and over 3½ hours from the airport) and usually takes the form of a game drive. We strongly recommend either staying overnight at Mfuwe Lodge first or combining Bilimungwe with a slightly closer camp such as Chamilandu as otherwise it makes for a long travelling day. This seasonal South Luangwa camp is open from May to November.
Bilimungwe Bush Camp gallery
Bilimungwe Bush Camp on the map
Rooms
Raised Thatched Rooms
Bilimungwe's four raised thatched rooms have been carefully designed to ensure the height of comfort whilst still retaining that authentic bushcamp feel, each with magnificent views of one or two of the three watering holes. The tangle of mature mahogany trees that surround camp are echoed in the rich, wood interiors and the beautiful wooden furniture, handmade by local artisans. Bright African textiles bring splashes of colour to the elegant rooms. After an early morning game drive, head back to your room for a refreshing, open-air waterfall shower, or continue the wildlife spectacle from your private deck. Two of the chalets have twin beds (queen-sized beds) and two have doubles (king-sized bed). Bilimungwe sleeps up to eight guests and is open from May to December.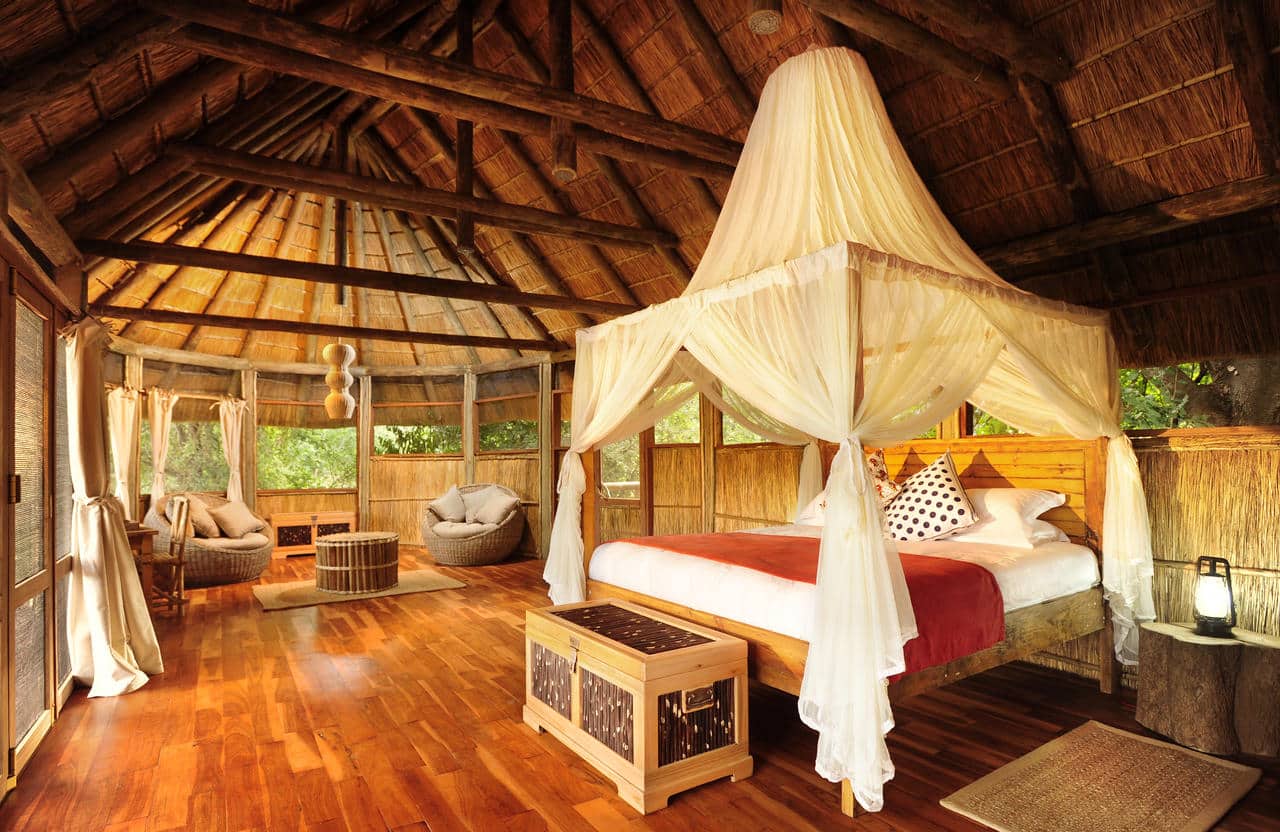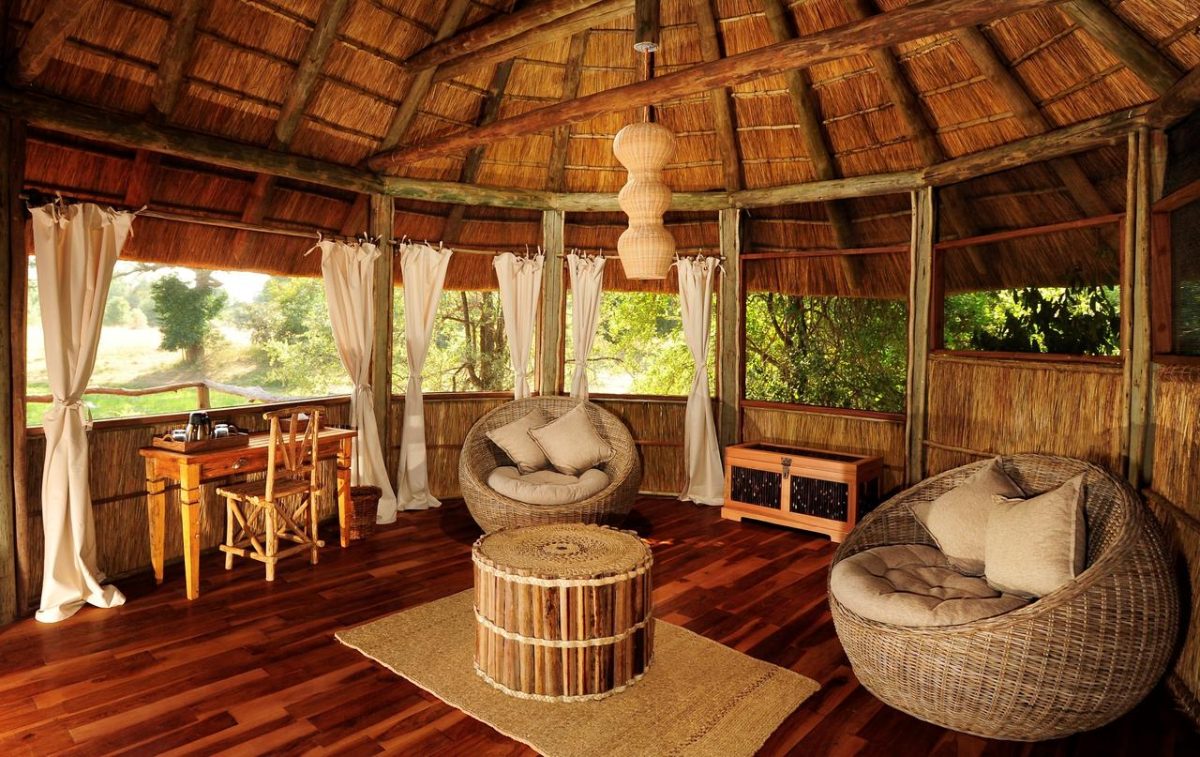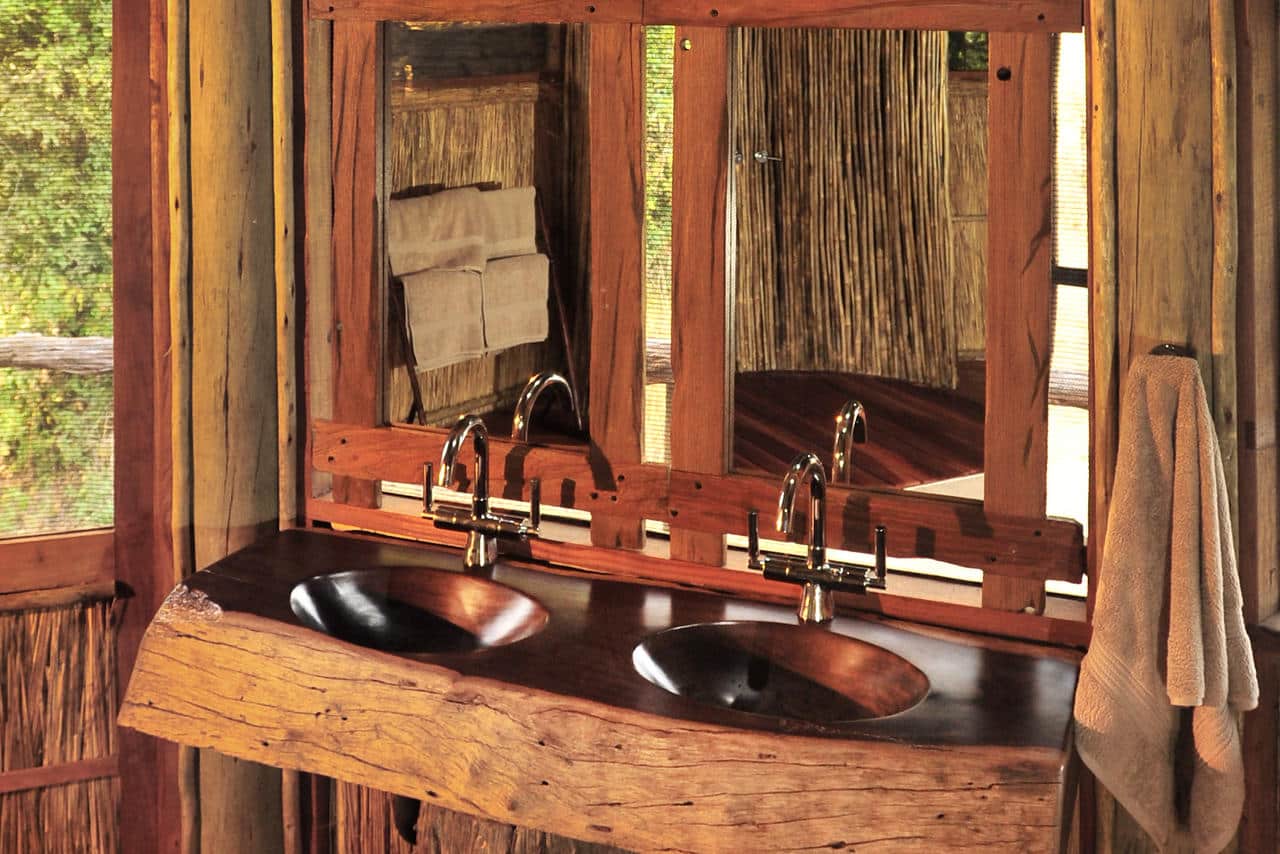 Special offers
Long Stay Offer
10% discount applies to any stay of 7 nights or more
Excludes: Parks Fees and LCCF
Terms & Conditions: No discount on park fees