Botswana Walking Safaris
Botswana offers some stunning walking safari terrain, in the Okavango Delta, in the Selinda and Kwando concessions of the Linyanti and in the Mashatu Game Reserve.
Overview
Walking safaris are bush walks in the company of a game ranger through big game country. There is nothing to compare with the excitement of walking through the bush - never knowing what you may encounter. But walking safaris in Botswana are not arduous hikes, but rather gentle explorations of the bush.
Botswana offers some stunning walking safari terrain such as the Okavango Delta, the Selinda and Kwando concessions of the Linyanti and Mashatu Game Reserve in southern Botswana.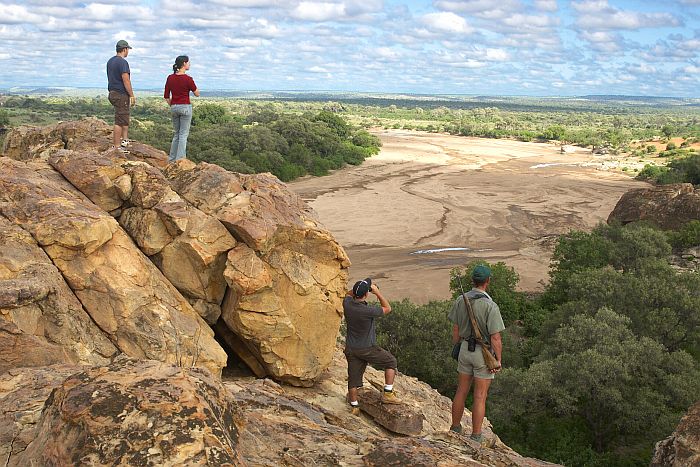 The terrain of the Okavango Delta lends itself to walking safaris, especially during the peak flood months. Then you can go by boat to one of the Delta islands. Typically you walk - with a ranger in front and tracker behind - on these islands or along the river banks. It's not a strenuous walking experience. But general fitness certainly will add to your enjoyment, especially during the hotter months of March, April and September.
Footsteps Camp is a permanent bush camp in the Shinde Concession of the Okavango Delta. It focuses solely on walking safaris. You can book it on an exclusive basis for up to 6 people. See our Footsteps walking safari.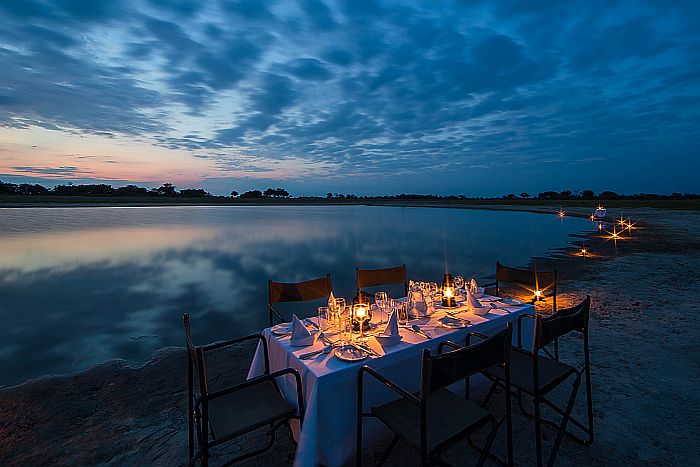 Best time for walking safaris in Botswana (or any other country)
The ideal time for a walking safari is probably May to mid-September. From May to August, it will be cool in the mornings but you'll be able to walk in comfort for hours. It starts to heat up in September. In our opinion October is too hot for anything longer than a short early morning bush walk.
Highlights
Opportunity to observe the game at close quarters.
Gain fascinating insights into the ways of the wild. Your ranger may explain the way in which the bark of a tree can be used as a toothbrush. Or the leaves of another can be distilled to make a formidable alcoholic drink!
However, it is always possible to come upon a herd of buffalo or rhino. So a walking safari can be an exhilarating adventure!
You feel at one with the wilderness.
1st class
"We have had Sonja with Cedarberg plan our trips for years and they have all been excellent. The properties she has chosen for us have all been 1st class and exactly what we wanted. Many were a giant puzzle of flights, drivers and lodging reservations and they all fit together perfectly."
Mrs Marianna Willis
Delivered the goods
"Cedarberg took on board what we wanted and delivered the goods!! Accommodation everywhere was fantastic we couldn't have asked for any more! Preferred safari at madikwe as saw loads more because the rangers could go off road, would definitely look at this type of safari next time."
Mr Eastwood, UK
Impeccable
"Just a quick note to let you know we have arrived home safely and Sari and myself had a wonderful time in South Africa and your planning was impeccable. Overall you have done a wonderful job . It is highly appreciated and we are sorry we did not get a chance to meet you in Cape Town."
Mrs Sara & Mr Andre, USA
Hi I'm Kate, I'm here to help you plan your ideal holiday experience
Great itenerary
"The service that Cedarberg provided for us was outstanding. The itinerary that they put together worked seamlessly, all the pick ups were as they had stated and whenever we had a query about any aspect of the trip they came back to us quickly and provided all the information that we needed. I cannot recommend them highly enough ."
Mr Kevin Wilson
You delivered us a near perfect experience
"We had a wonderful trip largely thanks Cedarberg Travel. THANK YOU!! Thank you again Mari. We had a trip packed with fun, laughter, wildlife and bucket showers, all at a relaxed pace which made us all believe we had a real holiday, even if it started at 5.am every morning! I believe that you gave us 3 wonderful lodges ( arguably best we have visited in the African continent all with their special touch and ambiance, thank you.) Once again, another "Mari masterpiece". You delivered us a near perfect experience, thank you again Mari."
Mr Dennis Lee
Cedarberg recommendations matched perfectly!
"Cedarberg have a detailed knowledge of the country and took time to understand our budget, desires and preferences to create a wonderful multi-centred holiday for us. They were helpful fine-tuning the itinerary and put together a comprehensive package covering all our needs. We have used Cedarberg previously and each holiday has been fabulous. We will have no hesitation using them for our next trip."
Mr Brian Collins UK