Overview
Walking safaris in Botswana are bush walks in the company of a game ranger through big game country. There is nothing to compare with the excitement of walking through the bush - never knowing what you may encounter. But walking safaris in Botswana are not arduous hikes, but rather gentle explorations of the bush.
Botswana offers some stunning walking safari terrain such as the Okavango Delta, the Selinda and Kwando concessions of the Linyanti and Mashatu Game Reserve in southern Botswana.
The terrain of the Okavango Delta lends itself to walking safaris, especially during the peak flood months. Then you can go by boat to one of the Delta islands. Typically you walk - with a ranger in front and tracker behind - on these islands or along the river banks. It's not a strenuous walking experience. But general fitness certainly will add to your enjoyment, especially during the hotter months of March, April and September.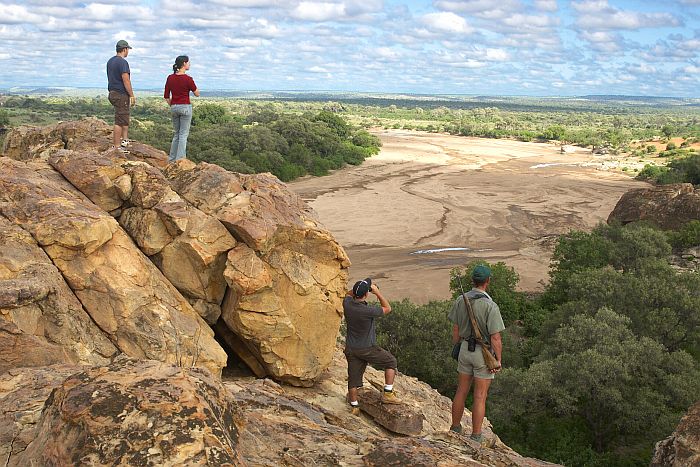 Footsteps Camp is a permanent bush camp in the Shinde Concession of the Okavango Delta. It focuses solely on walking safaris. You can book it on an exclusive basis for up to 6 people. See our Footsteps walking safari.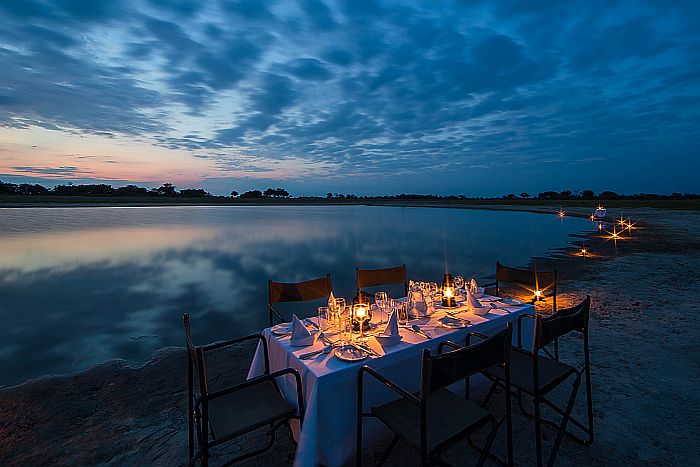 Best time for walking safaris in Botswana (or any other country)
The ideal time for a walking safari is probably May to mid-September. From May to August, it will be cool in the mornings but you'll be able to walk in comfort for hours. It starts to heat up in September. In our opinion October is too hot for anything longer than a short early morning bush walk.
See HERE for other walking safari destinations and trips
Highlights
Opportunity to observe the game at close quarters.
Gain fascinating insights into the ways of the wild. Your ranger may explain the way in which the bark of a tree can be used as a toothbrush. Or the leaves of another can be distilled to make a formidable alcoholic drink!
However, it is always possible to come upon a herd of buffalo or rhino. So a walking safari can be an exhilarating adventure!
You feel at one with the wilderness.
It was by far the best experience we have ever had!!
"We are (regrettably) back from our trip and I wanted to let you know that it was by far the best experience we have ever had. The itinerary you designed for us was simply outstanding. Our guide in Cape Town was incredible and made sure we maximized our time, even throwing in little unexpected side trips to a wine farm, etc. The accommodations were top notch everywhere we stayed and the service was over the top. I actually don't have the right words to express how wonderful this trip was. I would say it was life-changing, as it gave us a totally new perspective on the wonders of nature. Thank you a million times over. This will not be our last visit to South Africa! "
Mrs Deb
Exceeded all expectations
"Cedarberg was professional, responsive, and personable. All flights, all transfers, all accommodation, all activities, and the safari itself went exactly to plan. The experience, end-to-end, exceeded all expectations. "
Mr Michael Barnard
Everything went smoothly
"From the initial enquiry until the end of the holiday everything went smoothly. We were very happy with all aspects of the holiday. All the hotels were comfortable; well staffed; good food. "
Mrs Kate Mars, UK
Gloria Darvall
Africa Travel Specialist
Hi I'm Gloria, I'm here to help you plan your ideal holiday experience
Everything was perfect
"Your service and the holiday you put together for us was faultless. Everything was perfect from the choice of accommodation to the transfers, flights…… everything! It was seamless. "
Mrs Ruth Koper
Most amazing holiday in SA
"Thank you for the most amazing holiday in South Africa. The three lodges were all selected with great care and each had a different atmosphere. All transfers worked entirely smoothly and we were even met on arrival at Johannesburg airport to be escorted the few yards to the airport hotel! Cedarberg really came into their own when BA messed up theoutgoing flight (twice) and Ginny spent her entire Bank Holiday weekend sorting it out for us. "
Mr Mike Ricks, UK
Everything worked out perfectly
"Just a quick note to let you know everything worked out perfectly! We had a great time and the accommodations were excellent. We even had two elephants visiting our tent at Simbavati one evening. You can imagine the excitement! Thank you for your hard work to make this a fantastic safari. "
Mrs Brigitte, USA