Overview
Walking safaris in Botswana are bush walks in the company of a game ranger through big game country. There is nothing to compare with the excitement of walking through the bush - never knowing what you may encounter. But walking safaris in Botswana are not arduous hikes, but rather gentle explorations of the bush.
Botswana offers some stunning walking safari terrain such as the Okavango Delta, the Selinda and Kwando concessions of the Linyanti and Mashatu Game Reserve in southern Botswana.
The terrain of the Okavango Delta lends itself to walking safaris, especially during the peak flood months. Then you can go by boat to one of the Delta islands. Typically you walk - with a ranger in front and tracker behind - on these islands or along the river banks. It's not a strenuous walking experience. But general fitness certainly will add to your enjoyment, especially during the hotter months of March, April and September.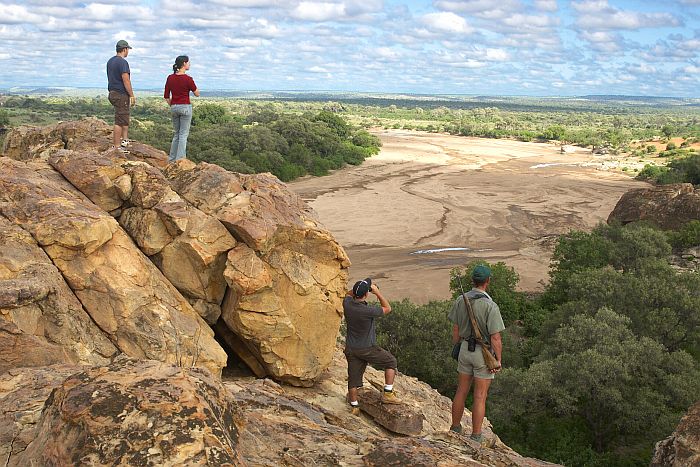 Footsteps Camp is a permanent bush camp in the Shinde Concession of the Okavango Delta. It focuses solely on walking safaris. You can book it on an exclusive basis for up to 6 people. See our Footsteps walking safari.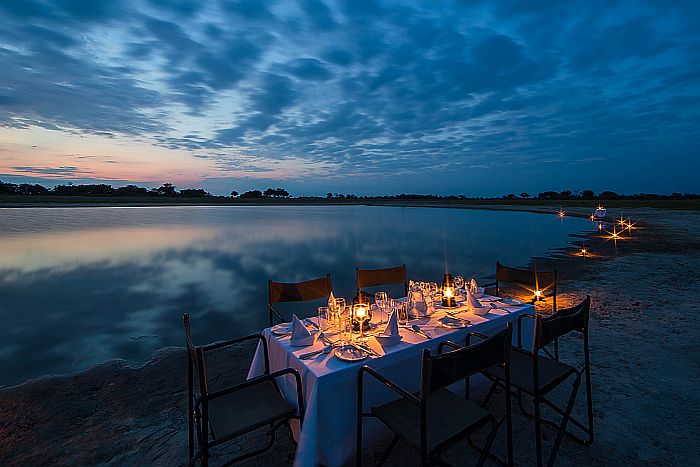 Best time for walking safaris in Botswana (or any other country)
The ideal time for a walking safari is probably May to mid-September. From May to August, it will be cool in the mornings but you'll be able to walk in comfort for hours. It starts to heat up in September. In our opinion October is too hot for anything longer than a short early morning bush walk.
See HERE for other walking safari destinations and trips
Highlights
Opportunity to observe the game at close quarters.
Gain fascinating insights into the ways of the wild. Your ranger may explain the way in which the bark of a tree can be used as a toothbrush. Or the leaves of another can be distilled to make a formidable alcoholic drink!
However, it is always possible to come upon a herd of buffalo or rhino. So a walking safari can be an exhilarating adventure!
You feel at one with the wilderness.
Download our Guide to Botswana Safaris
Major Game Reserves, Sample Tours & Camps, plus the low-down on Best Time to Visit!
Get our free guide here
Gloria Darvall
Africa Travel Specialist
Hi I'm Gloria, I'm here to help you plan your ideal holiday experience
We arrange trips to more than 100+ destinations throughout the African continent.
WHAT AN AMAZING SAFARI! An outstanding job!
"WHAT AN AMAZING SAFARI! What an outstanding job you did! From the arrival of the guests to the end of the safari. I'll speak on my behalf and let the other guests speak for themselves and give their own opinions. Let me just say the Safari amazing…., The team did an outstanding job, from the day of arrival at the airport with ground handlers to the drivers, to the departure day. Everything went smoothly and without this team, I do believe the experience would have been different. Africa is known for being slow, especially being punctual (as we call it, African time). The team changed all that. Everything ran according to the schedule and on time. They made us feel at ease, stress-free, and truly on vacation. It indeed made me feel proud of my country, proud to be a Kenyan, and proud of the people. There was UBUNTU all around, everywhere we went people were respectful, polite, and kind (apart from the one or two individuals who would hassle us to buy something and especially when they see Mzungu) and for that, I thank you, THOMAS, and the team. Excellent work. A hand of applause to Mari; Thank you to Mari, it all started with you. Thank you for planning and organizing the Safari it will forever be in our memories. The accommodation and the food were fantastic. Amboseli was stunning, although it would have been great to see Mt Kilimanjaro it was cloudy. Eka Hotel was great, and the breakfast was delicious. At the Keekorok, zebras visited us behind our cabins and could hear the call of the hippos. And finally, the Voyager hotel in Mombasa was fun and relaxing and the food was fantastic. Overall, the hospitality everywhere was fantastic. Couldn't have asked for more. Lastly, a big thank you to my safari team (Resa, Anette, Pete, Jim, Pat, Sarah and Mike) for being seasoned travelers, easy going and went with the flow. The Safari wouldn't have been the same without great travelers like you. I enjoyed spending time with you all. THANK YOU, GUYS. Sincerely, I thank you ALL. "
Mrs Carol Ndungu
Couldn't have been happier…
"Cedarberg and specifically our specialist Peter, have been excellent. Really communicative and just very on the ball. From the planning and payment, all the way through to arriving back home. The transfers, hotels, everything was spot on. Couldn't have been happier with how our honeymoon went. "
Mr Clark Hoy, UK
As always an excellent itinerary
"Choices of lodges was perfect. Everything went extraordinarily smoothly. As always an excellent itinerary, great local agent/guide/driver and good trip notes. Good to hear from Milandi personally when a local problem caused a change in the itinerary during the trip. "
Mr Tim Flesher, UK