Overview
Mozambique's reefs and beaches have been under-rated for decades. The upside is that - though Mozambique diving holidays are world-class - this is still a relatively well-kept secret. The colours of the unspoiled reefs are vibrant and pristine. You can see many brightly coloured fish such as blue snappers, tiger fish and butterfly fish. With good visibility ranging from 10m to 40m.
Many Mozambique diving sites, such as Manta Reef, are world-famous in diving circles. Other reefs, particularly in the Quirimbas Archipelago, are yet to be detailed. You may be lucky and see barracuda, giant lobsters, manta rays, moray eels, plus loads of reef fish.
Where to stay on a Mozambique Diving Holiday?
Around the islands of Bazaruto and Benguerra you might find yourself diving with turtles, whale sharks, manta rays. Or even the elusive dugong. Notable Mozambique dive sites include Two Mile Reef and the Aquarium. This is a favourite with novices and snorkelers.
In the far north of Mozambique lies the remote Quirimbas Archipelago. This is a collection of idyllic tropical islands with powdery coral shores.  The coral here has not suffered the degradation seen elsewhere due to the complete lack of development.
You can enjoy a more affordable Mozambique diving holiday along the Southern coast. Diving with the majestic whale shark is a speciality of this area, especially around White Pearl Resort,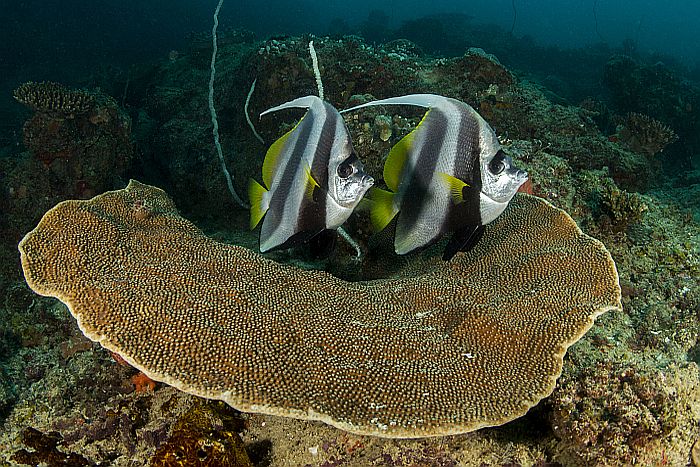 See our Main Page on Luxury Diving Holidays around Africa for more destinations.
Highlights
The warm Mozambique waters teem with 6,000 species of fish
Leatherback and loggerhead turtles, as well as schools of dolphins are also often seen, especially between July and December. Humpback whales are also spotted between August and October.
The warm waters off Mozambique's 2,500 km of Indian Ocean coastline are one of the prime whale shark and manta ray viewing sites in the world.
The whale shark is an impressive but completely harmless whale which is up to 14 metres in length – It's usually seen between December and April.
Sea temperatures range from a balmy 30C in summer to a still reasonable 21C in the middle of winter.
Seamless arrangements
"We were often posting on Facebook during our travels and many of our friends were asking who arranged our trip, so don't be surprised to get a few referrals. Again, thank you so much for your time and effort with our trip! "
Ms Tammy
"We had a fantastic trip and were so pleased with your suggestions. I'm sure we will return to SA at some point in the future and would love to do more Safari trips elsewhere in Africa once the pound/dollar exchange rate improves. We were delighted with Cedarburg and will recommend you to anyone thinking of travelling to Africa. "
Milandi
A quite outstanding holiday
"We have just returned from a quite outstanding holiday. Milandi listened to what we wanted and organised it perfectly. The standard of the whole trip was even better than we expected and the itinerary was interesting, enjoyable, relaxing and fun in exactly the right proportions. "
Mr Allan Cole
Gloria Darvall
Africa Travel Specialist
Hi I'm Gloria, I'm here to help you plan your ideal holiday experience
We arrange trips to more than 100+ destinations throughout the African continent.
Did you know
Best Time to Dive

August to December

Marine Mammals

5 of the world's 7 marine mamals are found off Mozambique
The trip was a great success, Thanks Cedarberg
"Thanks again to Cedarberg Africa and you Tash for arranging the bookings and being able to respond when delays in transportation became apparent. Again I have appreciated the significant effort that Cederberg Travel has put into your web information and the extra material on attractions provided with the itinerary. "
Mr R Brandon, USA
Exceeded all expectations
"Cedarberg was professional, responsive, and personable. All flights, all transfers, all accommodation, all activities, and the safari itself went exactly to plan. The experience, end-to-end, exceeded all expectations. "
Mr Michael Barnard
Amazing holiday in SA
"Thank you for the most amazing holiday in South Africa. The three lodges were all selected with great care and each had a different atmosphere. All transfers worked entirely smoothly and we were even met on arrival at Johannesburg airport to be escorted the few yards to the airport hotel! Cedarberg really came into their own when BA messed up the outgoing flight (twice) and Ginny spent her entire Bank Holiday weekend sorting it out for us. "
Mr Mike Ricks, UK