Overview
Mozambique's reefs and beaches have been under-rated for decades. The upside is that - though Mozambique diving holidays are world-class - this is still a relatively well-kept secret. The colours of the unspoiled reefs are vibrant and pristine. You can see many brightly coloured fish such as blue snappers, tiger fish and butterfly fish. With good visibility ranging from 10m to 40m.
Many Mozambique diving sites, such as Manta Reef, are world-famous in diving circles. Other reefs, particularly in the Quirimbas Archipelago, are yet to be detailed. You may be lucky and see barracuda, giant lobsters, manta rays, moray eels, plus loads of reef fish.
Where to stay on a Mozambique Diving Holiday?
Around the islands of Bazaruto and Benguerra you might find yourself diving with turtles, whale sharks, manta rays. Or even the elusive dugong. Notable Mozambique dive sites include Two Mile Reef and the Aquarium. This is a favourite with novices and snorkelers.
In the far north of Mozambique lies the remote Quirimbas Archipelago. This is a collection of idyllic tropical islands with powdery coral shores.  The coral here has not suffered the degradation seen elsewhere due to the complete lack of development.
You can enjoy a more affordable Mozambique diving holiday along the Southern coast. Diving with the majestic whale shark is a speciality of this area, especially around White Pearl Resort,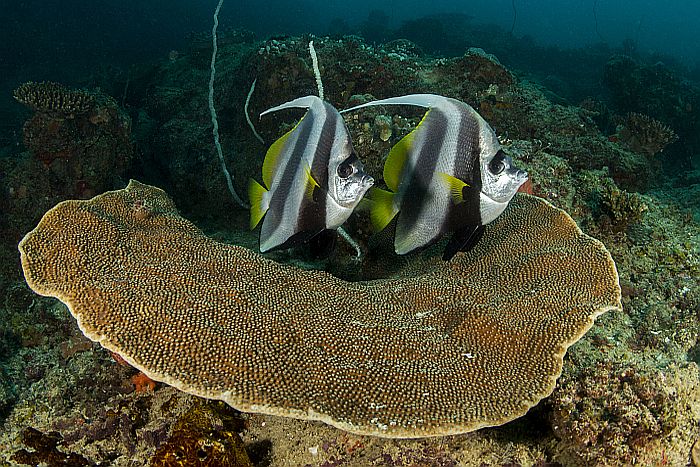 See our Main Page on Luxury Diving Holidays around Africa for more destinations.
Highlights
The warm Mozambique waters teem with 6,000 species of fish
Leatherback and loggerhead turtles, as well as schools of dolphins are also often seen, especially between July and December. Humpback whales are also spotted between August and October.
The warm waters off Mozambique's 2,500 km of Indian Ocean coastline are one of the prime whale shark and manta ray viewing sites in the world.
The whale shark is an impressive but completely harmless whale which is up to 14 metres in length – It's usually seen between December and April.
Sea temperatures range from a balmy 30C in summer to a still reasonable 21C in the middle of winter.
Your prices better than the bigger companies
"Brian came home with your attractive brochure and we started looking at possibilities. We both thought Cedarberg would be too expensive for us but were pleasantly surprised to find your prices better than the bigger companies. The itinerary you gave us went totally to plan. All our airport pickups and transfers went smoothly and local drivers were friendly and informative. We also appreciated all the phone conversations and help you gave at Cedarberg before we went and were delighted with the program you put together for us. "
Dale Family, UK
Everything worked out perfectly
"Just a quick note to let you know everything worked out perfectly! We had a great time and the accommodations were excellent. We even had two elephants visiting our tent at Simbavati one evening. You can imagine the excitement! Thank you for your hard work to make this a fantastic safari. "
Mrs Brigitte, USA
WHAT AN AMAZING SAFARI! An outstanding job!
"WHAT AN AMAZING SAFARI! What an outstanding job you did! From the arrival of the guests to the end of the safari. I'll speak on my behalf and let the other guests speak for themselves and give their own opinions. Let me just say the Safari amazing…., The team did an outstanding job, from the day of arrival at the airport with ground handlers to the drivers, to the departure day. Everything went smoothly and without this team, I do believe the experience would have been different. Africa is known for being slow, especially being punctual (as we call it, African time). The team changed all that. Everything ran according to the schedule and on time. They made us feel at ease, stress-free, and truly on vacation. It indeed made me feel proud of my country, proud to be a Kenyan, and proud of the people. There was UBUNTU all around, everywhere we went people were respectful, polite, and kind (apart from the one or two individuals who would hassle us to buy something and especially when they see Mzungu) and for that, I thank you, THOMAS, and the team. Excellent work. A hand of applause to Mari; Thank you to Mari, it all started with you. Thank you for planning and organizing the Safari it will forever be in our memories. The accommodation and the food were fantastic. Amboseli was stunning, although it would have been great to see Mt Kilimanjaro it was cloudy. Eka Hotel was great, and the breakfast was delicious. At the Keekorok, zebras visited us behind our cabins and could hear the call of the hippos. And finally, the Voyager hotel in Mombasa was fun and relaxing and the food was fantastic. Overall, the hospitality everywhere was fantastic. Couldn't have asked for more. Lastly, a big thank you to my safari team (Resa, Anette, Pete, Jim, Pat, Sarah and Mike) for being seasoned travelers, easy going and went with the flow. The Safari wouldn't have been the same without great travelers like you. I enjoyed spending time with you all. THANK YOU, GUYS. Sincerely, I thank you ALL. "
Mrs Carol Ndungu
Kate Bergh
Co-founder & Director
Hi I'm Kate, I'm here to help you plan your ideal holiday experience
We arrange trips to more than 100+ destinations throughout the African continent.
Did you know
Best Time to Dive

August to December

Marine Mammals

5 of the world's 7 marine mamals are found off Mozambique
Hope to return for a third visit
"Helpful, patient, understanding. Did not meet anyone face to face but seemed friendly over the email. Although the trip was basically our design, it was good to work with Peter in deciding the actual locations and final route. He took all the "admin" hassle away – car hire, arranging accommodation etc. which meant we could just arrive and enjoy the trip. The final printed trip programme was excellent. "
Mr & Mrs Harrison, UK
We enjoyed it all
"Ginny created a holiday that was well-suited to our requirements. The arrangements, timings and itinerary were sensible and all stages of the holiday were faultlessly executed by the chosen representatives. "
Mr John Hartley, UK
A varied and fantastic holiday that we will never forget
"Milandi interpreted all our needs perfectly and the tailor-made holiday was way beyond our expectations. As a first time visitor to South Africa, we were quite apprehensive about safety, but all the places chosen for us to stay in were comfortable and hospitable. "
Mr Andrew Thompson