Overview
Kenya was one of the first countries to embrace the joys of family safaris in Africa. it remains one of the best.
A big plus point for family holidays in Kenya is that many of the private reserves and concessions don't just offer game-viewing by vehicle. They also offer also camel rides, horse riding and tracking with a Masai warrior. Or fishing in the river and even canoeing or tubing in season. So there's no excuse for your kids to get bored!
We tailor-make each of our family safaris in Kenya. We combine at least two contrasting wildlife areas with a few days relaxing on the beach at the end. Kenya is a malarial area - mainly at the coast. So family safaris in Kenya are best suited to slightly older children (i.e. ideally six years and over). They'll really appreciate the ease with which you can skip from the bush to beach after your fix of safari excitement…
We don't have set Kenya family hsafaris on the website. But many of our sample safaris are suitable for families - see below. Usually we hand-craft a family safari after discussing your specific interests.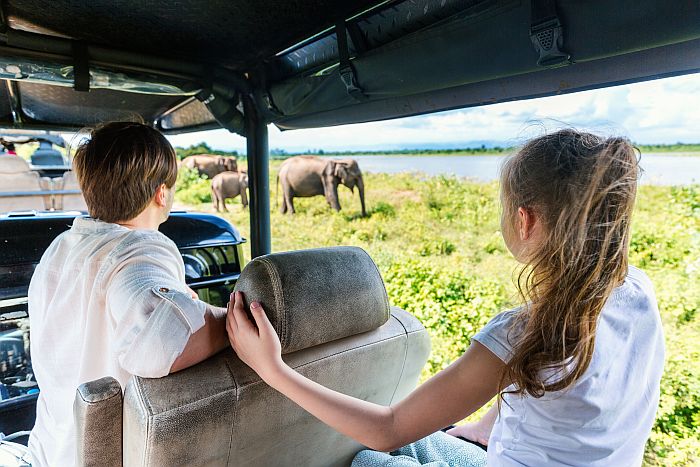 Exclusive-use Safari Houses
Another plus for Kenya family holidays are the number of 'Safari Houses' on offer. These are exclusive use houses or villas. Your family party takes the whole lodge, not just one or two inter-leading rooms. The Safari House usually comes with its own game ranger. So that you have freedom to plan your family's game drives. Plus a private chef and staff team. Some of these villas are adjacent to a larger lodge. (So that you can join in selected lodge activities as you wish.)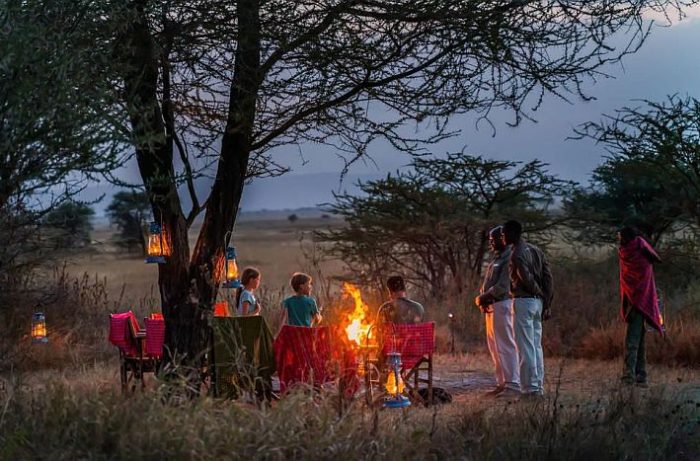 As you can imagine, this leads to a much more relaxed and flexible family safari in Kenya. No constant worrying about noise levels, no self-consciousness about an impromptu game of 'Marco Polo' in the pool. You are free to choose your own game-viewing rhythm, heading out early one morning and taking it more relaxed another day. You can eat what you want, when you want it.
Some great examples of Safari House for families are at Sabuk, Saruni Mara, Saruni Samburu and Loisaba.
Highlights
The great migration of wildebeest and zebra from the Serengeti into the Mara takes place during the northern hemisphere Summer holidays.
Loads of activities that children can enjoy - especially on the private reserves and concessions - from camel rides to horse riding to tracking spore with a masai warrior…
Several exclusive use safari houses & villas are perfect for individual families or larger family groups
Download our Insiders Guide to Family Safaris
Family-friendly Destinations, types of Family accommodation, sample tours & useful tips & tricks
Get our Free Family Safari guide
Ginny Russell
Co-founder & Director
Hi I'm Ginny, I'm here to help you plan your ideal holiday experience
Did you know
Migration

Migration = Summer School Holidays in Northern Hemisphere

Running

Kalenjin tribe is dubbed 'the running tribe' for its unbelievable ability to create world record-breaking runners
Wonderfully professional, yet absolutely approachable
"Bookings made to your perfect itinerary, with ease. No stress, just marvellous conversations about what you would like to see and do. Really really knowledgable consultants. And when they have sorted your dream itinerary, they follow up with lots of help and advice. We have always felt totally relaxed and looked after during our adventures in Africa. Cedarberg take care of everything. "
Mrs & Mr Birchall, UK
High satisfaction with Cedarberg
"We just returned from our third African safari booked with Milandi. I cannot say enough about our high satisfaction with Cedarberg and, particularly, Milandi. Milandi has always worked with us, making recommendations based on our preferences, and together we "tweak" the itinerary until it is perfect for us. Milandi is efficient, highly responsive, knowledgeable, friendly, and seems to really care and act excited about our booked adventure. Each time we have traveled, all arrangements have been punctual and without any delays or cancellations. Every detail has been prearranged. During our most recent trip, Milandi even checked us in for each of our domestic and intercontinental flights, knowing that we would not have the capability to do so from the camps we visited. Cannot recommend Milandi highly enough!! "
Mrs Shirley Spain
Glad we booked with Cedarberg
"They were very informative and helpful. Milandi in particular helped us with car hire and when I lost my wallet on arrival in Cape Town. Milandi was always available to discuss and change anything required. Emails were replied to promptly. "
Mr Chris Jones, UK