Overview
Loisaba is an enormous 56,000 acre private game conservancy in the heart of the Laikipia plateau in northern Kenya. The Ewaso Nyiro river lies on its southern boundary and dramatic escarpments and wildlife plains stretch to the north. Here you can enjoy a private bush dinner looking over the great Ewaso Nyiro River or canter the plains and mix with game whilst on horseback. Or just sit and enjoy the game coming to drink at the waterhole below the escarpment. With adventure around every corner, Loisaba's breath-taking views, deliciously fresh foods and private Africa are the key ingredients to the perfect time.
Loisaba has been rebuilt after a bush fire in 2013. The lodge now offers a choice of luxury tented accommodation at Loisaba Tented Camp or you can enjoy sleeping under the stars at Loisaba Starbeds.
Loisaba Tented Camp - Opened in May 2016, this is a 6 tented luxury safari camp with impressive sweeping views of the Laikipia plains which stretch all the way to Mount Kenya. Each tent is extremely spacious with a lounge, veranda, bathroom with double basin and large shower. Families can be accommodated in three Family Configurations. This comprises a double and double/twin tent, linked up by a walkway. One of the Family configurations has exclusive access to a second infinity pool.
Loisaba Star Beds - The unique 'Starbeds' nearby are perched on a rocky kopje and has a permanent waterhole where resident game come to drink. Here you are hosted by traditional Samburu & Laikipia Maasai warriors. The starbeds are handmade four poster beds with wheels that staff roll out each night onto elevated wooden platforms so you can sleep under the African sky. Accommodation is en suite and has hot running water and flush toilets. Families can be accommodated in two double roll-out beds on separate platforms with an adjoining bathroom via a short undercover walkway.
Loisaba offers bush walks and day and night game drives. You may see lion, leopard, elephant, giraffe, zebra, a variety of gazelle and buffalo as well as some of the dryland species such as Grevy's zebra and Beisa oryx. Laikipia is also one of the best areas in East Africa to see wild dogs. However Loisaba is also famous for its range of activities: from camel rides to mountain biking. There is so much on offer that we recommend 2 to 3 night stay at least.
Activities at Loisaba
Game Drives - One of the best ways to view the wildlife at Loisaba - and to get your bearings - is on a game drive. Whether you go early in the morning or late afternoon, your guide will take you across the plains, through the bush or along the riverbank viewing the wide variety of game, birds, plants and trees that Loisaba has to offer.
Walking - Walking in the African bush awakens all your senses as you become aware of all the sights, sounds and smells around you. Accompanied by traditional Samburu guides - whose knowledge of local flora, fauna, culture and history is unmatched - walks can be as long or short as you wish. Due to the midday heat and the behavior of the wildlife, walks are best taken in the early morning or late afternoon.
Horse Riding - Experience the exhilaration of riding on the plains alongside zebra and giraffe or past a herd of browsing elephant. On horseback it's possible to get unusually close to wildlife. The horses have been reared in the bush from birth so are quite accustomed to its presence. A reasonable degree of riding skills is required.
Camel Riding - Have a go at the traditional mode of transport in the dry lands of northern Kenya. Camel rides offer a leisurely pace to take in the sights & sounds of your surroundings.
Fishing - Fishing can be arranged in the river and dams all year round. Both modern and traditional equipment can be provided along with drinks and a picnic.
Mountain Biking - Experience the different terrains of Loisaba on two wheels with your guide and get the adrenalin pumping as you explore the biking trails around the beautiful Loisaba Conservancy.
Cultural Village Visits - Spend an afternoon at the traditional Samburu village. This is a great experience - see how they carry out their traditional day to day activities, view some of their beadwork and watch them dance.
Sundowners - An essential part of any safari! Enjoy an afternoon game drive ending up at one of the many stunningly scenic spots around Loisaba and enjoy your favourite tipple whilst you drink in the splendour of the African sunset.
Loisaba Tented Camp gallery
Loisaba Tented Camp on the map
Rooms
Safari Tents
Spacious and airy tents are custom-built with large top-to-bottom doors and windows, high ceilings and polished wood floors. The tent suites are adorned in chic Africana furniture with a modern European twist. The bathrooms are luxurious with flush toilets, double-basin vanity and solar-heated hot water cascading from a rainfall shower to deliver a revitalizing cleanse after an action-packed day. Loisaba has eleven double ensuite tents that are 7m x 7m and one that is 9m x 9m. Each has a wide verandah and private grassed area in front.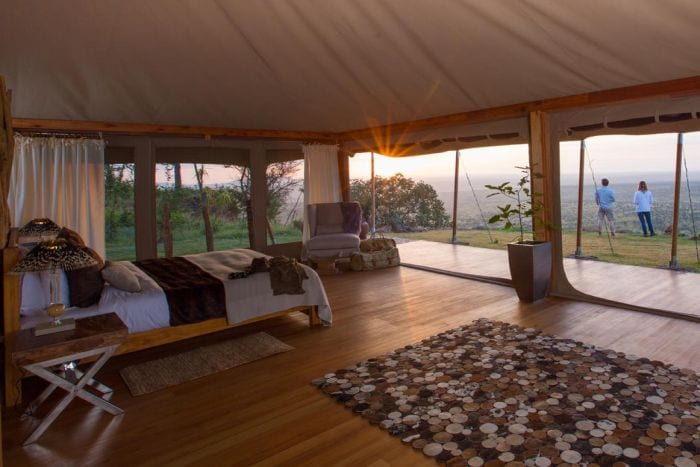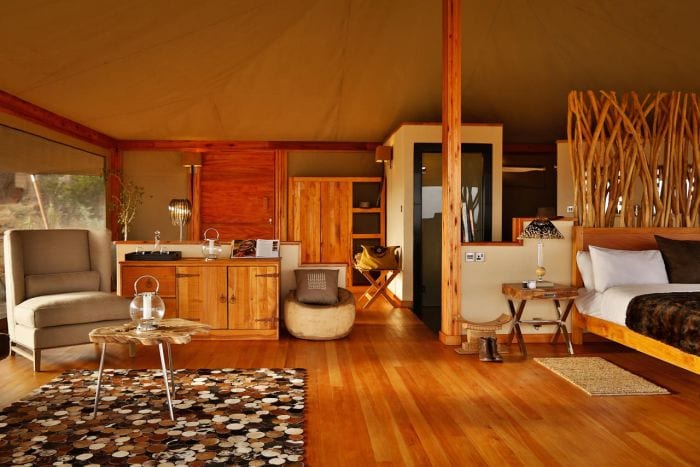 Little Loisaba
3 tents with private entrance, parking, pool & bar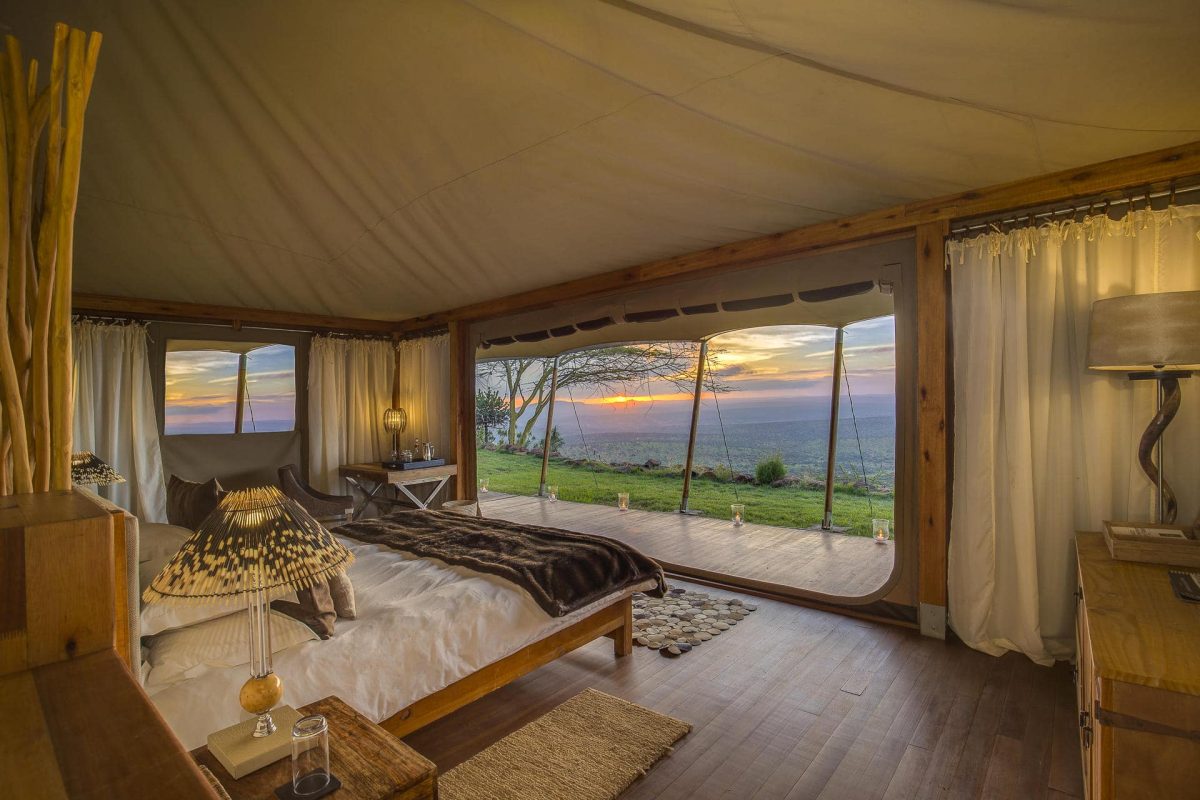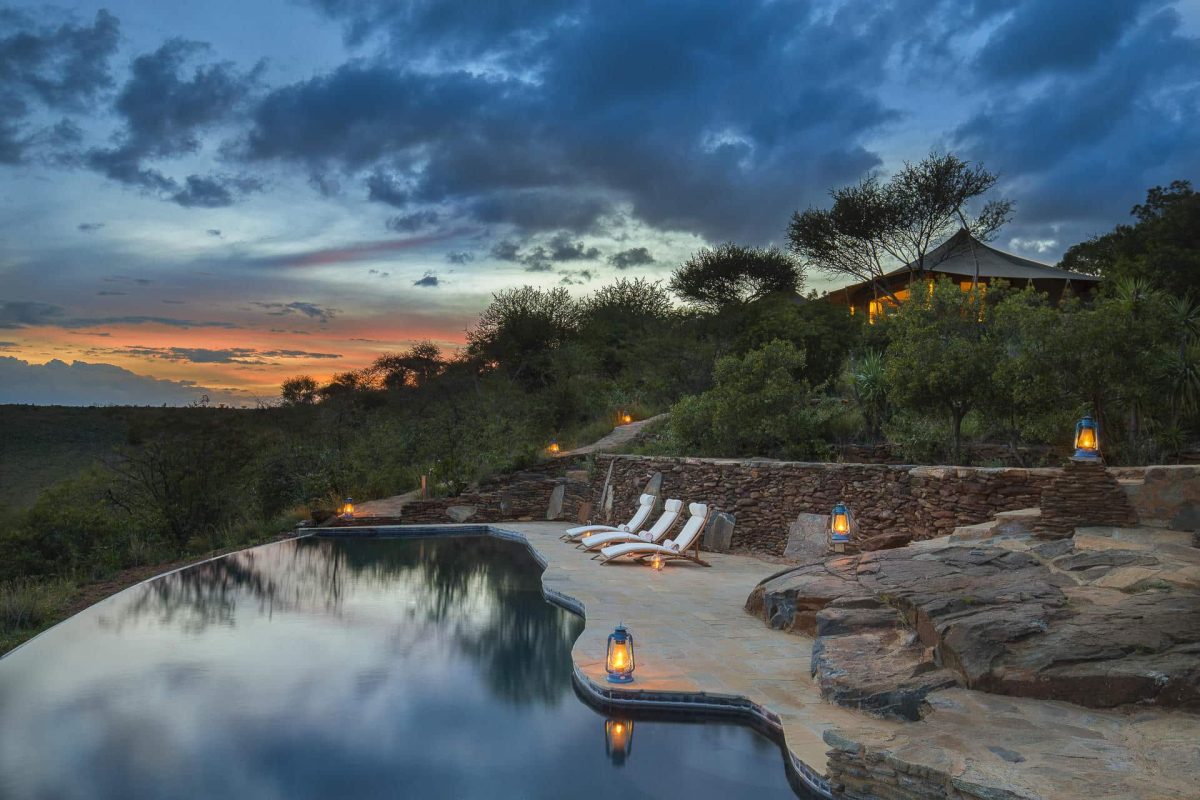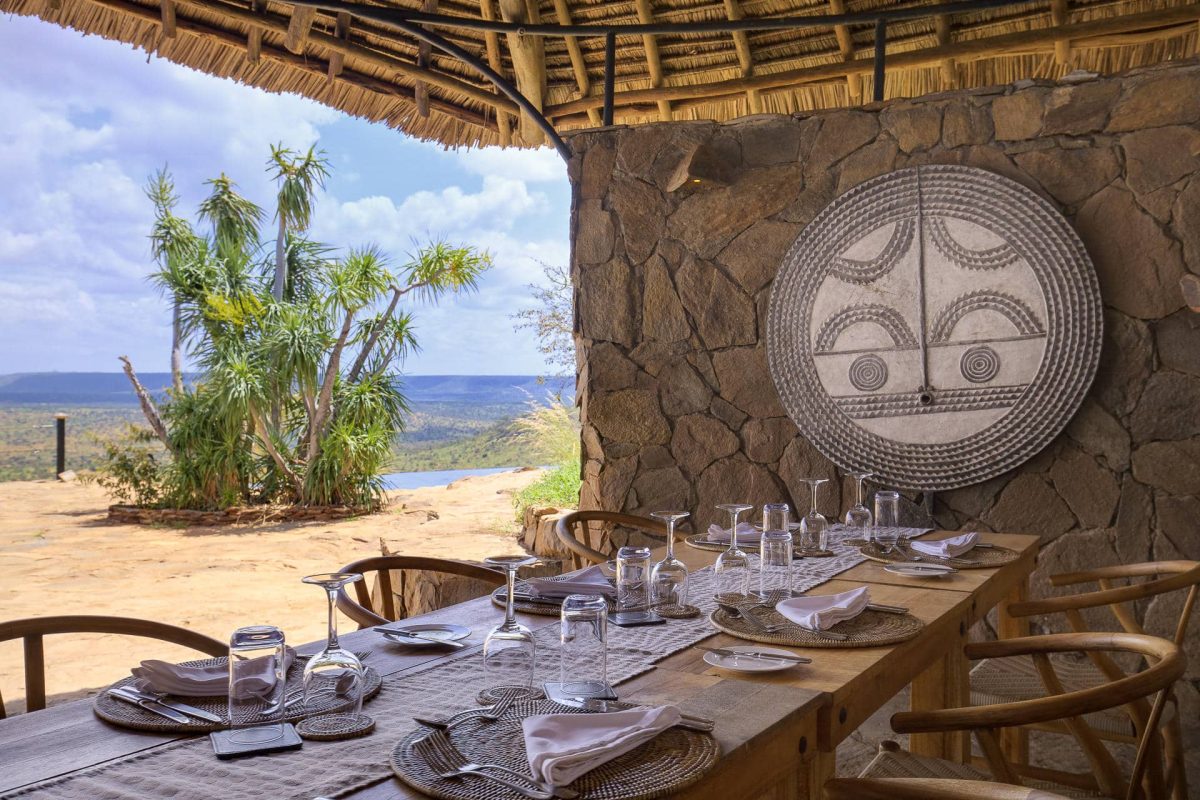 Includes
Full Board with local brand drinks and activities. Local airstrip transfers. Laundry.
Family Suitability
Family-friendly all ages
Malaria Rating
Malarial area year-round
Good For
Adventure, Birding, Cycling, Fishing, Flora, Hiking, Indigenous Culture / Art, Leisure, Nature, Star Gazing, Wildlife
See other options in this area