Want to go to the Beach?
All can agree that Mauritius makes for a great beach holiday destination. But there's remarkably little consensus about which are the best beaches in Mauritius as so many subjective factors come into play.
Some criteria are very specific. The very best spot for windsurfing and kite-surfing is Le Morne in the south-west. However, most visitors are looking for a broader appeal. Many favour the mile-long stretch of white sand at Flic-en-flac on the west coast. This region has remained in vogue for decades. The deep lagoon makes it good for swimming, diving and snorkelling. And the west coast is protected from the summer trade winds.
Trou aux Biches in the north-west is another long-time favourite! Popular with the whole family, with plenty to do and see nearby as well as gorgeous sand. Those who plan to spend a lot of time on or in the water tend to head to the north of Mauritius.
The east coast contender for the best beach on Mauritius title. And arguably overall, is the white coral sand beach of Belle Mare. It's shaded by coconut palms and a broad, deep lagoon runs between the breakers and the beach so it is calm and enjoyable for swimming.
A little further south, the private island of Ile aux Cerfs has powder white sand and is picture-perfect. The rocks that add to its photogenic quality also make this a good spot for snorkelling. Having a golf course, bars and restaurants mean you can stay there a full day, so its appeal is the glorious colours of the lagoon and the convivial atmosphere. Don't go there hoping for a moment of island solitude!
The clear waters of Blue Bay near Mahebourg are celebrated for the unbelievably vibrant colour of the water. Paradis is the best beach in the south.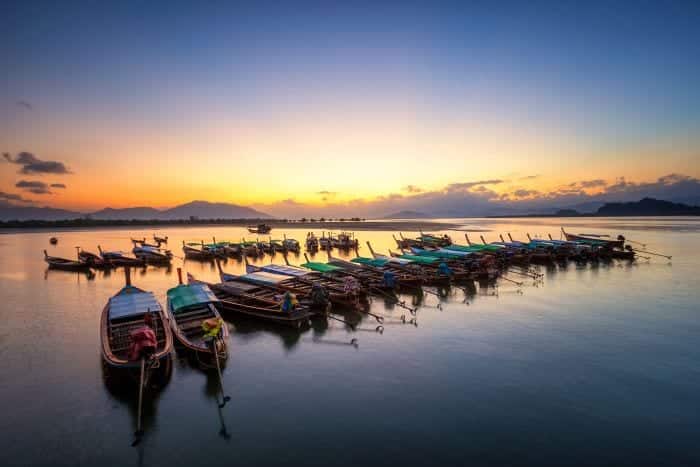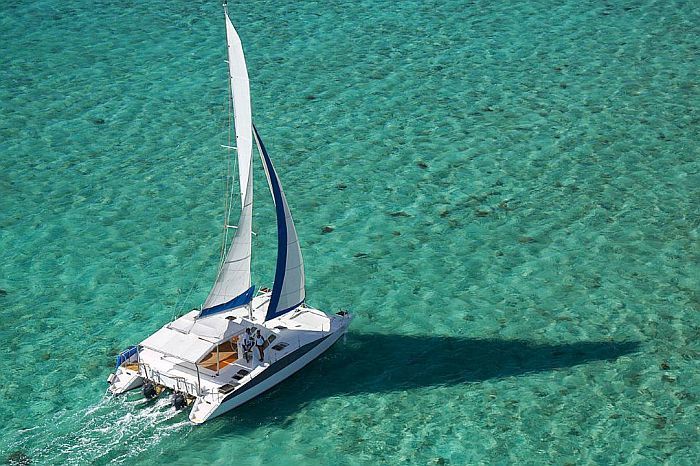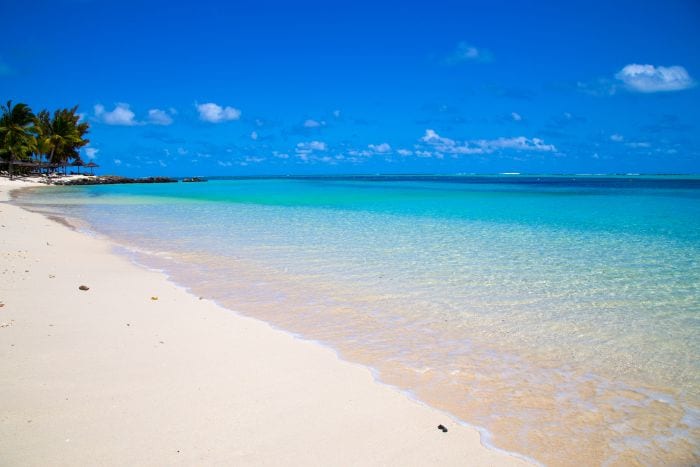 Best time to visit Mauritius
(or the Seychelles for that matter…)
The islands of Mauritius, Seychelles, Madagascar are generally year-round beach holiday destinations. But what's the best time to visit Mauritius? Sun-worshippers should take note that cyclones often hit from mid-January to mid-March so this time is best avoided. The risk of cyclones is less in Seychelles.
The best time to flop on the beaches of Mauritius is probably from mid-September to mid-December or late March to May. It is a sub-tropical rather than tropical climate so there is a distinct variation between summer and winter. High summer can be very hot, up to 38 degrees and mid-winter temperatures (June-July) will tend to hover around 24 degrees in the sunshine dropping to 16 degrees at night.
Luxurious beach destinations