There are hundreds of safari camps and lodges to choose from in Botswana. Many belong to some of the large safari companies but there are also some more independent beauties, which offer a more 'off the beaten track' safari.
The beauty of such remote places is their authenticity (in the true sense of the word!). Although all these camps are very comfortable, what you'll appreciate most is the experience of being so close to nature.
1. Kwando Tau Pan, Central Kalahari
Wouldn't you love to be staying at one of only two camps inside an entire reserve, with stunning views of the endless Kalahari horizon? Well that's what you'll get at Kwando Tau Pan Camp,  situated inside the world famous Central Kalahari Game Reserve right on the edge of the beautiful Tau Pan.
In a desert setting like this, it is only apt that the 8 custom-built rooms are desert-adapted. Throw in an en-suite with an alfresco shower and private viewing deck and you'll be right at home. There is a central lounge area with dining room, a curio shop and even an interpretation centre/library.
Go on game drives in well equipped 4 x 4 vehicles, or be enchanted by a local San guide as he explains everything from birth to marriage to survival on a guided walk. We recommend visiting after the start of the summer rains, between November to April, as the game viewing is superb at this time of year!
If you are considering a trip to Botswana and want some experienced safari assistance – at less than the cost of booking direct – Chat to us!
2. Ghoha Hills Lodge – Savuti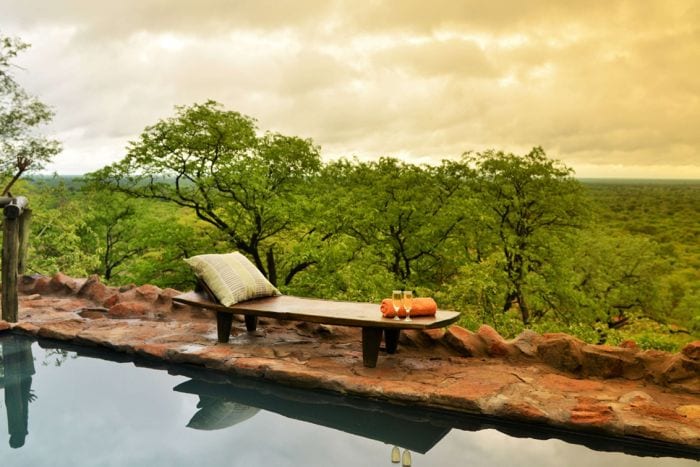 It's all about the view at Ghoha Hills Savuti Lodge! Whether you are sitting on the balcony of your luxury tented room, dining in the guest area, or taking a swim, you'll be spoilt for choice when it comes to the scenery!
As the name suggests, this lodge lies on the ledges of Ghoha Hills in the Savuti area of the Chobe National Park. Being eco-friendly in this sensitive environment is a goal of this lodge. Everything is solar powered and self-sustaining, without compromising on providing guests with a first class safari experience.
Watch the sunrise every morning and admire animals drinking from the waterhole as all tents are east facing. Alternatively make use of their gym, spa, outside pool and fire boma. Ghoha also offers game drives on a private road network to the Savuti Channel and Savuti Mars.
3. Tuskers Bush Camp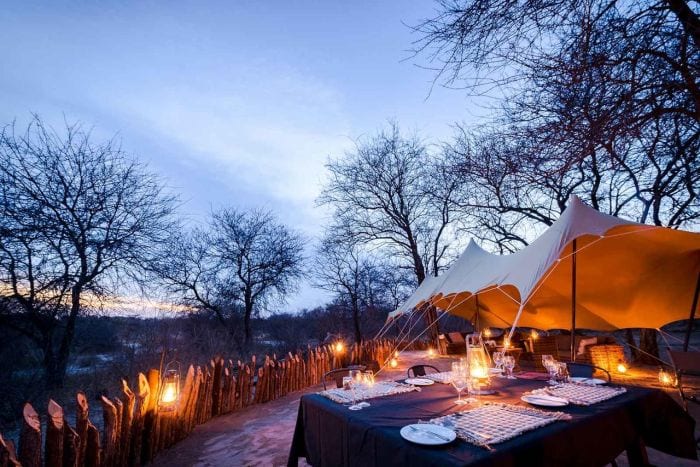 Tuskers has that 'homely' feeling – from the welcoming staff to the traditional 'under-canvas' experience that gives that sense of comfort. Secretively located between the plentiful trees, this tented camp is positioned on the eastern edge of the Moremi Game Reserve.
Tuskers Bush Camp takes its guests to an age-old era of adventure in the African wild. Each custom-made Meru safari tent sleeps two people and has an en suite bathroom with a bucket shower, eco-toilet, and simple bathroom vanity.
The beautiful flat bushveld, mopane trees and varying vegetation provides the perfect backdrop for plentiful game-viewing… and for a birding extravaganza!
As Botswana's park roads have varying amounts of thick sand, as well as deep pools of water during the rainy season, Tuskers is only accessible in a 4×4 vehicle… Talk about off the beaten track!
Download our Guide to Botswana Safaris
Major Game Reserves, Sample Tours & Camps, plus the low-down on Best Time to Visit!
Get our free guide here
Sonja Brand
Africa Travel Specialist
Hi I'm Sonja, I'm here to help you plan your ideal holiday experience
4. Raw Botswana – Motswiri Camp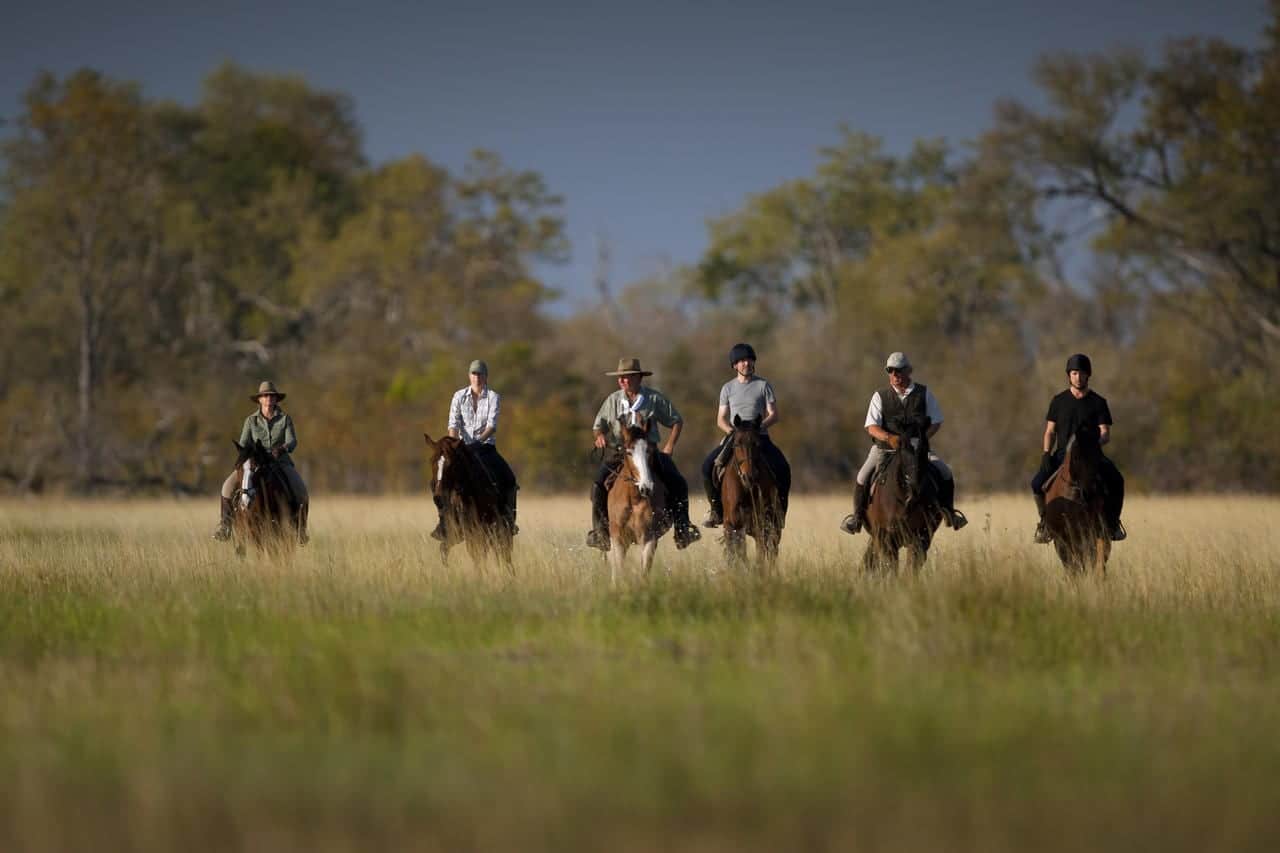 If you are in search of a place that will keep you on your toes (or buttocks), then consider Motswiri Camp… there is just so much to do!
How about going on a horse ride or walking safari with over 120,000 acres of pristine, African bush all to yourself? Because that is what you will get here! You can also canoe or take a ride on a mokoro, or have activities tailored to your individual needs… A maximum of ten people are at this camp at a one time so this is possible!
Motswiri lies on the banks of the Selinda Spillway in the world renowned Selinda Reserve. This solar-powered camp has an outdoor lounge, viewing deck and dining area with a view over the Selinda Spillway. There are only 5 tents, with 1 family unit and 1 honeymoon unit.
The reserve is home to a multitude of game, but due to the diverse vegetation, the birding (again!) is superb.
5. Mashatu Main Lodge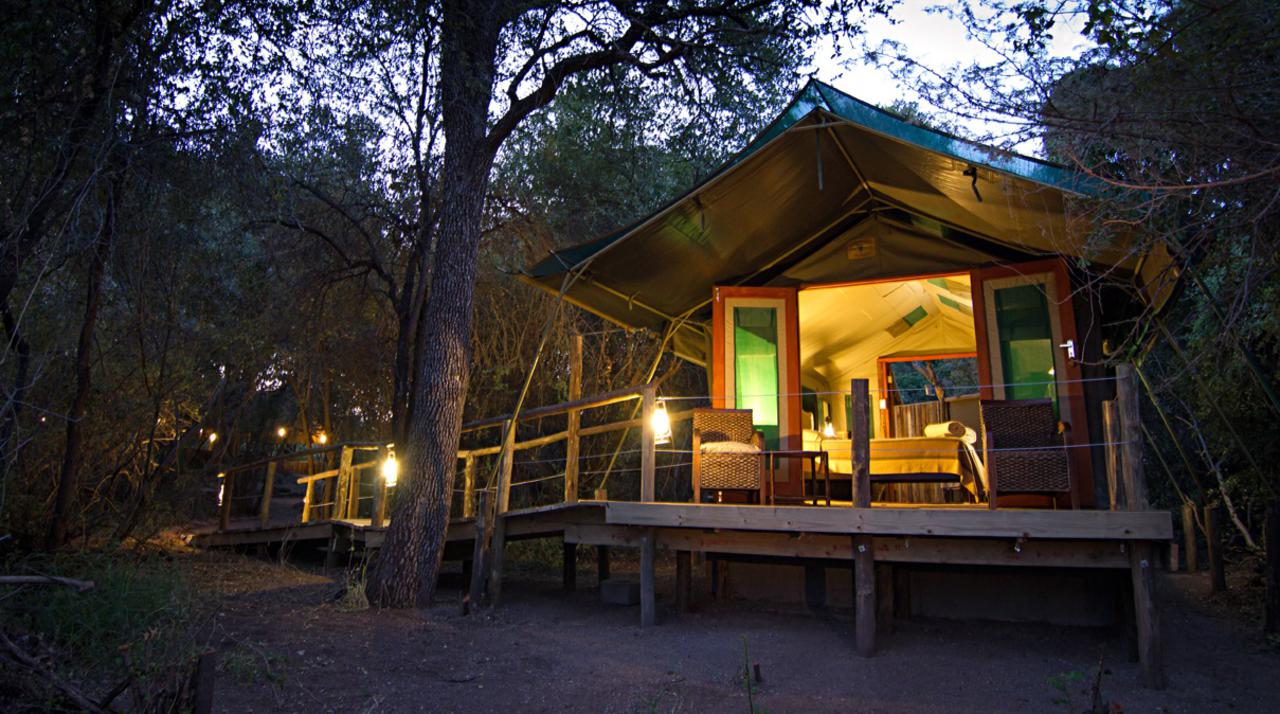 If you are someone who prefers a little more pampering on their travels, Mashatu Main camp is ideal! Although still considered to be 'off the beaten track', it definitely contrasts with the more rustic tented camps.
With air-conditioned rooms and family suites designed for absolute privacy, and deliciously comfortable colonial-style bedrooms, you'll certainly feel relaxed.
Mashatu has an exciting landscape of outcrops and gigantic trees unique in Botswana, with a high concentration of elephant as well as cheetah and leopard. There is also plenty to keep you busy at this camp. Go on a walking, mountain bike or horse-riding safari, or make use of photographic hides and cultural excursions.
Thinking of doing a trip to Botswana?
Not sure where to start? Talk to us & we'll create a tailor-made itinerary for you
Contact Us Now
5 Off the beaten Track Lodges in Botswana – was written by Cedarberg Africa
Cedarberg Africa is a travel and safari company specializing in African tailor-made itineraries. We have special rates with all the hotels and game lodges. Booking through us will cost no more than booking direct, and usually less. So our expertise and knowledge comes at no extra cost to you!