Overview
Sometimes you will want (or need) to take a safari outside the peak time. The wetter summer months from December to March are considered to be the ''green season'' for African safaris.
This may be the only time you can travel. Or you may be combining a safari with a summer trip to the Cape? Many of our clients like to escape the endless grey winter days of the northern hemisphere during this time. So on this page we compare and contrast the Green Season safari options in South Africa, Zambia and Botswana.
What are Green Season safaris like?
So the wet summer months are generally not the ideal months for a safari in terms of sheer quantity of animals. The game-viewing will not be as prolific as in the dry winter months. It will also be harder to spot because of the lush bush.
But the wildlife won't be completely absent. Indeed this is the time when many animals are giving birth so you'll see lots of youngsters around. It's also a beautiful time of the year when all is green and lush. All the migratory birds in full breeding plumage. Plus it's a great time for butterflies, flowers and colourful insects.
Where do we recommend for Green Season Safaris?

South Africa
Game lodges in South Africa don't usually offer lower prices as they remain busy through the summer months. (This is because they are often combined with Cape Town and the Garden Route by people escaping the Northern hemisphere winter.)
But they have the advantage of fenced national parks and private game reserves. This means that the South Africa reserves are not as noticeably affected by animal migrations as the unfenced reserves of Botswana, Zambia and Zimbabwe.
Madikwe is in the summer rainfall area but it is generally drier than the Kruger National Park and less prone to the cyclonic influences coming in from the Indian Ocean from mid January to early March.
Ironically the Eastern Cape game reserves and the few Western Cape reserves are about the only area in Africa where the months of May to August are NOT the best time for a safari. The Eastern Cape has a temperate transitional climate which means that it can rain at any time of year. But its winters are pretty cold and so the animals tend to head for protective thick bushveld away. So the summer months are a perfect time for a safari here. There may be some rain but much less than elsewhere in Africa.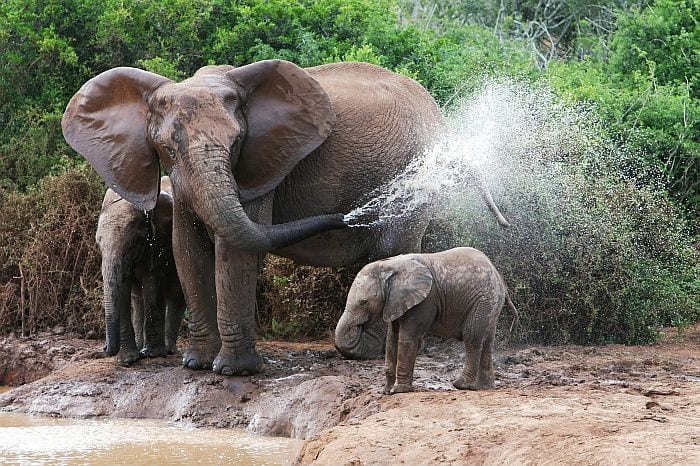 Zambia
Hang on a second, we said elsewhere in this website that Zambia was 'closed for business' during the summer months! Generally this is true but there are exceptions. Some of the central lodges of the South Luangwa remain open for the green season, some open especially for a few weeks. They focus on game walks, boating and game drives in the part of the park which is not flooded. This can be surprisingly good for game-viewing given that the animals are 'forced' to hang out in these non-flooded areas as well. Check out our Rivers and Rainbows safari below.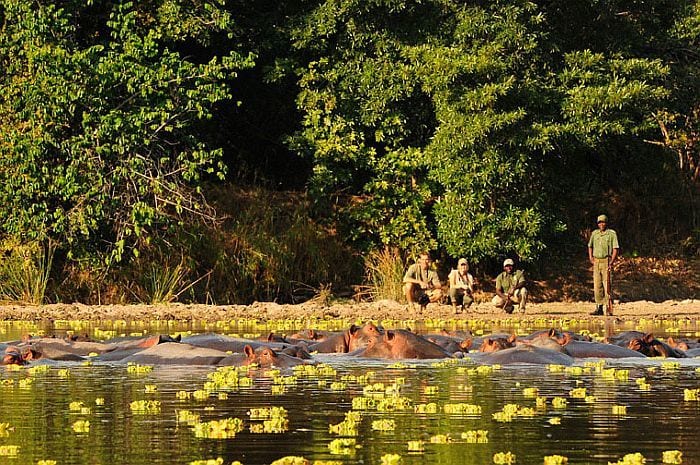 Botswana
Botswana has two attractive reasons to visit at this time of year.
Firstly, November, and again from mid January to March are some of the best months to visit the Kalahari desert and Makgadikgadi pans in Botswana with the annual migration of zebra and wildebeest to and from these areas.
But, more mundanely nearly all Botswana camps offer attractive Green Season pricing. This means that the price of the camps can be a fraction of the peak season. If the very high cost of a Botswana safari in July or August brings on a panic attack, this is the way to see the beauty of the Okavango Delta. Without having to pawn Granny's jewellery collection...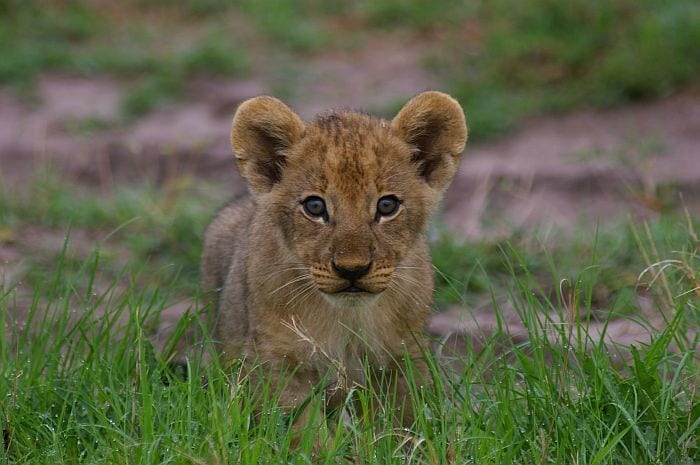 Check out our blog articles on Best time to Travel
Highlights
The skies are exploding with colour and are very photogenic especially at dawn and sunset. So keen photographers often love the summer (green) season.
Lots of babies being born so plenty of youngsters around...
In Botswana and Zambia, the green season is offered at very attactive safari prices
The afternoon rains bring slightly cooler weather. You might even need a sweater just after the rains. Though days are hot and sunny.
Tailor make it all to suit
"Peter got it from the start of my gabbled explanation of reason for trip and abnormal itinerary. He pieced it all together and I always felt confident, even before the trip. "
Mr & Mrs Leake, UK
1st class
"We have had Sonja with Cedarberg plan our trips for years and they have all been excellent. The properties she has chosen for us have all been 1st class and exactly what we wanted. Many were a giant puzzle of flights, drivers and lodging reservations and they all fit together perfectly. "
Mrs Marianna Willis
Holiday of a lifetime
"Just wanted to write a quick note to say a big thank you for all your help in arranging what was a fantastic trip for the three of us. My dad loved every minute of it. And said it was a holiday of a lifetime – which is what I of course had hoped it would be for all of us. "
Jo & Family
Natasha Jantjies
Africa Travel Specialist
Hi I'm Natasha, I'm here to help you plan your ideal holiday experience
Did you know
When

Green Season is typically mid November to March
All your arrangements/transfers worked like clockwork
"We have had the most fantastic holiday and that all your arrangements / transfers etc worked like clockwork. The accommodation and food was excellent everywhere we stayed. It has left us hungry for more (especially Victoria Falls) so we had better get saving for a return trip! This was our first trip to South Africa and we had no idea how stunningly beautiful your country is. "
Laughton Family, UK
High satisfaction with Cedarberg
"We just returned from our third African safari booked with Milandi. I cannot say enough about our high satisfaction with Cedarberg and, particularly, Milandi. Milandi has always worked with us, making recommendations based on our preferences, and together we "tweak" the itinerary until it is perfect for us. Milandi is efficient, highly responsive, knowledgeable, friendly, and seems to really care and act excited about our booked adventure. Each time we have traveled, all arrangements have been punctual and without any delays or cancellations. Every detail has been prearranged. During our most recent trip, Milandi even checked us in for each of our domestic and intercontinental flights, knowing that we would not have the capability to do so from the camps we visited. Cannot recommend Milandi highly enough!! "
Mrs Shirley Spain
Cannot recommend enough
"I cannot recommend Cedarberg Africa enough, and more specifically, Mari Jacobs. I knew nothing about Africa and I thought it would be a wonderful place to go for our 2-week honeymoon. A co-worker had done a similar trip and passed along Mari's name to me. She really is excellent at what she does and, most importantly at the time, she makes everything as stress-free as possible. "
Mrs Denise Rehrig, USA