Overview
Adventure safaris is always a tricky safari option to describe as one person's extreme adventure may be quite tame for another! But we've pulled together those sample safaris and game lodges & camps which offer the greatest opportunity to be active and adventurous on safari in Africa.
There's a wide range of adventure safaris! Some on foot, some by canoe or mokoro, some on horse back or even mountain bike. Exactly what's on offer varies from camp to camp.
Our adventure safaris offer the greatest opportunity to be out and about. You won't be just sitting in a game vehicle. But that's where the similarity ends.
Some are focused around staying active such as our South Africa and Victoria Falls Adventure . This is great for honeymoon couples, but open to anyone who likes to stay on the move. Others are adventurous simply because of the remote wilderness areas they visit. Yet others offers a more adventurous mode of travel and accommodation such as mobile camping safaris...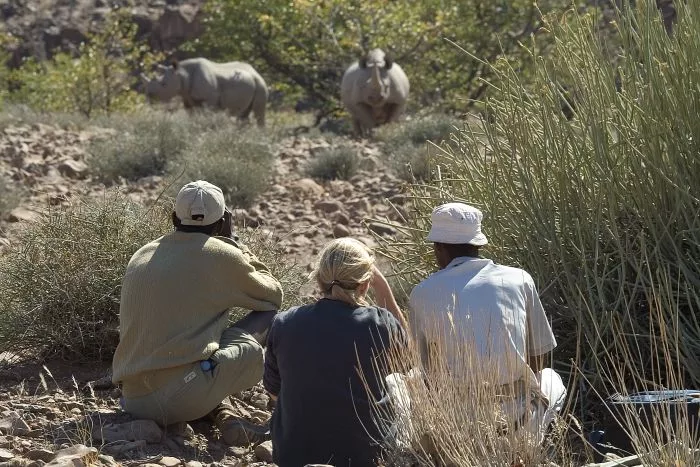 Similarly many walking safaris in Big Game country are adventurous safaris because of the very nature of the experience. But we highlight those under walking.
Back to MAIN page of Wildlife Safaris
Everything was perfect
"Your service and the holiday you put together for us was faultless. Everything was perfect from the choice of accommodation to the transfers, flights…… everything! It was seamless. "
Mrs Ruth Koper
Once more million thanks for organizing and supervising our trip of the lifetime.
"Once more million thanks for organizing and supervising our trip of the lifetime. I am glad with choose to stay in multiple lodges and locations as every one of our five stops was absolutely unique. Service and staff were outstanding everywhere. transfers were very smooth and easy. food quality matches Michelin restaurants. And game was superb! I personally enjoyed viewing at Bateleur in Kruger the most , as relatively open spaces gave us the opportunity to see all Big five in no time. Chobe in Botswana was second favorite but mostly because of boat cruises. Lukimbi accommodation, and Sanctuary kitchen were winners in those categories, respectively.
Victoria falls definitely not to be missed, canopy tour and heli ride were cherries on the cake.
Retrospectively I would probably not make any changes to out itinerary! Mr & Mrs Yuly " Mr & Mrs Yuly
As always an excellent itinerary
"Choices of lodges was perfect. Everything went extraordinarily smoothly. As always an excellent itinerary, great local agent/guide/driver and good trip notes. Good to hear from Milandi personally when a local problem caused a change in the itinerary during the trip. "
Mr Tim Flesher, UK
Kate Bergh
Co-founder & Director
Hi I'm Kate, I'm here to help you plan your ideal holiday experience
We arrange trips to more than 100+ destinations throughout the African continent.
Tailor make it all to suit
"Peter got it from the start of my gabbled explanation of reason for trip and abnormal itinerary. He pieced it all together and I always felt confident, even before the trip. "
Mr & Mrs Leake, UK
"Overall, the trip was wonderful! You and Cedarberg continue to excel in local knowledge, attentiveness in creating wonderful customized itineraries. Every camp was a perfect blend of game, local hospitality and the kind of unique experiences we were looking for. I also had the distinct pleasure thanks to you and the boys – of celebrating my birthday in all three camps! What a memorable and lovely treat. Elewana Pepper Camp was the best in the combination, with Kaz Kaz a close second. The boys loved our driver here—sorry I forgot his name. But he had a great sense of humor, was rather adventurous and aggressive with the driving when there was a crossing and as such, we had fabulous visibility and photos. Kaz Kaz and the entire location was ideal. Remote and relaxed. My only challenge was the very limited wifi – this should have been a weekend spot for me so I would have been less concerned about getting messages. But it worked out. The team at Kaz kaz were less polished (and less fluent in English) but they more than made up for it in their warmth and hospitality. The reduced English fluency meant our guide was unable to share as much about the local people and culture – (which we got lots from in Elewana thanks to Leperes). The last night sunset celebration – which seemed to be just for us, was truly special. I think I sent you some photos. We could not have asked for a better send off. We also had the wonderful delight of seeing all of the big 5 in Kaz Kaz – including a rhino, rather unexpectedly and rather close! Needless to say Kaz Kaz was a huge hit in the family. The tents were also quite spacious and comfortable. I could stay here a week. "
Mari
Everything worked out perfectly
"Just a quick note to let you know everything worked out perfectly! We had a great time and the accommodations were excellent. We even had two elephants visiting our tent at Simbavati one evening. You can imagine the excitement! Thank you for your hard work to make this a fantastic safari. "
Mrs Brigitte, USA