The treetop canopy tour is a great soft adventure excursion for the whole family. We did the one in the indigenous forest of the Tsitsikamma. But you can also do a similar excursion in the Drakensberg, the Magaliesberg and the Magoebaskloof near Tzaeen.
So what's it all about and will you enjoy it? Here's our more personal take on the trip. . .
In a nutshell, you arrive Storms River village where you are met and given a safety briefing. You are then kitted up with harness, ropes, helmet and take a short 4 x 4 ride to the start of the forest tour. The tour consists of using ten ziplines to whizz you from one treetop platform to another. The ziplines start quite gently both in terms of degree of descent and length (and thus potential speed) and build up to an impressive 110 metres. The treetop platforms are like giant treehouses, but much higher off the ground than those you ever built as children. Another attractive feature is that not one single nail has been hammered into the trees. The construction has been build using ropes and pulleys in a very innovative manner.
The treetop canopy tour presses several buttons for me. You are enjoying the stunning beauty of this vast tract of natural forest. And doing something that you don't normally do! Namely whizzing from one tree to another along a zipline at top speed.
I was also aware that my younger sons loved seeing their parents (especially their mother) doing something that they wouldn't expect her to do. . .
However it would be wrong of me to stress the serene, tranquil nature of the forest. Whizzing along at speed in seemingly Tarzanesque style does naturally elicit a couple of involuntary screams and not so involuntary war crys. Indeed my husband and sons had an unacknowledge battle to see who could make the most noise. All very satisfying in a primeval sort of way.
Having said that, the process of getting 6 or 8 people clipped up, sped away and unclipped again at the next tree stop, takes a while… So you do have plenty of time to enjoy the vast forest with its birds, gorgeous trees and inquisitive playful monkeys.
As a family we have enjoyed this excursion in the past, five years ago. Since then, they have added a very useful safety function. The safety function enables your guide to slow your descent down if you are coming in too quickly. (Before you had to brake yourself using your hand which was a little scary. And secondly some people were not always the best judge of their own speed. Some still hurtled into the second landing stage… Whilst others braked too much and were left dangling in the middle and had to be pulled in laboriously and rather ungainly!) Now you braked a little to make the experience enjoyable but safe in the knowledge that your guide would slow you down more at the end if necessary…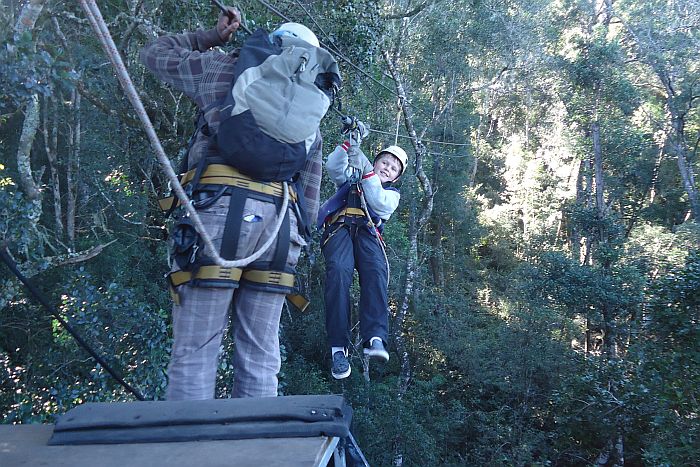 On the earlier occasion, my son was only 7 years and had been very keen beforehand. He had enjoyed a zipline across a small lake on the previous day. Which in hindsight had much less of a safety back-up than the treetop canopy tour which is positively dripping in back-up ropes and paraphenalia! So I was confident that he would enjoy it. As the various harnesses, ropes, back-up ropes and back-up to back-up ropes were added to his small body, I could see the confidence draining out of him. Perversely the safer the activity became, the less sure of himself he was.
I could see my much-anticipated trip disappearing with an ignominious return to the car. However the guide assured us that he could take Mark in tandem. And even said that this was possible for suddenly scared adults as well! So Mark went with our guide for the first few slides and then built up enough confidence to do it solo. Good to know if you have one child who may not be as brave as the others. On this second occasion, the now 12 year old Mark led the way from the start.
Practicalities for the Treetop Canopy Tour
Storms River Village is about an hour's drive from Plettenberg Bay, allow 1.5 hours from Knysna. Its further than you might think! The whole excursion from arrival to departure takes 3.5 hours including the briefing and the complimentary snack/lunch. It is relatively expensive especially for families but if you time it right then the snack can count as lunch which offsets some of the cost!
What else to do in the area?
It would be a shame to only do this in the area. The turnoff for the Storms River National Park is very close to Storms River Village. This makes for a great combination with the treetop canopy tour as you can enjoy the short 1.5 km walk to the Storms River expansion bridge with its glorious ocean views.
Alternatively on your return, you can stop off at the Crags to visit one of a number of attractions. Such as Monkeyland, the Birds of Eden, the Elephant Sanctuary, Tenikwa Cheetah sanctuary. And perhaps enjoying some wine-tasting at Bramon wine estate. . .