Cape Town has been praised as a top culinary destination, with new restaurants and talented young chefs popping up all the time. We've now updated the top 10 restaurants in Cape Town list below to include all the must-eat restaurants in Cape Town.
All the restaurants mentioned below are the cream of the crop, so we advise that you book ahead (ie when you book your holiday would be a good time) to avoid disappointment. A few of them also ask for a deposit when you make a booking, to avoid people cancelling at the last minute.
FYN – City Bowl
Fyn has taken on the mantle of the Test Kitchen (which closed during Covid.) There are whispers of French-Japanese fusion, but it's more than that. And it's not just about the food (although FYN excels in that department). It's also about the service and the drinks. All three intersect to create a dynamic and assured entity. The menu is influenced by Africa, with an overarching Japanese aesthetic – though this may confuse some diners who might otherwise be taken in by delicious dishes that taste like something different.
FYN's fast-paced inner-city informs the menu – dinner at FYN is something out of this world. They offer a condensed 5-course kaiseki-style meal with wine pairings given by Jennifer, who was the sommelier at La Colombe for 17 years. The restaurant is on the fifth floor and has views of Table Mountain and Lion's Head. The interior is sophisticated, warm, and up to date.
Be warned that it is probably likely to be the most expensive dinner you enjoy in South Africa so come with that expectation.
Good to know FYN was voted 37 in San Pelegrino The World's 50 Best Restaurants 2022!
Contact: 021 286 2733 | info@fynrestaurant.com
Where to find it: 5th Floor, 37 Parliament Street, Speakers Corner, Church Square, Cape Town
Pier – V&A Waterfront
Pier, by Scott Kirton, promises culinary adventure, theatrics, but with John Norris-Rodgers at the helm, the focus is on the best flavours from the best local ingredients. On offer is a set of 9 or 11 dishes running the gauntlet of the La Colombe group's skills with aplomb – from the very first "snack" to the petit fours offered with the bill.
The bone marrow butter served with the bread course, the sublime tableside-poached oysters (in MCC velouté, warmed through just to perfection) and the seamless integration of mussels, soubise and Black Forest ham all made a lasting impression. Regarding the crayfish course, it was so delicately prepared that you could taste the sea. With a ras-el-hanout jus perfectly complemented by the young pinotage, the lamb and aubergine with Israeli couscous and harissa stole the show.
There is an additional cheese course (all South African) that is a delight for anyone who is not a fan of desserts. It is one of the most enjoyable experiences we have had locally. The team traverses a spider-silk thread between theatrics, molecular gastronomy, and old-fashioned French technique, overshadowing even the floor-to-ceiling vistas of the harbour and the elegantly understated décor. A dining experience of this top quality in the Waterfront is long overdue, which has its fair share of touristy options.
Contact: 021 879 6328 | reservations@pier.restaurant
Where to find it: Pierhead Building, V&A Waterfront, Cape Town
Opening hours: Monday – Sunday; 12pm – 3pm; 6:30pm – late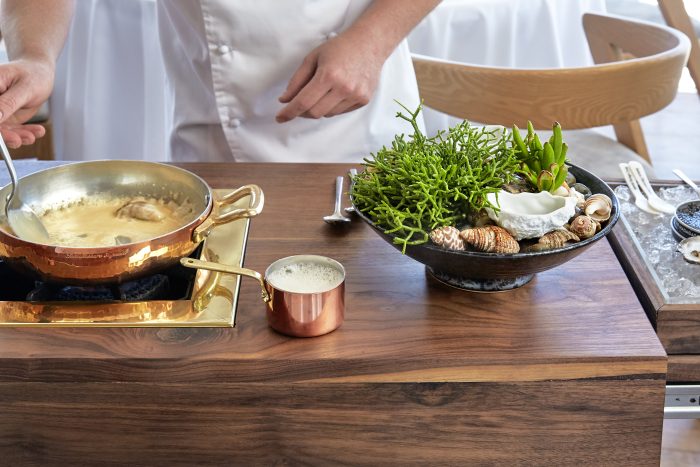 La Colombe – Constantia
Silvermist Wine Estate, nestled high in the slopes of the Constantiaberg mountain, is a breathtaking jewel in the Constantia Wine Valley. And it is here on this farm that you'll find La Colombe – headed by chef-proprietor Scot Kirton and executive chef James Gaag. With over two decades of accolades, La Colombe has not only directed many careers but also paved the way for innovative dishes including French-Asian fusion. The restaurant's clean design is the perfect canvas for James and his team to create these imaginative dishes with foraged ingredients that turn out beautifully plated with precision.
Good to know La Colombe was voted 81 in The World's 50 Best Restaurants 2022. Other restaurants in the La Colombe stable include La Petite Colombe, Foxcroft and Protégé, Epice, Pier and Waterside.
Contact: 021 794 2390 | reservations@lacolombe.co.za
Where to find it: Silvermist Wine Estate, Main Road, Constantia Nek, Cape Town
Opening Hours: Monday – Sunday, 12pm – 1.30pm; 6.30pm – 8.30pm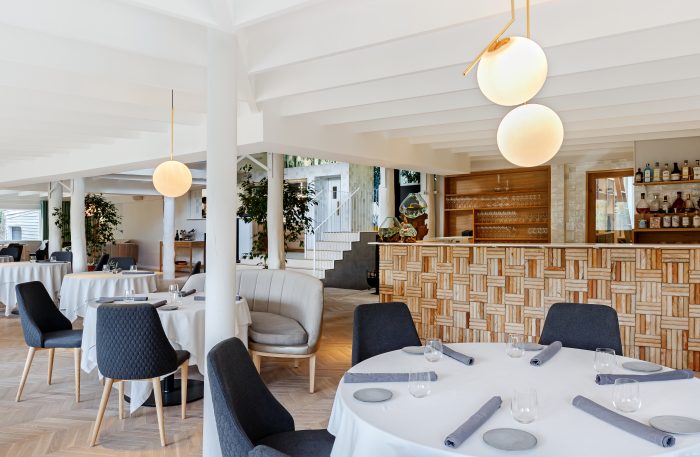 Salsify at The Roundhouse
Another old favourite in Cape Town, but with a new decor twist and name. Nestled in the leafy Camps Bay suburb, Salsify at The Roundhouse offers a breath-taking view of the Atlantic Ocean. It was created by two-time head chef Ryan Cole as a tribute to his father, a veteran fisherman who also served as Luke Dale Roberts' head chef at erstwhile Test Kitchen. The menu is straightforward: Fresh fish dishes expertly prepared with care and attention to detail.
Each dish is an exercise in simplicity and refinement, showcasing the natural flavours of sustainable cooking. The interiors have taken design cues from the exterior's edgy sophistication while still providing sumptuous fabrics and furnishings. Plus, the service is exemplary – there's no detail left untouched.
Contact: 021 010 6444 | reservations@salsify.co.za
Where to find it: Roundhouse Road, Camps Bay
Opening hours: Tuesday – Saturday; 12.30pm – 3pm; 6pm – 11pm (last seating is 8.30pm)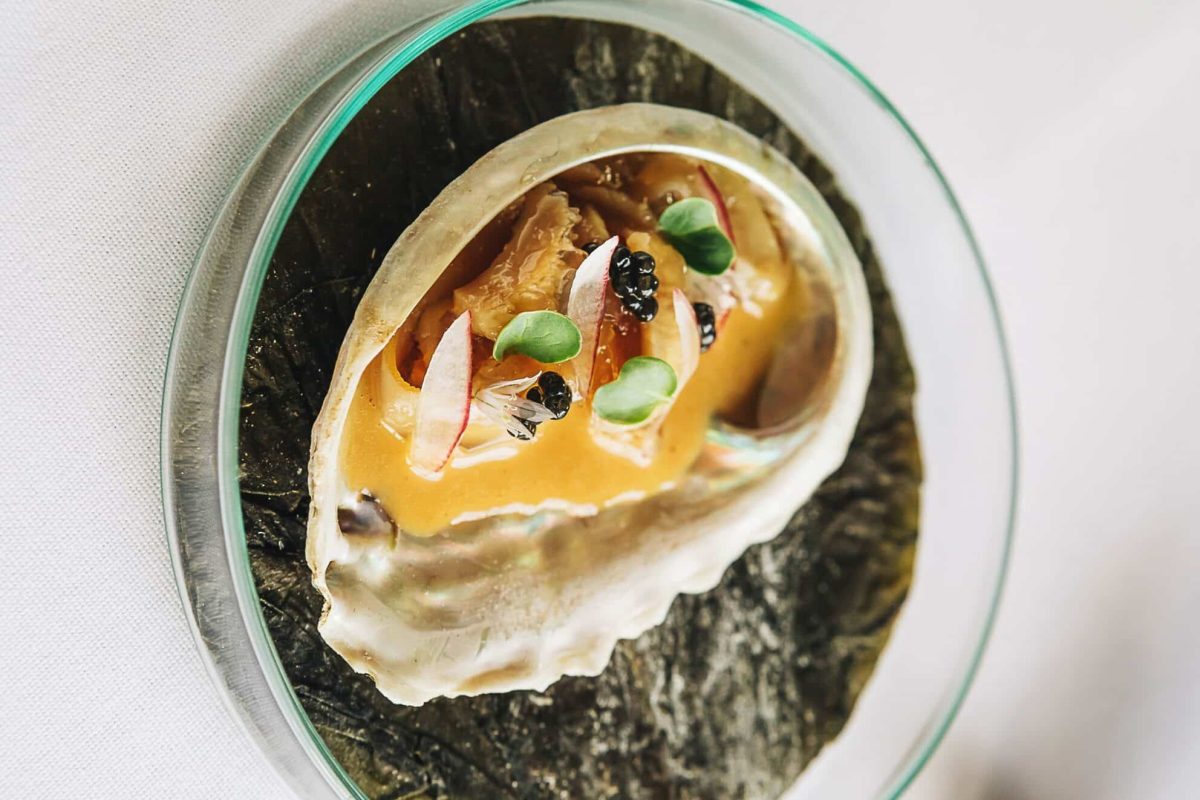 Chef's Warehouse at Beau Constantia
The Chef's Warhouse has a stunning setting in Beau Constantia. It's co-owned by Ivor Jones and Liam Tomlin. Chef Ivor Jones has created an amazing food menu, with a specific focus on dishes that use the ingredients from the farm's gardens. Plus, the farm setting has panoramic views of everything you'll see while dining there. This is a dining experience worth writing home about!
Good to know Chefs Warehouse Tintswalo Atlantic is making waves with its splendid ocean vistas and a set menu focused on marine delights.
If you're looking for a high-quality restaurant in the centre of the city, visit the sister to the exceptional Chefs Warehouse Pinchos & Winebar. This popular establishment offers unrivalled dining experiences in the heart of the city.
Contact: 021 794 863 | info@chefswarehouse.co.za
Where to find it: Beau Constantia, 1043 Constantia Main Road, Cape Town
Opening hours: Monday – Saturday, 12pm – 2:30pm; 5.30pm – 8.30pm; Sunday, 12pm – 2.30pm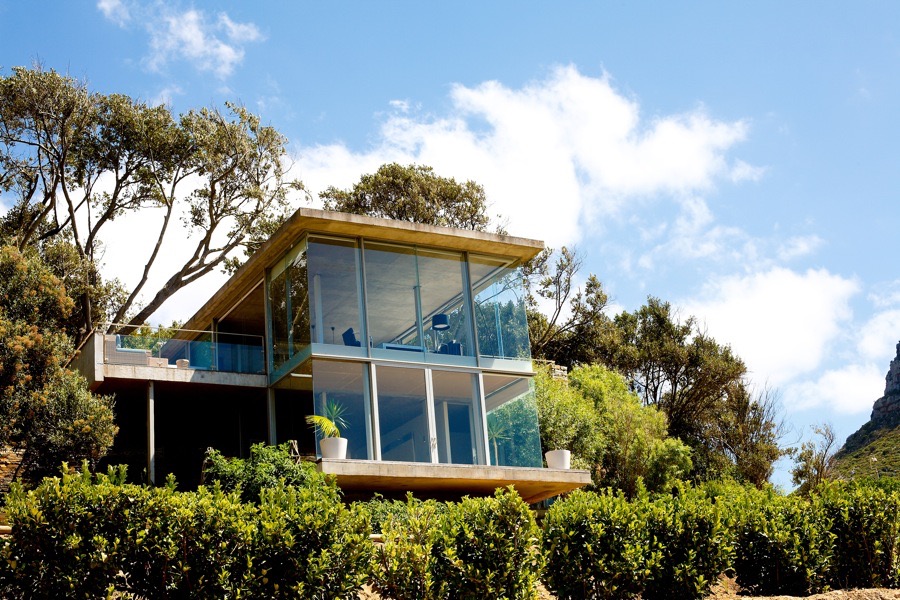 Natasha Jantjies
Africa Travel Specialist
Hi I'm Natasha, I'm here to help you plan your ideal holiday experience
Bombay Brasserie
The Bombay Brasserie – modelled after its namesake in London – is the perfect place for a romantic dinner. The delicious food is made with traditional ingredients to create some of the finest Indian cuisine outside of India.
Located in the city centre at the Taj Cape Town hotel on Wale Street, The Bombay Brasserie is a modern restaurant in this historic Board of Executives building. High ceilings create an atmosphere without diminishing the exclusiveness or intimacy of the experience. The luxurious décor complements existing heritage pieces and creates a rich environment perfect for celebrating with friends and family over an award-winning menu.
You've never experienced Indian food like this before! Each dish is a delicate melody of flavours from modern dishes, made from ingredients from India.
Where to find it: Taj Cape Town, 146 Adderley St, Cape Town City Centre, Cape Town, 8000, South Africa
Contact: 021 819 2000 | restaurants.capetown@tajhotels.com
Opening hours: Monday – Saturday; 6pm – 10:30pm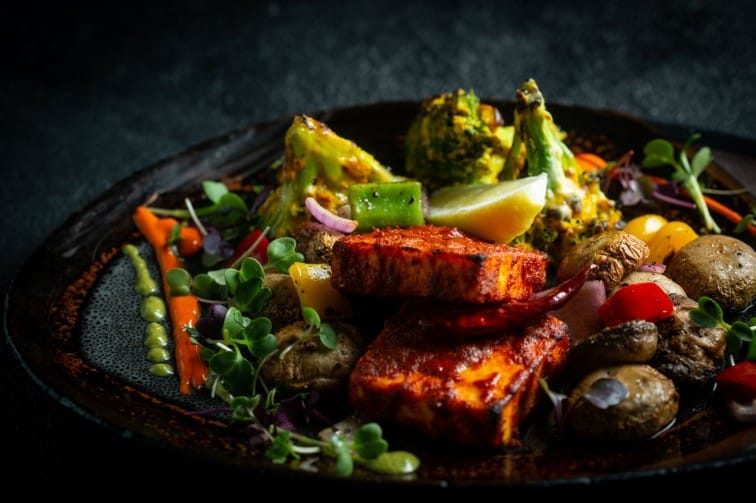 The PotLuck Club – City Bowl
From world-feted chef-patron Luke Dale Roberts, (whose Test Kitchen was the best restaurant in Cape Town for the 11 years), The Pot Luck Club is now headed by chef Jason Kosmas and its menu designed to encourage plate-sharing, so that you can experience the gamut of flavours that are present in a meal. With dishes like lamb with biryani rice and spiced tomatoes, or caramel-spiked chocolate custards, you'll be tantalized by our large assortment of culinary delights. The restaurant is located on the top floor of the Silo at The Old Biscuit Mill – it's a lovely spot for urban views. (No, not The Silo Hotel in the V&A Waterfront.)
Contact: 021 447 0804
Where to find it: Silo Top Floor, The Old Biscuit Mill, 373 – 375 Albert Road, Woodstock, Cape Town
Opening hours: Monday – Saturday, 12.30 – 2pm; 6pm – 10pm; Sunday, 11am – 12.30pm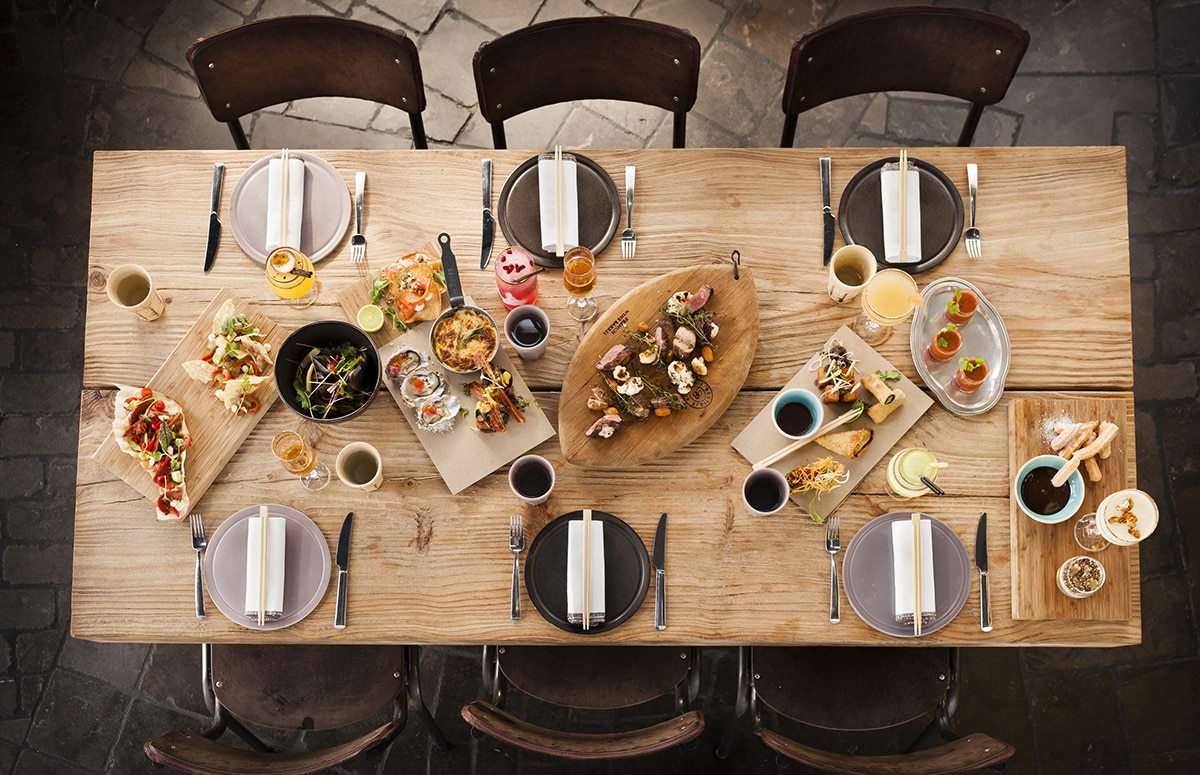 The Waterside – V&A Waterfront
La Colombe is one of Cape Town's most beloved restaurants over many a year. Their newest restaurant at the Waterfront has an airy and bright atmosphere perfect for a summer meal with friends. The menu offers five courses, some interesting dishes like Japanese-inspired milk bun stack for starters, prawn salad infused with local flavours, and asparagus that are freshly harvested from Rivonia. And in true Colombe style, it's reasonably priced! Five courses will only set you back R795 while still maintaining high quality.
Contact: 021 879 6328 | reservations@waterside.restaurant
Where to find it: Pierhead Building, V&A Waterfront, Cape Town
Opening hours: Monday – Sunday; 12pm – 2pm; 6:30pm – 8pm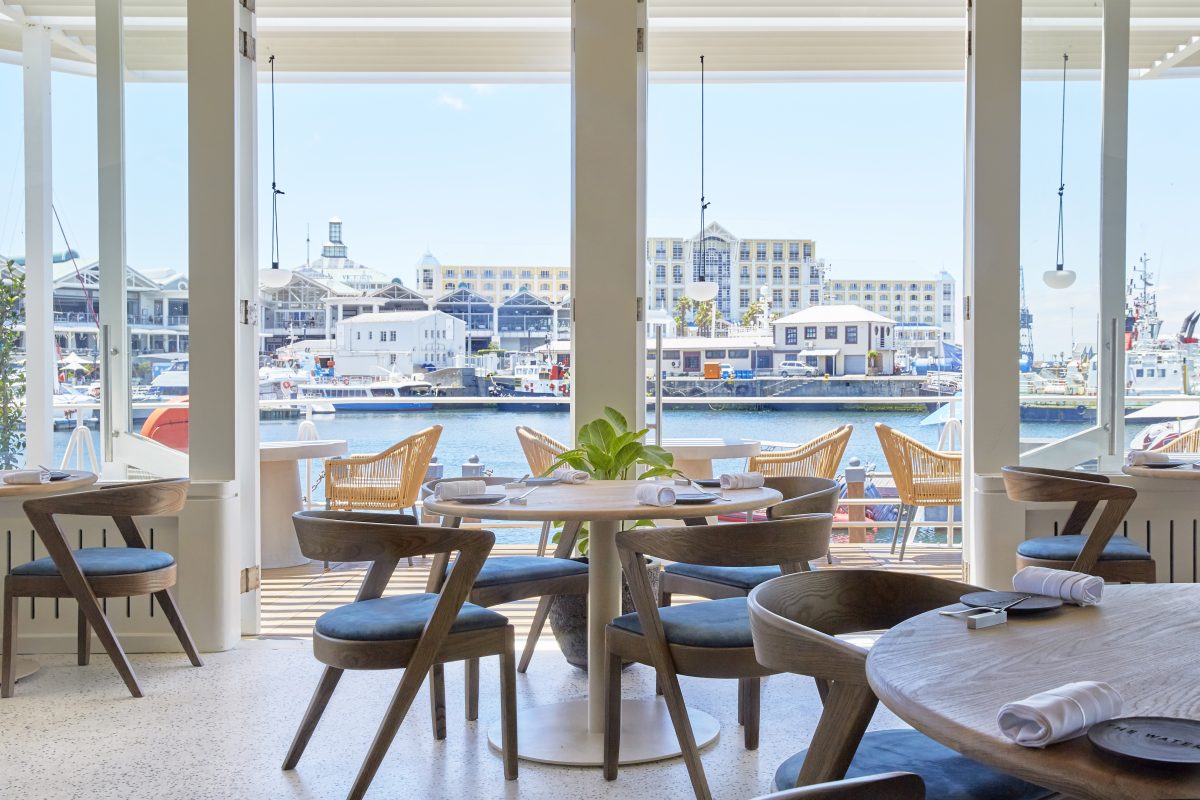 Aubergine Restaurant – City Bowl
People often think of Aubergine Restaurant in Gardens as one of the few remaining stalwarts of the old days, given its decades-long commitment to serving dishes that are carefully conceived and creatively prepared. Even with new places opening and closing on a constant basis, this 19th-century home maintains an air of solemn elegance that is inviting, warm, and tasteful.
Committed to the ethical and sustainable procurement of produce, chef Harald Bresselschmidt and his team change the menu regularly. Diners can expect dishes such as Cape Sea Harvest seafood feast; slow-roasted lamb rump and loin in strudel; springbok loin medallion with Iberico pork. The desserts round features souffléd ginger crêpe; chocolate fondant with toffee parfait; crème brûlée and cheese selection from South Africa.
Contact: 021 465 0000 | info@aubergine.co.za
Where to find it: 39 Barnet Street, Gardens, Cape Town
Opening times: Thursday – Friday, 12pm – 2pm; Tuesday – Saturday, 6pm – 10pm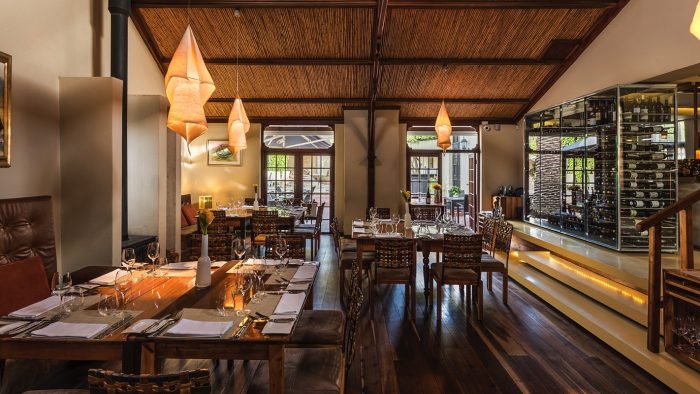 Beyond
Peter Tempelhoff (chef-patron of FYN) returns to his old stomping ground, the Constantia Winelands, with his latest opening at Buitenverwachting, bringing talented chef Ashley Moss and general manager Jennifer Hugé along for the ride. Helmed by Julia du Toit (also from FYN and Greenhouse), the kitchen delivers a compelling lineup of pitch-perfect à la carte dishes that are pared-back and accessible.
At beyond, special attention has been paid to sourcing a diverse range of special raw produce. From rare-breed meats, and seasonal heirloom vegetables to artisanally crafted cheeses, this diversity serves to showcase and celebrate the 'weird and wonderful' and the beauty of unique strains and flavours beyond mass production. Nab a vineyard-facing table and make sure Jennifer keeps topping you up with the 2019 chardonnay – intoxicatingly fragrant.
Contact: 021 794 0306 | info@beyondrestaurant.co.za
Where to find it: Buitenverwachting, 37 Klein Constantia Road, Constantia, Cape Town
Opening times: Tuesday, 5.30pm – 9pm; Wednesday – Saturday, 12pm – 3pm; 5.30pm – 9pm; Sunday, 12pm – 3pm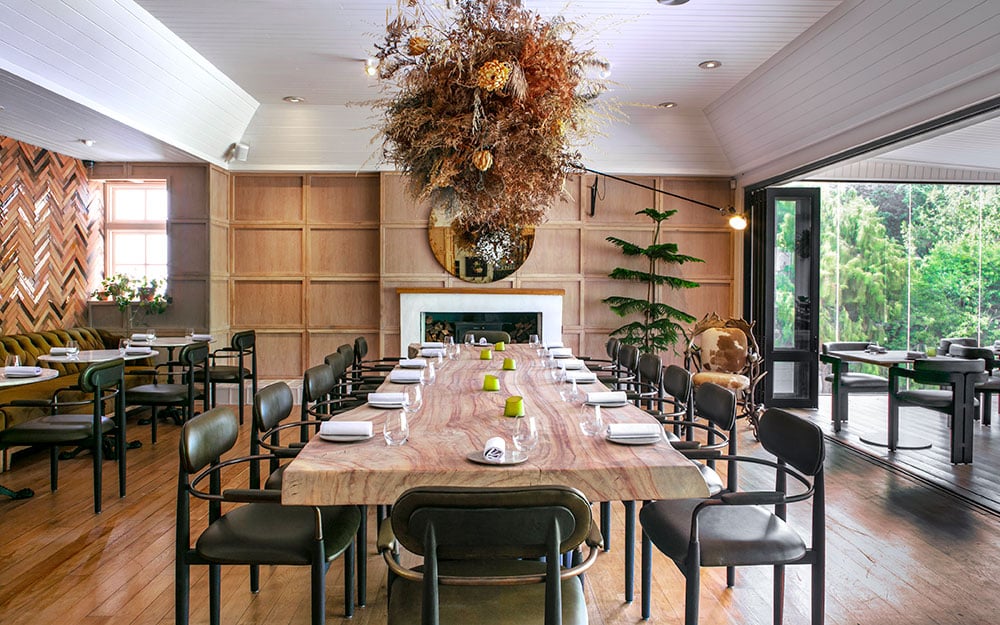 Feeling adventurous? Our left-field suggestion…
Belly of the Beast – City Centre
When Neil Swart wanted to pursue his dreams of unhindered culinary creativity, he searched for a unique and creative space. To find the perfect location, Neil tapped long-time friend Anouchka Horn. The two met when they both worked at Terroir Restaurant. Neil found exactly what he was looking for when he discovered a small space on Harrington Street with an exposed kitchen and a window facing the street. Once it was renovated, the industrial-mod restaurant could only hold up to 24 guests per service. However, Neil believes that smaller scale cooking will lead to the best flavours in each dish.
There are no set menus – you're treated to a number of excellent courses (be prepared for a sustainable feast), as well as bread service, a (life-changing) palette cleanser à la Anouchka, and an after-dessert delight ("a last hoorah", as Neil calls it).
Contact: 0762 205 458 | eat@bellyofthebeast.co.za
Where to find it: 110 Harrington Street, Cape Town
Opening hours: Monday, 6.30pm – 11pm; Tuesday – Saturday, 12.30pm – 11pm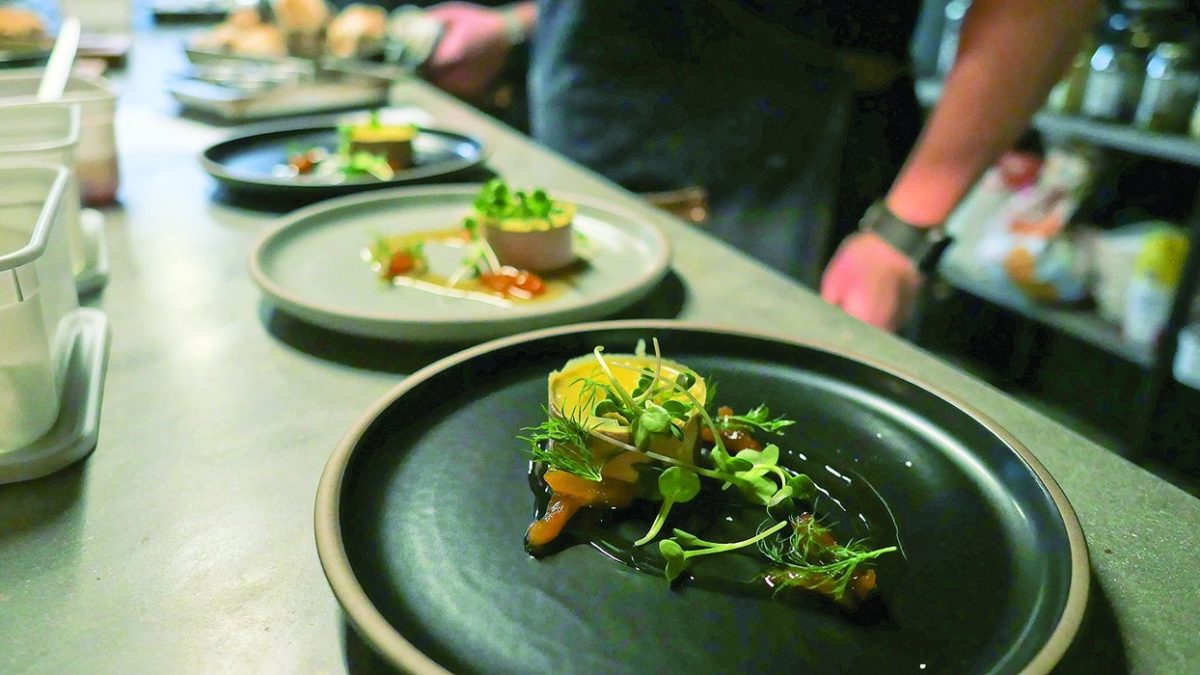 Interested in booking a Safari or Holiday?
Chat to one of our experienced consultants that's here to help and guide you. We use our expertise to narrow down the choices and present feasible ideas, so you can relax and ENJOY the planning process!
Contact us!
Natasha Jantjies
Africa Travel Specialist
Hi I'm Natasha, I'm here to help you plan your ideal holiday experience