Cape Town has been praised as a top culinary destination, with new restaurants and talented young chefs popping up all the time. We've updated the top 10 restaurants in Cape Town list below to include all the stars that emerged after the 2019 Eat Out Awards in South Africa.
All the restaurants mentioned below are the cream of the crop, so we advise that you book ahead (ie when you book your holiday would be a good time) to avoid disappointment. For a more extensive list of fine dining and casual restaurant options, download our guide to the top restaurants and eateries in Cape Town…
Free Guide to the Top Restaurants in Cape Town
Download our 27 page guide to the Top Restaurants in Cape Town and enjoy some of South Africa's most delicious food and wine!
---
The Test Kitchen – City Bowl (Eat Out Awards No 2)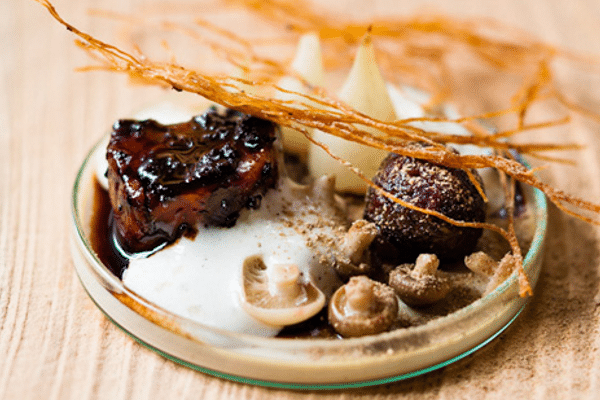 Opened in 2010, The Test Kitchen has quickly established itself as one of the best places to eat in South Africa, and reinforced the standing of chef and owner, Luke Dale-Roberts. However such success means that tables need to be booked several months in advance so be warned…
British-born Luke trained in Switzerland and England before heading to Asia for a five year stint, launching several restaurants in Singapore, Malaysia, South Korea and the Philippines. "My time in Europe taught me to cook; my time in Asia broadened my horizons", says Luke.
The restaurant is located in an old biscuit mill in Woodstock, a shabby-chic part of town. The huge open-plan kitchen takes up a substantial part of the restaurant, and there's a real buzz to the place, with superb and knowledgeable waiting staff complimenting the great cuisine. Book early! Bookings open 3 months prior and tables are taken within hours!
The Test Kitchen, The Old Biscuit Mill, 375 Albert Road, Woodstock, Cape Town
+27 (0) 21 447 2337
Opening hours: Tuesday- Saturday: Lunch: 12:30-14:00; Dinner: 19:00- 21:00
La Colombe – Constantia (Eat Out Awards No 3)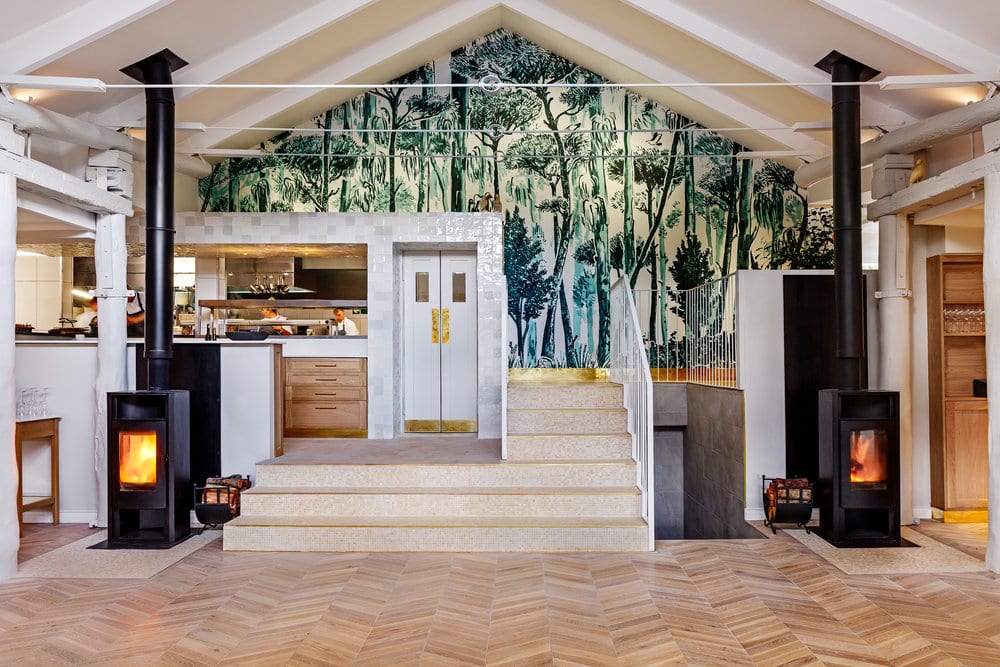 La Colombe has been one of Cape's most iconic restaurants for nearly two decades and sadly closed in June 2014. However, originally on the historic Constantia Uitsig Wine Estate, it has now relocated under new management to the Silvermist Organic wine estate at Constantia Nek with stunning views over the wine valley and Hout Bay where its rapidly regaining its popular position in the city.
Executive chef Scot Kirton's philosophy lies in the fusion of Asian and French cuisine and the pursuit of excellence on each plate. He combines the freshest seasonal produce, uncomplicated clean flavours and classical elegance. Book in advance as they have a large and devoted local clientele. The well-organised wine list focuses on wines from the farm and some French wines too.
La Colombe, Silvermist Wine Estate, Constantia Nek, Cape Town
Tel: (021) 795 0125
Opening Hours:
Lunch: Daily 12:30-14:00 & Dinner: Monday to Saturday (Sundays in summer only) 19:00-20:45
The Greenhouse at Cellars – Constantia (Eat Out Awards No 6)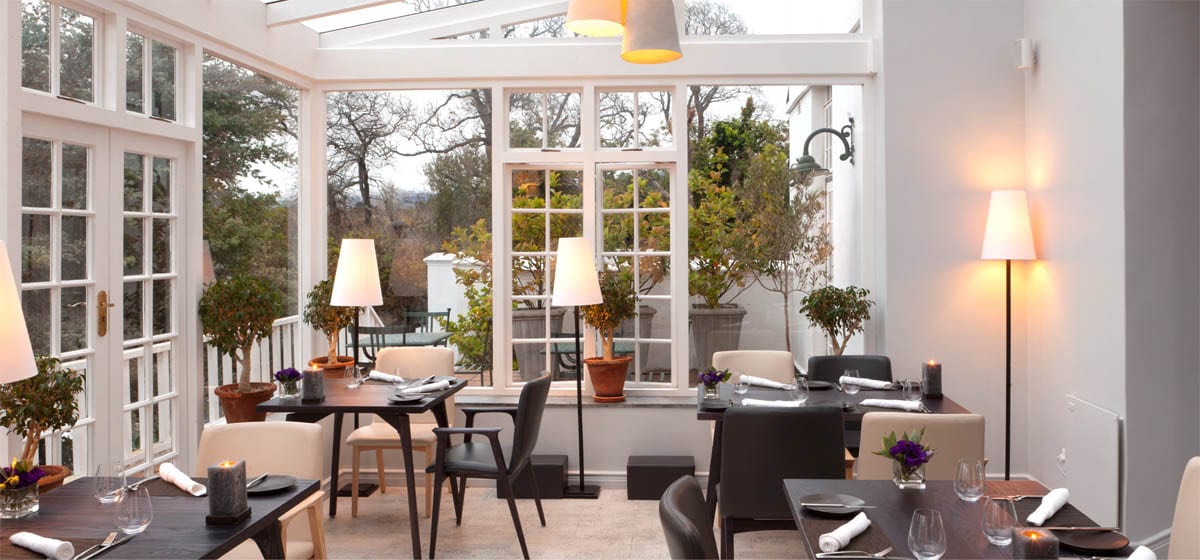 Chef Peter Tempelhoff's dishes are beautifully presented and his focus is on playful, avant-garde cuisine. His understanding of ingredients runs deep with fantastic dishes such as the delicate carpaccio of scallops, tuna and abalone with a tiny wasabi panna cotta and little beads of soya. Each course, from the bread upon arrival to after-dinner petit fours – cocktail-inspired delights like a bloody Mary macaron and mint julep lollipops – shows a playful, imaginative touch.
The Greenhouse sommelier, Michelle Michaels is on hand for excellent advice. The setting, part of the well-known Cellars Hotel, is elegant and refined.
Cellars-Hohenort Hotel, 93 Brommersvlei Road, Constantia
Tel: (021) 794 2137
Opening Times: Tuesday – Saturday Dinner: 19h00 – 21h30
Chef's Warehouse at Beau Constantia (Eat Out Awards No 10)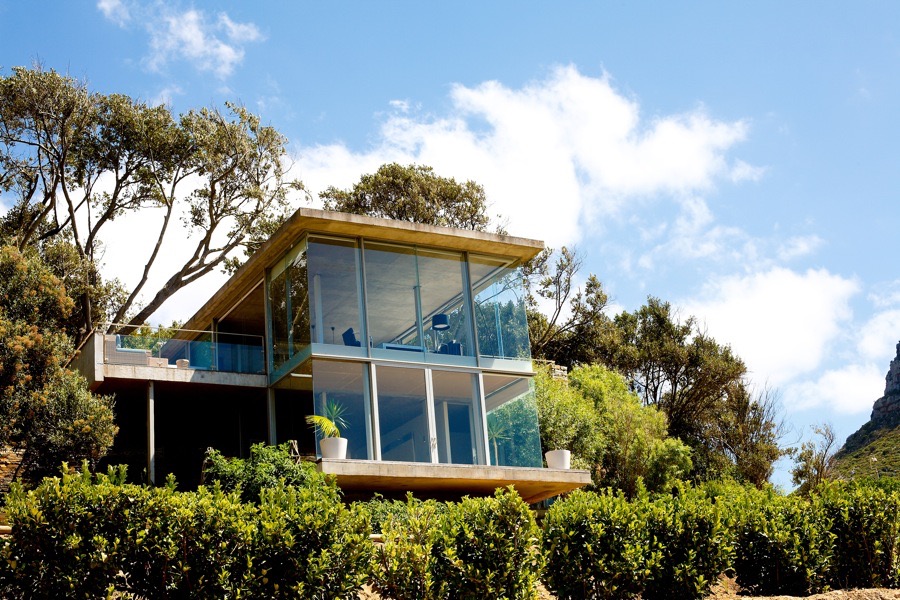 Chef's Ivor Jones and Liam Tomlin partnered up in 2016 to bring diners yet another unforgettable dining experience. This restaurant is well known for their delicious 'tapas for 2 offering'. You'll probably see something new and exciting on the menu if you visit a few months apart, as they pride themselves on having a seasonal and produce-driven menu that often changes often.
Every dish delivers hard-hitting flavours and is largely Asian-inspired. Buzz of the open kitchen adds to the temperament of the restaurant. So, if you love a 'sharing food experience' whilst looking out over the picturesque Constantia Valley, then Chef's Warehouse at Beau Constantia is a must. Booking is recommended, especially over weekends.
Beau Constantia Wine Estate, Constantia Main Road, Cape Town
Tel: 021 794 8632
Opening times: Tuesday- Saturday: Lunch: 12:30-14:30; Dinner: 17:30 – 20:30. Sundays: 12 – 14:30
The Shortmarket Club – City Centre (Eat Out Awards Top 20)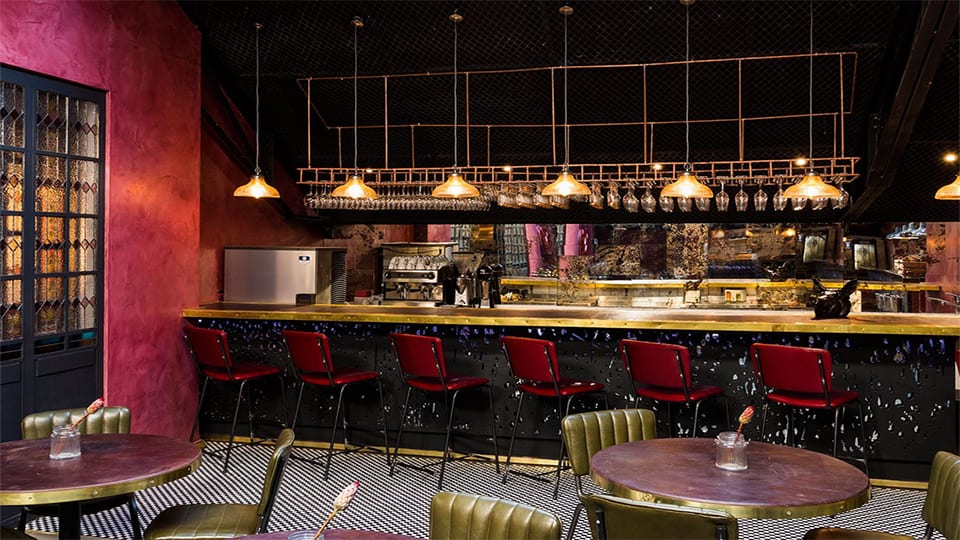 If you have a winning combo, why not start another restaurant? Shortmarket Club is the next piece of brilliance by Luke Dale-Roberts and Wes Randles (Potluck Club). The retro, New York-style restaurant in the heart of Cape Town's inner city transports you to another era, and offers food packed with cutting edge flavours – a modern take on old-school classics.
Fun seeking crowds of friends and diners wanting to impress visiting clients will love this spot. Shortmarket Club must have one of the most comprehensive drinks lists in the city, ranging from artisanal local and imported spirits to a heavyweight wine list. We recommend you book well in advance.
88 Shortmarket Street Cape Town City Centre, Cape Town
Tel:021 447 2874
Opening times: Monday – Saturday: Lunch: 12:30-14:00; Dinner: 19:00- 22:00
The PotLuck Club – City Bowl (Eat Out Awards Top 20)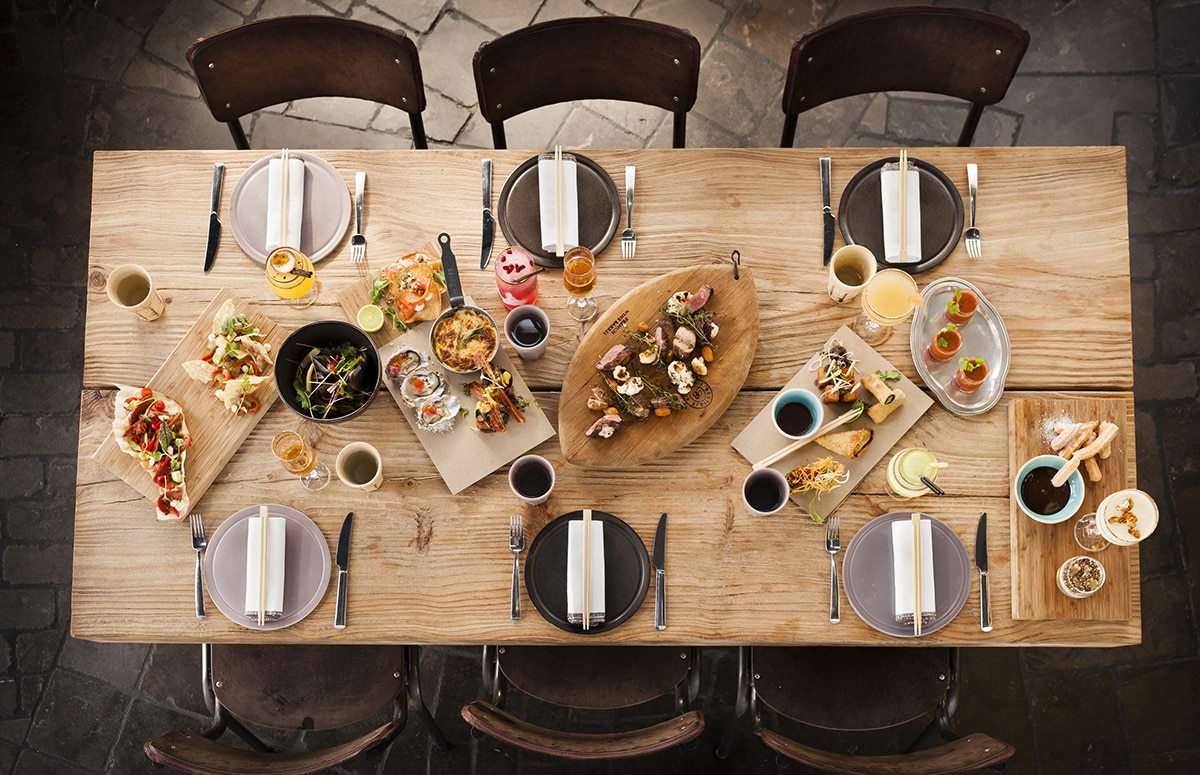 Pot Luck Club is the second, and more casual of Luke Dale-Roberts restaurants (see Test Kitchen above). Here is crowd-pleasing food which works again and again. Sticking to what works for them, The Pot Luck Club's tapas-style menu is still divided into sections and abounds with extravagant flavour and edgy dishes devised by Luke Dale-Roberts and executed by head chef Wesley Randles. The fish tacos have become something of a legend. A serving of mussels steamed in bourbon and served in a chowder-esque broth with wood-fired corn is fantastic. The smoked beef fillet with truffled café au lait sauce is a decadent delight of pinkly smoked meat and rich, smooth truffle sauce. Desserts are not neglected; the pecan nut pie with celeriac ice cream is a knockout.
The only fly in the ointment is the need to book so very far in advance. So, allow a month at least, more in peak season…
Pot Luck Club, Silo Building, The Old Biscuit Mill, 373-5 Albert Road, Woodstock, Cape Town
+27 (0) 21 447 0804
Opening hours: Tuesday- Saturday: Lunch: 12:30-14:00; Dinner:18:00- 20:30 (early seating) or 8.30pm til late
La Mouette Restaurant – Atlantic Coast (Eat Out Awards Top Nominee)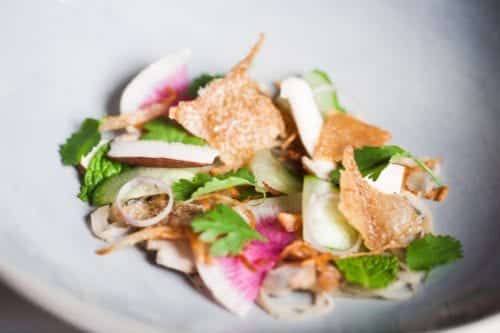 Specialising in accessible and affordable fine dining, chef Henry Vigar's Sea Point restaurant L has become a firm favourite among Capetonians, and it's not hard to see why. The six-course tasting menu changes regularly and remains exceptional good value for money. Delivering classically French food with a few global twists, the portions are as generous as the pricing. And don't forget about the à la carte menu…
Located in grand Tudor revival-style house in Sea Point's Regent Street, the interior is flush with fine old fireplaces, lead-paned windows and multiple elegant dining rooms. It's almost always busy, leading to an infectiously happy vibe.
78 Regent Road, Sea Point, Cape Town
Tel: (021) 433 0856
Opening times: Lunch: Sunday 12:00 – 15:00. Dinner: Tuesday to Saturday 18:00 – 22:30
Thali – City Bowl (Eat Out Awards Top Nominee)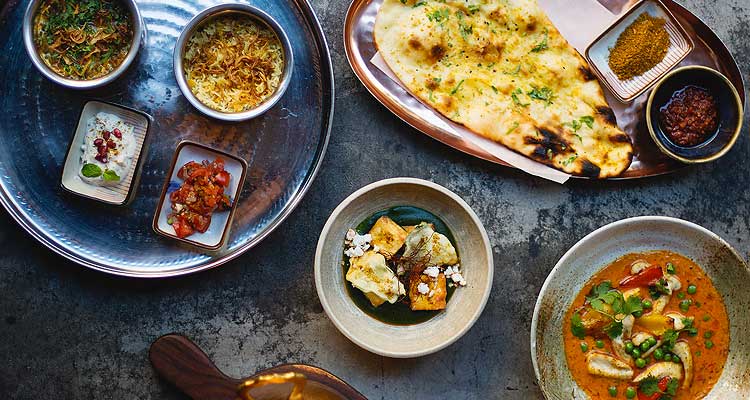 The theme of a tapas style menu is all the craze in Cape Town. But, don't be fooled! This doesn't entail walking away hungry. This Indian Tapas Restaurant is another one of Liam Tomlin's genius ventures. There is a set menu of tapas for 2. An authentic feast is presented consisting of 8 dishes, each one packed with layers of flavor.
This is modern Indian cuisine at its best, and the atmosphere and décor is close to an Indian experience as you'll get. You'll have to crafty to get a table as they don't accept bookings. Don't be discouraged however. As it is a set menu, the service is pretty efficient and the turnover of tables is rather quick. So no bookings are accepted (consequently, it's worth getting there early or having a drink at the bar whilst waiting for a table).
3 Park Road, Gardens, Cape Town
Tel: 021 286 2110
Opening times: Monday – Thursday: Dinner 17:00- 21:30. Friday and Saturday: 12 – 14:30
Nobu – Waterfront (Eat Out Wards Top Nominee)
If you are looking for the best of the best in terms of sushi and seafood with an upmarket feel, then Nobu in the luxurious One & Only Hotel will be right up your alley. Co-owned by Robert de Niro and master chef Nobu Matsuhisa, Nobu offers a topnotch sushi experience.
The sushi and innovative Japanese and Nikkei cuisine is all beautifully presented, using only the best quality local fish. The food at Nobu is a gastronomists dream, taking you on a sensory extravaganza of flavours and textures. The menu is vast, so ask your waiter for recommendations (although everything is good!)
One&Only Hotel, 0C Dock Road V & A Waterfront, Cape Town
Tel: 021 431 5888
Opening times: Monday – Sunday 18:30 – 23:00
Janse & Co – City Centre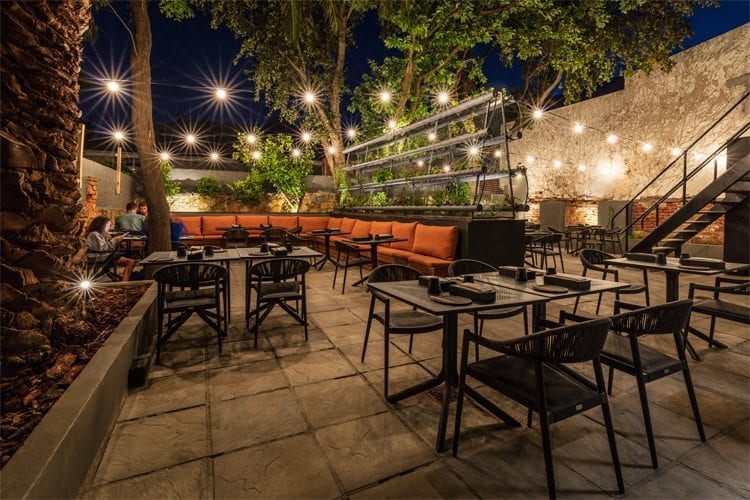 Chef Arno Janse van Rensburg (previously of The Kitchen at Maison) and his wife and pastry chef Liezel Odendaal are a seriously impressive duo. Janse & Co exudes a super chic, urban look and feel, answering the need for a fine-dining eatery on Kloof Street.
The extensive menu is a set one, giving diners a choice of a minimum of three courses, and a maximum of seven courses. If you fancy starting with something sweet, you can do just that as dishes will be brought to you in any order. You can expect exquisite ingredients, new and interesting techniques, and layers of flavours in every dish. There is also a glossary of terms on the back to explain some of the more unusual ingredients (very nice touch!). Booking is recommended.
75 Kloof Street Cape Town City Centre, Cape Town
Tel: 021 422 0384
Opening times: Lunch Thursday – Saturday 12:00 – 14:00. Dinner Tuesday – Saturday 18:00 – 21:00
Other Cape Town Foodie Articles
What's Hot in Cape Town – 8 Eateries you HAVE to try
Crazy about coffee? Try these 5 coffee shops in Cape Town
This blog post is written by Cedarberg Africa, a specialist Safari company for Southern and East Africa. Contact us if you would like us to assist you with your Africa safari planning…