Overview
The Seychelles has one of the world's longest coral reef systems with some of the world's best diving sites. Add in warm aquamarine water, powdery beaches and a sublime year-round climate. It's no wonder that diving in the Seychelles is so popular.
Many of its islands lie on the edge of the ''Seychelles bank''. This drops some 2,000 meters into the turquoise Indian Ocean teeming with fish. Here you can enjoy a breath-taking underwater world of sudden drop-offs, walls, pinnacles and canyons.
Best time for diving in the Seychelles
Enjoy diving throughout the year in the Seychelles with average water temperatures around 29C during most months. The best months are March to May and then September to November.  Visibility ranges from 8 to 30 metres.
During June to August, the monsoon winds makes getting to some of the hard-to-reach adventurous sites more difficult. It also reduces water temperatures to 25C. This in turn increases plankton levels and reduces visibility.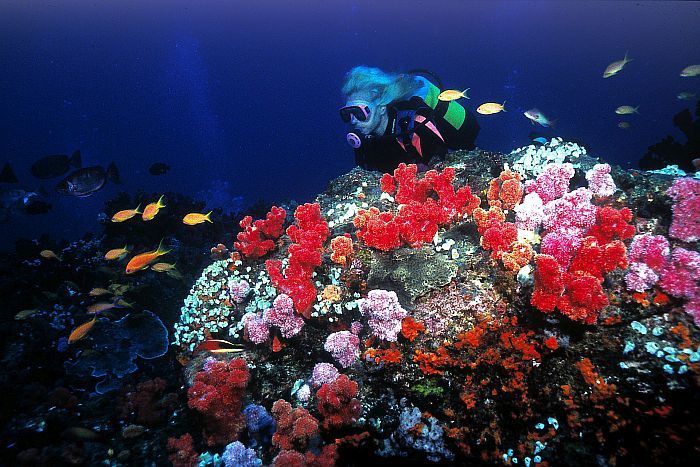 However, the upside is that you may see the magnificent whale shark which reaches up to 12-14 meters in length. It feeds off the plankton. so you'll see these amazing creatures - with their 1.5m-wide mouths - much more during this time.
Best spots for diving in the Seychelles - Inner Islands
The inner islands are the remains of a submerged mountain range. This is the best bet for novice or intermediate divers as there's a huge variety of dive sites and excellent diving facilities. The northern islands offer impressive granite reefs, soft corals and sponges.
Many of the inner islands, such as Denis Island, offer world class diving. Special sightings include green and hawksbill turtles, butterfly fish, angelfish, squirrel fish, sweepers, hump-head parrot fish, stingrays and reef sharks.

There are numerous dive sites around North Island and nearby Silhouette Island. The Sainte Anne Marine National Park is a protected reserve which ensures stunning marine life. Also the Sainte Anne white beaches are a favourite spot for nesting turtles. All of these dive resorts offer PADI Open Water dive courses.
If you are based at one of the hotels on Mahe or Praslin, enjoy diving with one of the reputable dive companies based there. They run PADI dive courses and also operate full day dive excursions to the inner islands.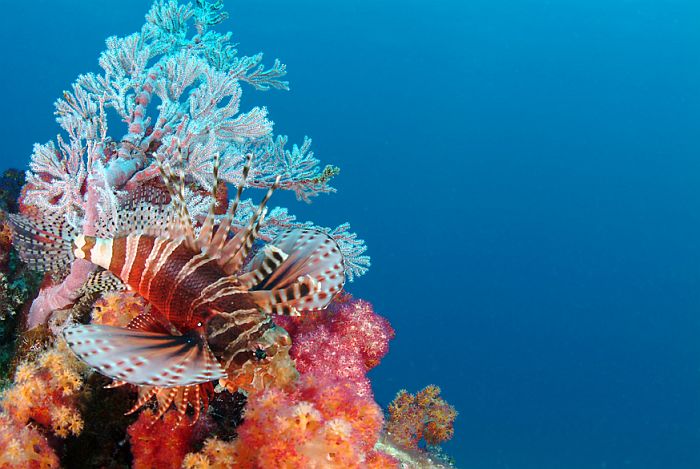 Seychelles diving on the Outer Islands
Four Seasons Desroches Island is perhaps the best place for diving in Seychelles with mini-walls and canyons, as well as numerous wreck sites. There's a 70km coral reef which circles this tropical atoll. This offers 14 unforgettable dives, none of which are more than 20 minutes away by boat. Here you may see sailfish, whitetip and nurse sharks, manta rays and whale sharks.
See our Main Page on Luxury Diving Holidays around Africa for more destinations.
Highlights
There are several Marine Reserves to ensure that the fish and coral are not disturbed by motor boat pollution.
The northern inner islands offer impressive granite reefs, soft corals and sponges
The southern islands have walls and drop-off dives.
Possibility of seeing whale sharks from June to August
Everything was perfectly organised
"Mari did an incredible job planning our holiday. Not only did Mari communicate extremely well throughout the whole process, but the trip was beyond our expectations "
Mr Yeats, USA
Most amazing holiday in SA
"Thank you for the most amazing holiday in South Africa. The three lodges were all selected with great care and each had a different atmosphere. All transfers worked entirely smoothly and we were even met on arrival at Johannesburg airport to be escorted the few yards to the airport hotel! Cedarberg really came into their own when BA messed up theoutgoing flight (twice) and Ginny spent her entire Bank Holiday weekend sorting it out for us. "
Mr Mike Ricks, UK
I have been recommending you!
"Thank you so much Milandi! We had such a great time and experienced so much. I have been recommending you to some people as well. Everything is well organized and everyone was very pleasant. "
Mrs Claudia
Gloria Darvall
Africa Travel Specialist
Hi I'm Gloria, I'm here to help you plan your ideal holiday experience
Did you know
Best months to dive

March to May and September to November.

Size

One of the world's longest coral reef systems
"Overall, the trip was wonderful! You and Cedarberg continue to excel in local knowledge, attentiveness in creating wonderful customized itineraries. Every camp was a perfect blend of game, local hospitality and the kind of unique experiences we were looking for. I also had the distinct pleasure thanks to you and the boys – of celebrating my birthday in all three camps! What a memorable and lovely treat. Elewana Pepper Camp was the best in the combination, with Kaz Kaz a close second. The boys loved our driver here—sorry I forgot his name. But he had a great sense of humor, was rather adventurous and aggressive with the driving when there was a crossing and as such, we had fabulous visibility and photos. Kaz Kaz and the entire location was ideal. Remote and relaxed. My only challenge was the very limited wifi – this should have been a weekend spot for me so I would have been less concerned about getting messages. But it worked out. The team at Kaz kaz were less polished (and less fluent in English) but they more than made up for it in their warmth and hospitality. The reduced English fluency meant our guide was unable to share as much about the local people and culture – (which we got lots from in Elewana thanks to Leperes). The last night sunset celebration – which seemed to be just for us, was truly special. I think I sent you some photos. We could not have asked for a better send off. We also had the wonderful delight of seeing all of the big 5 in Kaz Kaz – including a rhino, rather unexpectedly and rather close! Needless to say Kaz Kaz was a huge hit in the family. The tents were also quite spacious and comfortable. I could stay here a week. "
Mari
Exactly what we wanted
"The services Cedarberg provided was excellent. We had a few hiccups and needed to change the itinerary a couple of times but Cedarberg was very quick to respond to our needs and helped us out very quickly. All the accommodations were excellent and suited us perfectly for what we wanted and doing at that time. "
Mrs Kim Swain
Ginny's advice was spot on
"Ginny's advice was spot on – the locations, pace of trip and quality of accommodation was superb. The 2 slightly different safari areas also worked out well and it was great that our best viewing was at the second to end the trip on a high. "
Mr Matthew Campbell