When and why to go on holiday in KwaZulu Natal
On our recent visit to Kwa Zulu Natal in South Africa we have once again experienced how much the Zulu Kingdom has to offer. . .
Many popular holiday itineraries in South Africa include a stay in Cape Town & The Winelands, a safari in the Greater Kruger area and then possibly Victoria Falls as an add-on. Most foreign visitors haven't quite realised the incredible amount on offer. Packed into this compact and beautiful province on the Indian Ocean coast of South Africa.
Kwa Zulu Natal is a diverse land. A land of untamed wilderness, broad beaches, coral reefs, coastal forests, wetlands, lush subtropical vegetation and soaring mountains. KZN game parks and the iSimangaliso Wetland Park are spread across Zululand on the subtropical coastal plain. And even though it seemed to be much drier than usual for the end of May, the game viewing was very good . The array of different bird species made us realize that you cannot enter these Parks without one of these great bird viewing apps for sale in Google Play store. These sanctuaries give refuge to several hundred bird species – 60% of South Africa's total.
We recommend:
Roberts Multimedia Birds of SA – Google Play
OR
Sasol eBirds – Android Apps on Google Play
The KwaZulu Natal Climate:
The climate in the KwaZulu Natal Province is all year round tourist friendly. Sea temperatures are also relatively stable, averaging 21 degrees all year. Providing possibilities for a diversity of aquatic activities in any season, including diving, fishing, swimming, boating and surfing. The major winds that influence the climate in KZN change seasonally. In summer, northerly winds bring regular rain. While in spring and early autumn southerly winds bring some cold fronts and infrequent rain.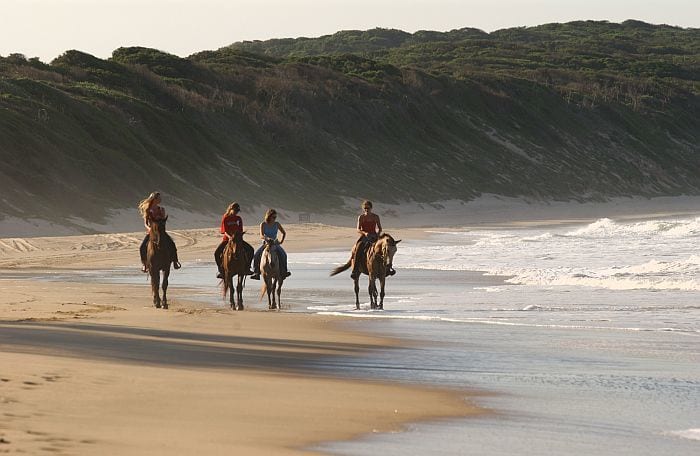 Further north, conditions become subtropical to an even greater extent. And the estuarine environment of St Lucia and Kosi Bay bring steamy days and balmy nights.
Moving inland, the low-lying coastline makes way for the emerald hills of Zululand and Thukela regions. And still further east to the Great Escarpment, as altitudes rise temperatures drop. In the Drakensberg, the chilly towns of Bergville and Winterton provide a refreshing break from the swelter.
Best time to visit KwaZulu Natal?
The best time to visit KZN is March, April & May as it is not as hot as January and February. But what makes Kwa Zulu Natal's safari parks unique is that it is a great area to visit even in the winter months of May, June and July which could end up giving you more mild and sunny days than you expected…
Read Kate's review on Leopard Mountain Lodge in the Zululand Rhino Reserve & Makakatana Bay Lodge in the iSimangaliso Wetland Park
KwaZulu-Natal's marine life is matched on land by its game reserves, some of which are beaten only by the Greater Kruger area, and easily surpass the latter as the best place on the continent to see both black and white rhino. Most famous and largest of the reserves is the Hluhluwe-Imfolozi Park ,where the brand new Rhino Ridge Safari lodge just opened, frequented by a respectable cross section of wildlife that includes all of the Big Five.
Read my review on the brand new Rhino Ridge Safari Lodge in a private concession of the Hluhluwe National Park.
The KZN Safari areas of Phinda and the Hluhluwe-Imfolozi National Park, Mkuze Game Reserve & Zulu Rhino Reserve all offer big game safaris in unbeatably beautiful sub-tropical surroundings, filled with birds and a vast number of different biomes which allow for diverse safaris.
I would definitely suggest a combination of Kruger and KZN reserves for a more rounded safari experience.
On your next visit, I do urge you to include KwaZulu-Natal in your holiday itinerary as it has everything the continent is known for – beaches, wildlife, mountains and accessible ethnic culture.
Interested in booking a Safari or Holiday?
Chat to one of our experienced consultants that's here to help and guide you. We use our expertise to narrow down the choices and present feasible ideas, so you can relax and ENJOY the planning process!
Contact us!
Gloria Darvall
Africa Travel Specialist
Hi I'm Gloria, I'm here to help you plan your ideal holiday experience
Personal trip report by Mari Jacobs, a Cedarberg African Travel consultant
Cedarberg Africa is a specialist tour operator for Southern and East Africa. We focus on upmarket tailormade safaris for discerning and inquiring people. Several of us have visited Rwanda and so we can chat to you about a possible trip from personal experience, weighing up the different options, to plan a trip that is just right for you.