Overview
One of the more romantic lodges in Namibia
Stunning desert views from your tent and the lodge
Good range of activities on offer
The suite rivals the best in Namibia for luxury and style
Innovative African design
Search for the elusive desert-adapted elephant
Mowani Mountain Camp, meaning 'place of god', lies amongst rugged boulders on a commanding ridge with sweeping panoramic views over Damaraland. Between the Ugab and the Huab rivers in southern Damaraland lies a vast and unspoilt wilderness area with magnificent desert scenery, unusual geological formations, ancient rock engravings and a unique variety of desert fauna & flora. This is Mowani's setting - it's a truly special place. Winner of an architectural eco-design award in Germany, the organic nature of the lodge design is felt through the colours, textures and comforts which envelope you.
At the heart of Mowani  Mountain Camp is a cluster of six thatched dome-shaped structures which echo the surrounding rugged boulders with sweeping panoramic views over Damaraland. The sides of the bar, lounge and dining areas are open giving a cool feel even on the hottest day.
Accommodation
Secluded amongst the boulders, Mowani Mountain Camp's  rooms are a testament to its surroundings, a sense of elegance and earthiness prevailing. Mowani offers 13 en-suite rooms with views across the valley or hill top vistas and 2 luxury suites. Each room is built on raised wooden platforms with a covered veranda with spectacular views and en suite bathrooms. Some tents have slightly better views than others. The honeymoon tent has an outside stone bath and outside shower which is very romantic. There is also one luxury room which is closer to the main area, ideal for people who prefer not to walk too far. Finally there are two luxury suites: exquisitely furnished and secluded with a deck, spacious bedroom, Africa-inspired lounge area, glorious outside bathroom with a huge stone bath and shower as well as indoor bathroom. The luxury suites offer the ultimate retreat. Uninterrupted views surround you whether relaxing, enjoying dinner on the private deck or throwing caution to the wind in the open-air bathroom!
Tucked away amongst the giant boulders, the plunge pool and sun deck is perfect for hot days. An excellent dinner is served in the candlelit boma around a crackling fire whilst breakfast and lunch are on the deck overlooking the desert vistas.
Activities
Activities are particularly attractive. You can choose to book on a DBB or Fully Inclusive basis. Mowani lies only a few kilometres from the exceptional ancient rock engravings of Twyfelfontein so you can visit them under your own steam or take one of Mowani's guided excursions.
Mowani's local guides share with you their intimate knowledge and respect for the land that they have built up over a lifetime. With new insight into local traditions, you will come to fully appreciate the geology, botany and wildlife of the area.
Mowani Mountain Camp is the southern-most roaming ground for the desert-adapted elephant and rhino of Damaraland and the lodge also offers 4-6 hour morning excursions in search of these elusive creatures in the nearby desert valleys. By all accounts they seem to be quite successful though the staggeringly beautiful desert scenery is an equal drawcard. Nature walks around the camp allow you to explore the smaller details of the bush up close and personal. Or you can simply lounge by the pool, or on your private deck enjoying the spectacular surroundings.
Hot air ballooning is a new activity on offer. The balloon ride gives you a bird's eye view of the desert landscape and focuses on the Abu-Haub valley in search of wildlife.
Kate's comments after an educational visit:
"A stunning lodge! Though you can stay just one night, I think most people would enjoy two nights here simply because it is a stunningly designed lodge in a magnificent setting. The rock swimming pool is tucked into boulders (which also helps to give it some natural shade in summer!)
There are 12 luxury tents with teak furniture and interesting use of African fabrics to liven up the décor. The deck looks out onto a awe-inspiring view. Tent No 5 is the honeymoon tent with a double bed. It has an open air rock bathroom with a bath and shower built into the rocks.
Finally there's the private suite which is stunning but rather expensive. It is set away from the rest of the camp. There's a large deck where they can have a private dinner or breakfast if they want. Inside is a large sitting room filled with interesting pieces of African furniture. A step up and you come to the bedroom also with spectacular wraparound views. (The canvas sides can be completely rolled up to open out both the sitting room and bedroom). Another smaller dome structure houses a delightful bathroom with double vanity and indoor shower and then outside a few steps down to another deck with a huge bath in the open air and an outside shower. Perfect for honeymooners and those with a very healthy budget!
Finally a word about the activities. If you are staying only one night, please arrive preferably by lunchtime (1 to 2pm). Then you have time to relax at the lodge and see the rock engravings later on when it's cooler. They have a sundowner spot to watch the sunset where they serve snacks and there's a bar set up for drinks. In the morning you could take a guided walk with a staff member which can be as short or as long as you like. If you stay two nights, you have more flexibility. Mowani also has a nature drive in search of the desert elephants. This heads into the Abu-Huab or Huab dry river beds. Before the rains (when the elephants disperse quickly), you have quite a good chance of spotting them. The other activity is to enjoy hot air ballooning, a microlight flight or a scenic flight over the area. This is done by Francolina Tours which is situated about 4-5km from the lodge."
Mowani Mountain Camp gallery
Mowani Mountain Camp on the map
Rooms
View Rooms
These rooms have an elevated view across the valley. King size bed, Shower, Hairdryer, Robe, Safe, Tea & Coffee Station, Fan.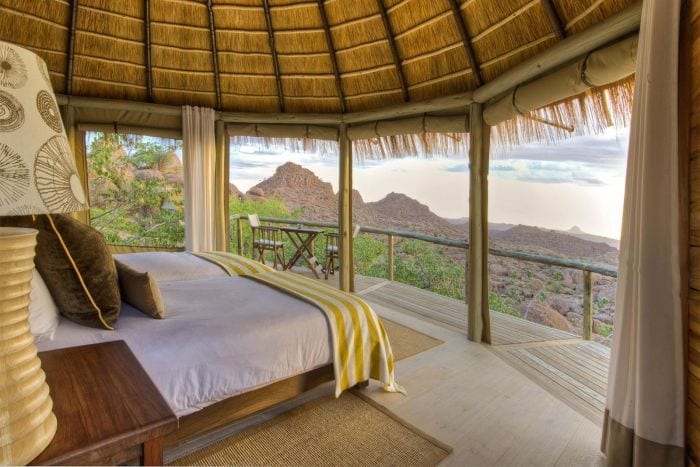 Includes
Dinner, Bed & Breakfast, conservation fees, guided nature walk OR Full Board: all three meals, accommodation, two activities, conservation fees, guided nature walk
Family Suitability
Accepts older children
Malaria Rating
Low risk and/or seasonal malaria
See other options in this area