Overview
Grootbos Forest Lodge has spectacular views of the Indian Ocean
Range of nature activities on offer
One bedroom suites offer luxurious accommodation in an eco-setting
Eco-friendly lodge
Grootbos Forest Lodge is perfect for couples
Grootbos Private Reserve, located amidst the spectacular fynbos and ancient dunes of the Whale Coast, is a multi-award winning gem. Overlooking Walker Bay, between Hermanus and Gansbaai, it's a nature-lovers paradise. All but the most committed urbanite will enjoy the inclusive activities: guided fynbos 4x4 drives, milkwood forest walks, horse riding, beach picnics and guided land-based whale-watching (mainly August - December), as well as the optional activities of boat-based whale watching and shark cage diving. A dedicated team including marine biologists and conservationists help you to appreciate what makes this area so special.
Other excursions (at extra cost) include guided wine tours around the excellent Hermanus wine estates, aerial flights over the Ocean and visits to their community garden project to see sustainable tourism in action.
A new art gallery has opened and day-visitors are now welcome to pop by for a flower nature drive, lunch, and a visit to the gallery.
Grootbos private reserve consists of two lodges, the original family-friendly Garden Lodge and the contemporary Forest Lodge.
Accommodation
Grootbos Forest Lodge is an architectural masterpiece of sophisticated contemporary design. With 16 luxury suites nestled in a 1,500-year old Milkwood Forest, it offers glorious views of the Atlantic Ocean. The rather extravagant main lodge offers glass walls which embrace and accentuate the ocean and fynbos views. It comprises a restaurant, bar and gallery area. Wooden fireplaces and subtle lighting enhance the warm, romantic ambiance. Outside is a deck and stylish rimflow pool with stunning panoramic ocean views.
Grootbos Forest Lodge gallery
Grootbos Forest Lodge on the map
Rooms
One-Bedroom Luxury Suite
Each of the 16 freestanding suites at Forest Lodge is stylishly furnished to provide a blend of aesthetic beauty and supreme comfort. Each has a separate lounge, full bathroom, filter coffee machines and minibar. Cosy fireplaces, romantic canopy beds and spacious bathrooms make this an idyllic hide-away for all romantics. All 16 suites have private wooden decks with panoramic sea or mountain views, and some have a small plunge pool. Here you can wake to the blissful sight and sound of birds singing and waves crashing in the distance. Daily fresh fruit baskets, under floor heating and heated towel rails add to the elegant extravagance. Grootbos Private Reserve combines excellent service with an array of nature activities, supremely comfortable accommodation and delicious food.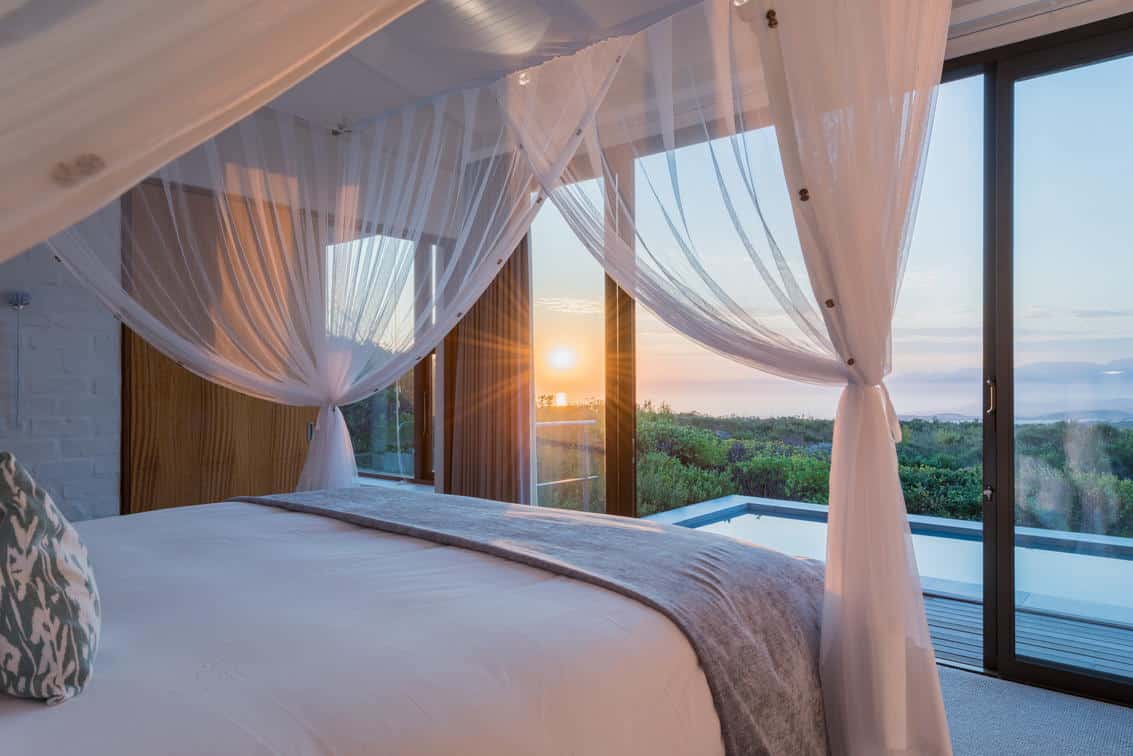 Lovely setting
"Grootbos – lovely setting with wonderful staff. Did feel a bit like man v food at times – there's too much to eat! Good range of activities. "
Impressive service
"We had 2 adjoining rooms, one with a King bed, the other room with 3 twins (for our 3 kids) with personalized welcome notes for us. While we were at dinner housekeeping would start a fire in the fireplace, turn on the heaters, and place a hot water bottle in everyone's bed! All the meals were included and were fantastic including 5 course dinners. What made Grootbos so impressive though was the service – we didn't realize we would have a guide assigned to us the whole time! When we arrived a in the late afternoon he met with us and talked about what activities we could consider. We didn't have enough time to do everything so the guide helped us pick activities that would work. When one of the things we wanted to do didn't work out due to the weather, he substituted a flower safari drive which was fascinating! They have a foundation dedicated to helping the local community which is so impressive, they even offer a tour of some of their foundation activities that would have been great to do if we had more time. "
Includes
Full Board (breakfast buffet with English breakfast menu, light lunch included either on arrival or departure day, 5-course dinne) & Activities, (horse riding for non- and experienced riders through the reserve - children under 12 are only allowed on guided pony rides, guided walks including fynbos nature tours and Milkwood walks, nature, marine and coastal drives and walks including the Walker Bay Nature Reserve, De Kelders cliff walk, Klipgat Cave combined with seasonal land-based whale watching - whale watching especially during June - December, bird-watching, various maps of the reserve and the area for self-guided walks, transfers to/from all activities), accommodation in free standing suites, welcome drink served upon arrival, fresh fruit daily in suite
Excludes
All drinks (alcoholic and non-alcoholic), laundry, minibars, spa treatments, whale watching boat trips, boat trips to Dyer Island, Shark Cage Diving, beach horse riding, scenic flights, quad biking, kayaking, wine tours and items of personal nature (telephone calls, items purchased from Grootbos curio shop)
Family Suitability
Accepts older children
Good For
Adventure, Beach, Birding, Flora, Golf, Gourmet, Hiking, History & Culture, Leisure, Nature, Relaxation, Star Gazing, Wildlife, Wine
See other options in this area