Overview
Game-viewing in the game-rich Moremi Game Reserve
Situated on the beautiful Xakanaxa lagoon
Authentic safari ambience
Camp Okuti was completely rebuilt recently
Close to Godikwe heronry
Reduced environmental impact as the new camp is raised on stilts
Camp Okuti is set in the Okavango Delta, under large shady trees at the edge of Xakanaka lagoon in the heart of the Moremi Game Reserve. It's one of the most beautiful parts of the Okavango Delta within close range of shallow flood plains, papyrus swamp and dense riverine forest. Indeed the Moremi Game Reserve of Botswana is rated as one of the finest game viewing areas in Africa.
Camp Okuti is one of the hidden gems of the Okavango Delta - oozing charm with an authentic safari experience which ticks all the boxes. The lodge has been completely rebuilt in the style of a rather contemporary African village. It has recently been refurbished using pale neutral tones of white and blue. The main lodge comprises inter-connecting stylish beehive huts with an impressive dining room and separate reading room. Large doors all along the side lead out to the deck. A lower deck has a swimming pool, sun loungers and shaded area for when the sun is too hot to be comfortable.
Accommodation
Seven massive chalets overlook the Xakanaxa lagoon accommodating 18 people in total. All tents are light and airy with wooden floors, writing desks, chairs and rugs. En suite bathrooms have a large shower, basin, toilet and an alfresco shower as well. The camp is raised off the ground and all the underlying land has been rehabilitated so that the ecological footprint is as low as possible.
Camp Okuti safaris are conducted in open safari vehicles into the Moremi Game Reserve. You you can also explore the Delta's channels by motorboat - heading upstream towards the upper delta. Short mokoro trips (30 mins) are also on offer but this area is not particularly suited to mokoro trips with high reeds along the river banks.
Be sure to take binoculars as the birdlife at Camp Okuti is superb, especially in the spring and summer months when the migrants are breeding. An hour's boat ride away are the world-famous heronries of the Godikwe and Xobega lagoons, which attract large numbers of breeding storks and herons.
Families at Camp Okuti
Camp Okuti is quite unusual in the Okavango Delta in that it is a family-friendly safari camp and takes children from 7 years and up. There are two family chalets comprising two bedrooms sharing one bathroom, or an extra bed can be placed into one of the chalets if there is just one child. Children pay full adult rates except in the family months of March to June and November.
Camp Okuti lies within the Moremi Game Reserve, a national park, which means that night drives and bush walks are not allowed by the park authorities. Though the game-viewing more than makes up for it, we recommend that you combine Camp Okuti with a camp in a private concession of the Delta such as its sister camps of Shinde or Kanana to get the best of all worlds.
Rooms
Standard Chalet(s)
Okuti's spacious curved mosasas are located on raised teak decks with river views. Okuti comprises of five twin-bedded mosasa ( ancient tribal word for house of reeds), each with en-suite bathrooms, indoor and outdoor shower, hot and cold running water and flush toilet. The honeymoon unit features a double bed, bathtub, indoor and outdoor shower.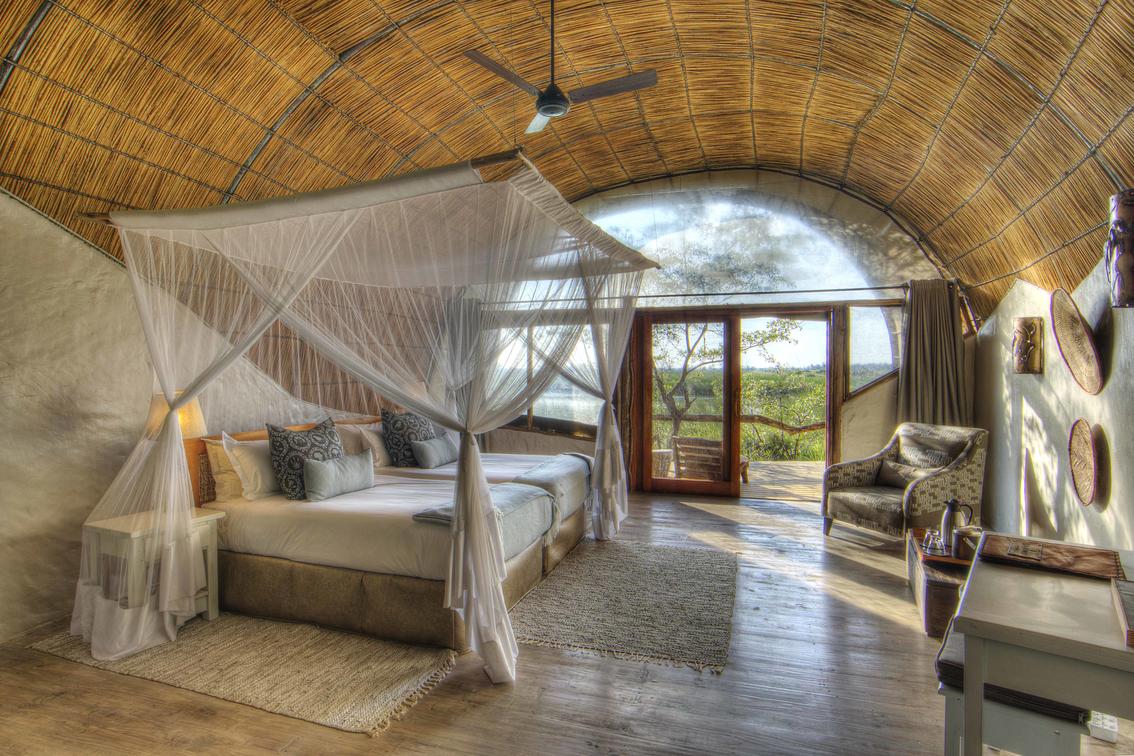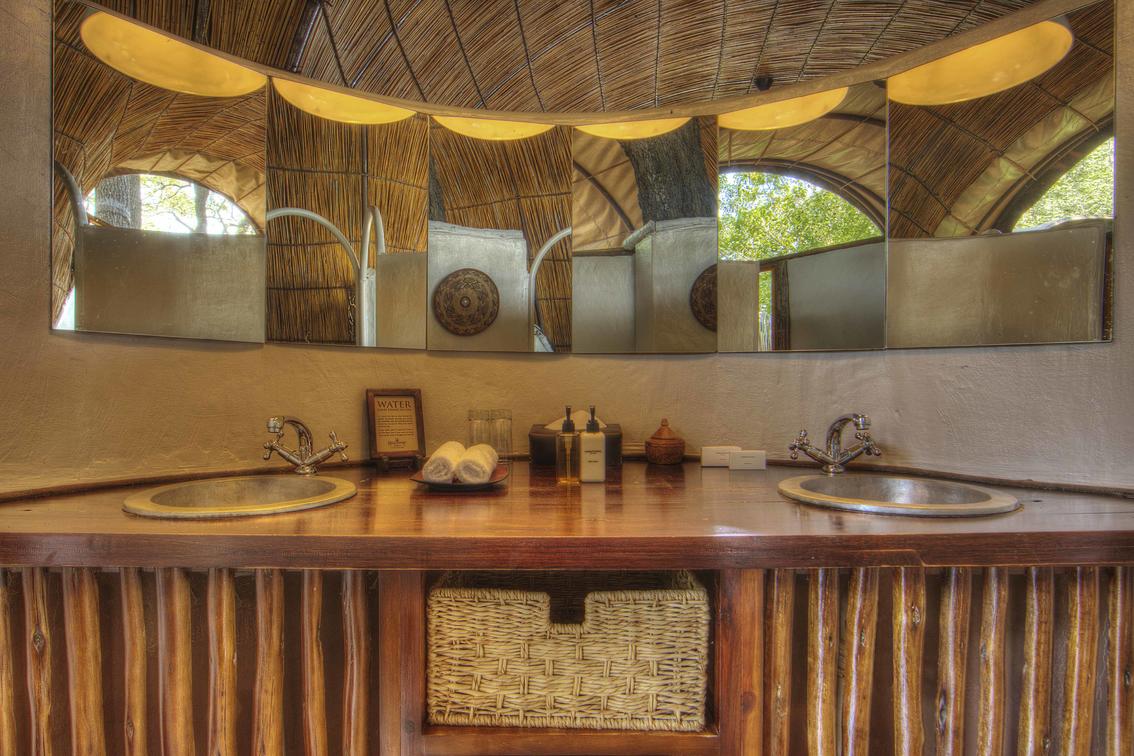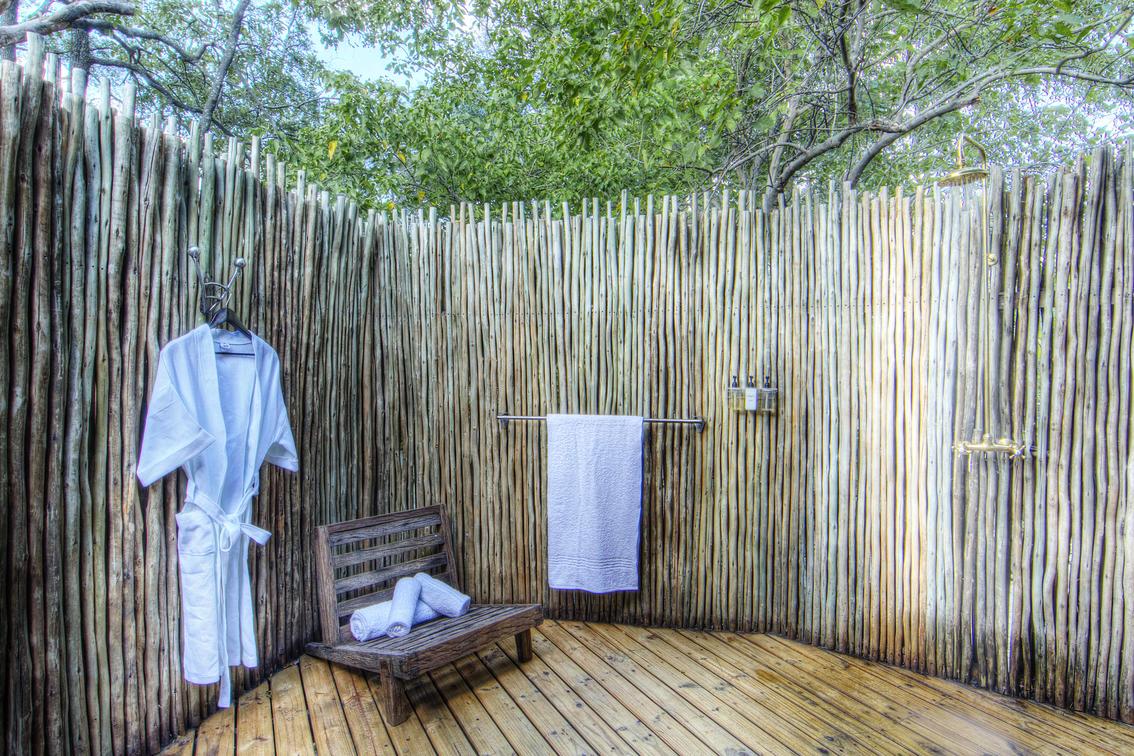 Family Chalet(s)
Okuti's has two spacious curved family mosasas, located on raised teak decks with river views. Each family Masasa has two bedrooms which share spacious bathroom facilities, indoor and outdoor shower, hot and cold running water and flush toilet – ideal for families in this child-friendly camp.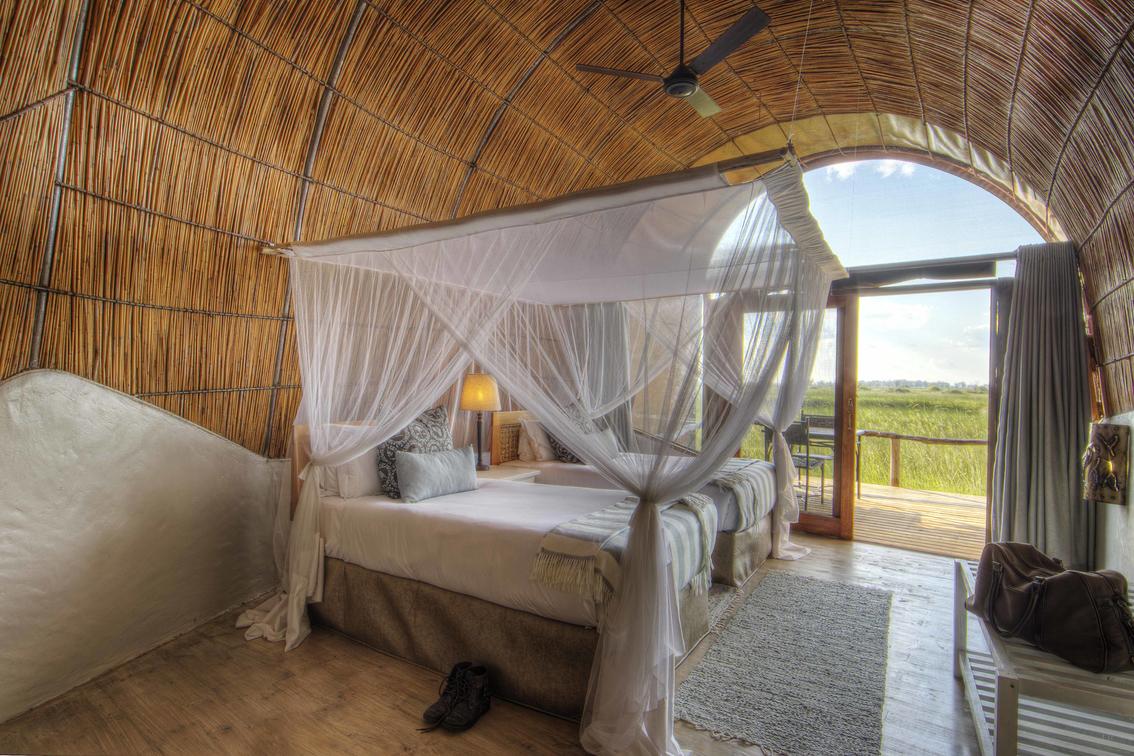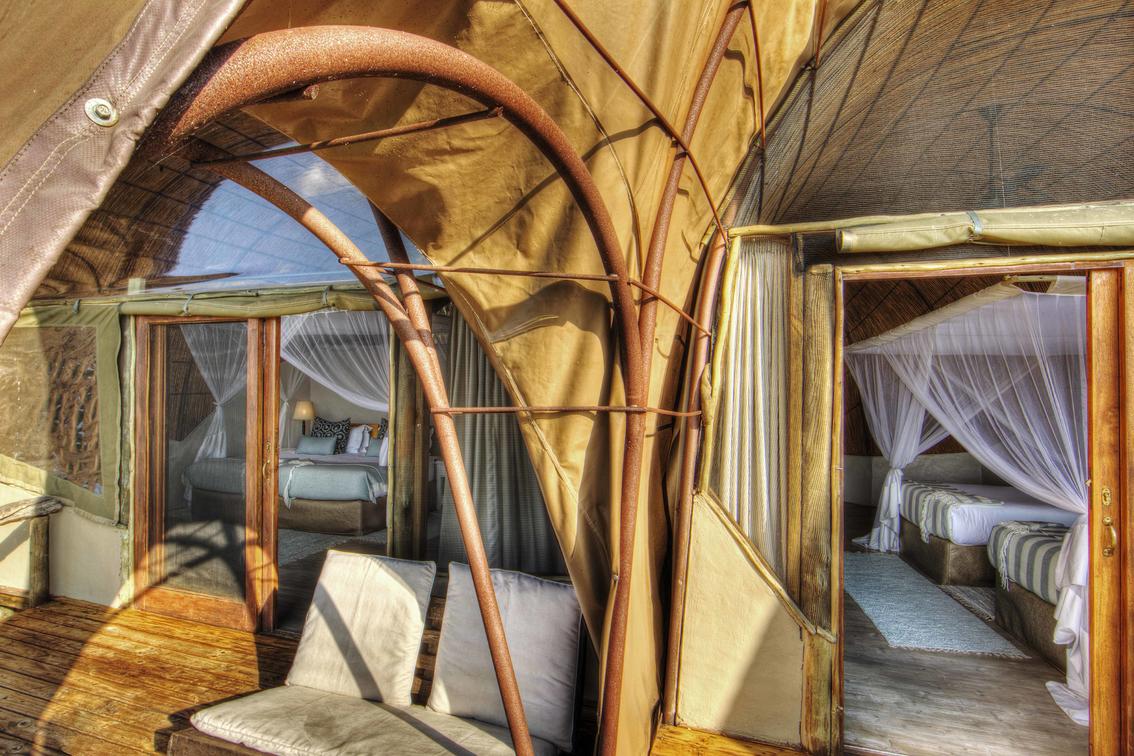 Special offers
Combo Offer
Special long stay rates at combination of Ker & Downey properties (Kanana, Shinde, Camp Okuti, Dinaka)