Let's face it, this year has not exactly started as I'm sure most of us had hoped it would. The good news however, is that flying domestically in South Africa has remained open. This gives us the opportunity to not only connect with our family, but also to visit the amazing destinations we have so longed for.
Having said this, I know that there are many people who are keen to travel, but are still slightly sceptical of the whole process. What is happening at the airports? Is it an easy and painless process? Will I need to factor in an extra hour or more before my flight? What are the health risks involved in flying? These are relevant questions, and one's we are here to answer for you!
I recently travelled from Cape Town International Airport to OR Tambo International Airport to visit my family for a weekend. Here is a rundown of what I experienced and what you should take note of when flying domestically in South Africa.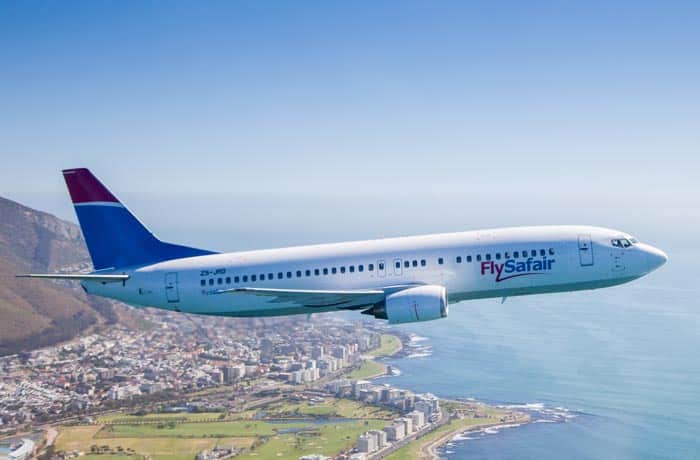 Procedure through the airport
My husband, toddler and I set off on a Friday afternoon. The first thing we noticed was that it was certainly not the hustle it usually is at the drop off zone. Of course, this might change over time. But for now, there are fewer airlines operating, and thus fewer flights. And because no extra people are allowed into the airport (sorry Mom, you can't linger around to wave us goodbye anymore!), there are obviously fewer people in general.
Although we aimed to get there 1.5 hours before our flight, we got caught in traffic and only got there with an hour to spare. Thankfully it wasn't a problem. Let's take a look step-by-step:
First up – you have to wear a mask over your mouth AND nose at all times – both in the airport and on the plane.
Passengers must sanitize their hands as they walk through the airport doors.
A staff member will then check your temperature (if your temperature is below 38 degrees you can move on). This was super quick and efficient!
Note: passengers no longer require a health declaration.
We had checked in online, and only had hand luggage with us so we didn't need to go to the check-in desk. But if you check in your luggage, you will find plastic screens in front of every counter. To avoid hand to hand contact, you need to hold your ID up against the screen.
When you get to the baggage control you'll need to maintain a safe distance between yourself and the person in front of you.
You must scan your own ticket to avoid any contact. We flew with Flysafair and had our tickets sent to us via WhatsApp. This was very useful as I often find myself scrambling to find my ticket!
When our bags had gone through the security check, I noticed that each basket was being sanitized before being used again (which is encouraging!).
As soon as we could board our flight, we joined the queue (again, while practising safe distancing!), and personally scanned our tickets.
Even though the procedure seems quick and efficient, I would still advise getting to the airport with at least 1 hour to spare.
Procedure on the plane
It is worth mentioning that airlines are taking great care to clean and disinfect aircrafts and commonly used areas between flights. The air systems within the aircraft are also carefully controlled (FlySafair stipulates this but I'm sure all airlines are doing the same).
Boarding opens up 30 minutes prior to the scheduled departure (it used to be 20 minutes). The process is of course slightly slower with everyone keeping their distance and scanning their own tickets.
I didn't expect a full flight, but there wasn't a seat to spare! This seems strange at first. One minute you are social distancing, and the next you sit right next to someone. BUT passengers must keep masks over their nose and mouth for the duration of the flight – no exceptions! At one point my hubby fell asleep with his mask below his nose and the air hostess actually woke him up to tell him to re-adjust his mask (brave lady!).
The other noticeable difference is that there are no in-flight food and beverage services. And there are no inflight magazines available to prevent touching of shared services. You can however request water, and bring your own snacks and drinks on board.
Passengers then disembark two rows at a time, from the front and back of the aircraft. This is something that I really hope they continue to implement (forever!). It creates a calm and ordered environment instead of the usual scrum to get overhead baggage and leave the plane.
On arrival
Again we noticed how quiet it was in the airport when we landed. No one is waiting to pick anyone up inside the airport. And pick up zones at both Cape Town International Airport and OR Tambo have also changed. But there are signs all over the airport directing you to where you need to go.
All in all, our experience of flying domestically in South Africa, from the time of drop off to arrival (and back again!) was quick and well-organized.
Restaurants, shops and lounges
Select shops and restaurants are once again open, although a few remain closed. So I think it is worthwhile taking whatever supplies you might need with you, just in case you don't find them in the airport. Airport lounges remain closed for now.
Children and flying domestically in South Africa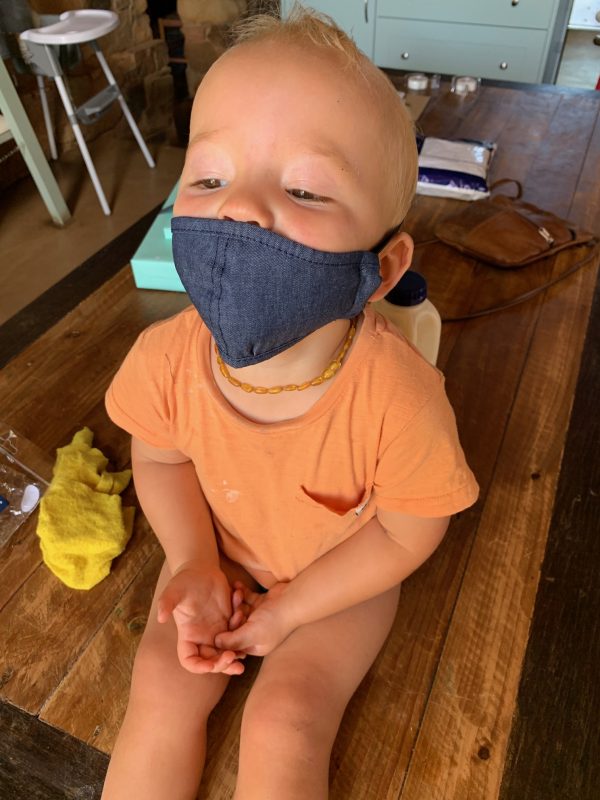 If you are worried that your 18-month-old is not going to keep a mask on, you are not alone! My toddler is 2 years old and I didn't even try and force him to wear one, which wasn't an issue. You can read more about what the South African Government says here about this and flying domestically in South Africa. Older children must however wear a mask. All health and safely protocols apply to kids too. So they will be social distancing and sanitizing as much as you do.
Research about COVID-transmissions on flights
There is encouraging research that has been done about COVID-transmissions within the aircraft.
The International Air Transport Association (IATA) has demonstrated the low incidence of inflight COVID-19 transmission with an updated tally of published cases.
A recent African Aero Space article reports, "The risk of a passenger contracting COVID-19 while onboard appears very low. "With only 44 identified potential cases of flight-related transmission among 1.2 billion travellers, that's one case for every 27 million travellers," said Dr. David Powell, IATA's Medical Advisor. New insight into why the numbers are so low has come from the joint publication by Airbus, Boeing and Embraer. While methodologies differed slightly, each detailed simulation confirmed that aircraft airflow systems do control the movement of particles in the cabin. This limits the spread of viruses.
Great news for travellers concerned about the health risks involved in flying domestically in South Africa!
Onwards and skywards
The 'hooray' announcements keep on coming as South Africa is now open to all international travel. This is of course subject to the traveller providing a valid certificate of a negative test. You must obtain this no more than 72 hours before the date of travel.
There are also amazing rates at a vast number of hotels and lodges throughout SA and the rest of Africa. So it is no longer a pipe dream to travel and have that break you so deserve. It's time to chat to a travel expert and start planning your next trip!
Interested in booking a Safari or Holiday?
Chat to one of our experienced consultants that's here to help and guide you. We use our expertise to narrow down the choices and present feasible ideas, so you can relax and ENJOY the planning process!
Contact us!
Tasha Eygelaar
Africa Travel Specialist
Hi I'm Tasha, I'm here to help you plan your ideal holiday experience
"My experience of flying domestically in South Africa" – written by Christine Bergh of Cedarberg Africa
Cedarberg Africa is a travel and safari company specializing in African tailor-made itineraries. We have special rates with all the hotels and game lodges. Booking through us will cost no more than booking direct, and sometimes less. So our expertise and knowledge comes at no extra cost to you!
Feel free to contact us if you want us to plan a the perfect getaway for you.