Overview
Slack-packing trails are South Africa's version of backpacking, made easy. These walking trails - informally described as hiking without hassle - are typically from 2 days to 7 days in length. Being short, slack-packing trails are easy to slot into a longer South African sight-seeing trip.
Many of us have enjoyed some multi-day walking trails when we were younger. When we were still happy to hike all day carrying our sleeping bag and all our food needs in a 15-20 kg pack on our back. But now many of us want a greater degree of comfort! We want a bed for the night. We want a home-cooked meal with wine. And most of all, we don't want to have to carry all our gear!
This is where slack-packing comes in...
A slack-packing trail is a multi-day walking trail where all you have to do is carry a day pack with whatever you may need for the day... simple! Sometimes it is only offered for private groups of 4 to 6 people or more. Other times a couple can join a set departure.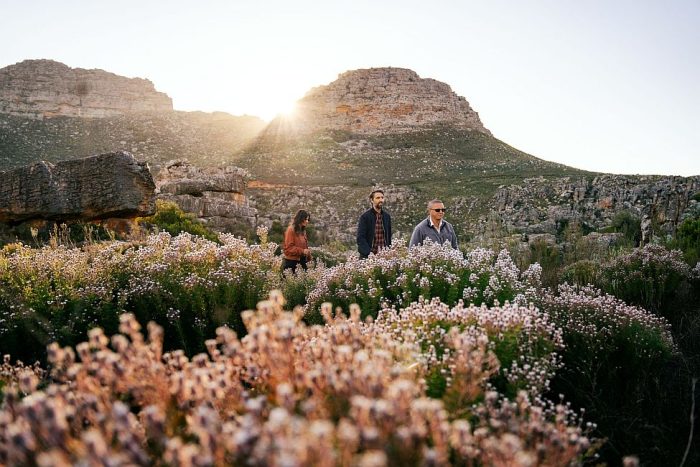 However this is where the similarities between the various slack-packing trails in South Africa end. They all differ in terms of level of accommodation, difficulty, and guiding.
Suggested Slack-packing Trails
We highlight a few here in detail.
The most upmarket by far is the De Hoop Camino Trail. (Strictly speaking this is a four night stay in 2 upmarket coastal lodges with walking excursions included plus the walk between the two lodges.)
Two are on the Garden Route (The Oystercatcher Trail and the Dolphin Trail) and one is in the Cederberg mountains. Guiding by local guides, learning about the landscape and history, swimming in refreshing rock pools are all part of the magic.
Klein Krakadouw Trail (2 or 3 nights) - This is one of 5 trails of the Cederberg Heritage Route. See Klein Krakadouw for a brief overview of the other trails...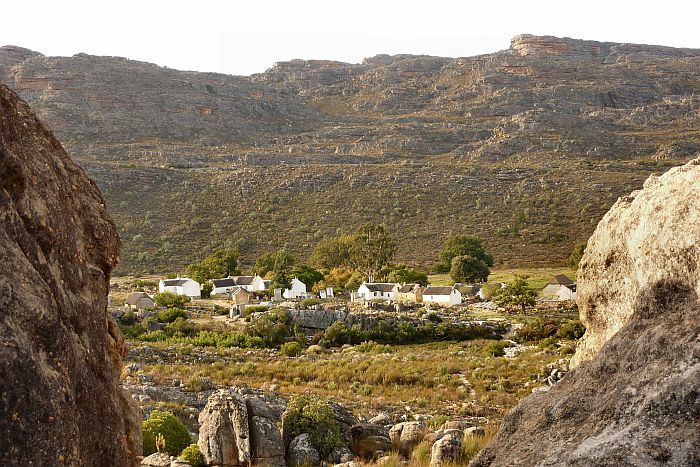 Wild Coast Meander - This is a 5 night coastal trail in the Eastern Cape which is tailor-made for individual parties on request. Shorter 3 night trails are also available. The walking is pretty easy and your bags are portered on foot.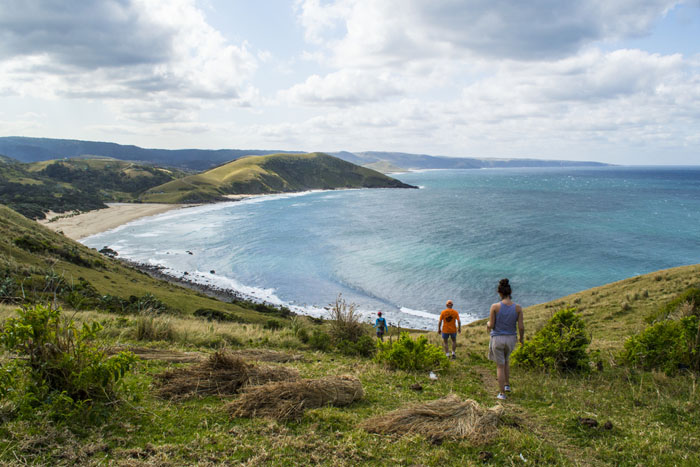 Green Mountain Trail - This is a popular trail in the Grabouw area of the Overberg. It's a 3 night trail that runs through the Green Mountain Eco Route which is the world's first biodiversity wine route.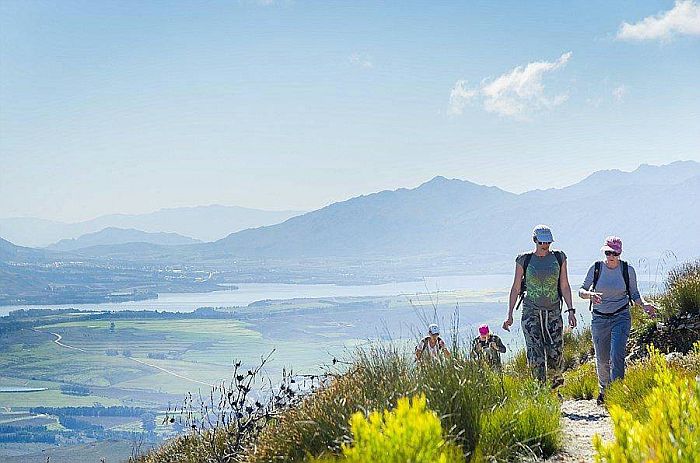 The Donkey Trail - is another popular 3 night trail in the Little Karoo down into the remote but very scenic Gamkaskloof ('Die Hel'). You are accompanied by trained local guides from the community. The only disadvantage is that the minimum numbers are six but you may be able to join an existing party.
Important Notes:
MOST South Afican slack-packing trails have minimum numbers
Unfortunately most slack-packing trails have minimum numbers of 6 people or more. And they usually take only group bookings. So it is not possible to add a single person or even a couple to an existing departure. Thats why we focus on the ones mentioned which either have set departures. Or have a price for only 2-3 people.
2. So we cannot accommodate single people on most of these tours. Sorry
3. You pay a higher price if you are only 2 people on most of the tours mentioned.
4. We dont make much money from slack-packing tours so we usually book slack-packing trails as part of a larger itinerary. So if you just want to book a slack-packing trail, then we will need to add on a small admin fee to cover our costs.
Back to MAIN Walking Safaris & Tours in Africa
Highlights
You don't have to carry your own gear! It's taken to your next overnight stay by car, by porters or even sometimes by donkey cart.
You stay in comfortable accommodation with real beds and linen. It may be a guesthouse or a B&B. Or sometimes more modest accommodation depending on the actual trail.
And you get all your meals cooked for you.
So all you have to do is carry your day-pack!
It was amazing
"Thanks Conrad for your help organizing all of this trip for us, it was amazing – and I'll be sure to refer you to any future friends of mine wishing to come to Africa. "
Mr Ross, Melbourne
Very pleased with service
"Very pleased with service received from Cedarberg – queries adequately answered, friendly + helpful staff (it helped me that there was a UK tel number to call), documents sent were clear and comprehensive. "
Mrs Johnn, USA
Fabulous time
"I can only say we had a fabulous time!!! The organisation from your side was great. Everyone turned up on time and everything was organised as planned. I have to say we were very encouraged about how well though of Cedarberg were with the travel providers and accordingly, we were extremely well looked after. Do thank Gloria for all her help in South Africa, and particular thanks to you and the Cedarberg staff in London for organizing such a great trip – our third with you! "
Dolman & Kerr Family
Tasha Eygelaar
Africa Travel Specialist
Hi I'm Tasha, I'm here to help you plan your ideal holiday experience
We arrange trips to more than 100+ destinations throughout the African continent.
Holiday of a lifetime
"Just wanted to write a quick note to say a big thank you for all your help in arranging what was a fantastic trip for the three of us. My dad loved every minute of it. And said it was a holiday of a lifetime – which is what I of course had hoped it would be for all of us. "
Jo & Family
High satisfaction with Cedarberg
"We just returned from our third African safari booked with Milandi. I cannot say enough about our high satisfaction with Cedarberg and, particularly, Milandi. Milandi has always worked with us, making recommendations based on our preferences, and together we "tweak" the itinerary until it is perfect for us. Milandi is efficient, highly responsive, knowledgeable, friendly, and seems to really care and act excited about our booked adventure. Each time we have traveled, all arrangements have been punctual and without any delays or cancellations. Every detail has been prearranged. During our most recent trip, Milandi even checked us in for each of our domestic and intercontinental flights, knowing that we would not have the capability to do so from the camps we visited. Cannot recommend Milandi highly enough!! "
Mrs Shirley Spain
Thanks for setting up the most glorious flowers trip for us!
"From start to finish we experienced fantastic service from Cedarberg Africa especially from Sonja. The itinerary was perfect, accommodation was great and the suggestions of things to see were very useful. We especially liked the variety of accommodation you set up from glamping to some awesome 5 star establishments. Thank you. We have already provided your company details with other friends who have expressed an interest in using your services. And we may be calling on you again for assistance in setting up our future trips, some being a wine farm tour in the Cape and a trip to Namibia (southern section) – but that is in the future. Thank you once again for your professionalism and passion in the services you offer. " Davies & Edwards family