Overview
Imagine a beautiful beach house overlooking a white sandy beach. But close to world-class restaurants and award-winning wine estates. Or a spectacular apartment in achingly-trendy Clifton, hanging dramatically over the ocean. Perhaps you'd prefer a relaxed contemporary apartment in the V&A Waterfront? One overlooking the yacht marina? All of these are possibilities in Cape Town.
Villas and private apartments in Cape Town vary in luxury and style from 'blow-your-mind' luxury. To more affordable family-friendly apartments that you give a bit of space. Each villa that we feature has been categorised by us.
Sublime Luxury
These are Cape Town's stand-out villas and apartments. They are aimed at those used to the best in the world with exceptional locations, stunning architecture, stylish interiors and immaculate finishes. Most will have multi-media and entertainment centres, indoor/outdoor living spaces and glorious pools. But all will have unique features which separate them from the crowd. It may be their unusual collection of furnishings or artwork. Or truly exceptional location or historical value. Close your eyes when you look at the price tag though.
Examples include Ellerman Villas, One Penthouse, Cape Royale Villas or Wescamp Villa.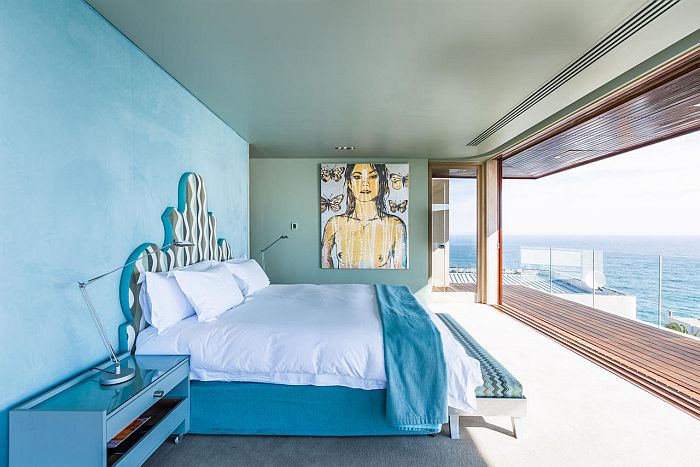 Romantic Retreats
These are romantic villas or apartments designed for couples celebrating a special occasion. These give you the freedom to kick back and relax. But with only one or two bedrooms. It's not just the size; it's the sense of romance and ambience which sets them apart.
Examples include 52 de Wet, African Elite Apartments or More Quarters
Family Friendly
These villas and apartments are spacious and comfortable rather than architectural icons. The key factor is that your family will feel at home here. No need to worry about breaking some valuable sculpture. But these are not modest 'self-catering apartments' either. They are places you can truly relax in – a home away from home. With the level of luxury that suits your family. Options range from 2 to 4 bedrooms, ideal for larger family groups or even two families travelling together.
Examples include Waterfront Apartments, Villas at the Vineyard, The Glen or Camps Bay Resort.

Seaside Living
These villas or apartments are all about enjoying that carefree coastal feeling. These are either right on the ocean or are within three blocks of the sea so that you don't need to get into your car to head to the beach or to enjoy an alfresco lunch at an ocean view restaurant.
Examples include Sea Five (two bedroom penthouse apartment), Camps Bay Resort or the Glen Apartments.
Highlights
Range of villas & apartments on offer: some offering sublime luxury, others more family–friendly. Some are hidden away romantic retreats. Whilst others offer seaside locations.
Apartments or villas are a great way to give your family the space they need - in a prime location.
Great range of restaurants, casual eateries and even delivered restaurant meals. So you don't have to set foot in a kitchen – unless you want to.
Impeccable
"Just a quick note to let you know we have arrived home safely and Sari and myself had a wonderful time in South Africa and your planning was impeccable. Overall you have done a wonderful job . It is highly appreciated and we are sorry we did not get a chance to meet you in Cape Town. "
Mrs Sara & Mr Andre, USA
Very good value
"Peter was very helpful and clearly paid attention to our thoughts and ideas – we really valued his recommendations "
Ms Winter, UK
10 out of 10 for everything
"The holiday was exceptionally good and we all enjoyed every moment, especially my son Stephen (10 years old). The fact that Stephen enjoyed it says a lot since he is a seasoned traveller (as are most expat kids) having been to almost 20 countries already in his lifetime. We returned with more than a thousand photos and wonderful memories of what Africa can offer at its best "
Family De Waal,
Kate Bergh
Co-founder & Director
Hi I'm Kate, I'm here to help you plan your ideal holiday experience
We will certainly use Cedarberg again
"All the arrangements worked perfectly – no hiccups at all. We will certainly use Cedarberg again and will recommend the company to others. We were particularly impressed by the fact that the ground agents met us from every flight and saw us on to the next flight so if anything had gone awry there was someone on hand to help us sort it out. As one gets older that is enormously comforting. "
Ms Sandra Clark, UK
It was by far the best experience we have ever had!!
"We are (regrettably) back from our trip and I wanted to let you know that it was by far the best experience we have ever had. The itinerary you designed for us was simply outstanding. Our guide in Cape Town was incredible and made sure we maximized our time, even throwing in little unexpected side trips to a wine farm, etc. The accommodations were top notch everywhere we stayed and the service was over the top. I actually don't have the right words to express how wonderful this trip was. I would say it was life-changing, as it gave us a totally new perspective on the wonders of nature. Thank you a million times over. This will not be our last visit to South Africa! "
Mrs Deb
Enjoyed the charm of the accommodation
"I want thank Mari for helping us create a vacation tour that worked for my husband son and myself. We got to see everything we would like to see that worked within our budget. "
Mrs Janouska, USA