Cradle of Humankind World Heritage site
LOCATED IN
Johannesburg & Magaliesberg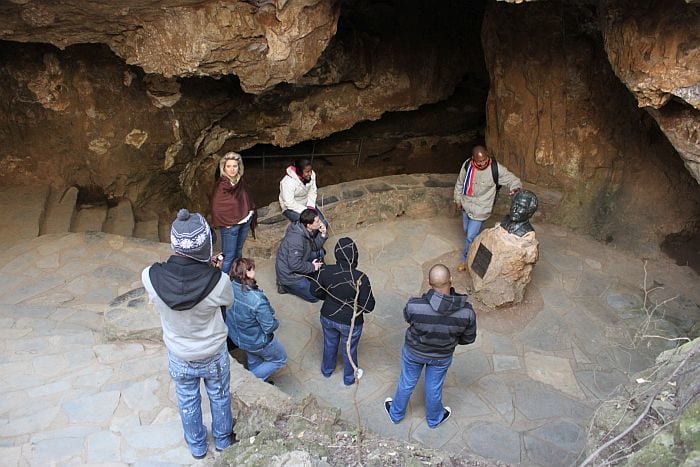 The Cradle of Humankind World Heritage site is well worth a visit and includes several different fossil sites which collectively add up to possibly the greatest wealth of pre-historic finds in the world. We recommend the guided visit to Sterkfontein caves, the Maropeng inter-active visitor exhibition and perhaps add on the pretty Wonder Caves?
Within the dolomite hills surrounding Johannesburg are a series of underground caverns which have acted as geological time capsules preserving thousands of fossils of extinct animals as well as some of the earliest human ancestors (or hominin species). In 1947 Dr Robert Broom discovered a well-preserved complete skull of a species of early man (from 2.3 million years ago), who later became known as the famous 'Mrs Ples'. More recently 'Little Foot' was discovered in 1997 – one of the most complete early skeletons ever found. There's a small but information-laden museum which is well worth some time.
Maropeng is the visitor centre for the Cradle of Humankind and is an accessible inter-active exhibition. Purists might find it a little too glitzy for their tastes, as its aimed probably more at school children than adults, but it is certainly worth a visit as it's only 10 minutes drive from Sterkfontein Caves.
Note: A visit to Sterkfontein caves is not to be compared with other caves open to the public either in South Africa or elsewhere. It is not about stalactites and stalagmites but its early human finds. The nearby Wonder Caves, though small are much more picturesque.
You can buy tickets online for both the caves and Maropeng. A combination ticket is considerably cheaper than getting them individually. Sterkfontein Caves has set tours between 9am and 5pm. If you get there early you can have some lunch or tea at their restaurant. Maropeng is largely self-guided but they try to give you a guide for the first 20 minutes of your visit to orientate you. Private tours into the caves can be arranged at a minimum fee. For the enthusiast, tours conducted by scientists can be arranged at an additional cost.
Tours to Sterkfontein Caves
Its easy to self-drive in this area but we can arrange a private tour for the morning or the full day. Taking a tour for the full day will give you time to see some of the other sites of the area such as the Wonder Caves or a scenic tour to Hartebeespoort Dam to the north.