A Day on Safari in Africa
Africa is quite unlike any other place on earth – the stillness, the songs, the smell of the bush and the myriad colours.
There is nothing to compare with the thundering footsteps of thousands of migrating wildebeest. Or the thrill of a night drive following the chase of a hungry lion – getting so close you can see the hair on its back rise.
Many people ask us "what's it like to be on a safari?" How do I know if it's something I'd enjoy?
So let's look at a typical day on safari…
The pattern of a day on safari
A day on your safari will probably be quite different from your norm. On safari you rise with the sun and get out on an early morning drive, usually in an open 4×4 game vehicle. Drives take place at these time because that's when game is most likely to be active. They'll be on the hunt before the heat of the day sets in. Your experienced ranger is on hand to give you a deeper understanding of the wildlife. And the natural cycles of the bush. Words cannot describe the thrill of tracking a leopard on the hunt. Or observing a breeding herd of elephants at a waterhole.
At some camps, you may be able to take part in a morning bush walk instead of a game drive. Again mornings are best for walking because its cooler, so you can walk in comfort. Similarly you may take the morning game drive. But opt to do a shorter 45-60 minute walk for part of the time. Bush breakfasts out in the reserve are a speciality at some safari lodges.
Some camps are able to offer other forms of safari activity such as horse-riding safaris, safaris by mountain bike or other specialist activities like mekoro trips in Botswana or canoe safaris in Zambia and Zimbabwe.
Relaxing in the middle of the day
After the early start you then have a relaxing time in the middle of the day. Sometimes you can continue to be active, perhaps taking a short nature walk with your ranger. Alternatively you can enjoy a spot of more relaxed game-viewing from your deck, take a dip in the pool or enjoy a good book in the lounge. Depending on the lodge setting, sometimes the game-viewing from your deck can be as exhilarating as that from your game vehicle.
Some larger lodges have a small spa treatment room or even a mobile spa so that you can enjoy a relaxing massage on the deck of your chalet. Before your bed and book beckon for a nice little siesta.
Afternoon/Night Drive
Typically the evening safari drive departs after afternoon tea so that you have a couple of hours of light before breaking for sundowners in the bush. Afterwards the evening holds a sense of anticipation as the rare and elusive nocturnal species begin to hunt. You return to camp in the early evening. There's usually time to freshen up before dinner but many people like to head to the campfire or bar for a drink and to soak up the atmosphere of the bush.
Dinner is often enjoyed in a open boma (reeded enclosure) under a starlit sky, or even in the bush around an open fire. This is certainly an evocative highlight for many of our clients.
Remember safari lodges in prime game-viewing areas with lots of predator activity may not be able to offer a wide range of activities but the quality of game-viewing is worth it.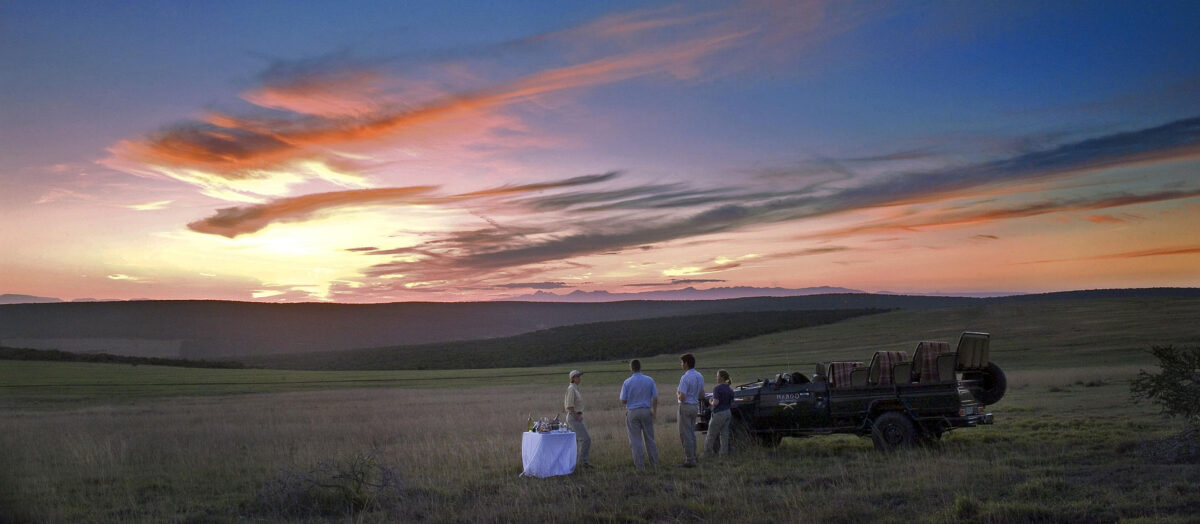 Meal Arrangements
Most lodges offer the traditional three+ meals of breakfast/brunch, lunch, afternoon tea and dinner. So unfortunately you often feel you need to loosen your belt a notch by the end of the safari trip! Others have opted for a more sensible approach of having a late breakfast/brunch, then a gap before a more substantial late lunch/high tea all rolled into one in the mid afternoon…
Either way there is always sustenance on hand when you first arrive at the lodge in the early afternoon.
Sleep-Outs
A few camps offer the opportunity to sleep out under the stars. This may be on your deck with a roll-away bed (if it is sufficiently raised). Or it could be an exclusive sleep-out tree-house deck set away from the camp. This is very special, though not for everyone. You spend a night under a mosquito net out in the open. You take a picnic supper with you and you walk or drive to the sleep-out where you are left to your own devices with a radio link to the camp. There are usually rudimentary ablution facilities of toilet and basin but this is a rustic romantic experience. This is usually an extra cost as your room back at the camp is kept for you.
And so to bed…
Related Safari Blog Posts