Overview
In the beautiful NamibRand Nature Reserve close to Sossusvlei
Suitable for more adventurous travellers
Canvas tents on wooden platforms
Open your canvas walls to sleep al fresco if you wish
Superb views from your private deck
Wolwedans Dune Camp lies in the NamibRand private game reserve which spans 180,000ha. It's one of three sister lodges and is ideal for the more adventurous visitor to the Sossusvlei region of Namibia.
Accommodation
Wolwedans Dune Camp is positioned on the edge of a 250m high dune and sleeps 16 guests in a totally unspoilt desert setting. You stay in comfortable tents pitched on wooden platforms, each furnished with standard beds (with down duvets), bedside tables and a suitcase rack. A spacious veranda allows for safe sleep-outs under the stars, and your en suite bathroom has a hot shower, two washbasins and flush toilet making for a rather civilized camping experience.
The lapa comprises a lounge, dining area and an open-plan kitchen, which allows you to chat to the chef while he is preparing delicious three course dinners. The sundowner deck with its elevated fireplace is the central meeting point of the camp providing a stylish and relaxed ambience. Whilst Wolwedans Dune Lodge aims at accommodating those guests seeking relaxed comfort and space, Wolwedans Dune Camp is a more down-to-earth and close to nature experience. It's ideally suited for the more adventurous traveller to Namibia as the charm of the camp lies in its tranquil, intimate atmosphere, capturing the romance of a bygone era.
Activities
The Namib is the oldest desert in the world and flora and fauna here have developed fascinating attributes to cope with the extremes of heat and the extended drought known to Namibia. The NamibRand Reserve spans 180,000ha and is the largest private nature reserve in Southern Africa. Its special attraction is the diversity of desert landscapes with mountains giving way to grassy plains and red vegetated dunes. Please note that given its relative southerly position, the focus in the NamibRand tends to be on its immediate dune landscape rather than trekking north to visit the Sossusvlei dunes.
Whilst at Wolwedans Dune Camp, you are introduced to exciting facets of the NamibRand's unique desert habitat - through scenic drives and walks. Hot air ballooning or scenic aerial flights are optional extras. The Wolwedans Dune Camp requires a minimum stay of two nights and the day safari with picnic lunch en-route is part of the whole experience.
Wolwedans Dune Camp gallery
Wolwedans Dune Camp on the map
Rooms
Luxury Tents
The tents are pitched on wooden platforms and are comfortable and spacious. The en-suite bathroom consists of double vanity, shower and toilet facilities. A generous deck allows for safe sleep-outs under the stars.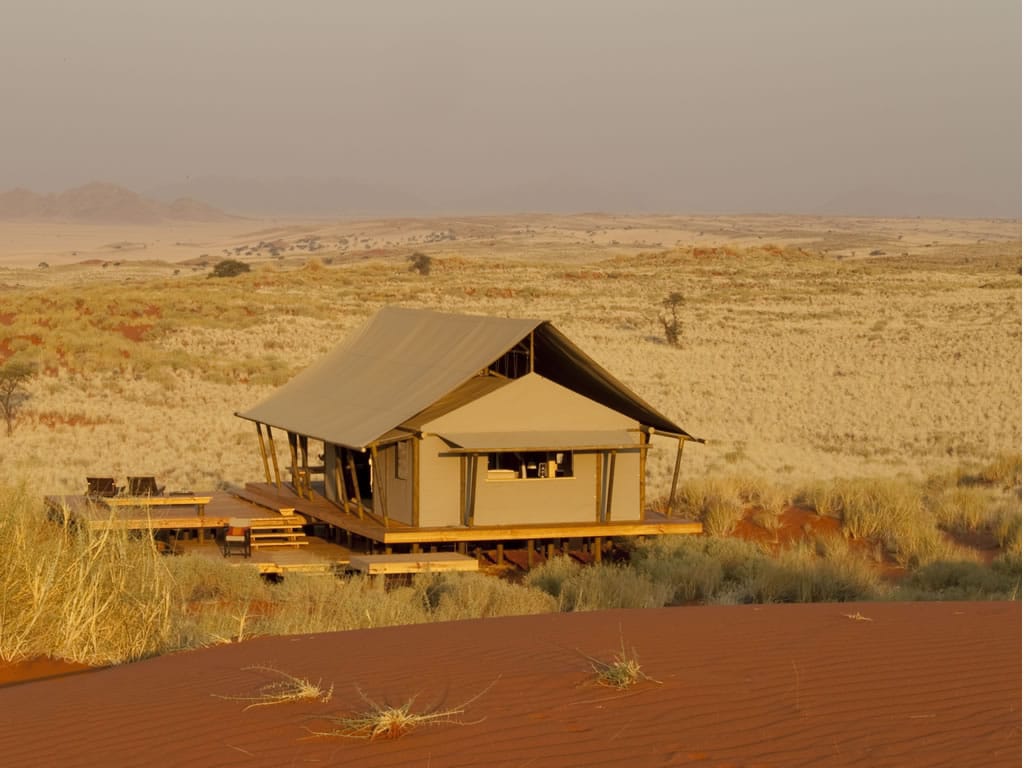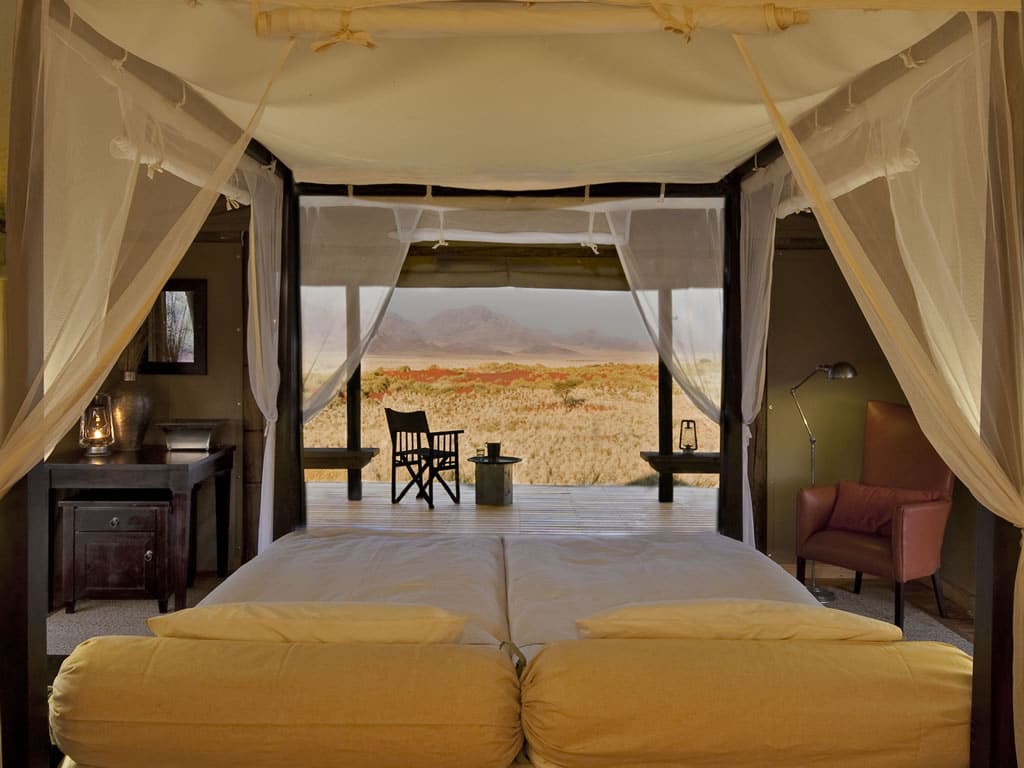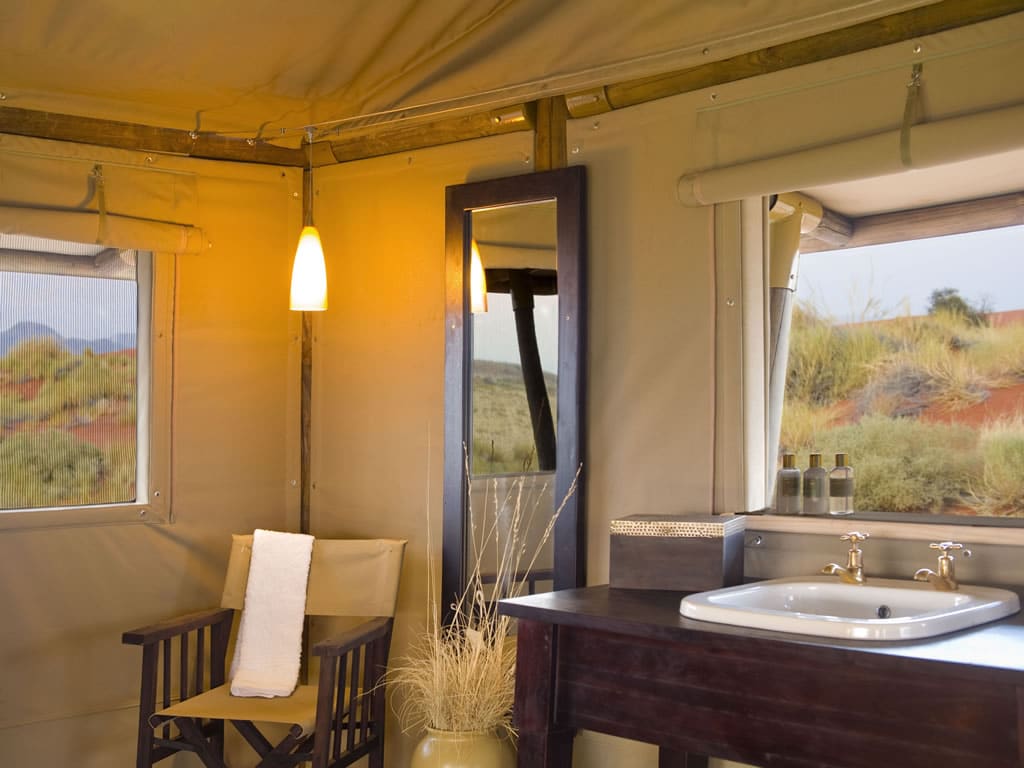 Includes
Accommodation, all meals and included activities (scenic drives/ walks/ E-bikes/ 45 min AM or PM short Horseback ride/ Village sustainability tour)
Excludes
Special activities (eg hot-air ballooning & scenic flights), longer horseback rides (subject to availability) and all drinks
Family Suitability
Accepts older children
Malaria Rating
Non-malarial area