Overview
Remote and wild area in the far-north of the Kruger
Beautiful and historically interesting
Luxury suites with panoramic bushveld views
Prolific bird-life, some of the best in the Kruger
The Outpost is situated between the Limpopo and the Luvuvhu Rivers in the far northern part of the Kruger National Park, in a 26 000ha private concession. This area is filled with folklore of the early explorers and ancient civilisations. It's the ancestral home of the Makuleke people and is one of the most diverse and scenically attractive areas in the Kruger National Park with its fever tree forests, beautiful gorges and Crook's Corner, where three countries meet.
The Outpost is in the wildest and most remote part of the Park and offers varied vegetation, and good game viewing. The region is considered one of Kruger's biodiversity hotspots, with some of the largest herds of elephant and buffalo, leopard and lion and the best birding in all Kruger with endemic rarities such as Böhm's and bottled spinetails, racket-tailed roller, three-banded courser and southern hyliota.
One of the most important aspects of this area is its palaeo-anthropological history, with plenty of evidence of early human ancestors stretching back some 2 million years ago, through the Stone Age and into the Iron Age about 400 years ago. Throughout the concession, there is evidence of its human inhabitants, in the form of rock paintings and artefacts. Under many a baobab tree Stone Age hand tools, such as hand axes, are to be found .
Rooms
Luxury Space
With space and views like this... you can soak up the wonders of the spectacular surroundings
whilst indulging in the luxuries of your Suite.
The Outpost accommodates 24 guests in 12 stand-alone open plan en-suite Luxury Suites resting
on a hill overlooking the Luvuvhu River. The Suites are connected to each other and the central
Lodge area by a 500m Zimbabwean teak walkway.
These contemporary Luxury Suites have been cleverly designed, making full use of space, concrete
and steel with state-of the art retractable remote controlled screens offering 180-degrees of
uninterrupted views of the Luvuvhu River Valley.
The open feel of the rooms extends into a comfortable lounge and outdoor terrace with a double
daybed. The award-winning bathroom (which can be screened off for privacy) with a stone bath
and open shower boasts views extending as far as Mozambique.
Suite 12 is our Honeymoon Suite that is at the highest point of the Lodge. Being high up, the Suite
is more private and the views are truly sensational.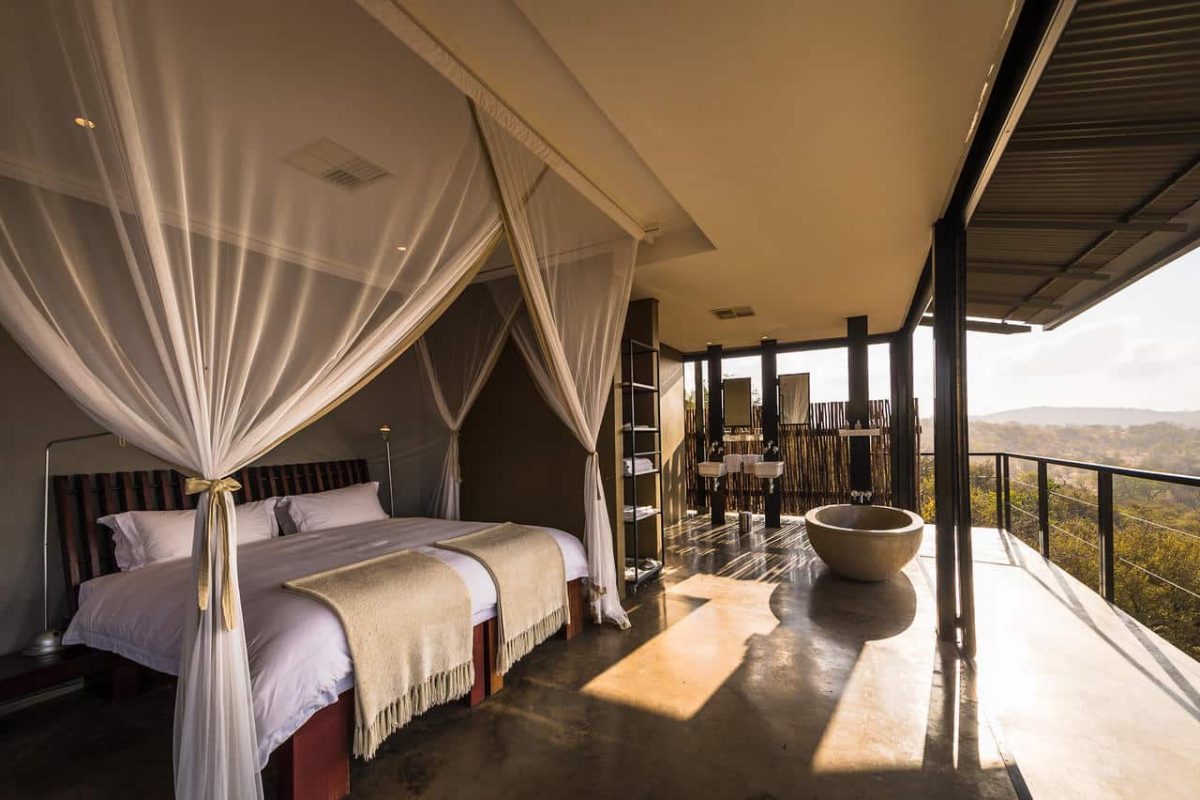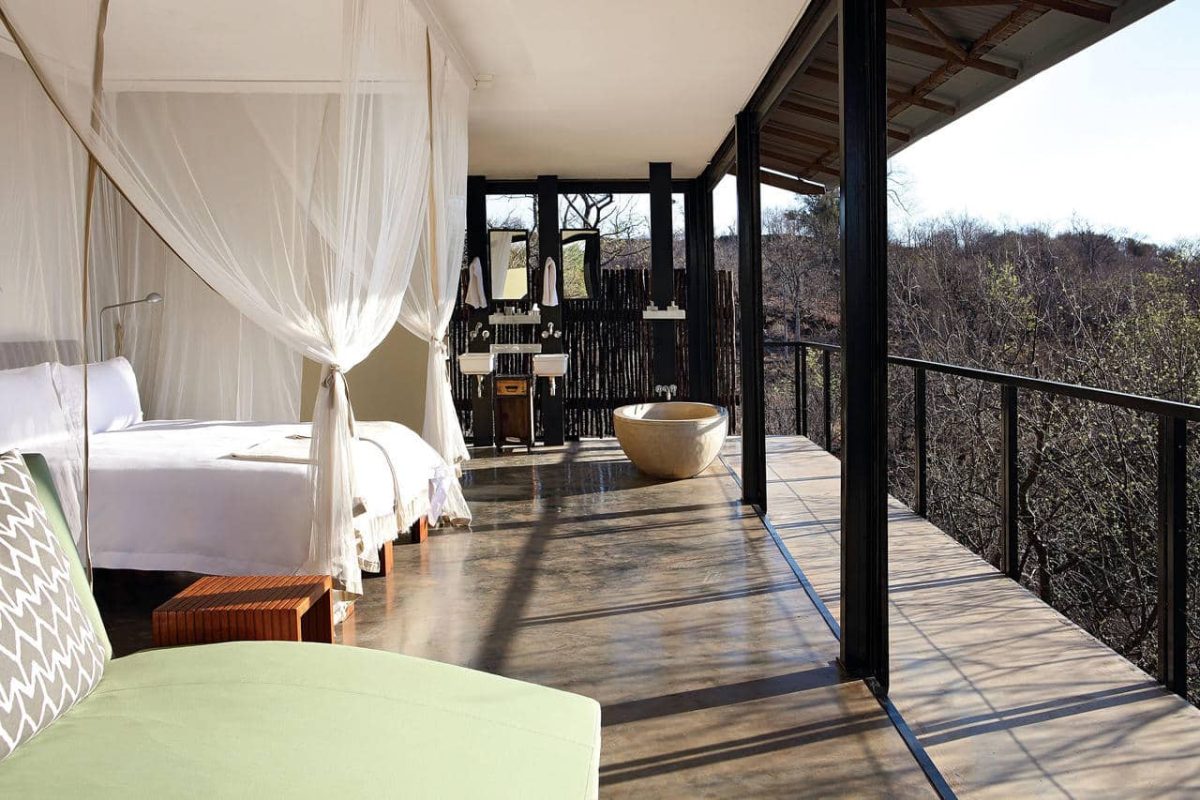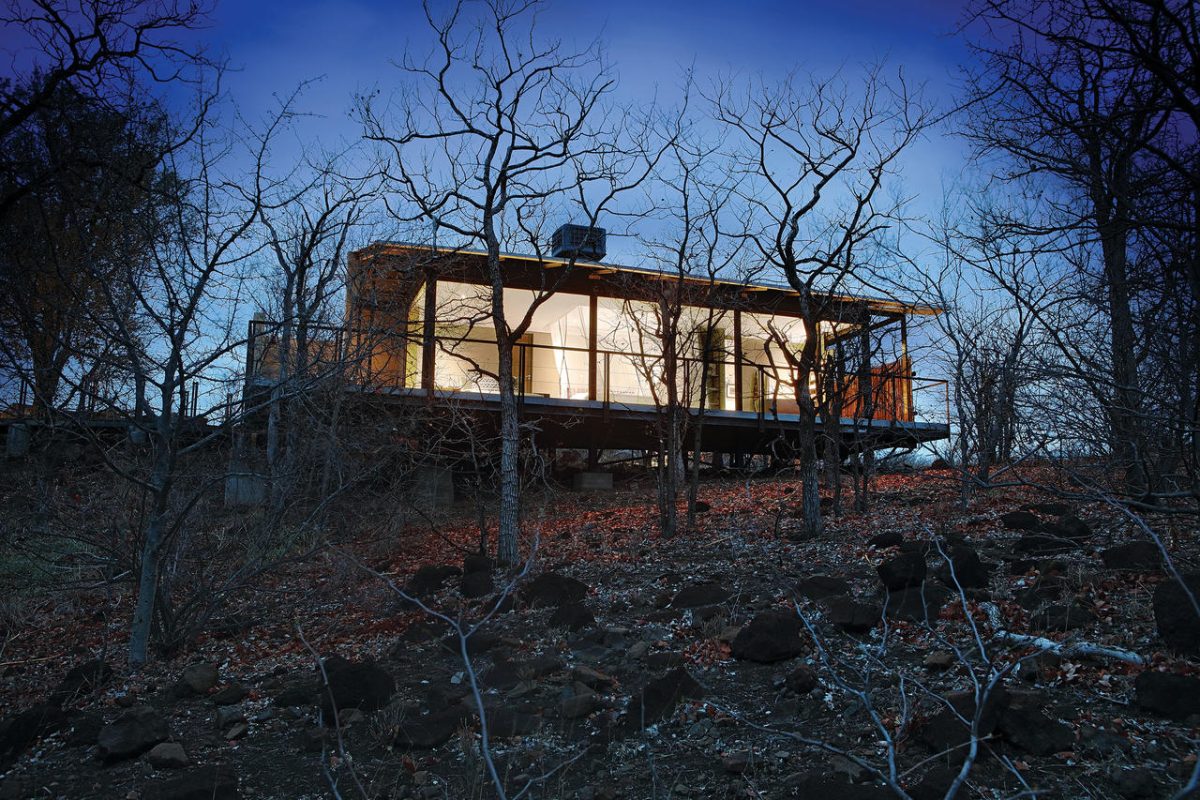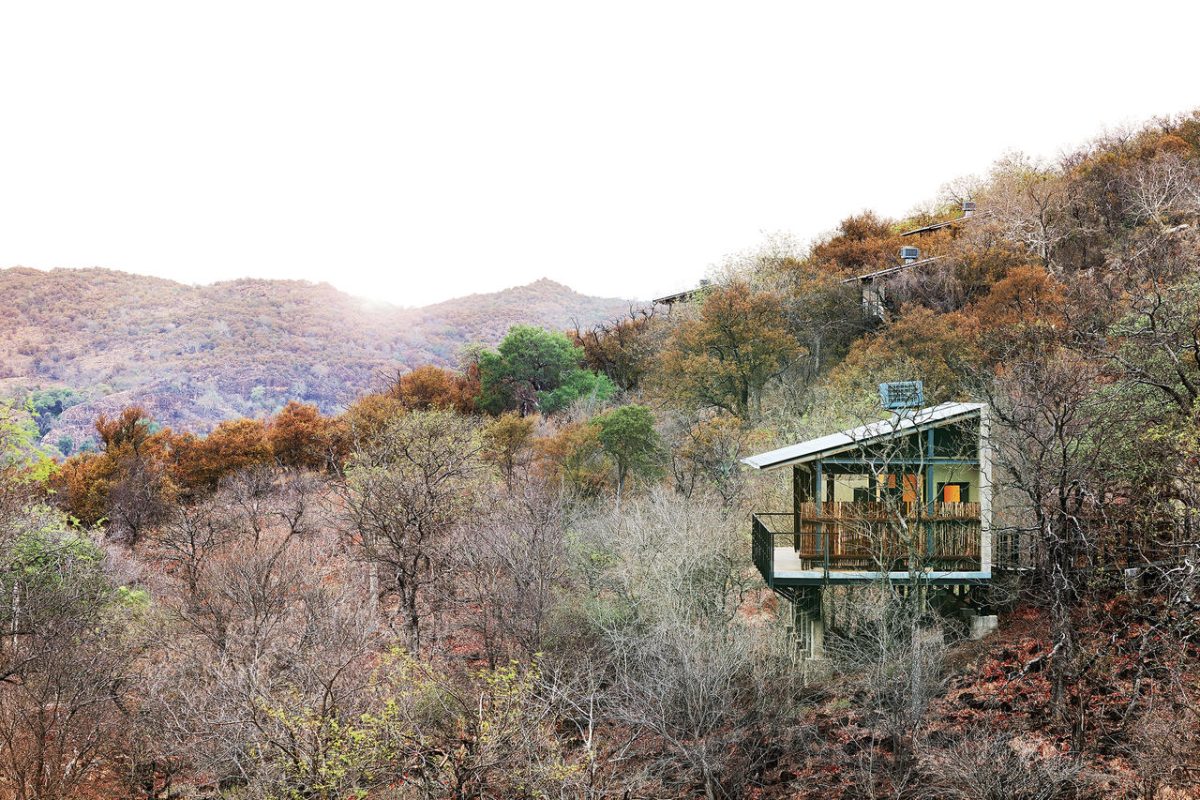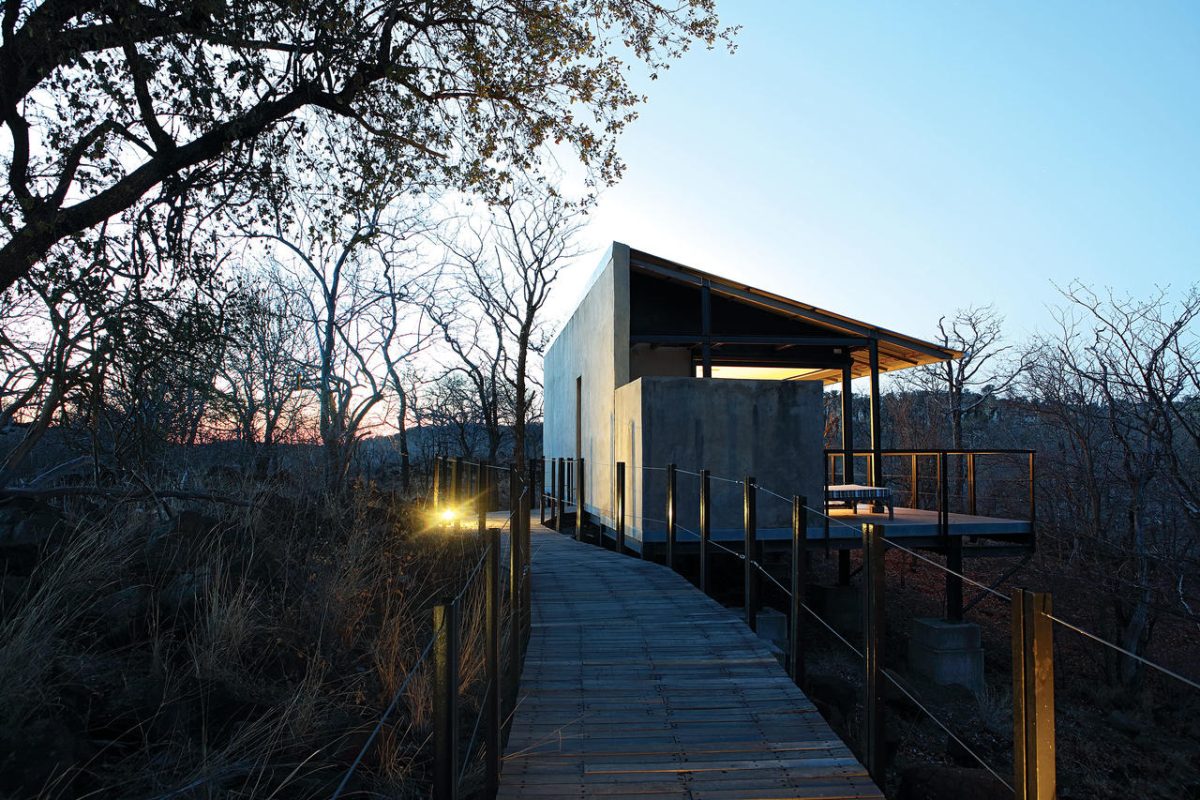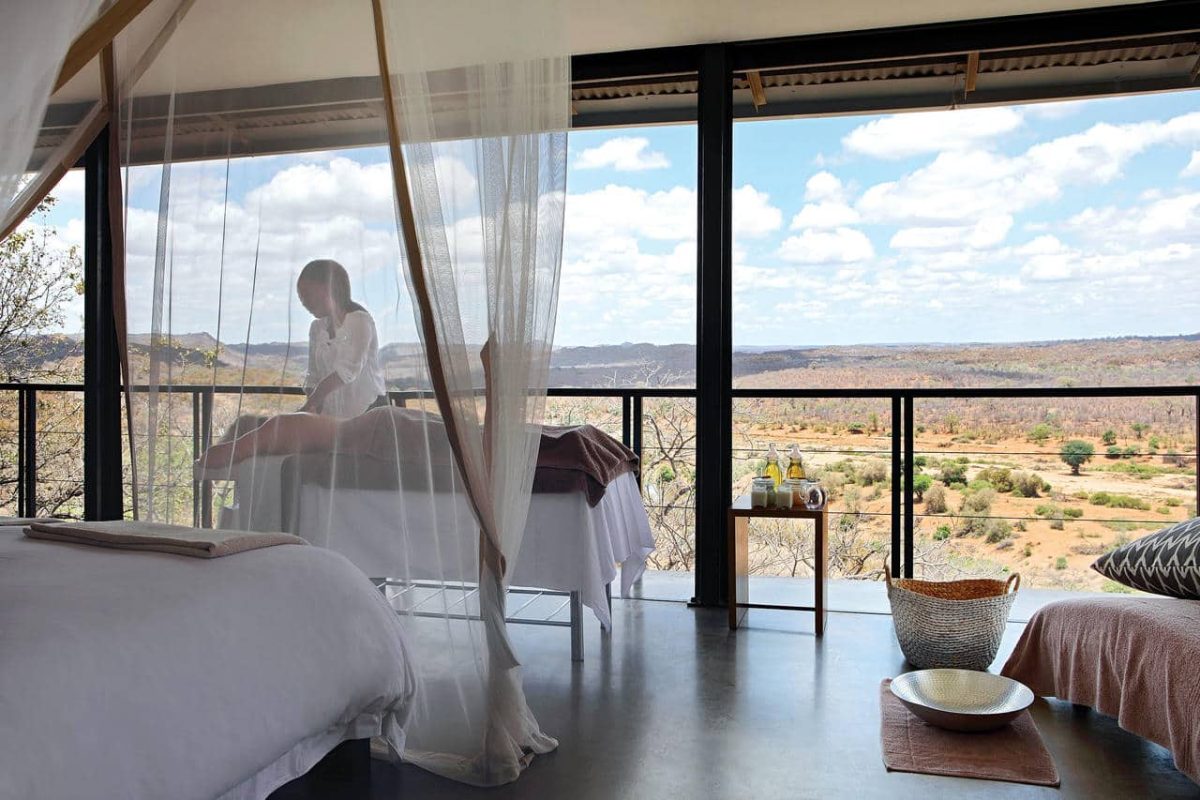 Includes
Full Board and Game Activities, road transfer from the Pafuri Airstrip to the Lodge for fly-in guests
Excludes
Premium wines from the wine cellar, lodge transfers, massage therapies, park entrance fee
Family Suitability
Accepts older children
Malaria Rating
Low risk and/or seasonal malaria