Overview
The Elephant Camp lies in its own private concession alongside the Zambezi gorge, near to Victoria Falls in Zimbabwean. Elephant Camp is on a hill, enjoying sweeping views over the grasslands, the dramatic Batoka gorge and towards the spray of Victoria Falls. The main lodge is stylish and flows out onto a wraparound deck which overlooks a waterhole. This is a frequent drinking hole for elephants. On a lower deck is a swimming pool with sun loungers, closer to this waterhole for game-viewing whilst lounging.
Accommodation
Elephant Camp offers an intimate safari experience with only 12 luxury air-conditioned tented suites. It has an identical yet smaller sister, Elephant Camp West with four suites. Those on the west side enjoy panoramic views towards Victoria Falls. Whilst those on the east side overlook the yawning Batoka gorge. All are beautifully appointed with a private viewing deck, plunge pool and outside shower. Inside there's a sitting area, air-conditioning, ceiling fan, tea/coffee facilities and a full bathroom with shower and free-standing bath.
Elephant Interaction
Their elephant sanctuary, also on the reserve, offers ample opportunity to see elephants, as well as other wildlife. And a short interaction with the elephants is included in your stay. As African elephants are very rarely encountered outside the wild, it is a great joy to be able to enjoy such close company of these magnificent creatures.
The Elephant Camp West
The Elephant Camp West's four suites cater for groups or perhaps multi-generational families? The suites are of the same size, style and design as the rooms at The Elephant Camp. Each suite has a bedroom area (interchangeable beds to suit king or twin), a lounge area with comfortable fold-out sleeper-couch style beds. So it can cater for small families.  The camp serves as an extension of the Elephant Camp. Or as a stand-alone lodge offering an exclusive experience for up to 16 guests.
All the suites were sited to maximise privacy through the use of existing trees. Other green initiatives include using 'grey water' systems, worm farms for bio-waste and solar water heaters. Plus they planted 50 indigenous trees and established a nursery to ensure the continued forestation of the reserve.
4 night offers
Elephant Camp also has two 4 night offers. One combines one night at Elephant Camp with three nights at its sister lodge, Imbalala Safari Lodge which lies in its own private game concession. The other combines Elephant Camp with Old Drift Lodge on the Zambezi river.
The Elephant Camp gallery
The Elephant Camp on the map
Rooms
Standard Luxury Tented Suites
All suites are gorge facing and have:-
Private viewing deck and plunge pool
Private lounge area
Air-conditioning and fans 
Bath with a view 
Inside and outside shower  
Mini bar and tea/coffee stations
220V main Electricity
The Standard Luxury Tented Suites accommodate up to 2 guests (Twin or Double)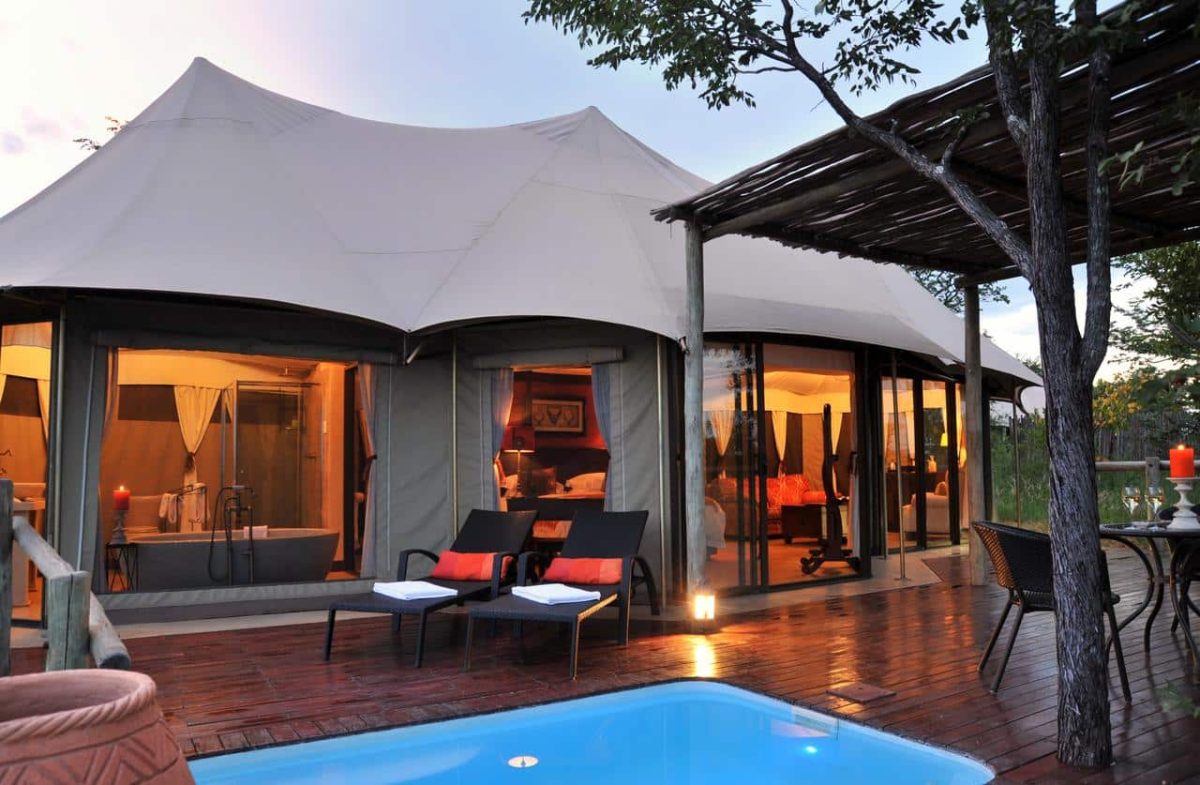 Family Luxury Tented Suites
All suites are gorge facing and have:-
Private viewing deck and plunge pool
Private lounge area
Air-conditioning and fans 
Bath with a view 
Inside and outside shower  
Mini bar and tea/coffee stations
220V main Electricity
Fold Out Sleeper couch
The Two Family Suites at The Elephant Camp are equipped with one king-sized bed and one fold-out sleeper bed (double).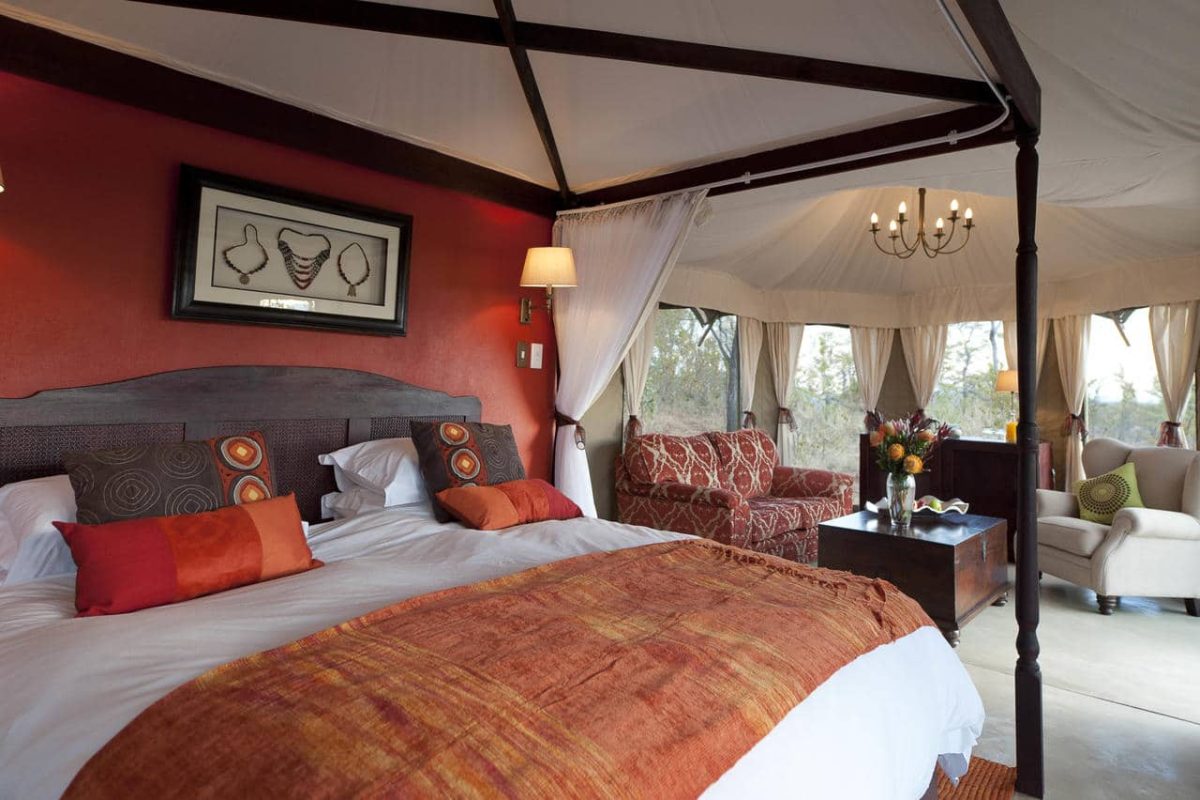 Christine's review of The Elephant Camp
The Elephant Camp is a little slice of heaven! That's not to say that I know exactly what heaven will be like, but if I make it there one day, I hope it is like The Elephant Camp. Our 2 night stay was the start of our 2 week honeymoon, and my husband could not have picked a better place to kick things off.
When we arrived at The Elephant Camp after a long day of travelling, we were greeted by friendly staff, given a refreshing home-made beverage and told all the ins and outs of the camp whilst sitting on the deck looking out towards the Zambezi gorge and the spray of the Victoria Falls. The lounge, bar and dining area of the main tented lodge is elegant and comfortable, with a small library of books to choose from, as well as a variety of games to play like chess and backgammon.
I could happily have gone no further than the lounge and bar, until of course, we were shown to our beautifully luxurious room, fully equipped with its own lounge, bar, private deck and plunge pool, gorgeous king size bed, and a bathroom that looked out over the sweeping views of the reserve. Oh and did I mention there is an outside shower too? I thought, in that moment, that someone would have to carry me away kicking and screaming when it was time to leave. Each tent is completely private and some distance from the next, so at times you feel like you are the only ones there - perfect when you are on honeymoon! We were also treated to a complimentary bottle of Pongraz and a handwritten note wishing us well for our marriage. When we were escorted back to our rooms the first night (it is an open camp so a guard walks you to and from your room - about 100 metres from the main lodge - in case any of the animals are wandering around), we were welcomed by candlelight, a warm bubble bath and some sherry next to our bed - now that is what I call attention to detail!
The next day we interacted (yes petting and feeding were involved!) with some of their elephants who have either been orphaned or injured and raised by their elephant sanctuary. We were also visited by their resident Cheetah, Sylvester, who took a liking to my husbands hairy arm and head and proceeded to lick him affectionately. Sylvester is an absolutely beautiful creature - he either meets guests at the main lodge, or goes on a walk with guests to the gorge and back - a truly unique experience that the camp offers.
As The Elephant Camp is only a 10 minute drive to Victoria Falls town, it was perfectly positioned to pop in and out of town to do various activities. We visited the Falls themselves, went on a sunset cruise on the Zambezi River (an absolute must!), and even white water rafted. Wild Horizons were always well organised and on time, and really provided us with excellent service throughout.
Special offers
Stay 3 nights, pay 2
Stay 3 nights, pay for only 2 in Green Season (Nov to March)
Excludes: Festive season 20 Dec to 10 Jan & Peak Season of April to October
Honeymoon Offer
Bride or Spouse pays only 50%, plus special romantic dinner
Bride or Spouse pays only 50%, plus special romantic dinner  
Excludes: Festive Christmas Season
Terms & Conditions: Not combinable with any other special offers
4 night Combo Offer
4 Night Package - 2 nights at Old Drift Lodge and 2 nights at The Elephant Camp with free Helicopter Flight of Angels
4 Night Package - Old Drift Lodge, The Elephant Camp and free Helicopter Flight of Angels (2 nights at Old Drift Lodge & 2 nights at The Elephant Camp)