andBeyond Xaranna Okavango Delta Camp
Overview
Each suite has private plunge pool and romantic sala
Some of the most luxurious accommodation in the Delta
Good selection of game activities
Sweeping views over the water channels
Xaranna Okavango Delta Camp, like the water lily from which it takes its inspiration, lies in a watery wonderland on the edge of the permanent waters of the Okavango Delta. Surrounded by an exclusive 25,000 ha private wildlife concession, it offers some of the most luxurious accommodation in the Okavango Delta. Reachable only by boat during the high water season, Xaranna is a serene and remote camp with nine sleek and air-conditioned safari tents offering breathtaking views over the channel. Each tented suite has an indoor bath and outdoor shower, as well as a romantic sala (for those inviting afternoon siestas) and a private plunge pool.
The main areas of Xaranna are all positioned carefully to maximise the sweeping views out across the water channels, with classic tree line silhouettes. The intimate sitting area boasts a spacious games and reading area, perfect for afternoon relaxation whilst on safari. The innovative dining area features shady verandas overlooking the Okavango Delta.
Activities
Xaranna Okavango Delta Camp offers a water and wilderness experience with the excitement of viewing big game. Open 4x4 morning, afternoon and even night game drives set off in search of predators and other nocturnal animals. Other activities at Xaranna include boating and mokoro (traditional dugout canoe) trips on the delta, and guided game walks on the islands to track animals as they move silently through the bush. Given its watery terrain, this is not primarily an area for big game viewing, but more about enjoying the beauty and serenity of the Delta. However if birding is your thing then Xaranna would be perfect with many wetlands species on offer.
To reach Xaranna, you fly into the Xudum airstrip and then take a 45 minute game drive to the lodge. During the flood, this is a drive followed by a mokoro or boat ride into camp - a wonderful introduction to your time in the Delta.
Xaranna Okavango Delta Camp was featured on Conde Nast Traveller's Hot List. Sister camps include Xudum Okavango Delta Lodge, Nxabega Tented Camp, Sandibe Safari Lodge in the southern Okavango Delta, as well as its semi-mobile camps such as Chobe and Savute under Canvas.
Children at Xaranna
Children are welcome at Xaranna. Regretfully, children 5 years and younger cannot participate in game drives and mekoro activities. Children 16 years and older can participate in guided walks. Child minders can be booked at an additional cost. Children aged 6 to 11 years are accommodated on game drives and mokoro activities at the lodge manager's discretion. An extra bed can be arranged for a child sharing its parents' tent.
andBeyond Xaranna Okavango Delta Camp gallery
andBeyond Xaranna Okavango Delta Camp on the map
Rooms
Tented Suite(s)
Sleek ensuite safari tents with breatkaing views over the channel. Each tented suite also boasts a romantic sala and a private plunge pool.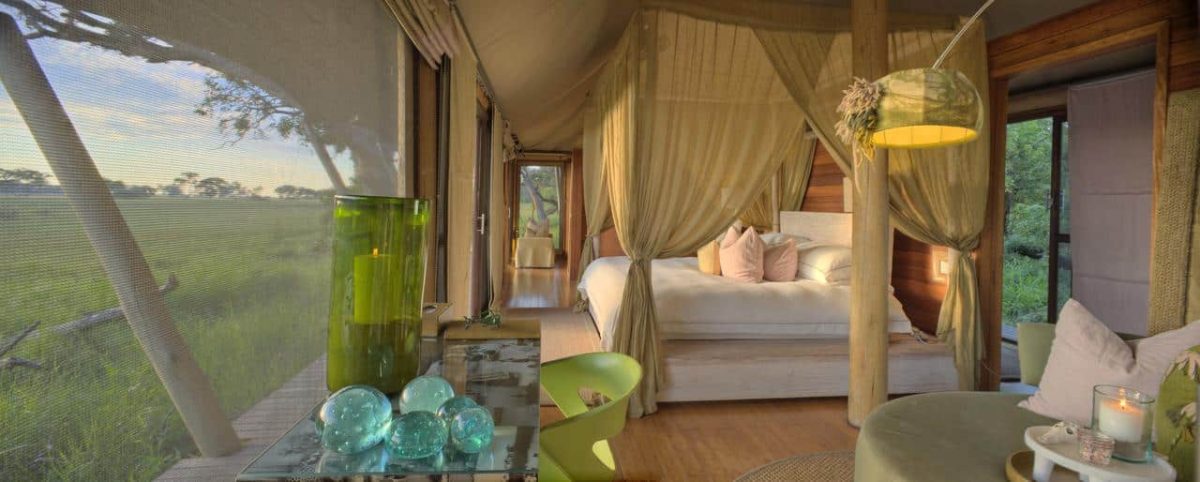 Review of Xaranna Okavango Delta Camp
They call Xaranna the "lady", with softer colours inspired by the water lily - olive greens/soft pink. I loved this lodge the most and I didn't feel it was TOO feminine at all. It had a light hearted feel with great staff. This would probably be the only lodge suitable for if you are sharing with a friend rather than a loved one. As the bathroom is more closed off, with a half moon wall, but still quite spacious. Again huge rooms with a small sitting area and private plunge pool on your deck. The netting around the beds could be a bit lighter material as you might feel a tad claustrophobic, but understandable this is good for keeping the cool air from the Air-conditioning in!
As with Xudum there is air-conditioning and roof fan. Generator power so all gets switched off 1 hour after last guest goes to bed then back on 1 hour prior to wake up (around 4/5am) depending on season. Main airstrip near Xudum and they would usually transfer you short distance to the boats and The concession's airstrip is closer to Xudum than Xaranna so they would usually transfer you a short distance to the boats and then you boat into Xaranna. However in the dry season (late October/November) this may be a road transfer all the way…
Special offers
Honeymoon Offer
If you stay for 2 or more nights, the bride pays only 50%
If you stay for 2 or more nights, the bride pays only 50% (based on the 1-3 night price, not long stay rates)
Terms & Conditions: Not combinable with other offers