Tsitsikamma Treetop Canopy Tour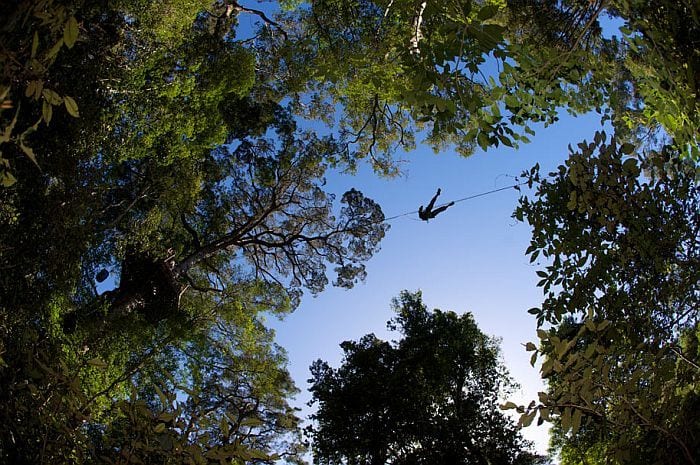 The Tsitsikamma Treetop Canopy Tour
The Tsitsikamma treetop canopy tour takes place in the primeval Tsitsikamma forest on the Garden Route. This soft adventure tour consists of a series of ten zip lines which have you whizzing from one giant Outeniqua tree to the next. Some of the trees are over 700 years old, yet the resting platforms were built in such a way that not a single bolt was hammered into any trees.
This is a great eco-adventure tour, mixing the adrenalin rush of ziplining with the natural beauty of the forest. The platforms are up to 30 metres above the forest floor so you can experience the upper realm of the rainforest. Spot the endemic Knysna loerie, the more elusive Narina Trogon and enjoy the antics of the tree-swinging monkeys.
This activity is great for couples and families, ideally with older children. The Tsitsikamma treetop canopy tour do allow kids from 7 years and may make exceptions for younger kids. Safety is paramount and the system has been built to the highest civil engineering standards. It is very safe but certainly not for the faint-hearted. If you are not sure whether you can do it on your own, you could opt to do a tandem ride with the guide who controls your speed.
Practicalities:
It takes approx. 3 hours, with a maximum of eight people in any one group. Tours start at 7am in summer (8am in winter). The last tour is at 4pm (3pm in winter). Tours depart every 45 minutes. Each tour begins with a comprehensive safety briefing and ends with a light lunch or snack. No special equipment is needed except comfortable closed-toe shoes such as trainers.
Note: It takes around 1 hour to get to this area from Plettenberg Bay. So get an early start!
Booking is essential! Subject to availability – tours conducted in all weather conditions, but can be cancelled in the interest of safety.