Lake Malawi diving & snorkeling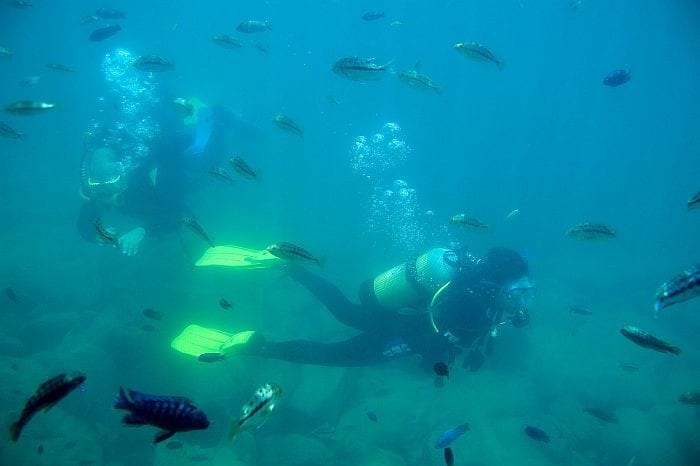 There is something very special and downright pleasant about snorkeling and diving in freshwater. The visibility is excellent, the water is warm all year round and you don't have to go out in a boat to the nearest coral reef.
Lake Malawi's clear waters are famous for the brightly coloured tropical fish known as cychlids which are endemic to the lake.
Lake Malawi Diving
Lake Malawi is one of the world's top spots for fresh water scuba diving. No salt to wash off, no weight belts, no currents. At 450 metres above sea-level it also ticks the box for diving at altitude too.
Many of the Lake Malawi lodges have their own small dive centres with accredited instructors and excellent dive equipment. They can offer everything from casual dives to full-on diving courses. Check out Kaya Mawa in the far north of the lake on Likoma Island, Mumbo Island Lodge or Danforth Lodge, both at Cape Maclear.
Lake Malawi Snorkeling
Snorkeling is right from the beach. Lake Malawi supports over 2000 species of freshwater fish – more than all of Europe and North America combined. Most of these are colourful fish called cichlids. Lake Malawi contains more than 30% of all known species. There is no coral in Lake Malawi but the granite islands and boulders surrounding the lake offer a plentiful food source so usually you start to see fish immediately you are in the water. This underwater diversity is protected by the Lake Malawi National Park at Cape Maclear in the south, which is also a World Heritage Site.