Helicopter Excursions in Cape Town
LOCATED IN
Cape Town City
Helicopter Excursions in Cape Town
NAC Helicopters offers a series of short scenic helicopter excursions from the harbour (near the Waterfront). This can be done as a private charter for 3 up to 6 people. They also offer seat-in helicopter options if you are only two people and don't mind sharing with others.
The Hopper (12 mins)
This is a quick yet breath-taking trip, making this the perfect tour if you're short on time. Taking off from the V&A Waterfront, you'll be awestruck by the Atlantic ocean stretching out to the horizon, and possible sightings of whales and dolphins below. Further on, you'll pass over Green Point Stadium – built for the 2010 FIFA Soccer World Cup – before seeing a bird's-eye view of Robben Island on your right, and Table Mountain on your left. Hugging the Atlantic coast, you'll marvel at the Cape Town City Bowl, the Peninsula's white beaches, and the Twelve Apostles mountain range before heading back to the V&A Waterfront.
The Atlantico (16 mins)
If you're dreaming of admiring Cape Town's vast ocean vistas, the Atlantico is an idyllic treat. Upon departing from NAC Helicopters' base at the V&A Waterfront, you'll soar over Cape Town's scenic City Bowl, and out over the Atlantic Ocean.
To your right, you'll see breath-taking blue-green water stretching past the horizon, interrupted only by the occasional whale or dolphin. To your left, the majestic Table Mountain and the Twelve Apostles mountain range stand proudly, rolling down into the sandy white beaches and seaside suburbs of Clifton and Camps Bay – and further afield, Llandudno.
You'll see Seal Island on your right, before crossing into Hout Bay and Chapman's Peak's unspoiled cove. Then you'll get to experience it all again, as you journey back along the Peninsula to the V&A Waterfront.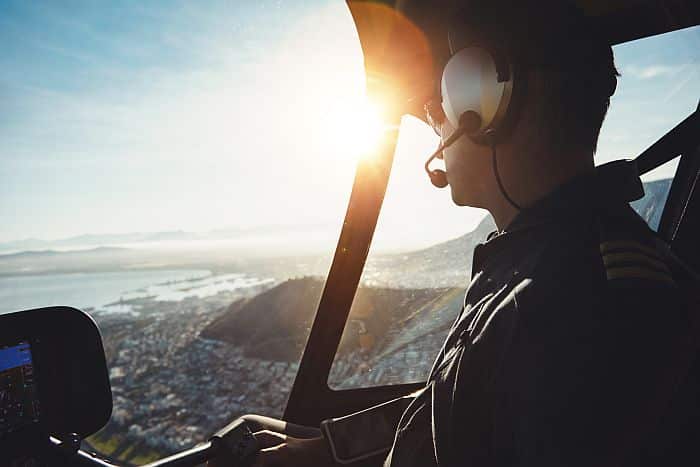 The Three Bays Tour (24 Mins)
You will truly uncover Cape Town's multi-faceted character on the Three Bays Tour. Starting at the V&A Waterfront, this tour takes you over the pristine outer Cape Peninsula, then along Table Mountain and the Twelve Apostles mountain range.
You'll see the Atlantic Seaboard's unspoilt white beaches unfold in front of your eyes as you fly along coastal Clifton, Camps Bay and Llandudno. If you're lucky, whales may welcome you en-route to Hout Bay's lush greenery and aquamarine waters.
Then, your flight will head inland, over Cape Town's southern suburbs before the glistening False Bay appears on the other edge of the Peninsula. Here you will get a chance to view Fish Hoek and Muizenberg from above. On the equally spectacular return flight along the Southern Seaboard, you'll get to take in the sky-high view of Cape Town's bustling City Bowl before landing back at the V&A Waterfront.
Logistics
Note:
This is available on a private basis for 2-6 passengers using different-sized helicopters. But singles and couples may be able to book into a sharing helcopter trip at 10am or 4pm.
The price above shows the current rate for a Robinson R33 (which takes 1-3 passengers) for the 12 minute Hopper route.