Great White Sharks and Shark Cage Diving in Gansbaai

Cape Town or Gansbaai for shark cage diving?
Shark cage diving is available in two main locations, Gansbaai near Hermanus and Simonstown in the Cape Peninsula. We tend to recommend Gansbaai because the 'season' for seeing sharks is much longer there. We only recommend Simonstown between May and mid September. Also the Simonstown operators tend to be a little more expensive but the transfer, if coming from Cape Town, is much shorter.
Shark cage diving in Gansbaai
The adventurous can enjoy boat cruises to see the Cape Fur Seals and Great White sharks from Gansbaai. This boat trip is a winning combination of goose-bump adrenalin rush, education and relaxation.
For those who wish to view the Great White shark face-to-face, you can opt to try shark cage diving. An exhilarating optional excursion! You are taken down to the natural environment of these silent hunters – partially submerged under the water in a cage suspended from the boat.
Their guides will not only show you where these mysterious and misunderstood apex predators hunt and hide, but they will also explain how and where they feed, breed and breach. They will show you how to distinguish between a male and female shark and how to identify a specific shark by its unique dorsal fin and scars.
About four nautical miles from the Kleinbaai Harbour, you will find the pristine Dyer and Geyser islands – both nature reserves. Geyser Island hosts a colony of more than 60,000 Cape fur seals and Dyer Island is primarily a bird sanctuary with penguins, cormorants and many other species. Most shark sightings take place in the vicinity of the famous Dyer Island and the so-called 'shark alley' – the channel separating the two islands.
No prior diving experience is needed as you do not need to use scuba equipment. Trip times vary with weather and tide conditions (but sometimes are in the early morning). They depart from Gansbaai, which is approx 25 mins drive from Hermanus. Shark viewing trips generally take between 3 and 4 hours followed by lunch/snacks.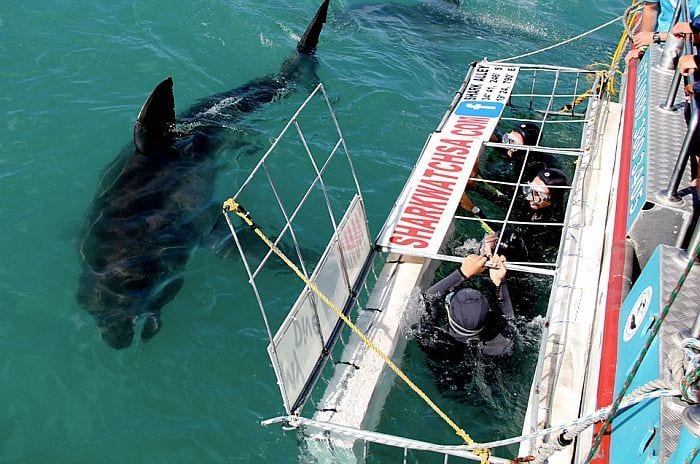 Please note: Price is per person, if you are planning on doing a self-drive. We can arrange transfers from both Hermanus and Cape Town at an extra cost.