Finding Desert-adapted Elephants in Damaraland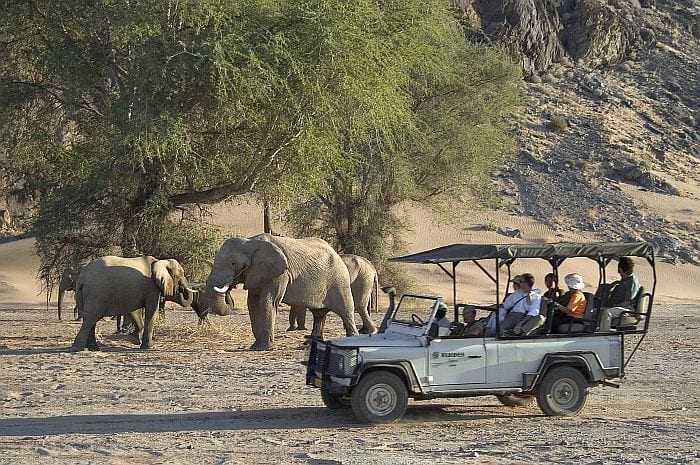 Desert-adapted Elephants in Damaraland
The many perennial springs in the ravines and riverbeds of Damaraland lead to a rich diversity of desert vegetation. The abundant shelter of this rocky terrain makes Damaraland & the Kaokoland to the north a unique habitat for the rare & endangered desert-adapted elephants & other animals.
There are only a few hundred left of this famous desert-adapted elephants!
This unique animal is able to survive in harsh dry conditions that would be devastating to any other elephant. This, along with its especially long legs, has led some to consider the desert elephants to be a separate sub-species. Others suggest this is an optical illusion caused by their skinnier appearance (relatively speaking!)
The exact location of these desert-adapted elephants & rhino is highly dependent on recent rainfall patterns. These animals will journey way out of their normal region in search of water sources.
Your best bet is to stay at one of the lodges in southern Damaraland & take a morning excursion specifically in search of the elephants often found in the dry river beds of Damaraland. Small numbers of western black rhinos also survive in these desert areas as well as Gemsbok, kudu, springbok, ostrich, giraffe & mountain zebras.