The Elephant Sanctuary near Plettenberg Bay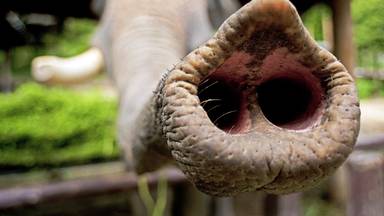 The Elephant Sanctuary in Plettenberg Bay
The Elephant Sanctuary is based near Plettenberg Bay on the Garden Route (heading towards Tsitsikamma). It offers a chance to interact with these creatures and learn more about them.
The elephants have been domesticated through positive reinforcement animal management principles. As a result it provides a unique opportunity to learn about these magnificent animals by interacting with them.
Visitors are taken on a journey into the world of the African elephant. Various tours teach you about the elephants, with opportunities to walk with the elephants in the forest or brush down the elephants. This is fascinating as it's a very hands-on experience.
The one hour interaction with the elephants (where you can touch, feed, interact and walk trunk in hand with the elephants) takes place several times during the day. At selected times of the day (early morning at 7.30am and late afternoon at 3.30pm), you can enjoy the interaction tour but also assist with brushing down the elephant at the start and end of their day.
This activity is perfect for families (though fairly pricey). The Elephant Sanctuary lies in The Crags which offers quite a lot of activities on the Garden Route. Whilst you are in the area, why not check out the Birds of Eden aviary, visit the Tenikwa Wildlife Awareness centre and perhaps enjoy lunch and a spot of wine-tasting at the Bramon Wine Estate.
The price above is for the "Trunk in Hand tour".