Overview
The Victoria Falls Hotel has the best location in town - simply as that
Colonial grandeur at its best
Stunning setting for drinks on the terrace
Choice of restaurants
Newly refurbished (in part)
The Victoria Falls Hotel, known as the 'Grand old lady of the Falls' has the best location in town. It's as simple as that. A leisurely ten-minute walk through these gardens and on the hotel's private path brings you to the Victoria Falls. It lies in the Victoria Falls National Park, a world heritage site. And alongside Ilala Lodge, it is the closest hotel to Victoria Falls. This venerable five star hotel, built in 1904 has been beautifully refurbished. So it combines the charm of the old with the luxury of the new. Soak up the elegant Edwardian ambience as you sip cocktails on the terrace. With its spectacular view of the 'smoke that thunders'. Or pose for photos at the flaghole with its classic view of the Victoria Falls bridge. All around you are lush tropical gardens, with lily ponds and palm trees offering tranquility and seclusion.
Trade-off
However there is a trade-off with the Victoria Falls hotel. You are getting the ambience and grandeur of a five star hotel in an unmatched location. At a price which matches most of the four star lodges in Victoria Falls. Why is this? The reason is that, with the exception of the Stable Wing Rooms, most of the rooms are very old-fashioned. This especially shows in the bathrooms. Thus you need to decide what is important to you? A wonderful 'grande dame' of a hotel or a good bathroom?
Accommodation
The 161 rooms at Victoria Falls Hotel reflect a gracious colonial style with a choice of standard or deluxe rooms, Stable Wing deluxe rooms, executive suites and the Presidential suite. So all tastes and budgets are catered for. With the constraints of an old hotel, the standard and central deluxe rooms are fairly small and simply furnished. However all have air-conditioning, telephone, safe and satellite television. Also there are inter-leading rooms on offer for families. With the central wing deluxe rooms , the size is more or less the same. But they have a better view, overlooking the gardens and towards the Falls. However all these bathrooms are very old-fashioned with a shower over the bath. (However they do offer excellent value for money in the context of a five star hotel.)
A better level of accommodation is offered in Stable Wing deluxe rooms with larger rooms, black-and-white ''art deco'' bathrooms with ball and claw bath and shower. Plus there's a range of additional amenities included in the price. However these rooms do not have any views.
Dining and Facilities
As befits a five star hotel, Victoria Falls Hotel has a choice of dining options. The opulent Livingstone Room offers fine dining, with dancing to a live band. The Jungle Junction is much more relaxed and is justly famous for its extensive breakfast and dinner buffets with entertainment in the evenings. Whilst the Pool Deck offers a range of delicious healthy lunches. But perhaps the most famous is Stanley's Terrace. This is the rendezvous for African adventurers for over a century. But it still provides the perfect setting for light lunches, afternoon tea and cocktails whilst you drink in the view of the Victoria Falls bridge.
Other facilities at Victoria Falls Hotel include reading in the Bulawayo room or library, relaxing by the swimming pool or playing tennis on the two floodlit courts. There's a spa offering a range of treatments include the option of an outdoor massage. And a full-equipped gym.
Victoria Falls Hotel gallery
Victoria Falls Hotel on the map
Rooms
Standard Room
Graced with traditional colours and fine-wood furnishings that provide an elegant and comfortable finish. The 64 bedrooms are available with single, twin or double beds. All rooms have bathrooms with bath/shower combination and are equipped with tea and coffee making facilities. Some bedrooms are inter-leading and eminently suitable for families.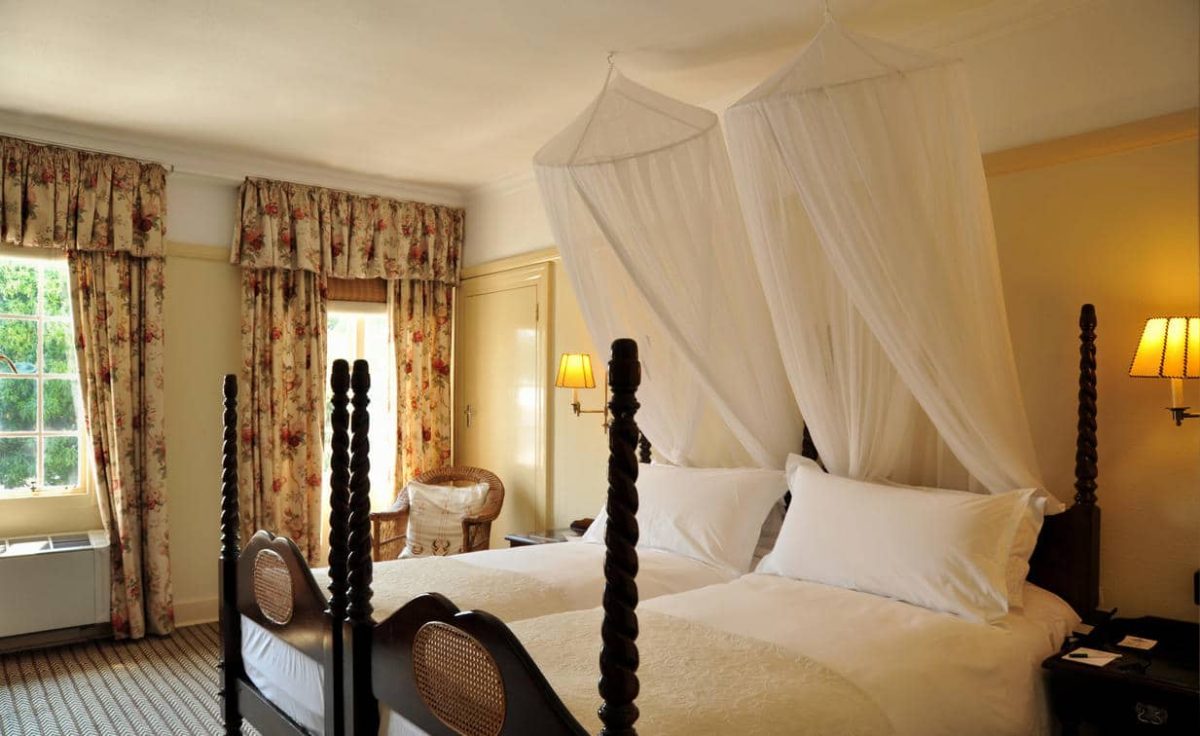 Central Deluxe Room
Furnished in traditional Edwardian style with an "Out of Africa" ambiance, the 46 Central Deluxe Rooms are situated in the main section of the hotel and are tastefully furnished with soft fabrics and warm colours in tune with Zimbabwe's celebrated climate and diverse beauty. The Central deluxe rooms have a spectacular view of the perfectly manicured gardens and some overlooks the Batoka Gorge and the Victoria Falls Bridge. That spans the legendary Zambezi River.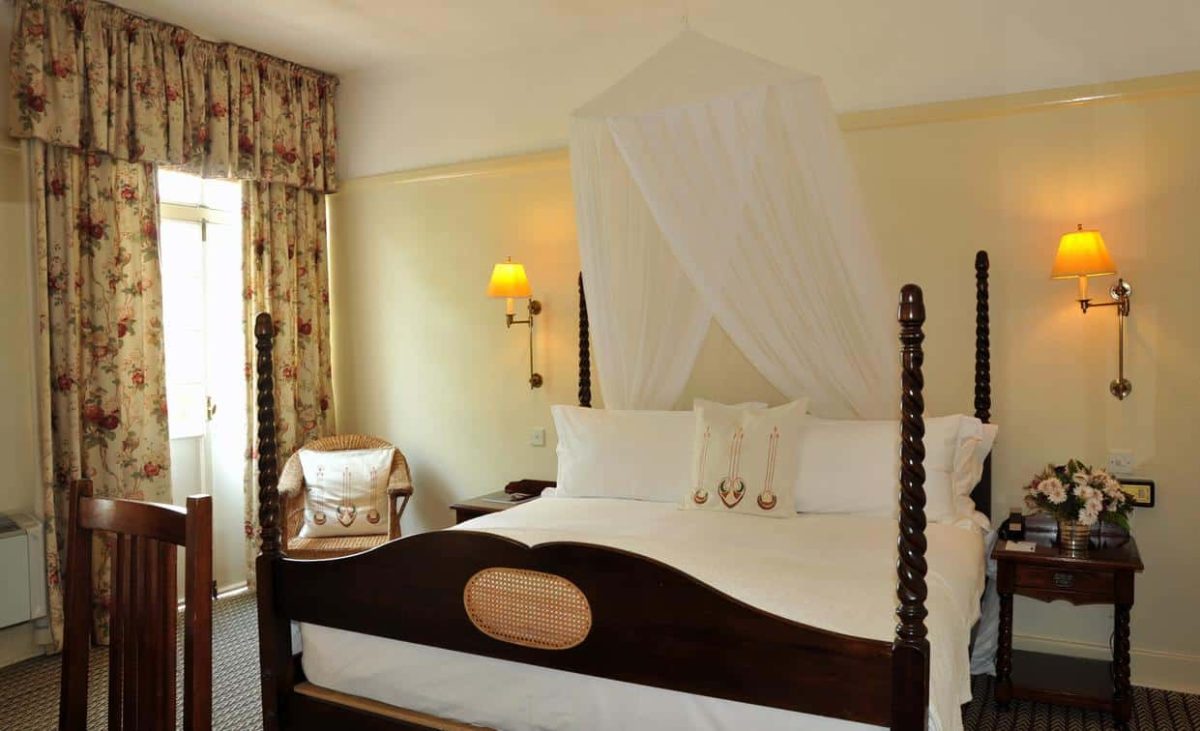 Stables Signature Wing Room
These 42 deluxe rooms are situated in the stand-alone Stables Signature Wing with a view of the front lawns or lush courtyard. These rooms are furnished in a modern style with a bygone feel. Bathrooms incorporate luxury world-class amenities, Victorian bath tub with large separate walk-in showers and luxury Charlotte Rhys amenities. Ideal for families travelling together.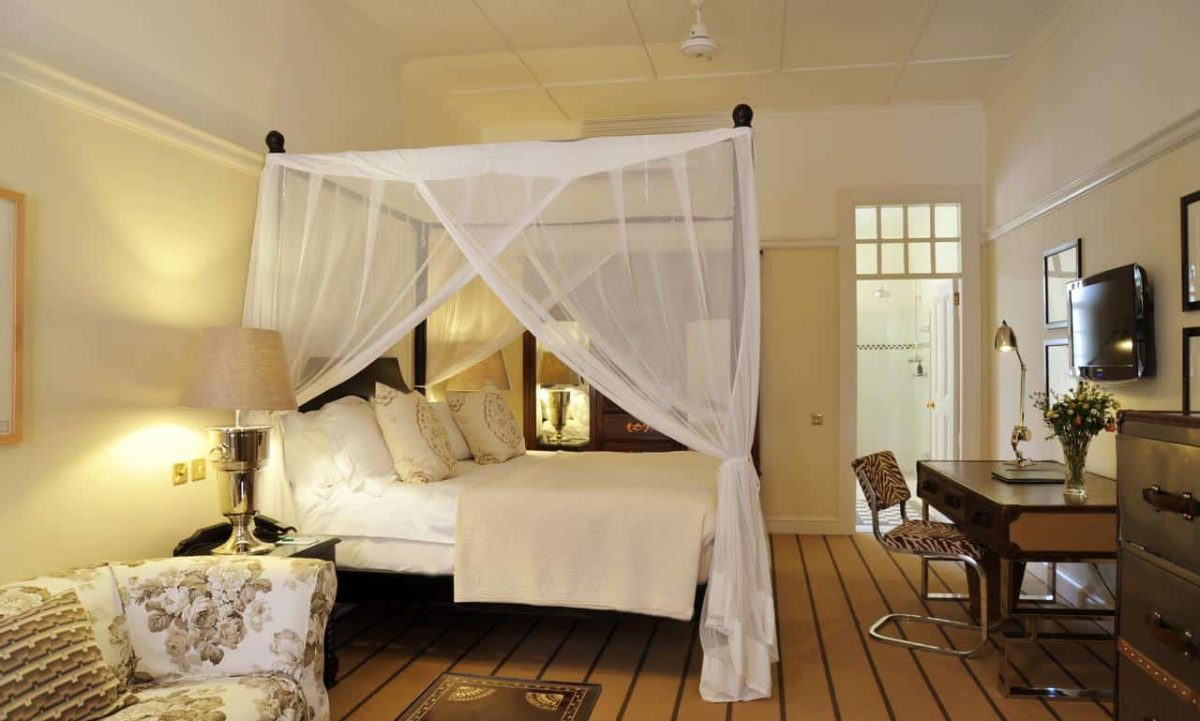 Honeymoon Suite
Two Honeymoon Suites are located in the stylish Stables Signature Wing, optimizing privacy and exceptional comfort in a luxurious and well-appointed suite that surpasses expectations. A spacious balcony to socialize and relax. Attractive four-poster beds, turndown gifts, snacks and sparkling wine and other added-value offers make these suites exceptionally welcoming, especially for honeymoon couples.. These suites are extremely desirable for all couples looking forward to be pampered.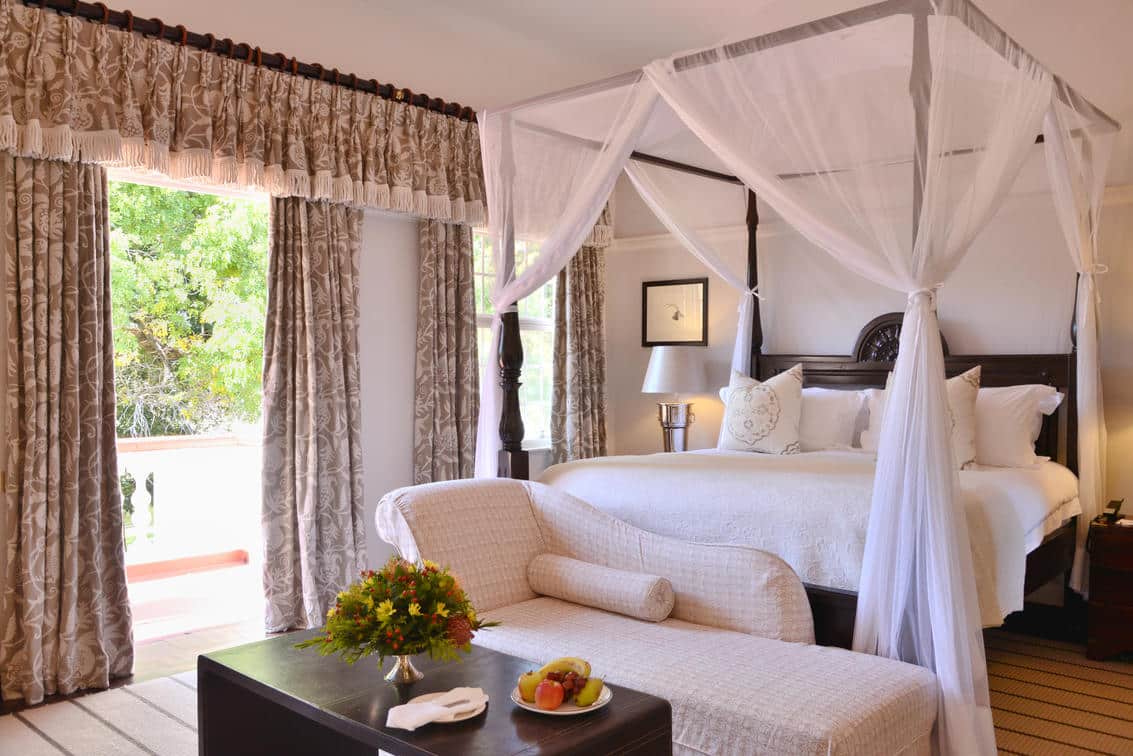 Deluxe Suite
Our two Deluxe Suites have been refashioned to offer discerning clients modern luxury and elegance, overlooking the lush gardens or stunning Batoka Gorge of the Zambezi River. They have four-poster king-sized bed, chest of drawers, Satellite TV, Mini bar and Private safe.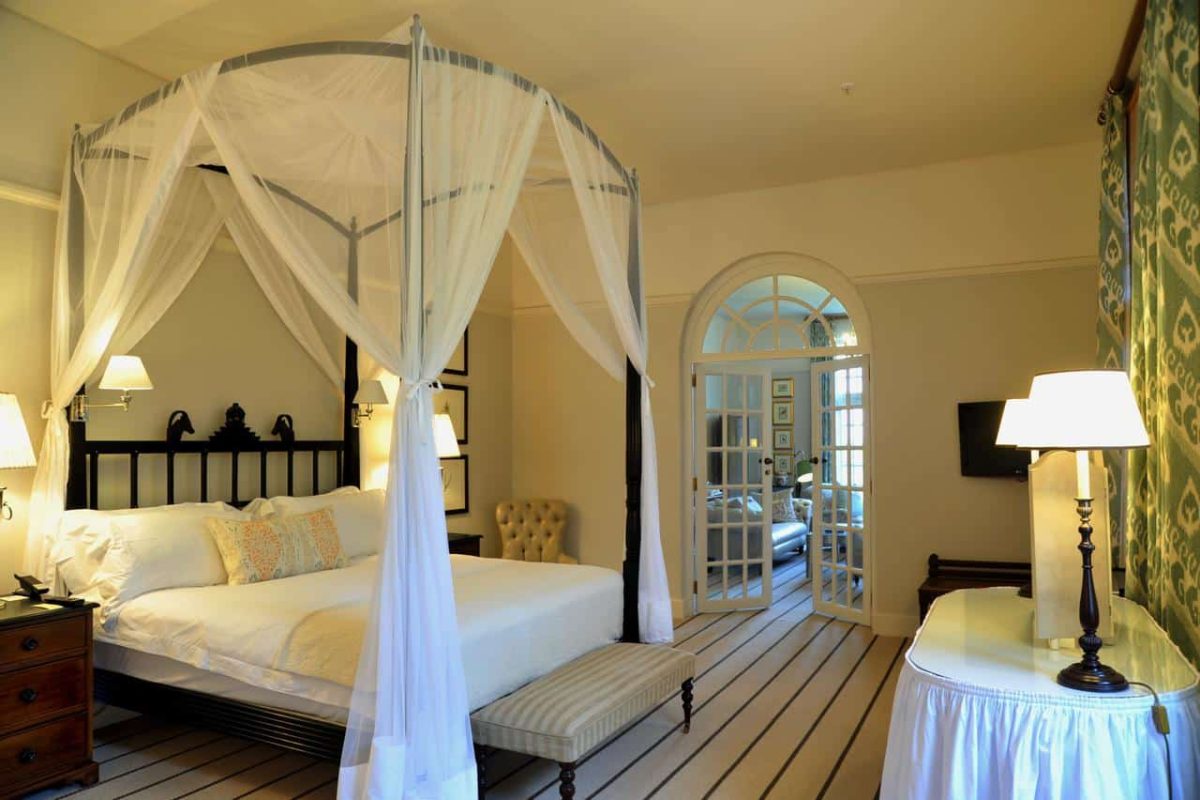 Victoria Falls Hotel review by Christine
I had heard wonderful things about the 'Grand Old Lady' and rightly so ... the Victoria Falls Hotel is striking and dignified in every way, housing an incredible amount of history, exquisite art work and interesting artifacts. My husband and I were on honeymoon and were lucky enough to stay in one of the more luxurious rooms amongst the 161 that are available. Our suite was something quite special.
The Victoria Falls Hotel has a colonial feel to it, but exudes elegance and luxury in every way. You just have to walk up and down the corridors and look at the history that lines the walls to know that the hotel is an attraction in itself. It is also perfectly situated, lying within the Victoria Falls National Park and providing an intimate view of the 'smoke that thunders'. We were able to walk to and from town several times to do various activities.
However you must be aware that Zimbabwe is a largely impoverished country, so tourism is its most important source of income for the local people. This means that you will constantly be hassled to buy every souvenir under the sun. The relentless haggling is quite exhausting ... so just be prepared for that.
Once back inside the hotel however, we enjoyed high tea and sunset drinks at Stanley's Terrace, and had a peep at the Livingstone Dining Room. (We couldn't have dinner there because there is a strict dress code of jacket and tie for men, so if you want to splash out then make sure you pack accordingly).
Family Suitability
Family-friendly all ages
Malaria Rating
Malarial area year-round
Good For
Birding, Gourmet, History & Culture, Leisure, Nature, Relaxation, Wildlife, Adventure
See other options in this area