Overview
 Shinde Camp has a beautiful island setting in the Okavango Delta
 Dine in the treehouse with its magnificent views
 Exclusive use Shinde Enclave is available for groups of friends or family safaris
 One of the little gems of Botswana
 Shinde has an understated colonial ambience
Shinde Camp is nestled on a lush palm dotted island on the edge of Shinde lagoon in the heart of the northern Okavango Delta of Botswana. Shinde Camp is relatively unusual in the Okavango Delta in being able to offer both land activities (game drives and bush walks) and water activities all year round. Shinde is surrounded by clear waterways teeming with birdlife and game.
Accommodation
Shinde Camp is built under the shade of large Mangosteen and Jackalberry trees. The unique dining/lounge area is known as the 'treehouse' with multi-tiered raised decks offering magnificent views over the Okavango Delta. Here the safari chefs offer imaginative meals cooked with flair and served in style around the communal dining table.
The camp has eight spacious twin-bedded safari tents with large glass doors and en-suite bathrooms with shower and flush toilet. Each tent is well positioned to enjoy views across the Okavango waters or the open grassland. There's also a swimming pool to enjoy during the heat of the day.
Safaris at Shinde Camp
Safari activities are varied with expert guides to take you on open 4x4 game drives, boating and mokoro excursions throughout the year as well as game walks and fly fishing (with equipment available) for the more adventurous. Fishing yields a variety of species including Tilapia and tiger fish with the best time being summer from September to May. Shinde Camp has its own private concession so that night drives and walking are permitted and the game-viewing experience is exclusive.
Shinde Enclave - exclusive use camp
Shinde Enclave is a 'camp within a camp'. It's a private camp of three tents taken on an exclusive use basis perfect for groups of friends or for family safaris in Botswana as children from seven years are able to stay here. The tents, elevated on teak platforms, overlook vast papyrus and reed expanses of the Okavango Delta dotted with palm islands. The Shinde Enclave has its own bar/dining area/lounge overlooking the lagoon. A senior safari guide hosts you for private safari activities.
Rooms
Tented room
Shinde was rebuilt in 2020. Shinde is an iconic camp, one of the first in the Okavango Delta, and loved by many. The new Shinde pays homage to its former self retaining the authentic classic safari style. The new tents and main area provide a luxury experience with a touch of historical charm. The décor of the new camp can be described as "the best of nature within an authentic safari design – still with the understated, friendly and intimate Ker & Downey Botswana feel". Elegant, Classic, Opulent 'Out of Africa'. A 'worldly' sophisticated safari experience. Every possible comfort has been created for – from full solar electricity and a private viewing deck, through to yoga mats!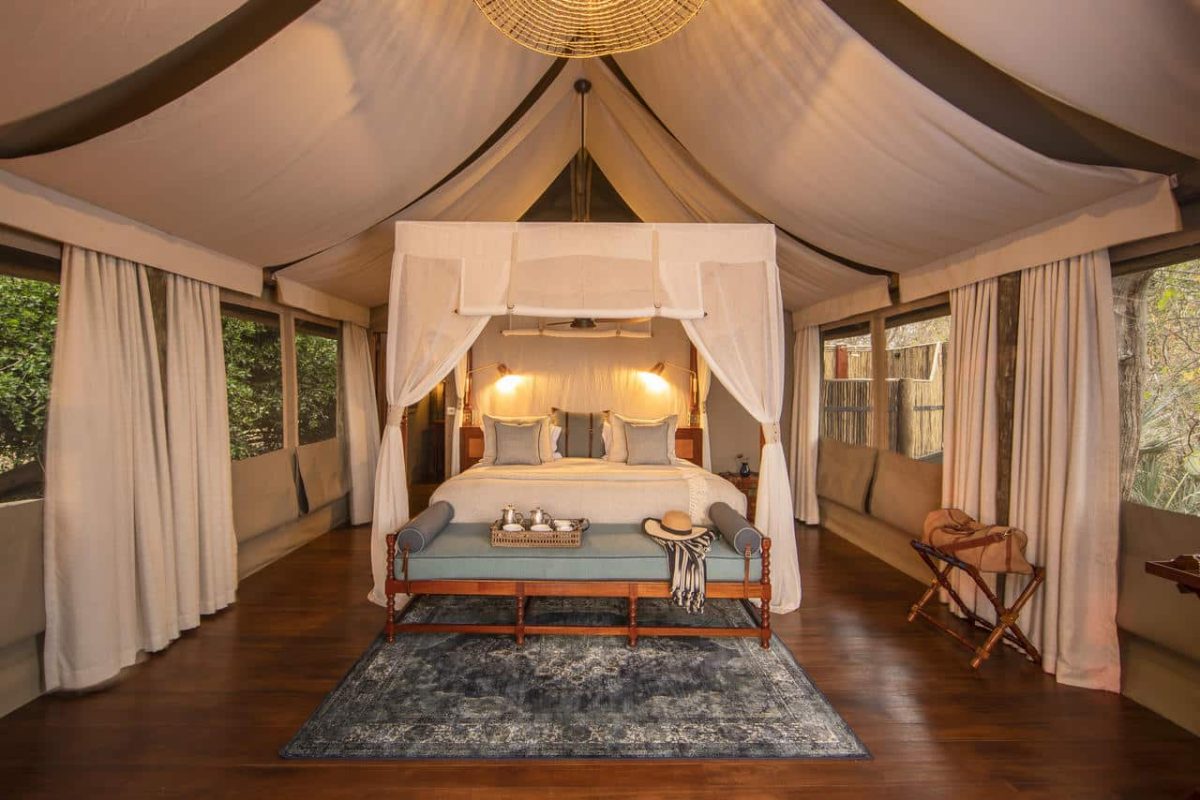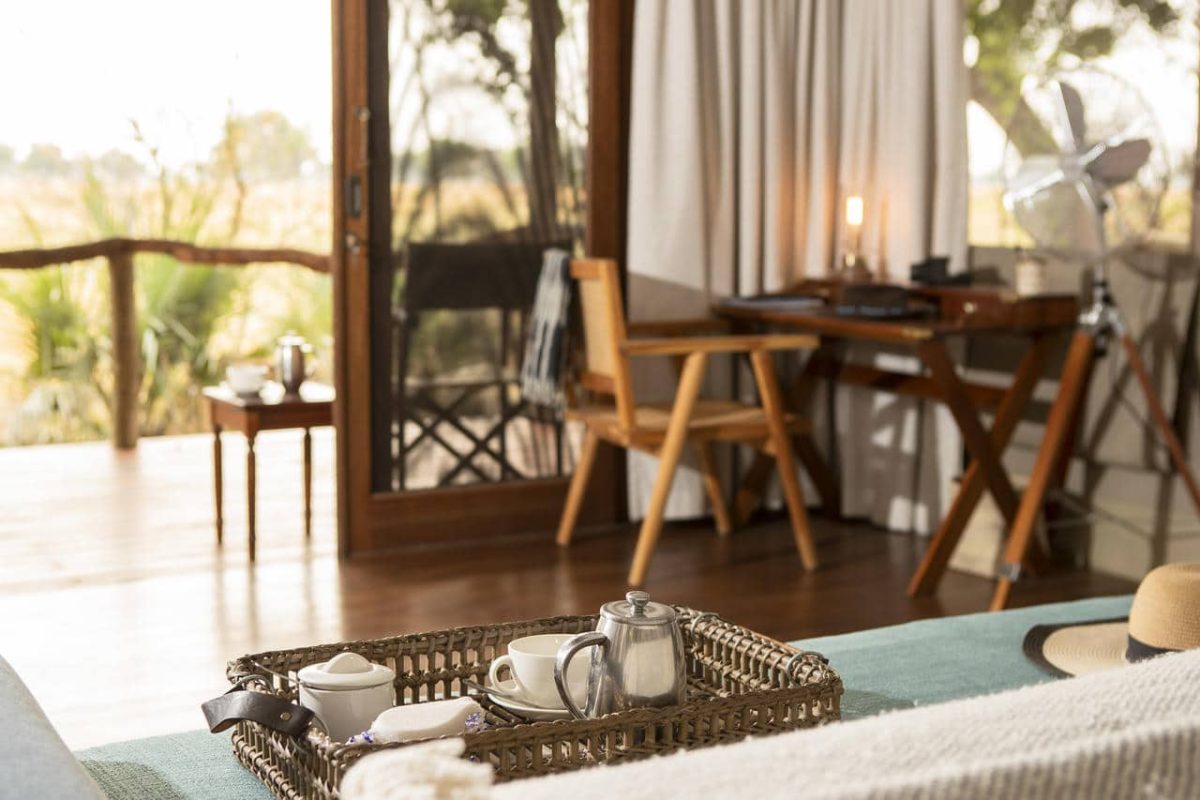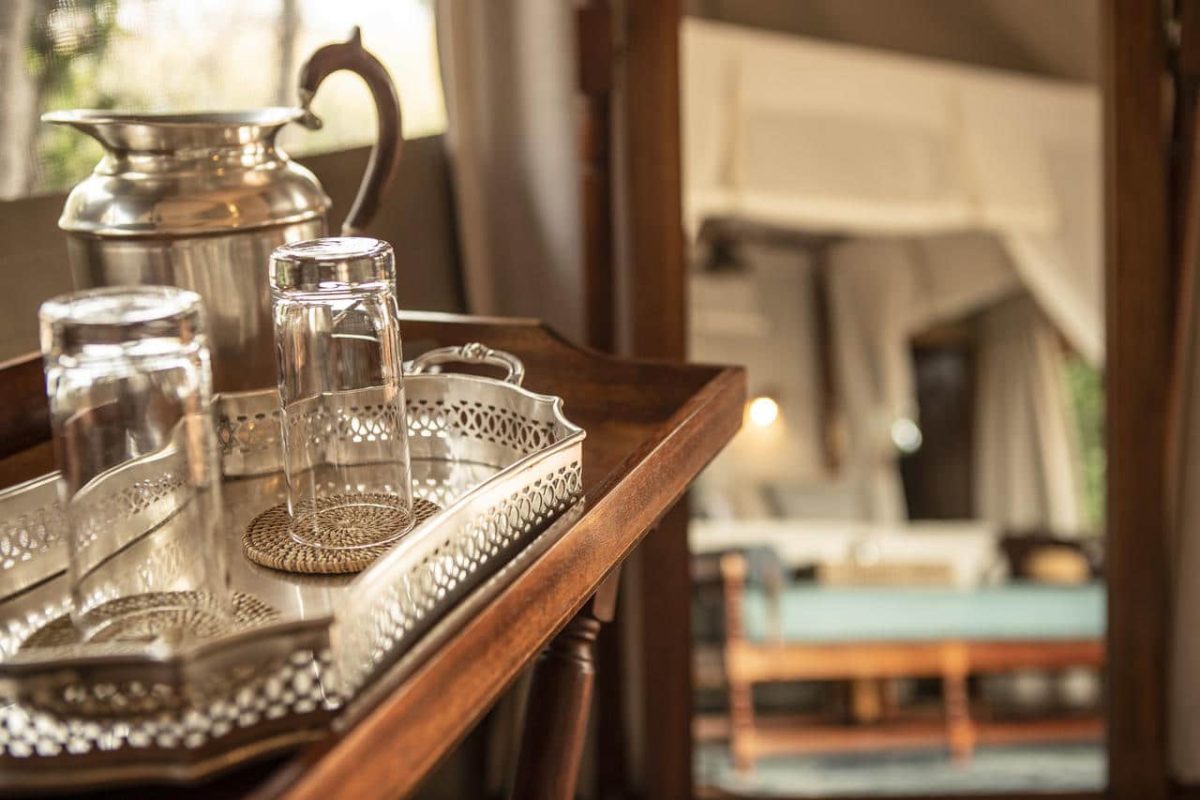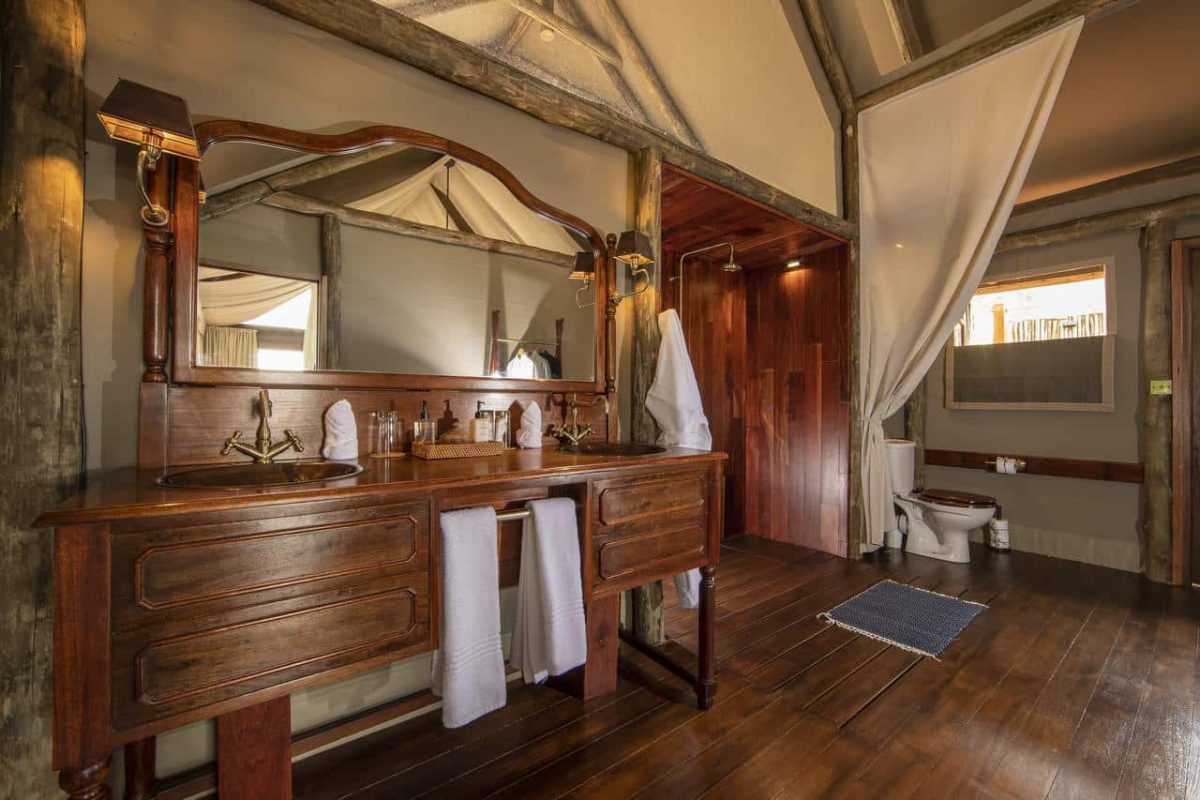 Family Tent
Guests are accommodated in a spacious, safari tent consisting of two bedrooms, shared en-suite bathroom with indoor and outdoor shower, hot and cold running water and flush toilet. The tents are well spaced, affording privacy whilst remaining within comfortable distance from the main camp area. Roomy enough to sleep a maximum of 5 people. Shinde takes children from the age of 7 years old.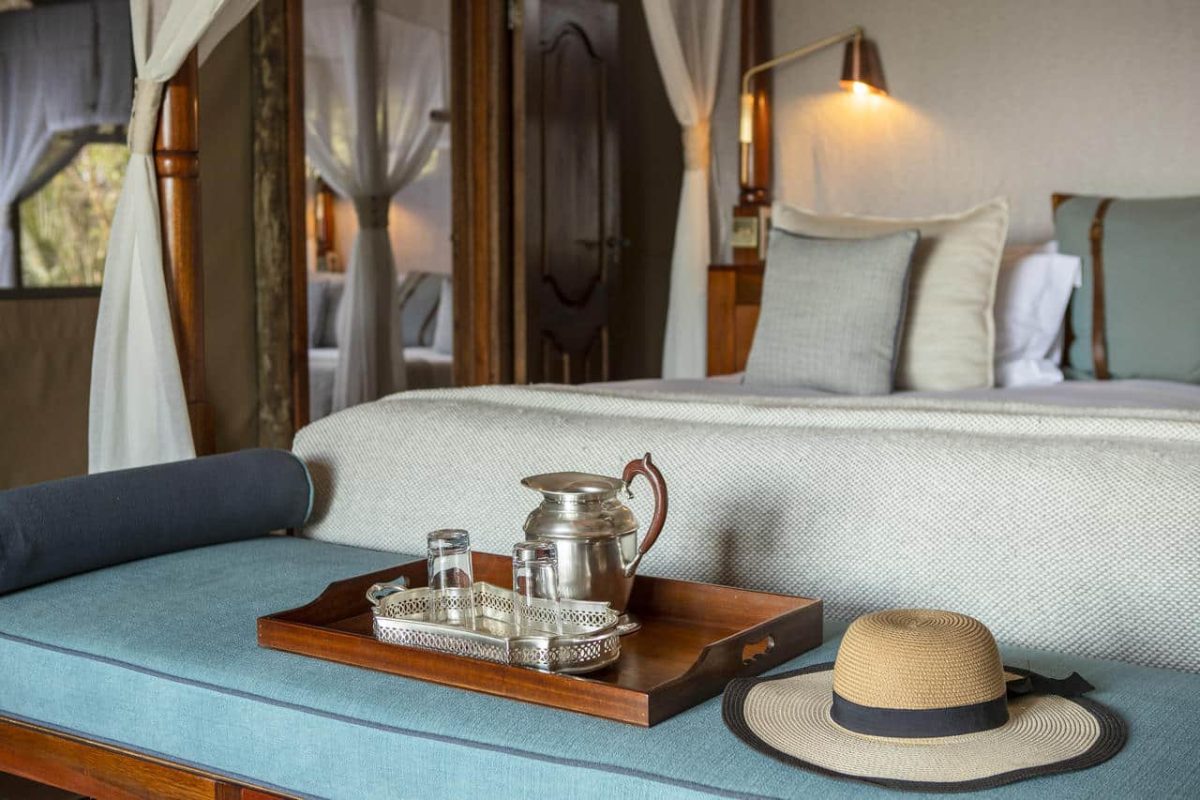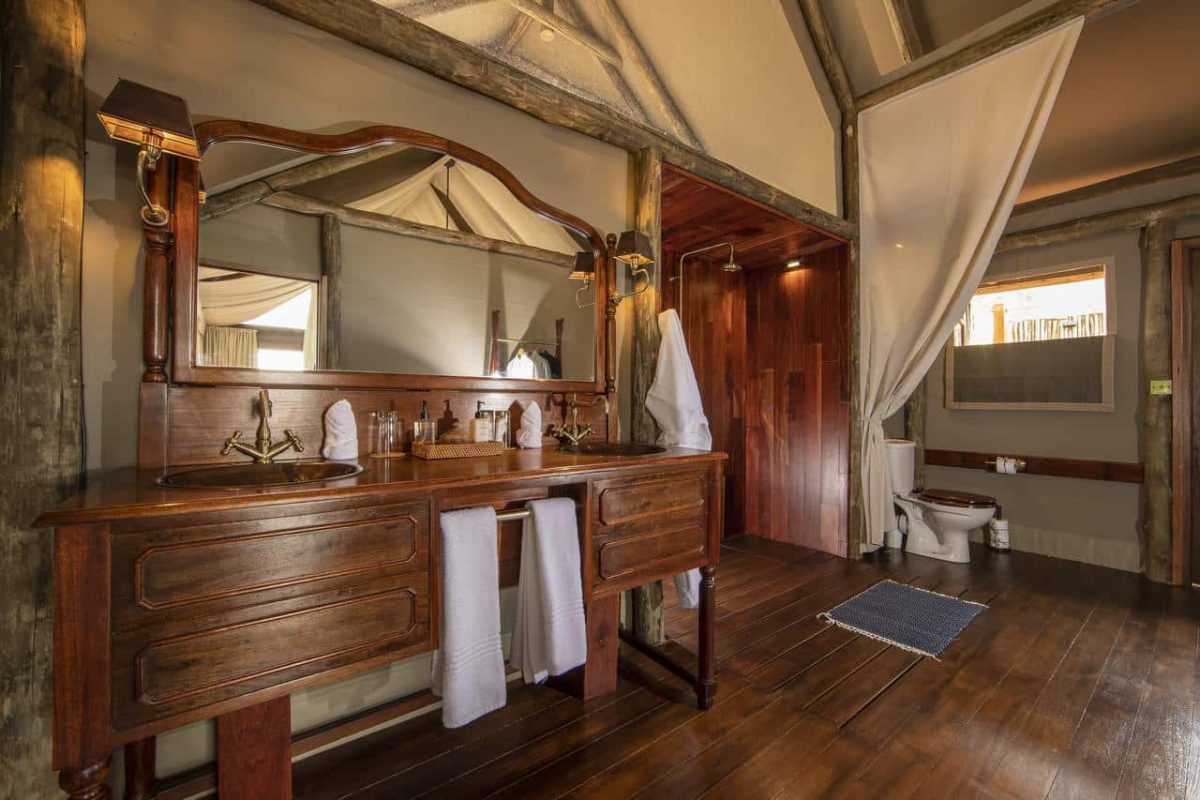 Laid back 5 star
"Shinde camp was a good way to relax after the intense first few days and we chose specifically not to participate in all of the game drives there, yet still enjoyed the fishing, sun downers and general laid back feeling in five star surrounds. "
Special offers
Combo Offer
Special long stay rates at combination of Ker & Downey properties (Kanana, Shinde, Camp Okuti, Dinaka)