Overview
Selinda Camp is on the Selinda spillway
Great game-viewing area with plenty of elephants & wildlife close to camp
Offers luxurious tented bedrooms with spacious bathrooms
Game-viewing from the comfort of your own private deck
Selinda Camp is a small luxury tented camp on the eastern banks of the Selinda spillway in the Selinda Reserve (320,000 acres) which links the Okavango Delta with the Linyanti, Savute and Kwando rivers. The shaded camp is slightly raised with glorious views over the Selinda Camp floodplains and wide open savanna broken by attractive palm trees. It is these views, from your private decks and the main lodge, that are one of Selinda's most compelling features. There is hardly a moment whiGreech goes by without animals in front of camp.
Selinda Camp is small and intimate, with only nine spacious guest tents under thatch. Each tent has two comfortable twin beds and fine linen. Luxurious, flowing mosquito nets add to the romantic atmosphere of the rooms and ceiling fans cool your living space when needed. Outside a large private veranda offers game-viewing from the comfort of your own tent. There are spacious, en-suite bathrooms, with full sized stone baths and antique showers. Sliding doors allow for privacy or create an open-air bathroom feel as well. (One of the tents is a family unit, consisting of one main bedroom, a kid's room and two bathrooms connected by a wrap-around deck.)
The main living area at Selinda Camp is under cool thatch with a spacious lounge and dining area as well as a raised outdoor dining deck for evening meals under the stars. Evenings end around the campfire, a tradition that takes you back to the stories of the day's safari, shared philosophies, laughter and African folklore. Above the wine cellar is a quiet reading area where you can enjoy the fine art selection of Beverly Joubert's images collected over the years from her work with National Geographic. Under shade, the camp's plunge pool is surrounded by lush grass and is tucked away from the main area for privacy, an ideal way to cool off on a hot afternoon.
Selinda Camp is the domain of the big cats and game-viewing is both private and riveting. However at the peak of dry season, the Selinda reserve boasts elephants by the thousand and regular sightings of the Selinda pack of African wild dogs. Activities at Selinda are not regimented. Inevitably though, your activities are driven by the best game viewing times, the animal movements, or the weather. Wildlife and nature drives often start at dawn because this is the best time and when the predators are active. You usually return mid to late morning for brunch, and head out again in the mid to late afternoon. During the siesta time, you can also enjoy an elevated hide overlooking a waterway watching the passing wildlife. Short walks with their fully qualified guides are offered from the camp.
Elephant conservation
Elephants in Africa are under increasing pressure from expanding human population, from hunting, poaching and now even culling. The Elephant footprint programme has just begun on the Selinda Reserve and will grow in time. The project is centered on the Selinda Reserve in northern Botswana, in the heart of Africa's last great elephant range. At the end of the dry season each year Selinda is home to around 9000 elephants!
The Selinda Reserve lies in amongst the great rivers of central-southern Africa. This 300,000 acre private wildlife haven has the Selinda spillway meandering through the reserve for over 70km, linking the eastern reaches of the Okavango Delta with the Kwando River and Linyanti Swamps - a truly spectacular and unique landscape.
At Selinda there are places so wild that no man has ever walked there. It is a place where elephants roam free and huge herds of buffalo wander without boundaries. Birds abound here and against this backdrop of wilderness, all kinds of animals from silent stalking leopards to the endangered wild dog play out their lives.
What makes the Selinda Reserve even more unique is that it is shared by a maximum of only 32 guests in the tented camps at any time, a staggering 9000 acres per guest, thus adhering to their formula of extremely low impact and low footprint.
Guests at Selinda and Zarafa camps can venture out on safari and experience vast, beautiful, palm studded plains and anything from lions, or elephants, cheetah and wild dogs to the smaller animals that are typical of the wild in Botswana. They will slowly explore the bush, dine under the stars and sleep under canvas, but may also want to walk, watch birds or learn about plants. Selinda offers the perfect non-consumptive safari experience that in time will form the core of the elephant footprint project.
Rooms
Luxury Safari Tents
The camp has three expansive guest tents, each covered under thatch and with large en-suite bathrooms, large private veranda and private swimming pool. Each guest tents is unique, designed with its own colour palette and theme. There is in some cultures a fifth element, 'metal', which is also incorporated into the design. Every space enhances what Livingstone would have had, what he would have travelled with and found. But beyond that, we go back to the Robinson Crusoe feel, including textures of rope, rooms under thatch, hammocks, lots of space, nautical elements and salvaged wood. In addition to the three main tents, the Selinda Suite (like its fellow Zarafa Dhow Suite and the Duba Plains Suite), consists of a two-bedroom tented villa. The Selinda Suite operates exclusively, as guests enjoy their own private vehicle, safari guide, chef, manager/butler and entrance to their residence.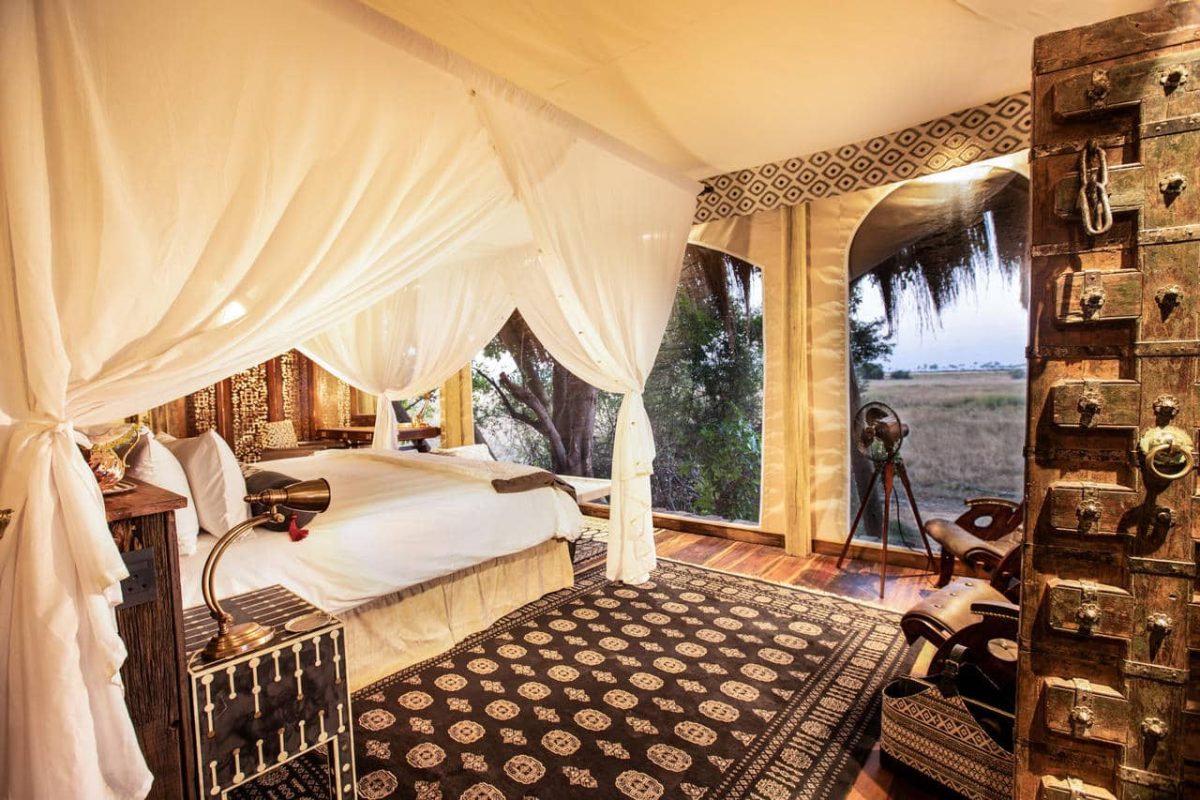 Includes
Accommodation, all meals, scheduled game activities, bush walks, concession fees, laundry, return airstrip transfers, all alcoholic and non-alcoholic beverages
Excludes
Champagne and imported drinks
Family Suitability
Family-friendly all ages
Malaria Rating
Malarial area year-round
Good For
Adventure, Big 5, Birding, Leisure, Nature, Relaxation, Wildlife, Wine, Fishing, Flora, Star Gazing
See other options in this area