Overview
Sabi Sabi Bush Lodge is located in the game-rich Sabi River valley in the heart of the Sabi Sands. Looking across unspoiled veld to a water hole, Bush Lodge is ideally situated to view the wildlife and birds of the area.
Twenty five spacious chalets surround the main lodge. Each is decorated in a contemporary fresh style and has an open plan sitting and bedroom area, dressing area, large bathroom with bath and shower as well as a courtyard with outside shower. Some of these are family suites which can accommodate an extra 1 or 2 children under 12. Facilities include air-conditioning, tea/coffee facilities, minibar, ceiling fans and telephone.
The main lodge has a lovely open feel to it with a large sitting room, cosy bar, breakfast area and a lantern-lit boma where delicious buffet dinners are served around an open fire. There is also the well-equipped Camelot Spa with a full range of treatments, gym, curio shop, wine cellar and swimming pool.
Family Safaris at Sabi Sabi Bush Lodge
Children are welcome at Sabi Sabi Bush Lodge and will love the EleFun Centre where fun and games with trained care-givers are aimed at nurturing a deeper understanding and love for the surrounding bush. Children from 6 upwards may go on the adult game drives, but if you take a private game vehicle, younger kids can join you. (If you book the two bedroom villa, it has its own private vehicle so that kids of any age can join in game drives.) Child minders are available for younger children whilst parents are on game drives. An early dinner can be arranged for children on return from the game drive. Baby-sitting is also available, but kids of 6 years or older can join you in the boma if you wish.
EleFun Centre - Age-appropriate bushveld themed activities include bush craft subjects such as bush survival, bugs & birds, tracks & signs of wildlife. There is time for creative hobbies, whilst the afternoon sessions are fun-filled with games. There's also a great secure outdoor play area to enjoy at any time.
Sabi Sabi Bush Lodge gallery
Sabi Sabi Bush Lodge on the map
Rooms
Mandleve Deluxe Suite
The Mandleve Deluxe Suite at Bush Lodge is an ultra-luxury suite perfect for honeymooners or those in search of sumptuous accommodation. The beautiful spacious suite includes an open plan lounge, a gorgeous bathroom with outside shower and a secluded pool all combine to make this suite an absolute treat.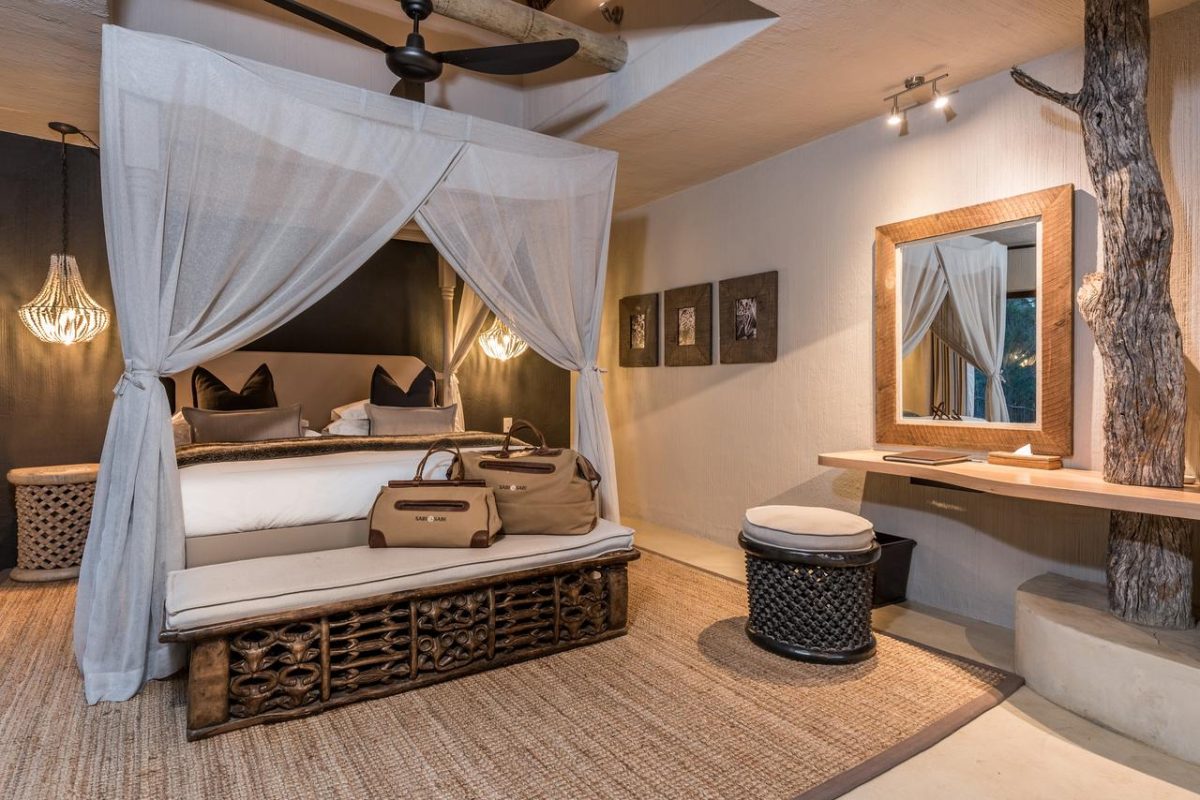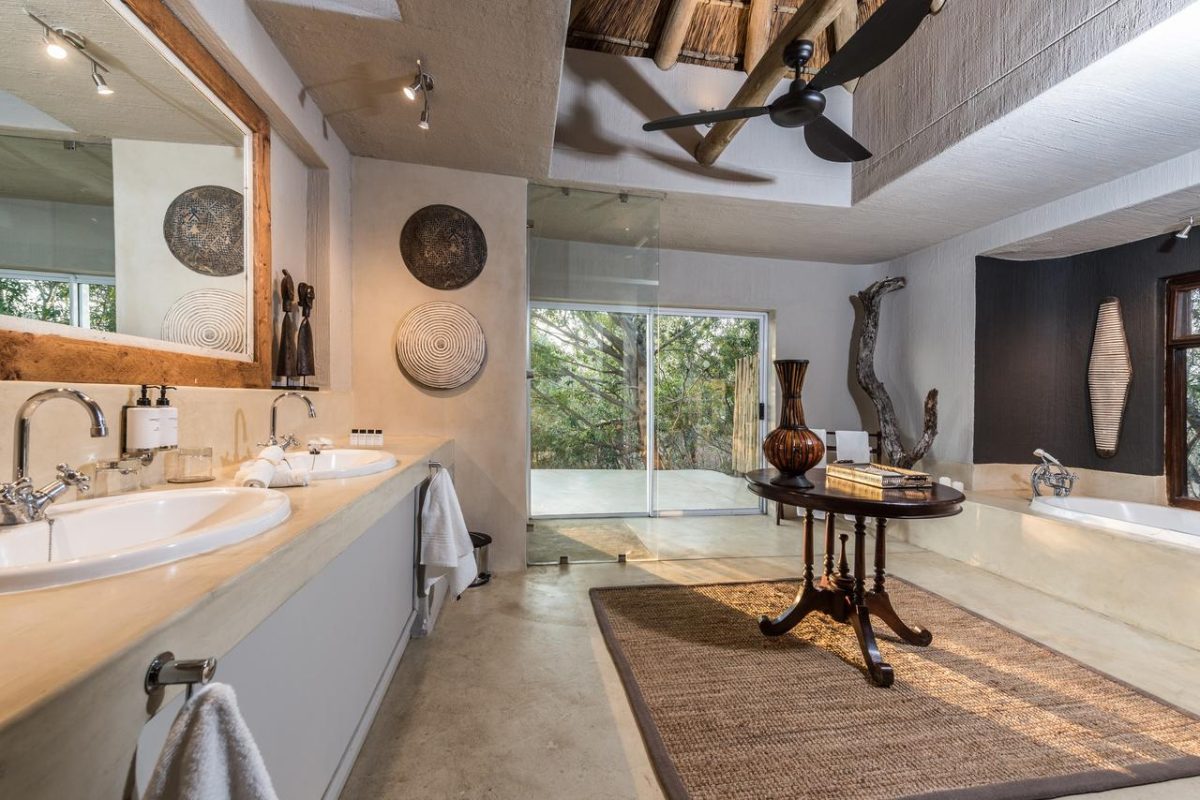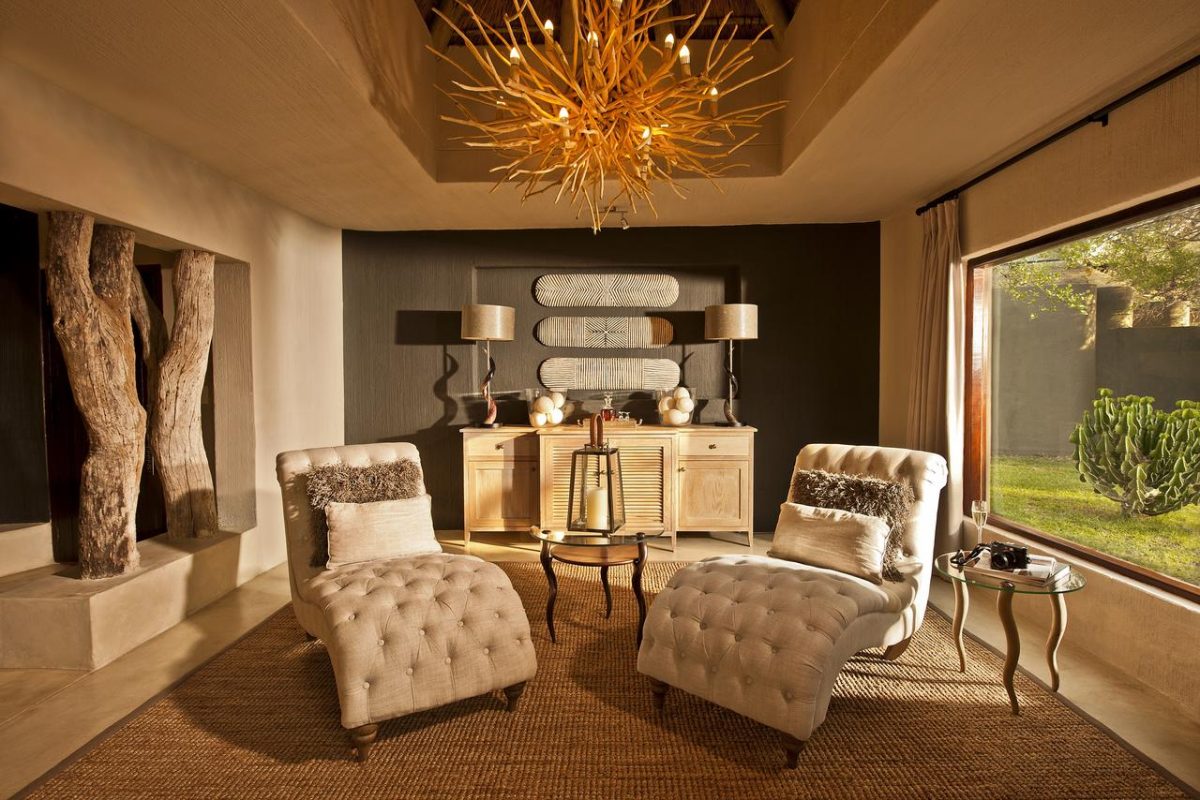 Luxury Suite
Each of the 23 spacious, air-conditioned thatched suites is beautifully appointed, featuring exquisite ethnic décor in keeping with the bushveld environment. The en-suite bathrooms feature al-fresco as well as glass-fronted indoor showers, affording wonderful views of the bushveld.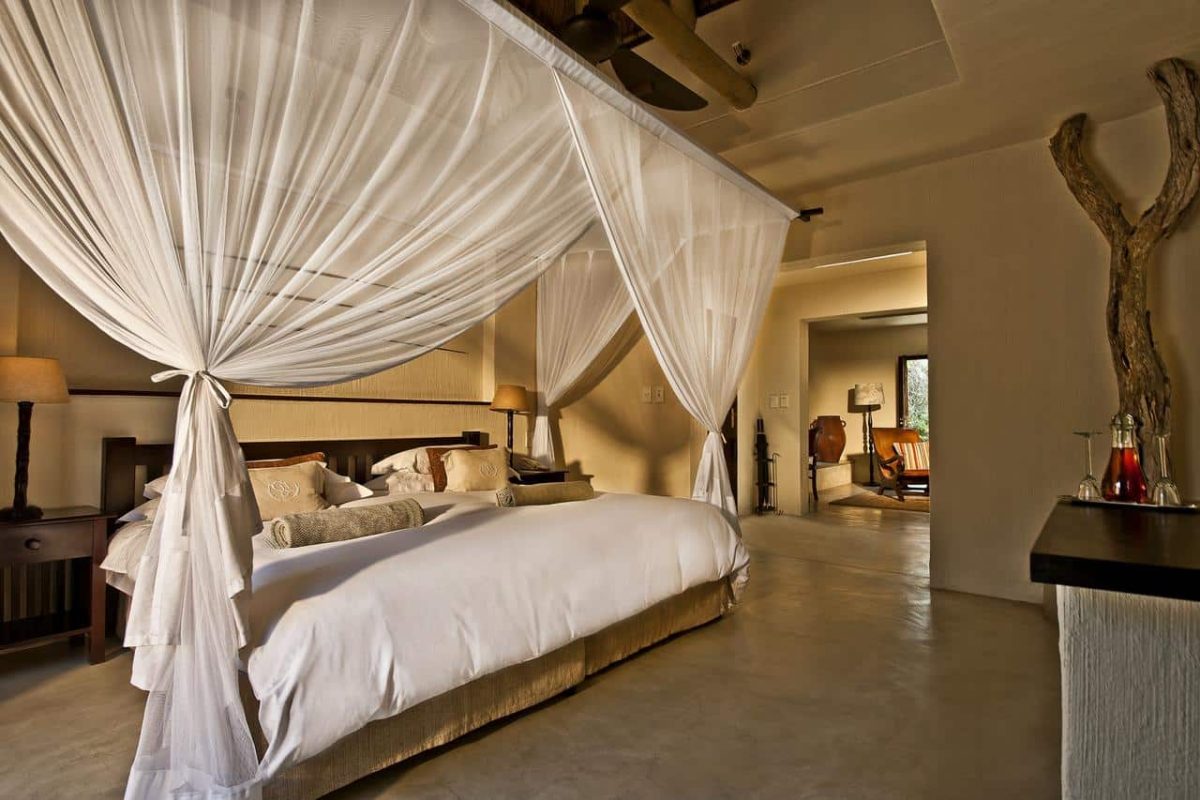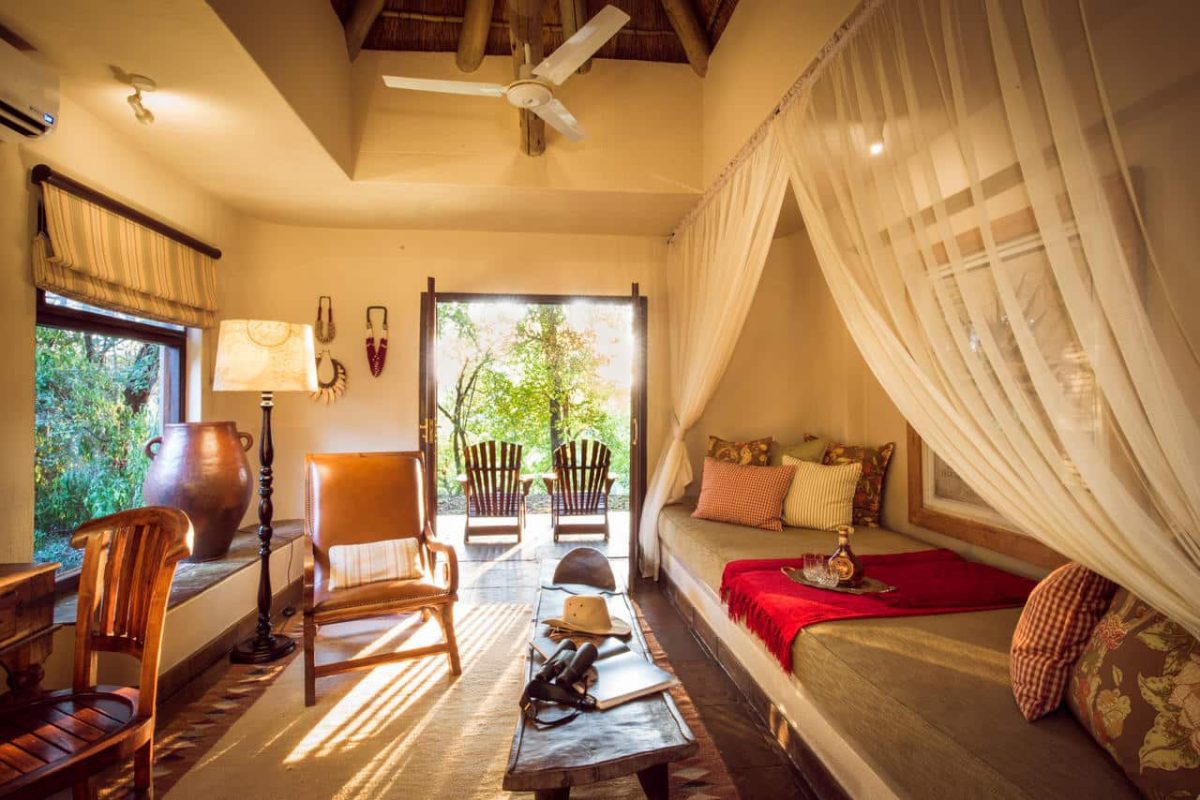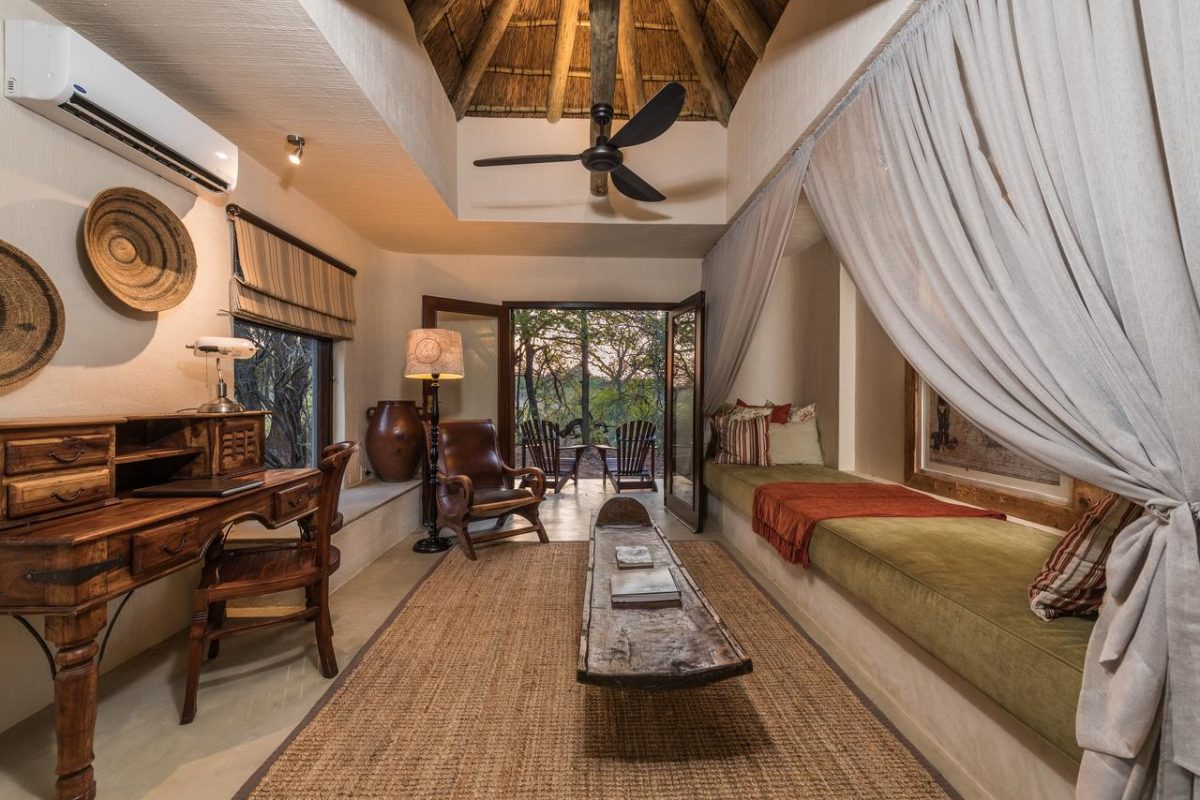 Two-bedroom Luxury Villa
Two exquisite new Luxury Villas at Bush Lodge have been created as an extension of the lodge's philosophy of being the first choice in your safari destination in Africa. The suites exude luxury and comfort in the contemporary Bush Lodge style.
A huge master bedroom with king sized draped four-poster bed leads onto an en-suite bathroom complete with indoor and outdoor shower and his & her baths. A second bedroom which leads into a private bathroom featuring a big bath and open 'rain' shower.
The central indoor lounge / library opens onto an outdoor covered patio and private pool. Accessed by a rustic bridge, the suites are equipped with air conditioning, mosquito nets, mini bar and myriad details to make your stay unforgettable. An unspoilt view overlooking a private waterhole completes the picture.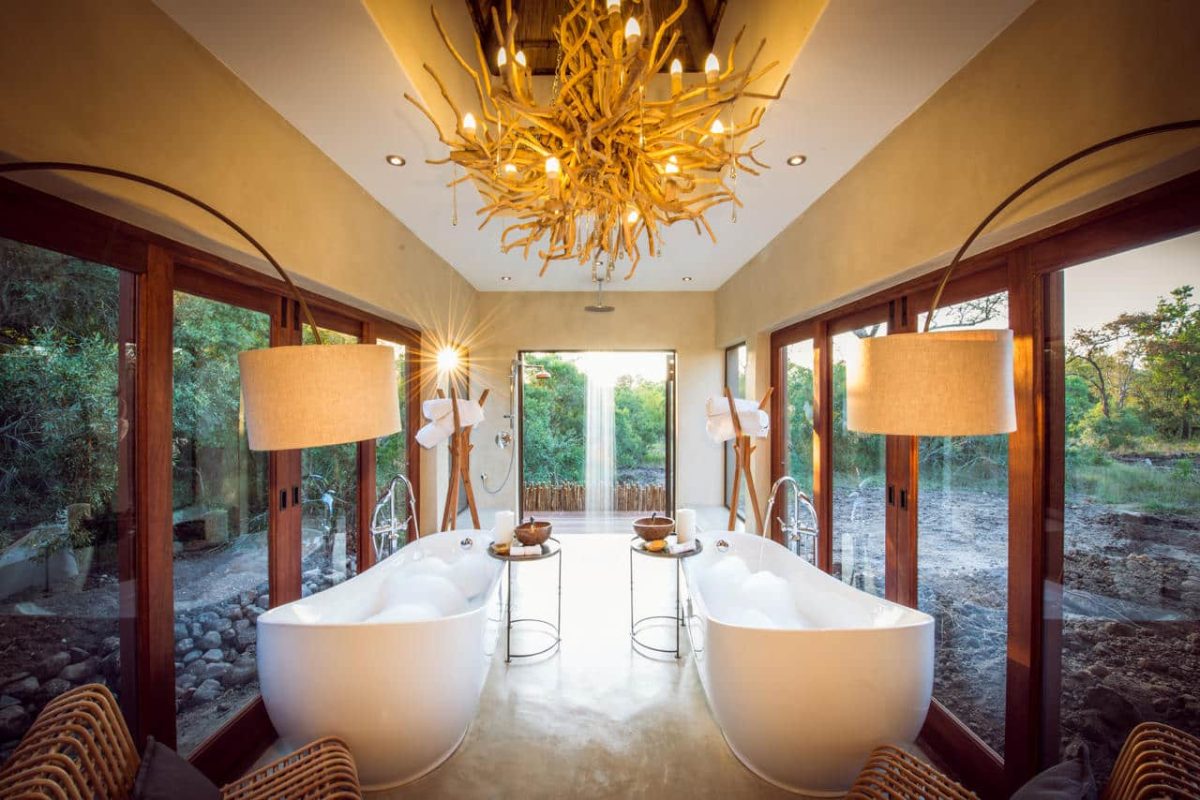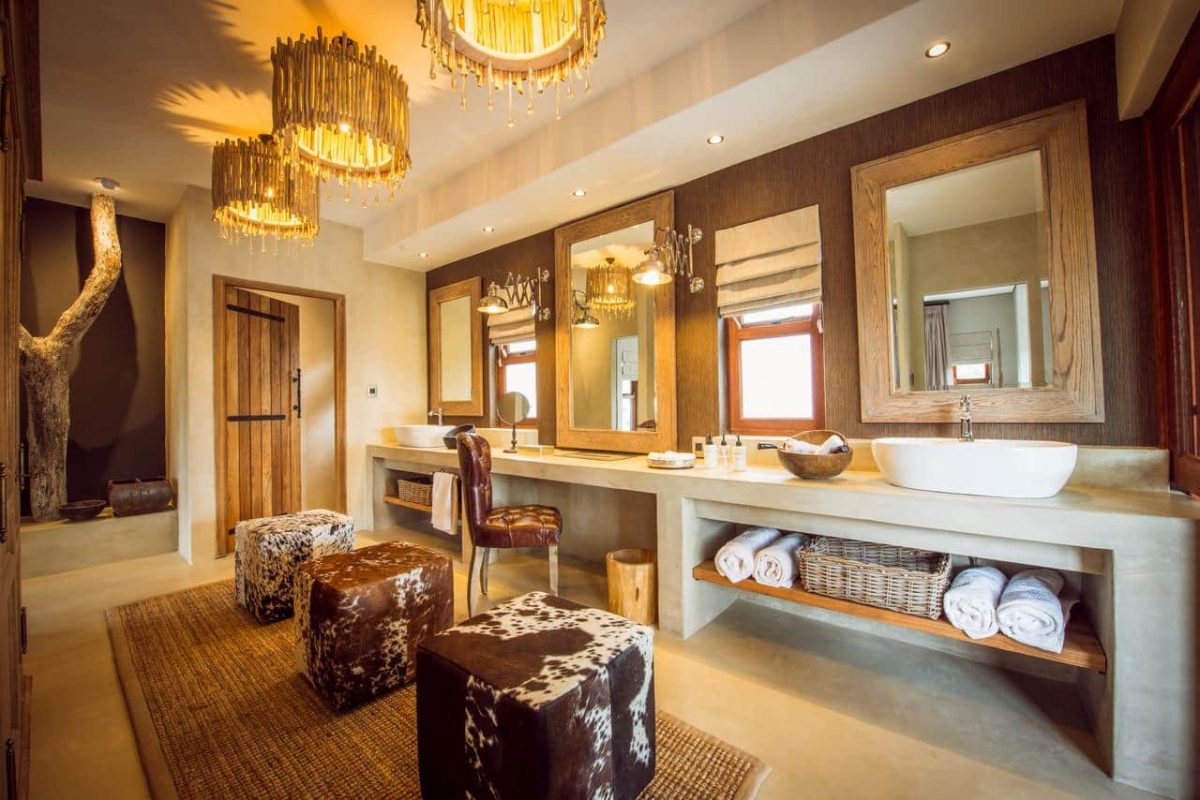 Sabi Sabi Bush Lodge – review by Milandi
We were surprisingly happy with Bush Lodge. It was our favourite of the four lodges (though we didnt dislike any of them). The reason why it's surpising is that we dont normally like the larger game lodges and this is large (with 25 rooms). But the combination of great management, excellent accommodation, superb setting and the sense of space won us over. It runs like an extremely well-oiled machine. It's a modern, yet traditional lodge.
The public areas were spacious and varied and so it would be easy to get away from others. So it doesn't feel crowded but more characterful.  This makes it a great option for multi-generational family parties. But couples would also be happy. It has its own gym, spa and trading post shop.
Meals are always served in the boma but they are not "boma" meals. E.g. there are three different cooking stations: one) serving vegetarian/fish/chicken, a second serving venison meats and the third serving traditional red meat. So vegetarians are happily catered for.
The Elefun Kids centre – this blew me away! This is the best kids' centre that I have ever seen. They cater for kids from 4 to 12 years and I think the kids probably nag the parents to return. If you are a family, look no further!
The rooms were seriously good: spacious, stylish and well-designed. Each has a separate sitting area which can effortlessly accommodate two kids on a long day bed. But which looks great as a day bed if you are just a couple.
There are two two-bedroom Safari Villas. I recommend shelling out a little more to stay here if you can. These are very stylish and obviously made for families as the one bedroom is slightly larger and its bathroom is seriously grand. The other bathroom is very nice but not as luxurious. This comes with its own private vehicle and also iprivate plunge pool. Then there is one Mandleve suite, also with private pool, which is designed in same style as the two-bedroom villas and close by. So grandparents could take that suite if travelling with parents/kids.
Highly Recommended!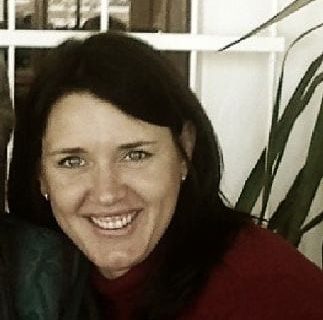 Special offers
Stay 4 nights, pay for only 3
Stay 4 nights, pay for only 3
Special 3 & 4 night fly-in packages
Stay 3 or 4 nights and enjoy a special fly-in offer