Rio Azul's Beachfront Accommodations
Overview
Rio Azul offers serenity in a tropical wilderness both for couples and families alike. Families can enjoy their own tastefully styled beach villa with a private pool on the deck overlooking the tidal lagoon. The warm and clear waters of the lagoon invite you and your kids to snorkel, go for long walks around the peninsula or simply take your own private boat out to one of the sand banks.
You are encouraged to indulge in a wide range of water and beach activities such as guided lagoon and mangrove forest cruises which offer exceptional birding, as well as boat trips to the Bazaruto Archipelago where you are likely to encounter turtles, dolphins and perhaps even whale sharks. Indulge in a beach picnic where freshly caught fish is cooked on an open fire, or go snorkelling in the mangroves spotting colourful fish hiding in the underwater labyrinth that is a vital natural resource. For each couple and family a small private boat is available to explore the blue waters of the lagoon, take a trip to one of the large sand banks at low tide or adventure into the waterways of the estuary. Of course there is always the option to simply relax by the pool or on the deck of your wood and thatch beach chalet. Whatever you choose, be sure to be the creator of your own holiday without compromises.
Dining at Rio Azul is a delightful affair with the freshest ingredients locally sourced and produced, or grown in our own vegetable and herb garden, as well as straight from the sea. Expect Mozambican specialties such as peri-peri chicken and freshly caught prawns. Dinners in particular are always a delightful experience and can vary between relaxed and informal evenings, romantic and candle lit affairs, as well as lively beach BBQs.
Remote Beach Resort
Without a doubt Rio Azul beach paradise is the best "losing track of time" destination in Southern Africa. The translucent waters of both the Estuary and the Indian Ocean act as a soothing balm which slowly and effectively eliminate stress and anxiety so often found in today's society.
Romantic Getaway
Rio Azul Lodge can arrange a romantic picnic for you and your partner on Bartholomew Dias Island. Here you can indulge in some exotic bird watching or a leisurely beach walk. A "dining under the stars" experience can be arranged for private parties or romantic dinners, as well as picnics on the beach.
Nature Walk and Boat Rides
The area around Rio Azul Lodge offers an abundance of natural scenery. The estuary offers relaxing nature walk and boat ride oppertunity. With a number of birders among the Rio Azul Lodge Staff, your bird walk will be filled with spectacular bird watching opportunity.
The Mangrove Estuary at Rio Azul
In front of Rio Azul lies this fantastic stretch of crystal clear water which can be explored by foot or by boat. The mangrove ecosystem is made up of a fascinating chain of pioneering and sacrificial plants together with a huge array of crustaceans. Bird life is abundant, colourful and spectacular. A relaxing jaunt up the many tributaries offered around the mangrove make for an exhilarating activity. A gentle sunset cruise is bound to rid one of the final vestiges of 21st Century living.
Rio Azul's Beachfront Accommodations gallery
Rio Azul's Beachfront Accommodations on the map
Rooms
Villa's
Rio Azul Lodge in Mozambique has two Beach Front Villas. Each Villa consists of three double bedrooms, sleeping a maximum of six adults as well as loft with three bunk beds for children under 16 yrs. Each of the Rio Azul Lodge Villas has its own private deck with a swimming pool, seating that includes beach chairs and a dining room table with a spectacular view off sunsets over the beach and sea. The Rio Azul Lodge Villas have large lounge areas that offer ample seating for all visitors.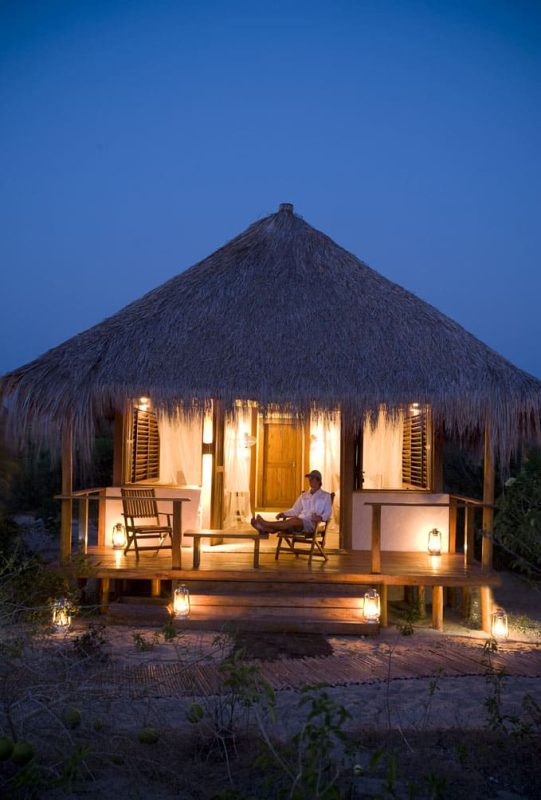 Chalets
Rio Azul Lodge has six Beach Front Chalets. Each Chalet consists of a Twin Bedroom with two ¾ beds. Each Chalet also has a pull roll out bed for children under 16 yrs. The Chalets have a beach front view with a view of spectacular sunsets over the beach, estuary and sea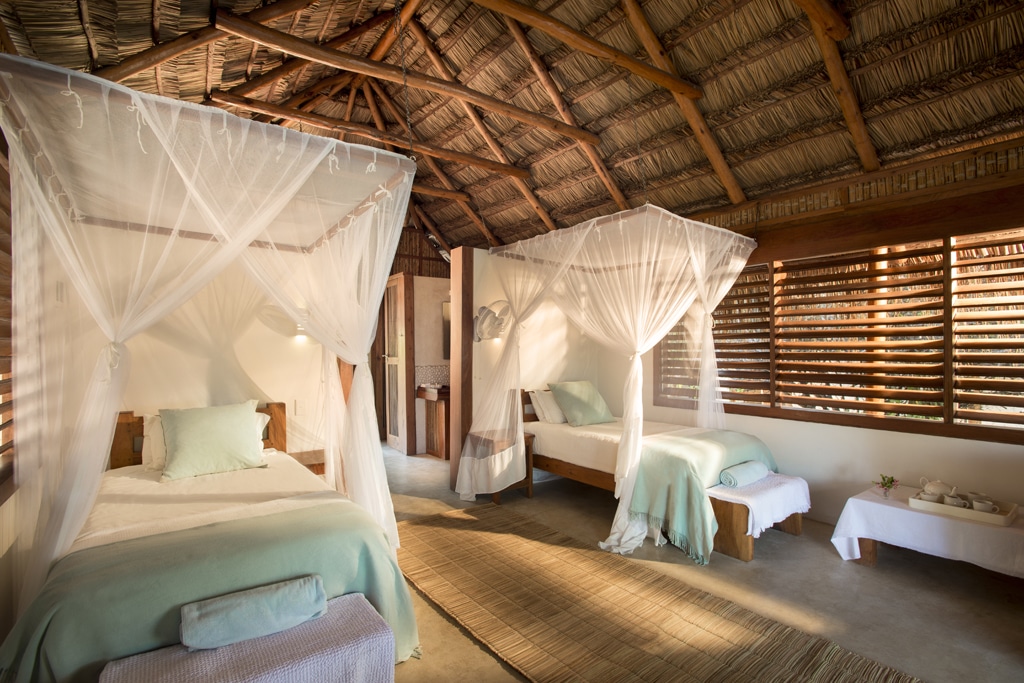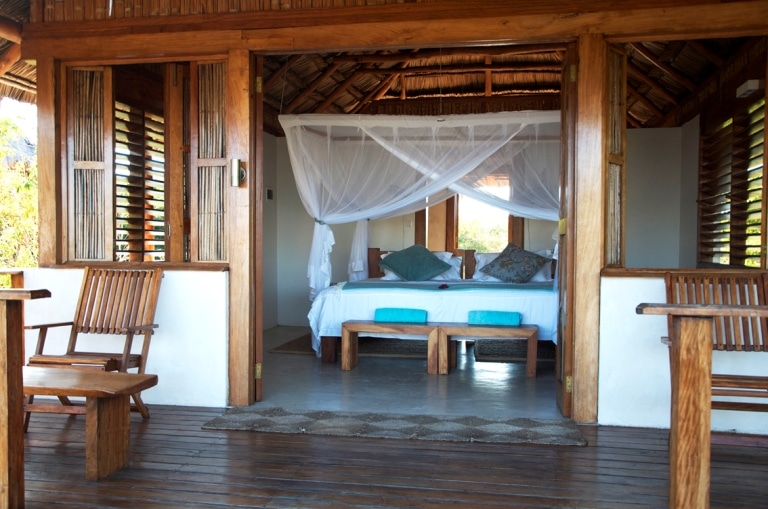 Family Suitability
Family-friendly all ages
Malaria Rating
Low risk and/or seasonal malaria
See other options in this area