Overview
Rhino Ridge Safari Lodge is a game lodge within its own private concession in the lovely Hluhluwe-Imfolozi Game Park in KwaZulu Natal. Rhino Ridge is ground breaking in being the first private lodge within Africa's oldest proclaimed reserve, and is part owned by the local Mpembeni Community.
Established to protect the previously endangered white rhino now numbering over 1000 in the park, Hluhluwe- Imfolozi Game Reserve has been a triumph of conservation efforts. Rhino Ridge Safari Lodge offers exceptional safari experiences in the heart of Big five territory, with both day and night games drives on offer.
Accommodation
The lodge has a contemporary design with organic forms utilising natural finishes and materials. 18 well-appointed rooms nestled on a ridge, each with their own private deck giving expansive and uninterrupted views over the reserve. There's a choice of Safari Rooms, Luxury Bush Villas and two Honeymoon villas.
The Safari rooms are two totally separate en suite bedrooms under one roof and sharing a common lobby. As such they are ideal for families or two couple travelling together as they can be sold as a two bedroom suite. The luxury bush villas are very spacious standalone villas with extensive private decks. The two honeymoon villas are identical but have the added advantage of a private plunge pool. All rooms are air-conditioned with ceiling fan, indoor/outdoor showers, tea/coffee facilities, safe, hairdryer, minibar and internet connection.
The main lodge comprises living areas, bar, dining area and extensive deck with a stunning view over the bushveld. There's a lovely rimflow swimming pool close-up sharing the same view. Near the pool, the small spa has been designed to ensure that you can soak in the sights and sounds of Africa while enjoying professional spa treatments.
With access to over 90,000 hectares of indigenous land, teeming with game, Rhino Ridge Safari Lodge is ideally situated for conservationists and wildlife enthusiasts alike.
Families at Rhino Ridge
Rhino Ridge allows children from 6 years & upwards to join the adult drive. Children of 3-6 years are accommodated on a 'kiddies drive' from 10am-12pm, accompanied by a an adult. However you can choose to take a private vehicle if you want younger children to be with you on a game drive. There are no afternoon/evening game drives for younger kids but they have a supervised playtime/activity time in the afternoon and the lodge has board games, books and kiddies activity packs.
The safari rooms act as a sort of two bedroom unit (but with no sitting area). The two rooms can accommodate a family of five. KwaZulu Natal is considered a low risk malarial area where anti-malaria prophylaxis is not required. However this is a decision for each family to make.
Rhino Ridge Safari Lodge gallery
Rhino Ridge Safari Lodge on the map
Rooms
Safari / Family Rooms
Safari / Family Rooms (2 en-suite rooms with common lobby) twin/double. These rooms can double as Family Rooms given that they share a common lobby.
Twin Vanity and luxurious shower. Separate toilet.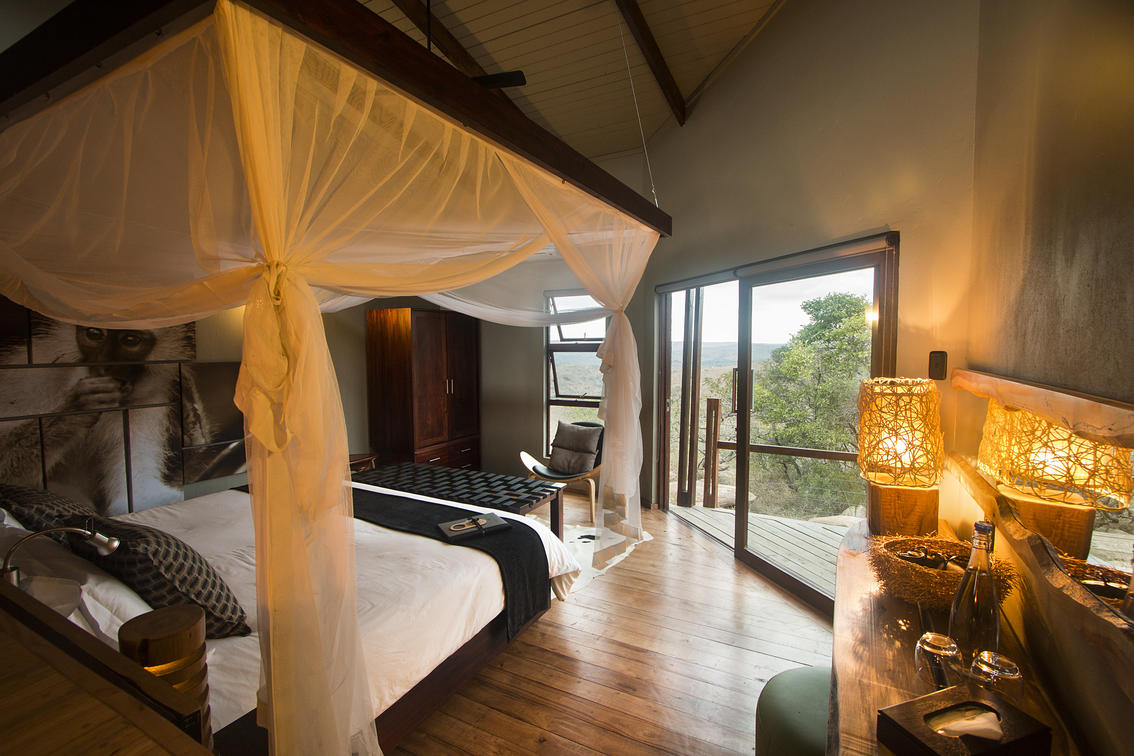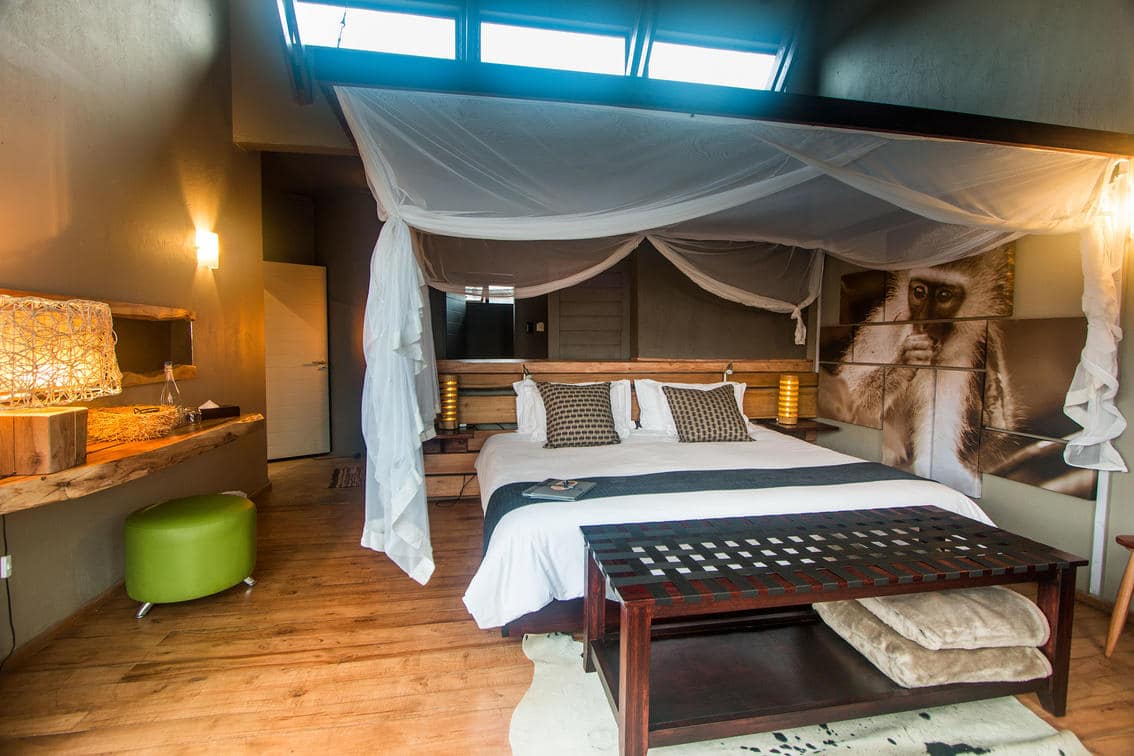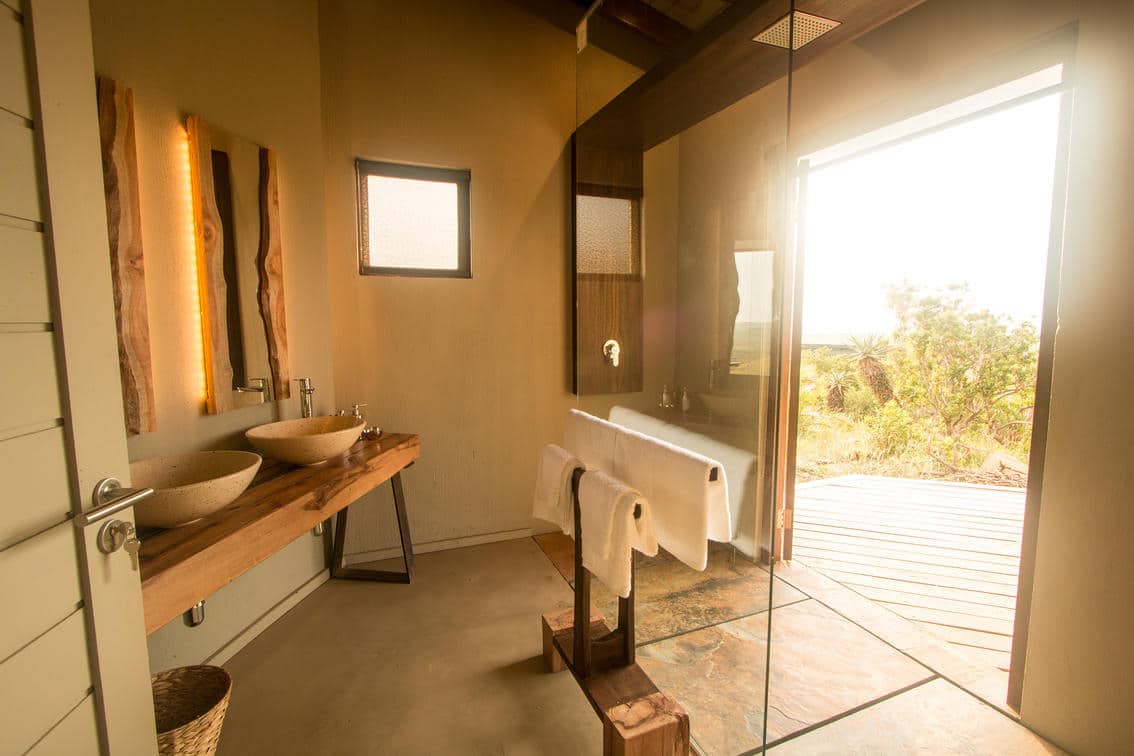 Luxury Bush Villa
King size bed or twin beds, en-suite bathroom, separate toilet, deep soaking bath, luxurious shower and private wooden deck, mini-bar, fireplace. Overhead fan and air conditioner.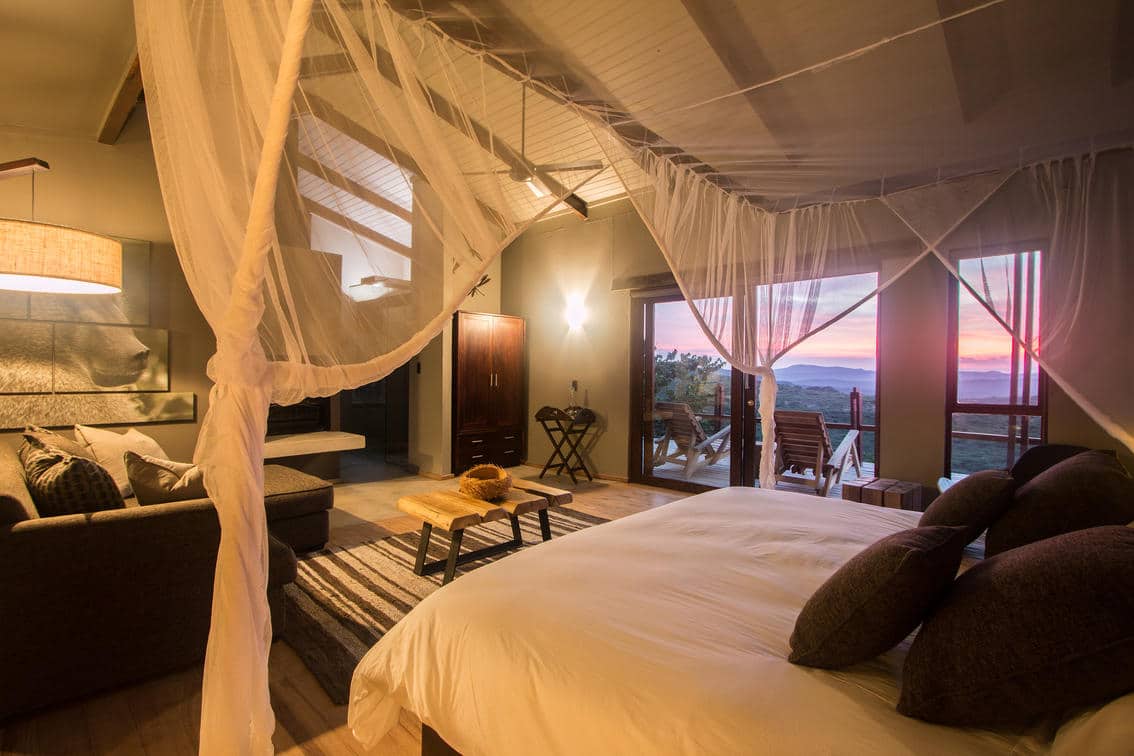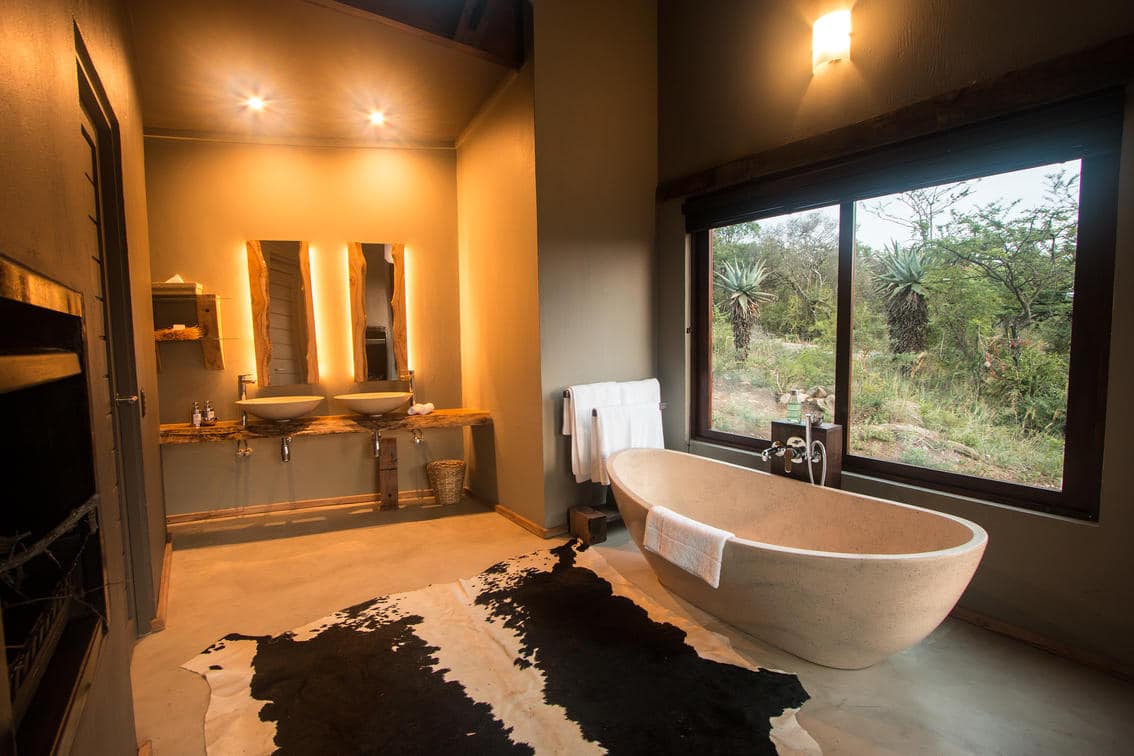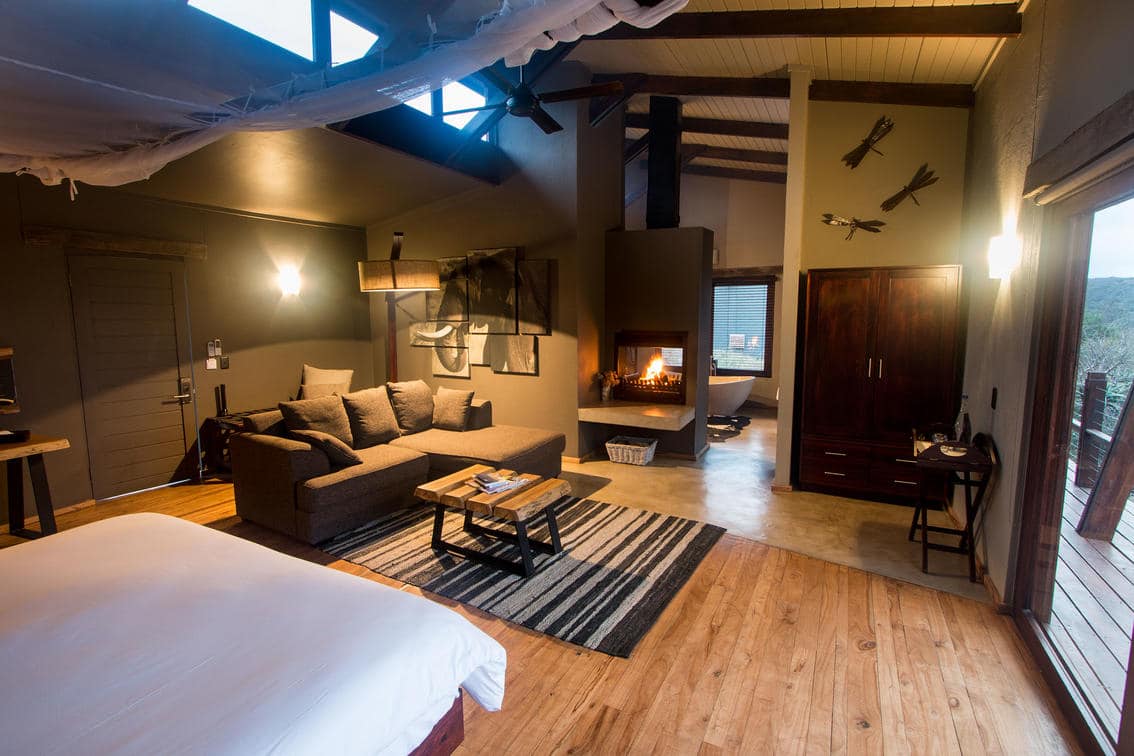 Honeymoon Villa
King size bed or twin beds, en-suite bathroom, separate toilet, deep soaking bath, luxurious shower and private wooden deck, mini-bar, fireplace, private plunge pool. Overhead fan and air conditioner.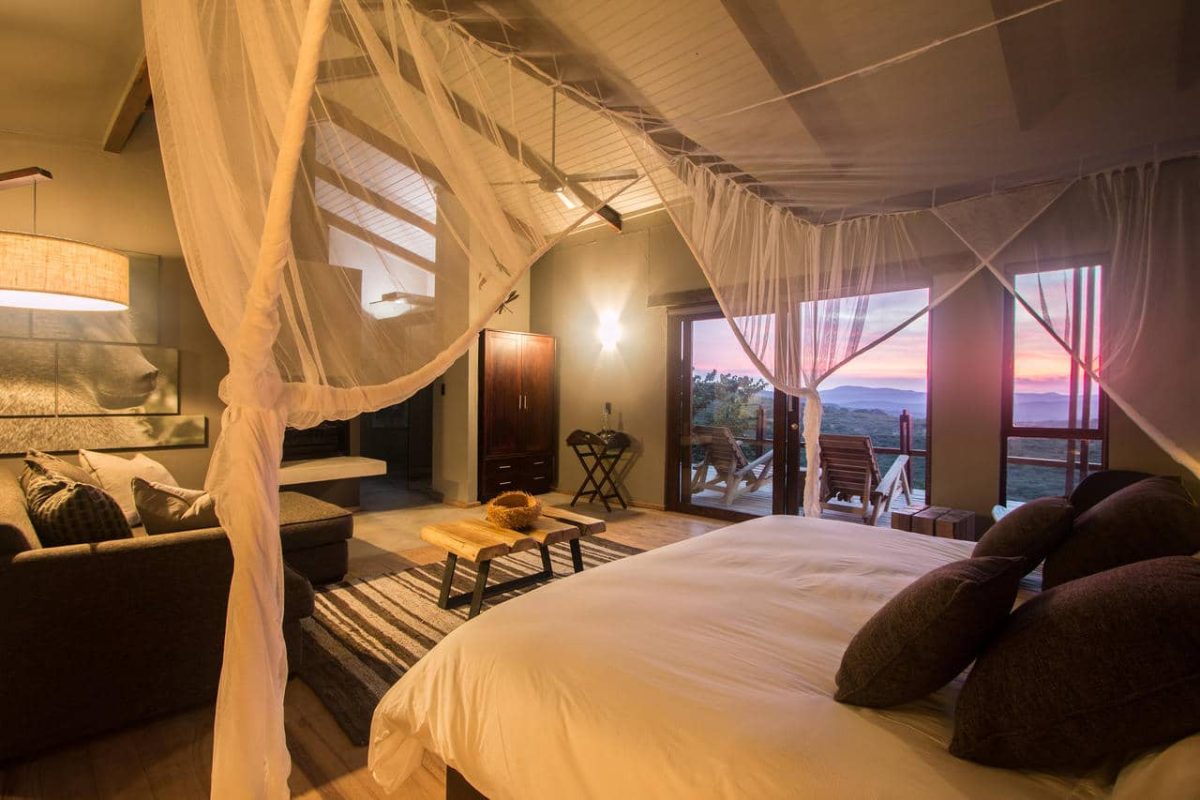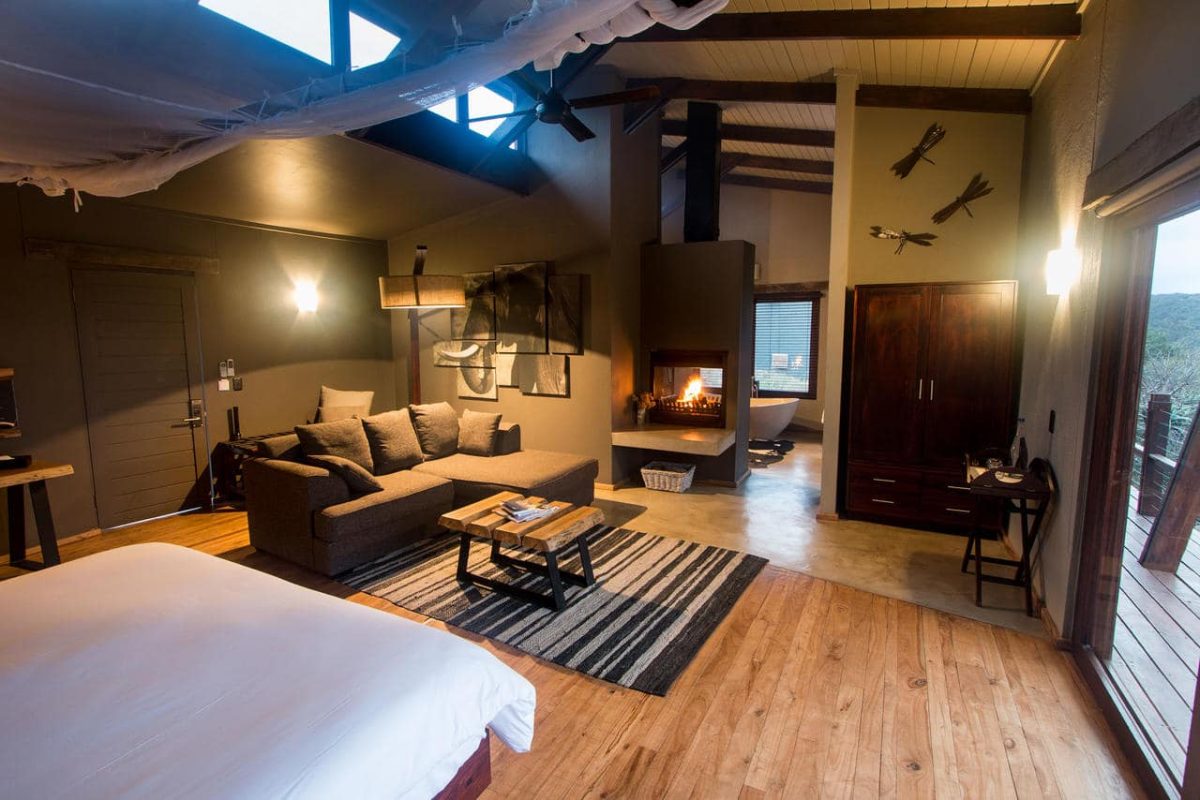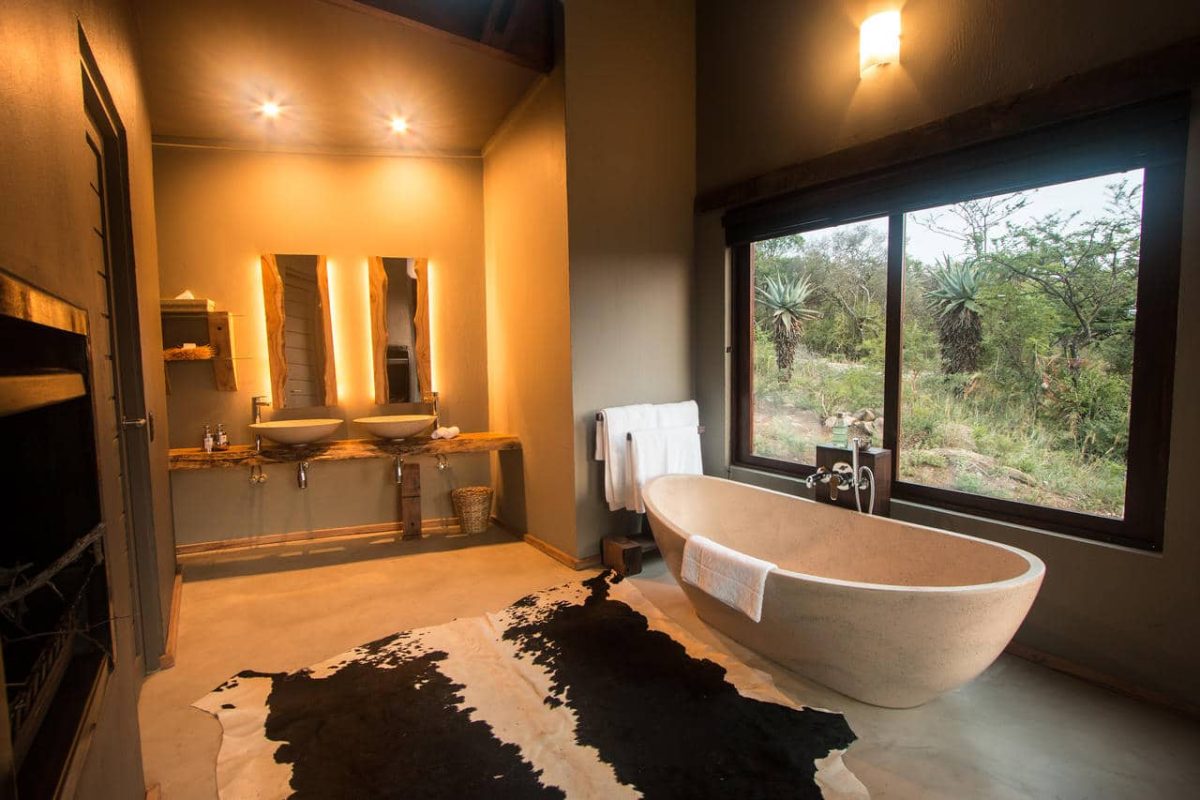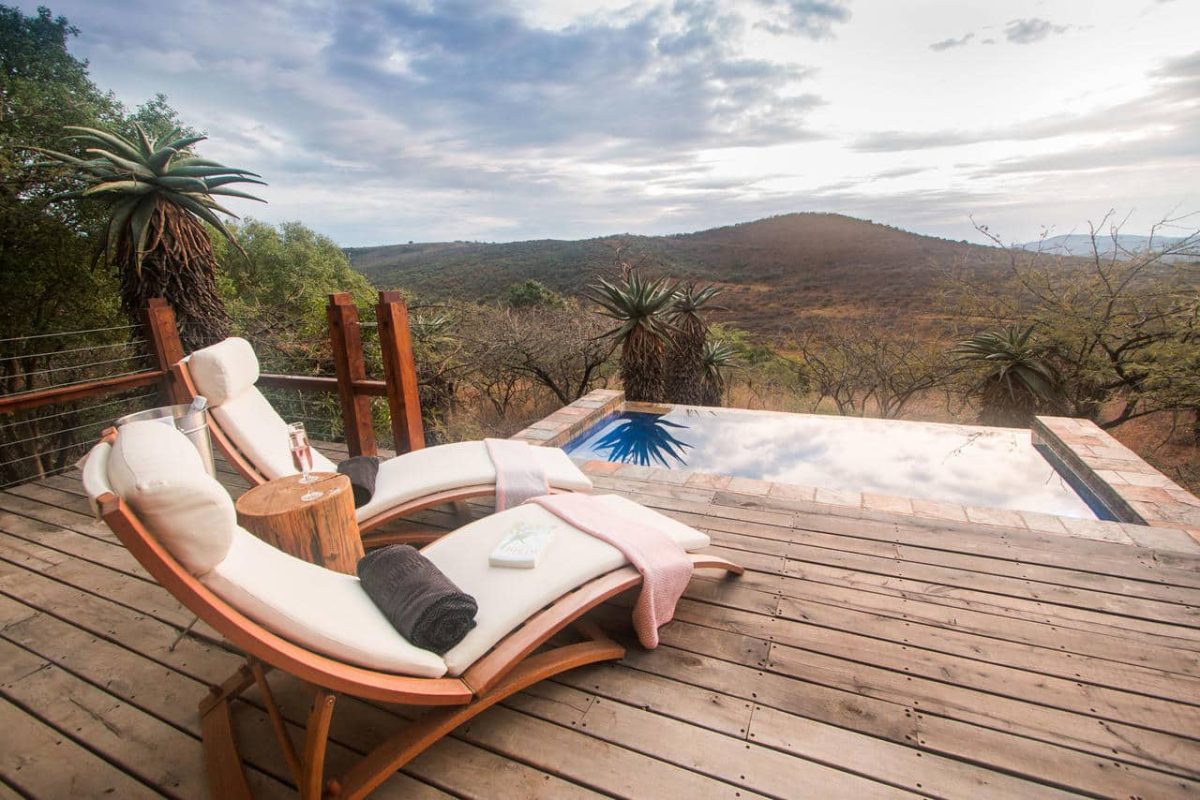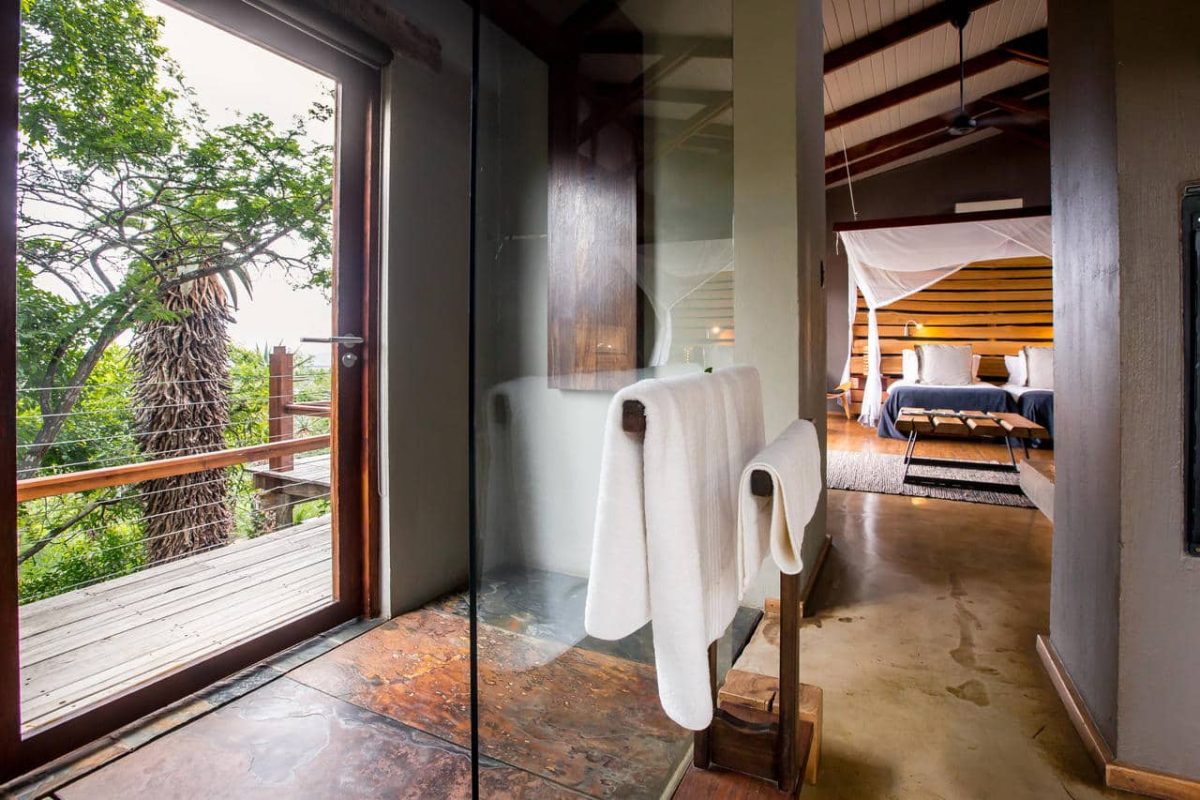 Great value at Rhino Ridge Safari Lodge
Rhino Ridge Safari Lodge is a new 4 star luxury lodge in a private concession in the 96 000 hectare Hluhluwe Park in Kwa Zulu Natal. It is great value for money with contemporary, eco-friendly architecture and a breathtaking view over the park.
The Manager, Dulcie, and all the staff are really friendly and the food was well prepared and presented.
On entering the Park you can get the Whats App number for the Hluhluwe Park group updates on wildlife sighting by other guests on what they see which could be useful in case you find yourself close to a really good sighting.
We entered Hluhluwe Park from the Northern Memorial Gate and it took us  1 hour and 15 minutes to get to the lodge. The roads are not in a great condition and it is best to drive slowly - as you are also on the look-out for wildlife. We saw buffalo and a lone rhino en route to the lodge. (When we departed we headed to the southern exit at Nyalazi Gate which took about 45-50 minutes.)
We would defiantly suggest a higher clearance vehicle if you are self-driving to the park. They did mention that the roads will be upgraded in the near future but are unsure exactly when this will be.
I travelled with my colleague and we each had our own en-suite safari room connected by a lobby so that can be used as a two bedroom suite for families.  and they are busy building a playground for children which would work wonderful when you need a break from your young kids.
They also have some luxury bush villas so the lodge would suit both honeymooners or families.  The two honeymoon villas have their own plunge pools however the main swimming pool has stunning view of the park and with the spa close by. I really see anyone having the most relaxing time after the 3 hour morning game drive.
Lindi our guide was very friendly and somewhat quirky which we really enjoyed. The Rhino sightings are excellent and although elephants might be harder to find we did spot a few both from the lodge deck and on our way out of the Reserve. We also saw lions playing in the river bed.
We enjoyed our stay at Rhino Ridge and want to thank Isibindi for hosting us!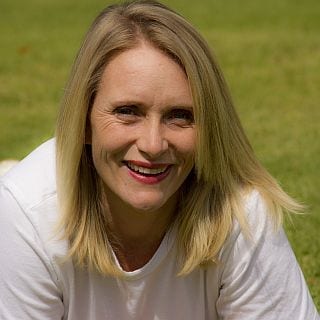 Special offers
Isibindi Combo Offer
Get long stay discounts for your stay at 1 lodge or a combination of lodge, depending on number of nights at Isibindi Lodges
Get long stay discounts depending on number of nights at Isibindi Lodges (Thonga Beach Lodge, Kosi Forest Lodge, Rhino Ridge Safari Camp & Tsowa Island Camp) - 5% for 5 night stays, 7.5% for 6 night stays, 10% for 7 night stays and 12.5% off for 8 night stays
Long Stay Winter Offer
Spend 4 nights and only pay for 3 during early Winter
Spend 4 nights and only pay for 3