Overview
Old Drift Lodge is a bush paradise that combines old world history with modern luxuries. It lies only 4.5 km upstream from the iconic Victoria Falls. But it is also inside the Zambezi National Park on a pristine section of the Zambezi river. With its stunning river setting, Old Drift offers both water and land-based game activities. But it is only a 10 minute boat cruise to the Victoria Falls. So you can have the best of both worlds.
Accommodation
Old Drift offers stunning accommodation in the form of 10 double suites and 4 family suites.  The luxurious suites have wide picture windows onto the river. And its stylish furnishings blending seamlessly with the natural environment. The spacious canvas en-suite rooms all have a sitting area, indoor and outdoor showers. And outside there's a private plunge pool on the deck and a "sleep-out" deck. There's even an outdoor bath overlooking the Zambezi River. Facilities include air-conditioning, ceiling fan, safe, mini-bar, dressing area and tea/coffee facilities. The family suites offers two inter-leading bedrooms with a main bedroom and a smaller kids' room, both en suite. And the family suites have the same facilities at the double suites.
The main lodge area has 360-degree views, north facing onto the Zambezi river & south facing onto a water hole. Plus transfers to and from the lodge are by luxury boat. And it only takes approximately 10 to 15 minutes to get to Victoria Falls.
The Zambezi National Park has 56,000 hectares with a variety of wildlife roaming throughout the park and coming to the river to drink and swim. Activities offered at Old Drift Lodge emphasize the rich natural environment. Enjoy exploring the Zambezi National Park on 4x4 game drives, on foot or via game-viewing boat cruises. Complimentary tours to Victoria Falls are also on offer.
The History of Old Drift Lodge
Its name speaks to the rich heritage of the area. A 'drift' is a shallow place in a river or stream where it is possible to cross safely without using a boat. Around 1898, the Old Drift was used as a crossing point over the Zambezi River between what was then Southern and Northern Rhodesia. (Now known as Zimbabwe and Zambia. So the site swiftly became the busiest crossing point. Supplies were ferried and cattle swam to the opposite bank. However the settlers eventually abandoned the rustic settlement of Old Drift. As they started relocate to the nearby town of Victoria Falls.
Old Drift Lodge on the map
Rooms
Luxury Tented Suites
10 Luxury Tented Twin / Double Suites each have an indoor and outdoor shower, outdoor bath with a view, private plunge pool, sleep-out deck and private lounche with tea/coffee station and mini bar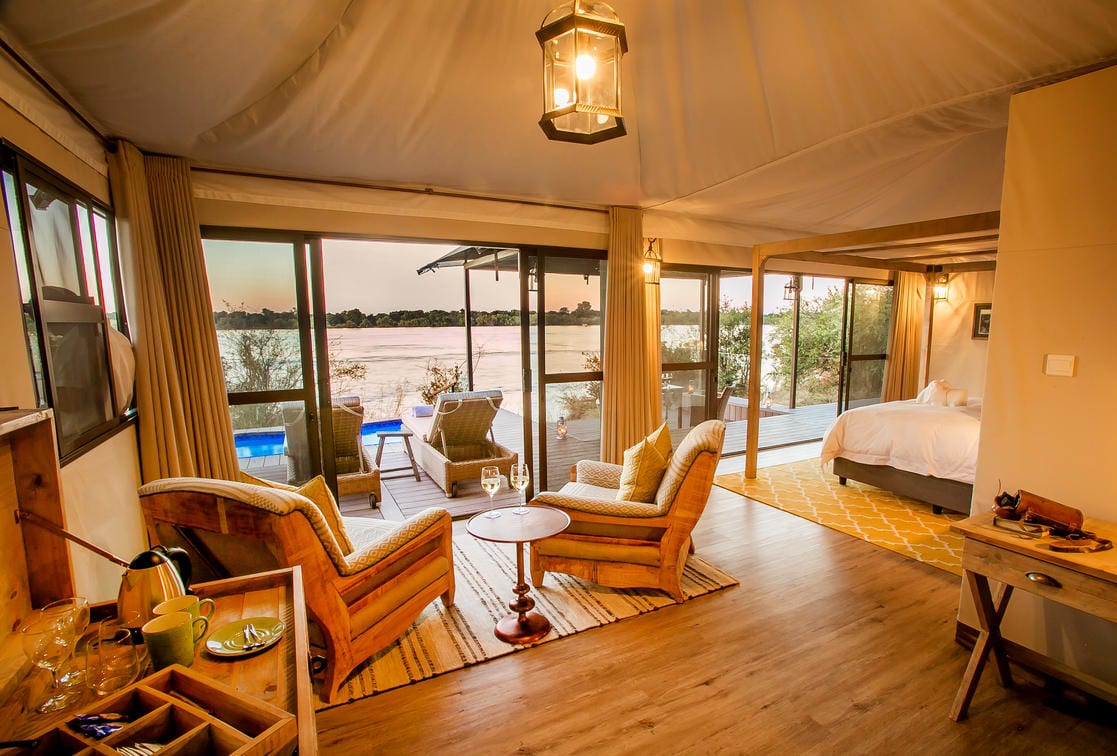 Luxury Tented Suites - Family
Each of the 4 Family Suites consists of two spacious interleading bedrooms, an indoor and outdoor shower, outdoor bath with a view, private plunge pool, sleep-out deck and private lounche with tea/coffee station and mini bar
Special offers
4 night Combo Offer
4 Night Package - 2 nights at Old Drift Lodge and 2 nights at The Elephant Camp with free Helicopter Flight of Angels
4 Night Package - Old Drift Lodge, The Elephant Camp and free Helicopter Flight of Angels (2 nights at Old Drift Lodge & 2 nights at The Elephant Camp)